With so many squads heading into post-season play, 2020-21 was a great time to be a University of Arizona athlete. Now, with two new head coaches and lots of new talent, what awaits the Wildcats?
FOOTBALL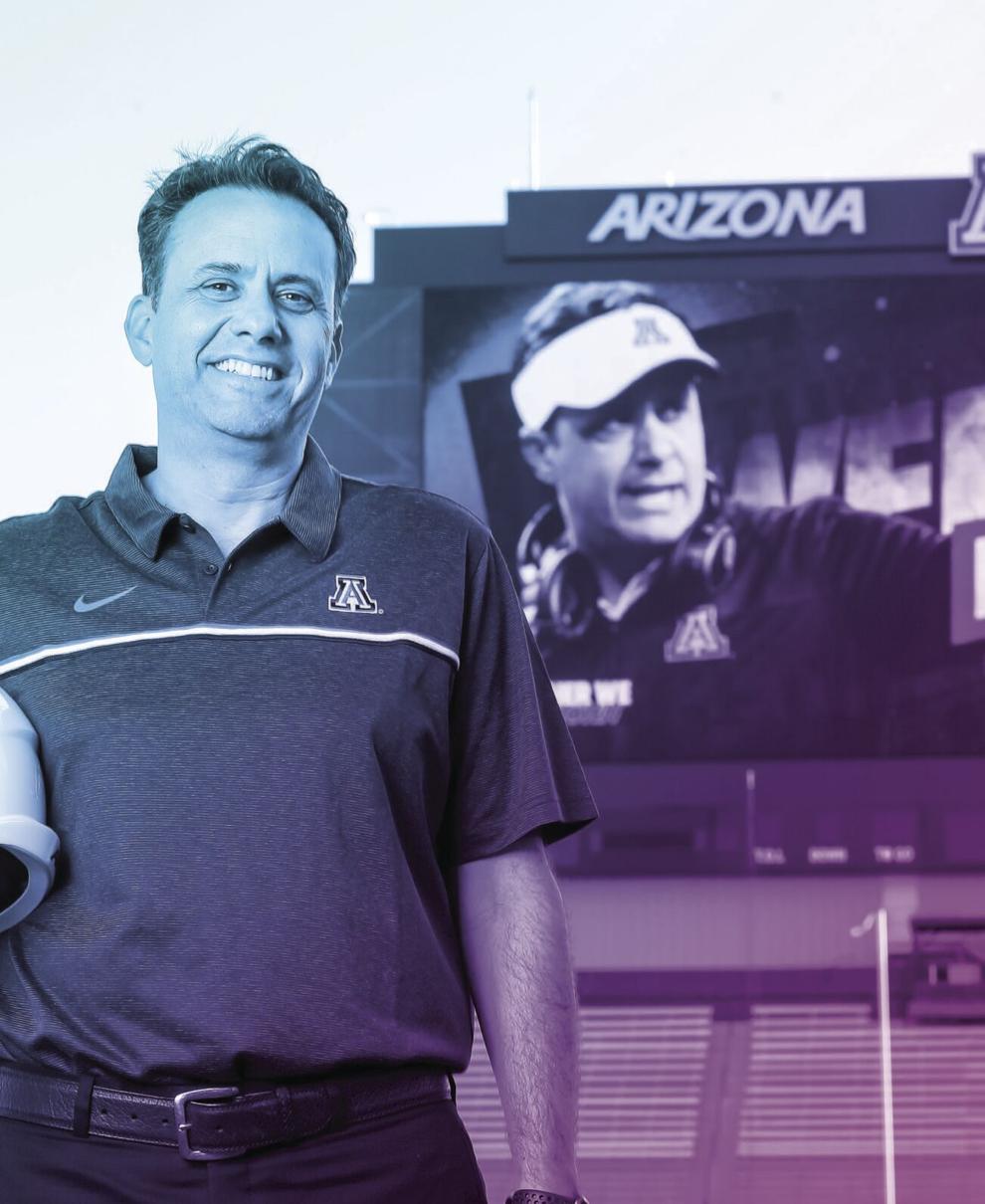 The relentless summer heat eventually will give way to the satin cool of fall evenings and the return of Wildcat Football and Basketball.
By this time, new Head Football Coach Jedd Fisch is no stranger to Cats fans. The powers that be saw in Fisch a man adding professional NFL acumen into the mix along with college game savvy. "We're building a different model," Heeke indicates, "both on field and off."
Fisch comes to Tucson with 21 years of collegiate and NFL coaching experience. His last stop was as quarterbacks coach for the New England Patriots. The 45-year-old is electric in personality, and in his approach to navigating each day. He has been hungry for the opportunity to run the show, and tacitly telegraphs success in everything he does. One of those everythings? Getting the Cats a bit of publicity.
Fisch demurely credits "The Football Think Tank" with coming up with the global headlinemaking Guinness stunt accomplished by former UArizona player Rob Gronkowski. Says UArizona Athletic Director Dave Heeke, "We were looking for a way to differentiate UA football; we wanted to do something that could only involve someone as receptive and crazy as Gronk."
The GQ cover man and four-time Super Bowl champ positioned his 6' 6", 265 pounds underneath a helicopter hovering 600 feet in the air, from which a football would be dropped. Invisible at first, the hurtling ball ignited a collective roar from observers when finally spotted. Gronk admits to being as nervous as he was before any Super Bowl, and although the first pair of drops were dropped, the third try was the charm.
"It certainly requires a very skilled person to pull it off," says Elliott Cheu, Ph.D., distinguished professor of physics at UArizona. "By my calculations, the ball would take seven seconds to reach the ground and would be traveling 90 miles per hour, 50 percent faster than a football is normally thrown."
Coach Fisch says of the current Cat players who witnessed the stunt, "It's gotta be inspiring. He's (Gronk) one of the best who's ever played the position, and he went to your school, and you get to watch this crazy catch. It was a blast for them and for Rob."
Other UArizona alums actually will be assisting the staff this season. Yes, that was Tedy Bruschi you pulled up next to at a red light. "He will be here for most of our football weekends, at road games and for fall camp," says Heeke. The ESPN personality and three-time Super Bowl champ is a special advisor to the team. Heeke says, "We wanted to connect with our football alum. Part of our conversation with Coach Fisch was asking, 'How can we connect with the greatness of our past?'" Also on the Wildcat coaching staff — All-time Cat running back great Ricky Hunley and former Packer and Sports Illustrated cover man Chuck Cecil, promoted to assistant coach/defensive backs. Coach Fisch explains, "I think what it comes down to is that we all love our alma mater. Coaches Hunley and Cecil were at the top of their games when they played for UA, and want to pass their knowledge on to the 18- to 22-year-olds who will follow in their footsteps."
University of Arizona football achieved notable success under the steady guidance of Head Coach Dick Tomey in the '90s, including a nationally recognized defense — "The Desert Swarm" — featured on the cover of S.I. touting a preseason Number One ranking. A mural of Tomey rules the practice field, clad in his erstwhile navy and cardinal warmup. Coach Fisch tasked the team's great equipment manager to use his resources to find a jacket close to what Tomey wore and to put "that same old-school Wildcat logo on it." The spring game found Fisch in the blouson jacket, an homage to the winningest coach in UArizona history.
Convincing talented high school football players to consider Arizona is cake for the new head coach. "In my opinion, we are the closest to an SEC team in the country when it comes to what the University of Arizona has to offer. We have an unbelievable college campus in a college town. We feel extremely lucky that we have the best student section in the country; all the sports are right around the corner. We are the show in town."
What will spell success for Coach Fisch this fall? "We want to find a way to win as many games as we can, but at this point in time we are looking at building the program to get back to where it was. We want to be the toughest game on everyone's schedule."
WOMEN'S BASKETBALL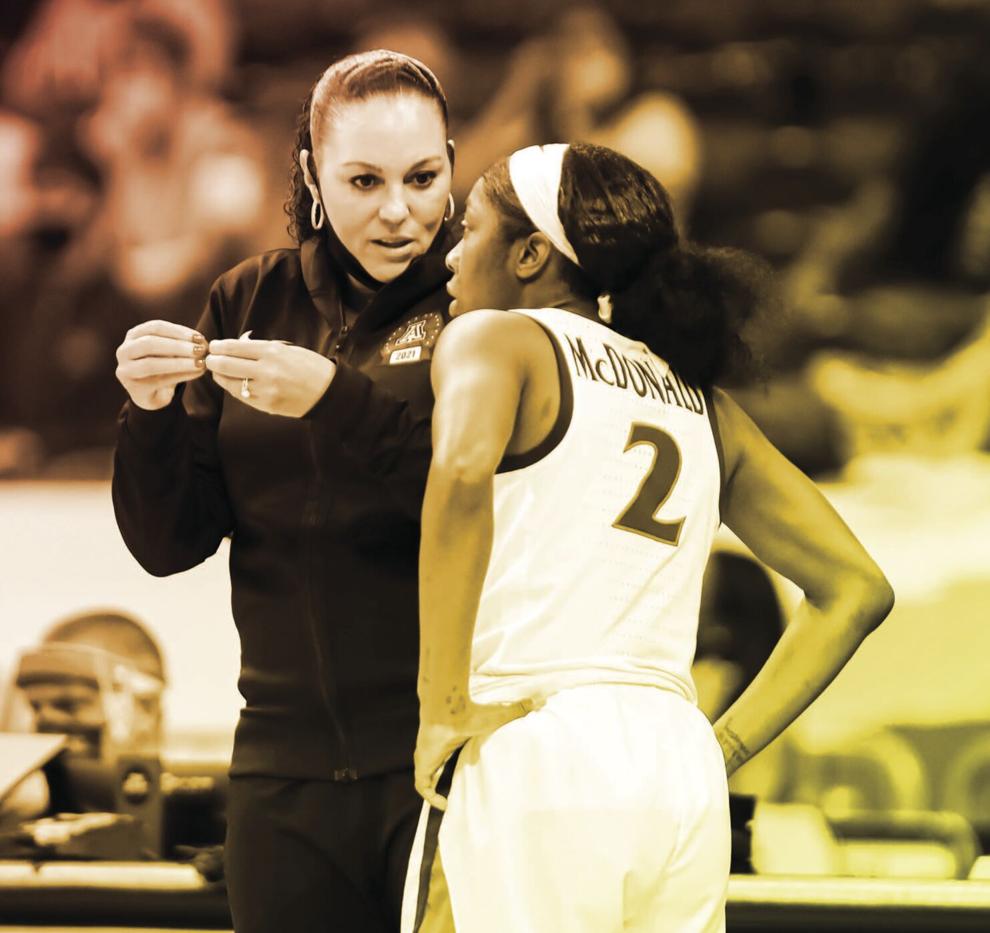 UArizona Head Women's Basketball Coach Adia Barnes can be described using the eponym of a designer shopping site: she is "The Real Real." That is, what most of us long to be, supremely comfortable and confident in her skin. Her 5' 11" frame radiates strength. Almond-eyed and raven-haired, she is always immaculately attired. The mom to baby Capri and five-year-old Matteo teamed with Assistant Coach Salvo Coppa (who also is her husband) to lead the team to uncharted territory this past spring.
Barnes's NFL veteran dad Pete encouraged her passion and athleticism. She rocked high school hoops in Southern California and her finesse caught the eye of Cats Coach Joan Bonvicini in the mid '90s. Barnes played for a decade in the WNBA and in Europe. A Sports Illustrated writer once likened her game to that of 11-time NBA All-Star Charles Barkley. Sir Charles once famously said, "I am not a role model." Adia, on the other hand, notes, "I want women to know they can do everything … and do it well." Her mandate — "Leave a Legacy."
At the end of last March, the Cats bus pulled into San Antonio for a stay of unknown duration — the COVID bubble mandating there would be no travel back and forth to Tucson. As teams winnowed, the NCAA gave perks to those remaining by renting out the River Walk for Sweet 16 teams, then Final Four teams; the San Antonio Zoo was made private for an hour. Still, the benefit of the bubble was a more intense focus on practice and play.
Coach Barnes had forged a powerful amalgam of towering and judicious international and national players sparked by guard Aari McDonald, the Pac-12 Player of the Year. Mannerly and demure off the court, relentless and bulldoggish on, McDonald was integral to Adia's success. She may be the best women's basketball player in UArizona history. The Atlanta Dream drafted her with the third pick at this year's WNBA Draft.
For basketball fans, the sight of the UArizona women walking onto the Alamo Dome court opposite Geno Auriemma and the UConn Huskies was surreal. This was the Final Four, after all, and the upstart Cats were facing the all-time winningest women's basketball coach in history. The two teams had never played before; one considered cream, the other, rooks. From the start, the Cats asserted their power. The Huskies AP Player of Year Paige Bueckers reduced to mere mortal, while McDonald proved her worth with 26 points. The final: UArizona 69 … UConn 59. "Let's not mince words," says UArizona Assistant Communications Director Adam Gonzales. "We clobbered them."
The task left was to chop down the Stanford Cardinal. Herculean, yes, impossible, no. The Cats had fallen to the Cardinal at both season matches. What would be different? There was motivation from event television producers, failing to include the Cats in Final Four promos; motivation from the experts who gave the Cats faint hope; and motivation from the locker room and sideline. Gonzales notes, "This time was different. Coach Barnes convinced the players they could win and they believed."
For Adia, this season marked the result of five years of building a foundation. The culture was developed, players with athletic talents — matched with character — chosen for the team. Teammates came to know each other's strengths, and forged an unbreakable confidence.
The 40-minute championship game was a battle from the start: the lead changed, Arizona climbed back from 8 or 10 points down, the Cats giving all, focused and sharp, 24 months removed from being referred to as the 64th best team in the nation. The Cats falling to Stanford by a single point certainly stung. But hundreds turned out to fête the Cats' historic accomplishment at Arizona Stadium, to the gratitude of the players, who are appreciative of their growing fan base.
Coach Barnes finds herself in rarified air — awarded a new contract for five years worth $5.8 million. Dave Heeke comments, "Adia has developed an incredible program; we want to continue to contend for NCAA titles, playing in arguably the best conference in women's basketball. It's apparent this year that we've got something special here in Tucson."
This fall, UArizona welcomes Vanderbilt transfer Koi Love, Oregon transfer Taylor Chavez and Alabama transfer Ariyah Copeland. They'll have a tropical adventure to look forward to: the team is off to the "Paradise Jam," Nov. 25-27 in St. Thomas, U.S. Virgin Islands.'
"We want all 21 of our (athletic) programs to be of national caliber," says Heeke. "Success is contagious; everybody builds off of each other." Indeed, plenty of other UA sports teams caught the winning bug this spring, mandating an expansion of trophy cases across campus.
WOMEN'S GOLF
Coach Laura Ianello continues to inspire the women's golf team to amazing achievements with her fearless, fun personality. UArizona women's golf was the only program in the nation to reach the semifinals of match play in each of the last three NCAA championships. On the way, the Cats beat top seed Stanford but fell to eventual National Champs Ole Miss in the quarter finals at Grayhawk Golf Club in Scottsdale. Cat senior Yu-Sang Hou was named 2nd team All-American for third time in her career at UArizona.
MEN'S TENNIS
In tennis, Alejandro Reguant became the winningest player in program history, leading the Wildcats to their first-ever Sweet 16 in early May. Head Coach Clancy Shields says, "Alejandro is everything that is good with college athletics. As coaches, we talked daily about how lucky we were to have him leading this team, and I truly believe he inspired us all to achieve the success we had this year." That success included Shields being named Pac-12 Coach of the Year and Gustaf Strom named Pac-12 Freshman of the Year. Of Strom, Shields says, "He could have been on the show Ultimate Fighter. He is one of the fiercest competitors I've ever seen. He is very laid-back and easy going off the court, but once he steps into the competitive arena, he puts his body on the line every point. It is quite remarkable to watch."
From the jump, Coach Shields sensed something special about this squad. "We knew we were a good team, but you never really know how good until you're put to the test. For us, that was playing the eventual National Champions, University of Florida at the beginning of the season. We went toe to toe with them and very nearly knocked them off. I believe that match gave us the belief we needed, and the rest of the season we chipped away at little milestones to grow that belief." The Cats ultimately fell to SEC Champs Tennessee 4-3 in the Sweet 16 in Orlando, but Shields observes, "Everyone rededicated themselves to make an even deeper run next year. If we plan to play, we might as well compete for the highest prize. That is our mission."
MEN'S BASKETBALL
The University of Arizona's new head men's basketball coach is Tommy Lloyd — strong jawed, calm and down to earth. Lloyd spent a pair of decades teaming with Coach Mark Few, turning Gonzaga University into a national powerhouse. Heeke comments, "Tommy has articulated many times that there was only one program he would leave for and that was Arizona, a program that quite frankly Gonzaga had modeled itself on." Pressed for details, Lloyd says, "It's just class — the class of Lute Olson, how he was perceived and how he carried himself. It's something that Mark Few admired and we talked about, and building up a rabid fan base that supports you home and away. Arizona has that in spades, and Gonzaga developed that over the years as well."
Lloyd had little difficulty dropping the "Associate" from his title. "To be honest, I've really tried not to make too many changes in how I approach the day-to-day things. At Gonzaga, Coach Few and I had been together for 22 years. I had a lot of autonomy and impact on the program. As far as finetuning, I've been trying to lead by example in how I do my business and how I treat people. The first thing I want to do is establish a really positive, sustainable culture where teammates are happy for each other's success, but where they're really pushing themselves individually, building a team that plays with great effort and passion."
Lloyd's strengths focus "on relationships, tactical stuff, player development, talent evaluation, team building … all those things I've always felt comfortable doing. I really enjoy the 'X's and O's,' digging deep and figuring out ways to create advantages, to improve our weaknesses."
A notable recruiter of international talent, Lloyd says his ultimate equation for UArizona's team will be 75 percent domestic players to 25 percent international. "International players are taught how to play the team game first, and develop their individual skills second. The U.S. trend recently has been very individually based; players are more focused on individually developing their games."
Lloyd is magnanimous regarding the fleeting brilliance of "one and done" talents. "It takes all kinds of players in this day and age to build a team, whether it's a fouryear guy, a guy who's redshirted or transferred. I have no problem with 'one and dones' if they're ready for what comes with the life of being an NBA player, making sure the foundation is in place that allows them to have a long successful career and successful life. The NBA is a big jump, socially and financially. I want to make sure they're equipped with the tools to deal with the other things that come with being a good basketball player — that's my greatest area of concern."
At his introductory press conference, Lloyd exhibited palpable emotion. "I've always been a passionate person. I've always had a fire that burns inside me, and I've never had a problem with emotions coming to the surface," he said. "When I got the job here it was a lot. You work your life for an opportunity like this."
Heeke is enthusiastic about the future despite recent troubles. "I think our basketball program is still in a great position. We will navigate through this last part of the NCAA issues. We're excited to take Arizona Basketball to a whole other level. We need to be competing for national championships — that's what this program is all about."
MEN'S GOLF
It was gold on the greens for UArizona Men's Golf, winning the Pac-12 team championship, and Cat standout Brad Reeves taking the individual title alongside being named Pac-12 Player of the Year. Head Coach Jim Anderson comments about Reeve, "He is hyper-competitive, team-oriented and very mature about his strategy. It has been so great to see him work hard and grow into the player he is now and the one he aspires to be at the professional level. We had something special this year, (the team) had deep friendships off the course with respect for differences, too," adds Coach Anderson, the recipient of the Pac-12 Coach of the Year Award. "I was certainly humbled, honored and surprised," he says. The Wildcats advanced to compete in the Cle Elum, Washington Regional, and finished the season ranked Number 20. Anderson sums up, "This group has revealed what the special ingredients look like for us, motivating and coaching teams at Arizona in the future."
SOFTBALL
An astounding eight National Championship banners adorn Hillenbrand Stadium, which was the place to be in the spring of 2021.
In late May, the Cats shook off doubt to beat Ole Miss twice after losing game one in Tucson to advance to the super regionals in Fayetteville, Arkansas. There, they trounced the hometown Razorbacks and pushed on to the Mecca of softball, USA Softball Hall of Fame Stadium in Oklahoma City.
All seven Cat seniors opted to return to play for another (fifth) season under the COVID option — evidence of the passion for playing for the best softball coach in history, Mike Candrea. Even and resolute, Ray Ban wearing and mustachioed, the 65-year-old Candrea simply knows how to communicate, inspire and lead.
It was the 24th time in program history that the Cats competed in the World Series. Innings in OKC were on point and competitive, but the Cats were unable to conquer Alabama and Florida State.
Rumors swirled that after 35 years at UArizona, eight National Championships and two Olympic medals, the iconic coach was retiring. Candrea did not fuel the fire; he simply and elegantly handed the baton to long-time Assistant Coach Caitlin Lowe, who also played for him 2004-07.