This is the second year of "10 to try." Although it's hard to narrow down our staff's favorites, we think you'll find in these selections something that will make your own "best of " list.
FROM THE STAFF OF TUCSON LIFESTYLE
Saffron Indian Bistro
MUST TRY: CHICKEN TIKKA MASALA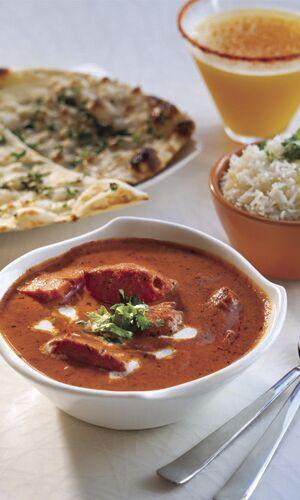 Although it's the national dish of England, Tucsonans are crazy about Chicken Tikka Masala! According to server/bartender Aaron Wilson, this dish is the one most often requested at Saffron Indian Bistro, usually ordered with a side of garlic naan with which to sop up the delicious creamy, tomato-y sauce. The succulent chicken breast pieces are first marinated in yogurt blended with a number of traditional Indian spices such as cumin and coriander. The chicken then is added to a slow-simmered fresh tomato sauce with a hint of cream and zesty Indian herbs and spices. Basmati rice sprinkled with cumin seeds accompanies the saucy deliciousness.
Saffron offers most familiar Indian dishes, which are available in different levels of spiciness. Wilson notes that customers who like it hot can request additional spice levels, ranging from "spicy American," "extra spicy," and "Indian spicy" to a level so high the staff refers to it as "pet hospital"! Another notable factoid about Saffron: Owner Mintu Sareen offered furloughed Federal workers (with valid ID) free lunch buffets during the government shut-down — more than 700 were served!
7607 N. Oracle Rd., Suite 101, Oro Valley, 742-9100; tucsonindianrestaurant.com
Agustín Kitchen
MUST TRY: MEZZE PLATTER
If we learned nothing else from kindergarten, it's that "sharing is caring," and you can show your dining companion that you care very much by selecting the mezze platter at Agustín Kitchen. This Mediterranean-inspired dish offers plenty for two to share, and so many delicious and different tastes that it may be hard to decide what you like best.
Executive Chef Alex O'Neill explains how the dish evolved. "It started on a summer menu. We were trying to figure out something that was a little more economical, and more adventurous than the traditional chef board. Sally Kane, our operating manager, mentioned mezzes, and it piqued my interest with how dynamic they are. There are a plethora of ingredients that you can pull from to make a mezze platter, and it instantly became a staple on our menu. It's one of those items that I think we would be met with torches and pick axes if we ever took it off!"
With ingredients that include beet-pickled eggs, hummus, flatbread, olives, sheep's milk feta, falafel, and muhammara, it's easy to taste why it's so popular.
But it's only one option on a menu that takes advantage of both locally sourced ingredients and O'Neill's culinary wizardry. The restaurant not only has good relationships with many farmers and food producers in the region, the Mercado itself holds a farmers market every Thursday, and sometimes O'Neill will pick up something that seems especially inspiring.
"When I make the menu, there's an unspoken tie that binds everything together," says O'Neill. "Any time we put a dish on the menu, it has to speak to what the restaurant is and who our clientele are."
That means the brunch, lunch and dinner menus can have everything from entrées with a Southwest flair (huevos rancheros), to Asian influences (tandoori pork loin), to classic French dishes (coq au vin), all created with a distinctive Agustín approach.
With bar dining that has a fun communal vibe, patio seating (with live music on the weekends), and a dining room that is elegant without being stuffy, there's a spot for any dining mood.
100 S. Avenida del Convento #150, 398-5382; https://agustinkitchen.com.
Culinary Dropout
MUST TRY: BEER BATTERED FISH & CHIPS
Fish & Chips is a traditional dish that works well in casual eateries, so it's no surprise to find it on the menu at Culinary Dropout. While developing the concept for the eatery, founder Sam Fox and Clint Woods, Fox Restaurant Concepts' vice president of Culinary, created the dish to reflect classic comfort dishes for a gastro-pub style setting. Made with California Rockfish and beer-battered (using Stella Artois), the fish fillets are deep-fried to be crispy on the outside, tender on the inside. They are served with coleslaw, tartar sauce and fries.
Three days before opening the inaugural Culinary Dropout, Fox and Woods were still working on the menu, with a lot of ideas but no firm direction. "Nothing was working out," Woods states. "So we starved ourselves for a day, and that's how we came up with the ideas, like, 'What are you hungry for right now?' A little hung over, a little starved from the day before … that's how the menu came about."
The menu features many such pub food items that are enhanced in creative ways. The results are as varied as the eatery itself, with its many different dining areas, each with a different vibe.
2543 E. Grant Rd., 203-0934; culinarydropout.com/locations/tucson-az
El Sur Restaurant
MUST TRY: CHICKEN TORTILLA SOUP
Visiting the 22nd Street location of El Sur Restaurant is like dropping into your grandmother's house for dinner … if your grandmother is a fabulous cook from Sonora, Mexico. The aromas are enticing, the staff is welcoming, and the menu includes so many options that you'll want to return for breakfast, lunch and dinner.
The chicken tortilla soup is a really good example of the care that goes into preparing each order. Isela Mejia, who owns the restaurant with her husband Luis, explains that they boil the chicken themselves, make their own broth, sauté tomatoes, onions and green chiles, and put it all together just before it goes out to your table. "We make everything when y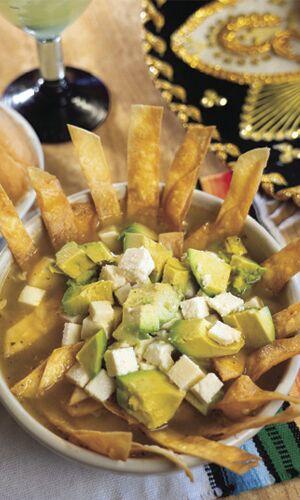 ou order it, so the tortilla strips, the avocadoes, the goat cheese, nothing is cut and done until you order," says Isela.
The recipes are those of Isela's mom, who was from Sonora, as well as from El Sur's cook, who likewise hails from that state. Whether you order the soup, shredded beef flautas, or cheese enchiladas, a server will come to your table and offer you steaming, freshly grilled onions and peppers to go with your meal. And fans of rice and beans will be pleased to know that they are prepared fresh several times throughout the day to keep up with the demand.
The 22nd Street location offers both interior and patio dining. The 29th Street store was recently remodeled, and is set up like a taco shop. "You order up at the front," notes Isela, "and we have a salsa bar, a chip bar, and we make our corn tortillas for our street tacos by hand."
The legions of fans of the 22nd Street location, who know how crowded the cozy dining room can get at peak lunch and dinner times, will be relieved to hear that plans are in the works to expand beyond the present boundaries. 5602 E. 22nd Street, 748-1032; 4602 E. 29th Street, 747-3313; www.elsurrestaurant.com
Beyond Bread
MUST TRY: CHOCOLATE BOMB
For many Tucsonans, Beyond Bread has become synonymous with delicious dessert items in addition to their amazing baked-on-the-premises breads. One treat that ranks as a Tucson Lifestyle favorite is the Chocolate Bomb. These orbs of chocolatey goodness come in three flavors: peanut butter, amaretto and the "chocolate lovers" version. It's easy to find which is which, as the peanut butter has a hole in the chocolate shell to show off its peanutty inside; the amaretto has an almond attached to the shell; and the chocolate lovers features a white chocolate drizzle. Assistant Manager David Drazkowski, of BB's Speedway location, notes that "The peanut butter seems to be the most popular, and it usually sells out first."
Before indulging in your chocolate bomb, make sure to peruse Beyond Bread's extensive menu. With its creative takes on sandwiches and salads, there is literally something for everyone in your party. The menu points out which options are vegetarian, vegan, and gluten-free, and also warns those with dental issues (via an adorable toothshaped icon) about crusty breads.
Monterey Village at Wilmot, 6260 E. Speedway Blvd., 747-7477; beyondbread.com
Bob's Steak & Chop House
MUST TRY: PRIME FILET MIGNON
When you've got a fantastic product, there's really no need to "gild the lily." This is certainly true of the Prime Filet Mignon at Bob's Steak & Chop House, which is available in 9-, 12- and 16-ounce portions. According to Bob's General Manager Peter Prassas, their prime beef is chosen from the top two percent in the country, and is perfectly trimmed and expertly grilled. "With beef this great, there is no need for marinades — just salt and pepper, cooked and seared to perfection," says Prassas. "The filet really is the best of the best — you'd be hard pressed to find a more tender piece of beef. Some guests prefer the ribeye, which is more marbleized. Each entrée — whether it is beef, vegetarian or seafood — is accompanied by our signature giant carrot, which is coated in a cinnamon glaze." The carrot is a throwback to Bob's grandmother, who used the vegetable to separate food items on his plate!
Bob's Steak & Chop House's dining room is charmingly old school, with hardwood floors, leather chairs, wooden beams and iron chandeliers. The main dining room seats 60, 30 on the patio, which looks onto the Catalina Course of the Omni Tucson National Resort. A private dining room is available for parties up to 50 guests, and boasts golf course views. The eatery is renowned for its hefty portions, big pours on drinks, and its attentive and knowledgeable staff. Omni Tucson National Resort, 2727 West Club Drive, 877-2377; bobs-steakandchop.com/Tucson
Dao's Tai Pan Restaurant
MUST TRY: VEGETARIAN SPRING ROLLS
Long before most Americans learned what pho was (and subsequently fell in love with it), Cac Dao, owner of Dao's Tai Pan Restaurant, was doing his best to introduce the cuisine of his native Vietnam to Tucson. A professor in UA's Department of Civil and Architectural Engineering and Mechanics, he discovered some 20 years ago that he had to go to Phoenix for authentic Vietnamese food. He and his wife bought what was originally a Chinese restaurant, and went about slowly educating consumers. "The American public didn't know that much about how to enjoy pho, banh mi and other dishes," says Dao, "so we started a cooking class. We taught them how to make the spring rolls, and then they could eat what they made."
The spring rolls are a little marvel: perfect for an appetizer, or even by themselves for lunch. Dao's has the conventional variety, goi cuon tom thit, but also their own vegetarian version, goi cuon chay dau hu chien, with noodles, green onion, tofu and mint. "There's no such thing as vegetarian spring rolls with tofu in Vietnam," explains the owner. "We created it because of the needs of the customers. Traditionally spring rolls come with pork and shrimp. Someone said, 'Why don't you put tofu in and eliminate pork and shrimp?' People have loved it. I debated whether to use fresh or fried tofu, and it depends on the customer. If they want fresh, we will do that."
Likewise, Dao's has both the type of pho one would find in Vietnam, as well as some rice noodle soups that are uncommon, such as pho rau dau hu with tofu and vegetables, or pho gar au, with chicken and vegetables. The chicken and vegetable soup was created for a regular customer, and has proved to be so popular that Dao says it's their "signature dish."
The exciting innovations don't stop with the appetizers and entrées, however. Dao has added his personal tastes and experience to the beverage selection. "When I was in Vietnam, I was a student, and I liked to enjoy fruit smoothies," he says. "I actually helped my brother run a store selling them. Four or five years after we opened here in Tucson, we added these drinks with tapioca, which are originally from Taiwan. I came up with the recipes myself from my experience, and named them things like Tropical Storm, and Sensation of Vietnam." For those who need a smooth and satisfying blast of caffeine, the restaurant also has sweetened iced coffee and Thai iced tea.
446 N. Wilmot Road, 722-0055; 4206 N. 1st Avenue, 888-2200
Shogun Japanese Restaurant & Sushi Bar
MUST TRY: CATERPILLAR ROLL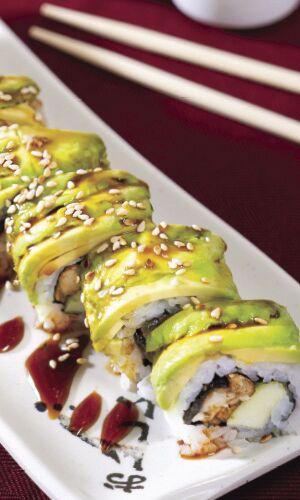 Although the Caterpillar Roll may look like its namesake insect, it does not contain any (thank God!). This "Americanized" sushi roll is unlikely to be found in Japan, but is super-popular in Tucson. It contains cooked fresh water eel (unagi) and cucumber, wrapped in a seaweed sheet (nori), and rice. The cucumber offers a hint of crispness. The exterior is layered with avocado, then drizzled with a thick, sweetened soy sauce that perfectly augments the eel's slightly smoky flavor. According to Shogun's Front-end Manager Chris San Jose, the Caterpillar Roll is half-price as a special on Wednesdays (each day features a different roll as the special). He notes that the restaurant primarily is known for its sushi and sashimi, and especially for its fresh, generous cuts of fish.
Shogun also serves traditional Japanese offerings such as teriyaki, sukiyaki, tempura fish and vegetables, Bento boxes filled with tasty items, and colorful "boats" laden with a variety of cooked items or sushi/sashimi assortments.
5036 N. Oracle Rd., 888-6646; shoguntucson.com
47 Scott and Scott & Co.
MUST TRY: GRILLED CHEESE STACK
Like the downtown scene itself, the menu at 47 Scott is always evolving. Manager Teodoro Lillard comments that, "It's a menu with offerings for every individual. It constantly changes with the seasons, with creativity, and the availability of products."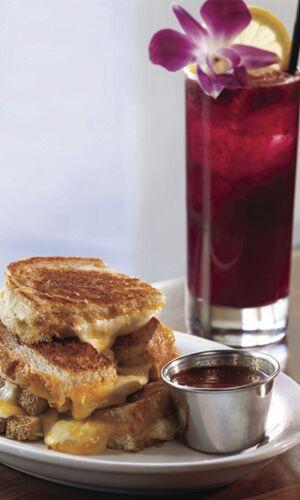 Although it's not a huge menu, it's finely curated so that whatever you're in the mood for, you're likely to find something that suits your tastes. Asked for her favorite item, Lillard names the scallops, which are served with a celery root risotto. She also singles out the handmade pasta options: a squash/wild mushroom/sage gnocchi for vegetarians, and a carbonara that includes house-made pancetta, prosciutto chips, and a 63-degree-cooked egg. "When you break the egg," she explains, "you make your own sauce."
But many long-time fans of this happening dinner spot choose the grilled cheese stack as their favorite item. Made on sourdough bread with a three-cheese blend, and served with a sweet-and-spicy dipping sauce, this delectable dish is definitely not the uninventive sandwich you remember from your childhood. And don't be surprised if, by the time you read this magazine, there also is a new grilled cheese on the menu (although the traditional version will still be available).
Lillard says that one of the things the business is currently working on is creating a little better definition between 47 Scott, and Scott & Co., the bar that's located in an adjoining room. "The bar is first come first served, more casual," she says. "It's more about socializing and interacting."
Whichever area you choose, however, Lillard observes that the place is known for, "Friendly and approachable service, great and creative food, and a sense of community." 47 N. Scott Avenue, 624-4747; www.47scott.com
5 Points Market & Restaurant
MUST TRY: THE PANCAKE
Adjacent to Cesar Chavez Park on South Stone is a little gem of a restaurant that brings a new sparkle to breakfast and lunch. The small but comfy space, staffed by folks who really seem to love their jobs, utilizes local food purveyors to offer a menu that co-owner Jasper Ludwig says is "small but diverse."
Items include everything from a smoked salmon Benedict, to a breakfast salad (with butternut squash, argula and eggs), to a smoked beet sandwich. But those of us who fondly recall weekend mornings spent drizzling real maple syrup over a scrumptious, nearly dessert-like breakfast treat will gravitate to "The Pancake."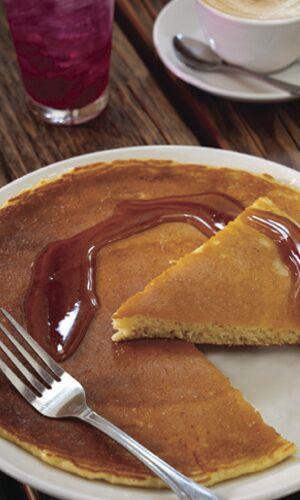 "It's pretty basic as far as pancake recipes go, but it's a good recipe," says Ludwig. "I guess there's something nostalgic about a really classic pancake. I think it's a combination of quality organic ingredients, clarified butter that we brush on while it's cooking, and putting cinnamon on the plate."
Buying local is so important to the owners that they even give a shout out to many of their vendors on one wall of the restaurant. And they've taken the local connection a step further: "We've gone as far as creating our own farm, which we're in our second season of growing now. That's allowing us to play with even more rare, interesting heirloom seed varietals," comments Ludwig.
Though 5 Points, which has interior dining, as well as a small, front patio, is only open for breakfast and lunch, and all the offerings are brunch-style foods, there's such a span of choices that you can return again and again to sample new things. That goes for the beverage choices, too, which include all varieties of coffee drinks, about 10 hot or iced teas, and fresh juices.
756 S. Stone Avenue, 623-3888; www.5pointstucson.com