Hollywood has been making Westerns in Southern Arizona since before movies could talk. Join us in reeling through the years ….
People all over the world have long been intrigued with the romance of the American West. Depicted in well over 5,000 feature films, TV shows, documentaries and music videos, the distinctive blend of cultures, geography and weather found in the Grand Canyon State has lured filmmakers for more than a century.
Decades before a frame of Arizona, the film that started it all for Old Tucson Studios, was shot, the nascent movie industry discovered the advantages of shooting right here, at the source of the myths of the Old West.
A QUIET RIOT
PJ Lawton, a retired deputy sheriff for Pima County, started studying Western film history in Arizona after he went to work at Old Tucson, eventually becoming the official historian over his 21 years at the famous movie locale. Lawton also has authored several books, including Old Tucson: The Biography of a Movie Studio, scheduled for publication this year.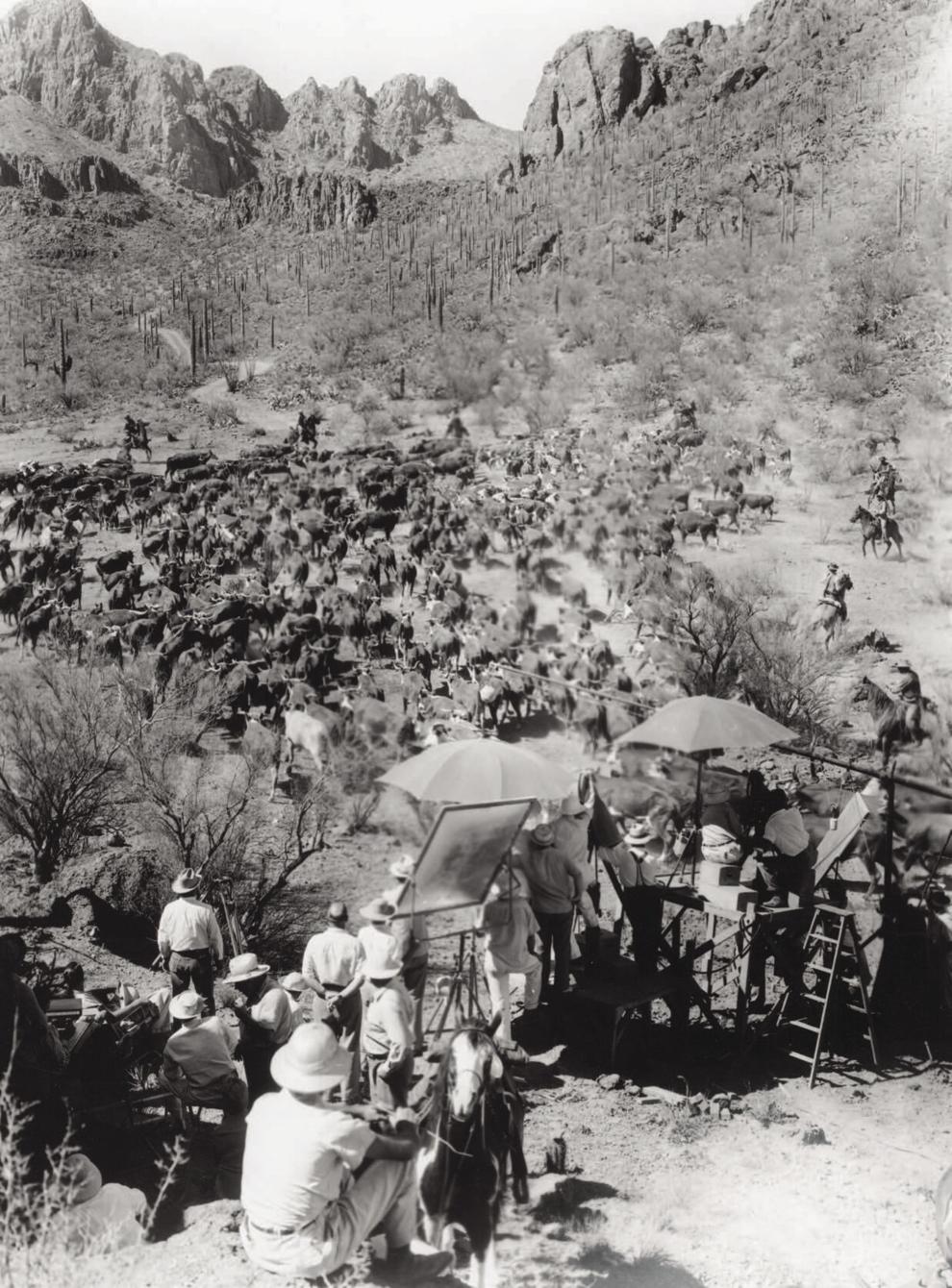 "I've always had an interest in history, so when I went to work at Old Tucson, I started to look back at our region's film history," he says. "I was surprised to learn about when filming came to the area, and Tucson's role in silent pictures."
Lawton remarks that over the years he's uncovered lots of anecdotes about the productions that actor William S. Hart once dubbed, "horse operas." For example, one of the largest motion picture companies to come to Arizona was the Lubin Stock Company, headed by Siegmund Lubin, a Jewish immigrant from Poland. A photography and optical expert, Lubin began filming in 1897, and by 1912 he had grown his cinematic empire with studios in Philadelphia, Jacksonville, Florida, Los Angeles, and Coronado, California. In that same year, he sent actor Romaine Fielding (real name: William Grant Blandin) to establish the company's presence in the Southwest. Fielding wrote and directed a dozen short silent films in places such as Silver City, New Mexico, before moving to Tucson. Known for his dark and dramatic Westerns, he chose the Old Pueblo as a backdrop for The Sleeper — a Rip Van Winkle tale about a miner — that turned out to be one of his biggest productions.
"They cast 400 local residents for a Gold Rush scene and dressed everyone in their roughest clothes and packs, bedrolls and mining tools and boarded a borrowed Southern Pacific Railroad train that chugged a short way down the track before unloading," he relates. The "gold fields" were near Sentinel Peak ("A" Mountain, before the initial was added), where a temporary tent city was established. Several hundred other Tucsonans brought wagons, buckboards, mules, horses and mining equipment for the elaborate scene.
Lubin produced more than 60 films while located in Tucson. A fire in 1914 — motion picture film was highly flammable at that time — destroyed the flagship studio in Philadelphia where many movies were awaiting release. The financial devastation would lead to the company's filing for bankruptcy in 1916, according to an article on Silentsaregolden.com.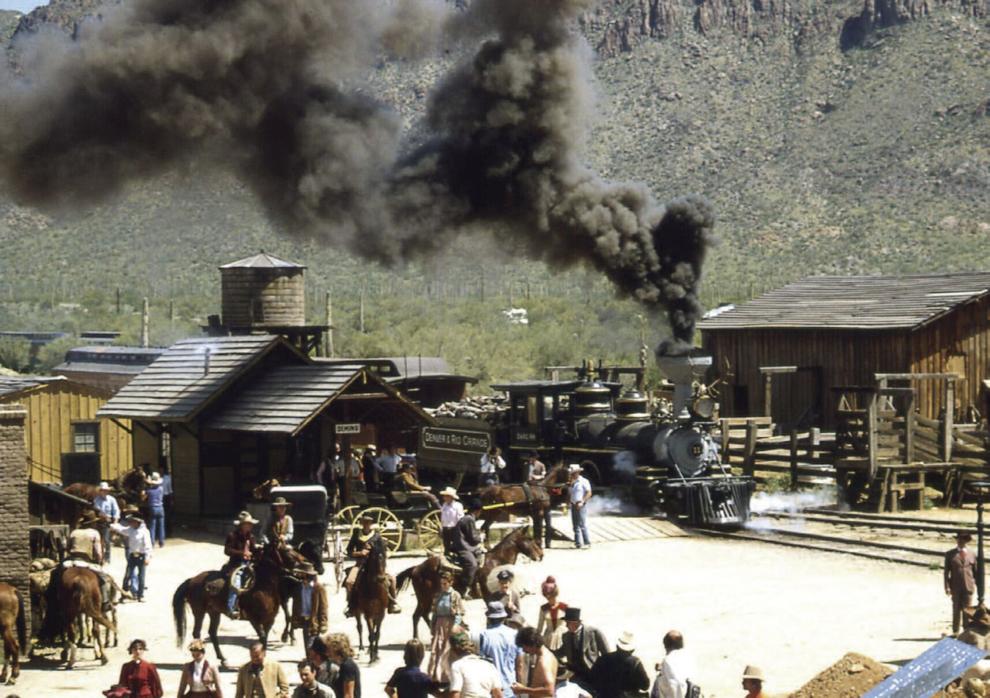 The Western movie and its conventions had become entrenched by 1918, a year that saw the release of Out West, a parody of cowboy clichés starring Roscoe "Fatty" Arbuckle and Buster Keaton that was shot in Southern California. Back in Tucson, Light of the Western Stars, based on a Zane Grey novel about a crooked sheriff and the fight for control of a ranch, was being shot.
In 1924, Sol Lesser of the Principle Pictures Corporation purchased the movie rights to a number of Harold Bell Wright's books, including The Mine With the Iron Door. Filmed in Canyon Del Oro in the Santa Catalina Mountains, it was the first big outdoor picture of its magnitude. One scene called for a flash flood in the Canyon Del Oro River. Filming purposely took place during a monsoon to take advantage of a storm that would fill the river with water. As Lawton notes in his book about Old Tucson, the film crew got their shots, but nearly drowned in the process!
TALK TO ME
By 1928, motion pictures had completed their evolution to sound, and silent filmmakers were shutting down because they couldn't make the transition to "talkies" quickly enough.
That's not to say sound was a great dramatic improvement. Lawton observes, "The talkies were little more than shallow vehicles to get the newest scientific breakthrough out to audiences, but these films weren't very good." He references the 1928 movie, In Old Arizona, starring Warner Baxter and Edmund Love, which was shot around the Grand Canyon State and elsewhere. It would go on to win an Academy Award for Best Actor for Baxter (who later portrayed both the Cisco Kid and the Arizona Kid). "[It didn't win] because it was a good script, or he was a good actor," Lawton says. "It was because he was the first one to be in an all-talking picture."
Lawton comments that filming in Tucson really picked up when Nick Hall moved to town in 1934 to manage the Santa Rita Hotel. Hall would host movie moguls at the hotel so they could see and experience what the region offered for Westerns. In his book, Lawton writes, "All of this brought recognition to Nick Hall, the Santa Rita and, of course, to Barney Goodman, the owner of the hotel."
MOVIES ARE HOLDEN ON
In the late 1930s, Columbia Pictures came to the Southwest searching for the perfect location for its movie project, Arizona, based on the novel by Clarence Buddington Kelland. The company leased 320 acres from Pima County and built a replica of the 1862 Arizona Territory settlement. Working with a then-unheard-of $2.3 million budget (about $43 million today), they hired 300 laborers, 100 carpenters, and 120 adobe brick makers from the Tohono O'odham Nation to construct the settlement. With no water or electricity available, all the production supplies were trucked in. The set was ready in just 40 days.
Columbia brought in 500 head of cattle, 150 oxen, and dogs from all the pounds around Tucson. They hired 250 extras and crew, all with the hope of creating a blockbuster film. To seal the deal, popular actress Jean Arthur (from Frank Capra's Mr. Deeds Goes to Town, and Mr. Smith Goes to Washington) and rising star William Holden — then just 22 years old — were cast as the leads. The film premiered at the Fox Tucson Theatre, with Congress Street shut down for the occasion, on November 15, 1940.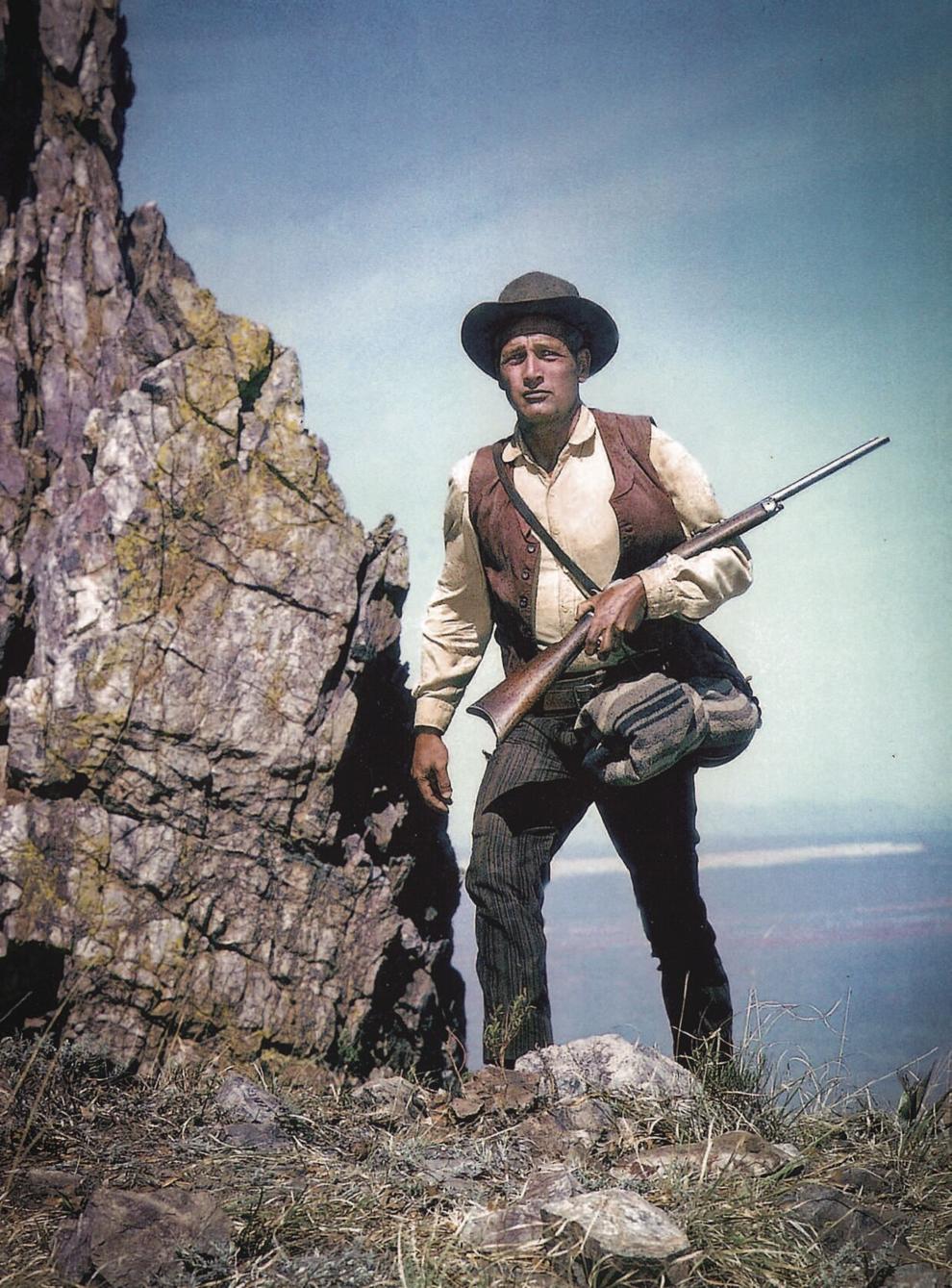 Columbia abandoned the set of 80 adobe buildings to the elements. With no money to pay for the upkeep, the property began to deteriorate. In 1946, the Tucson Junior Chamber of Commerce took over the lease and began to improve the site. From 1940 to 1959, more than 20 films were made at Old Tucson, including Winchester 73 with James Stewart; The Last Outpost with Ronald Reagan; and The Guns of Fort Petticoat with Audie Murphy.
When Robert Shelton moved to Tucson in 1959, the developer from Kansas City was looking for a place to build an Old West-style town. This began Old Tucson's long career as the pre-eminent film locale in the Southwestern United States, surpassed only by Los Angeles and New York. In 1970, Mescal, a sister set constructed just outside Benson, Arizona, for the Lee Marvin movie Monte Walsh, was acquired. Reportedly, the sale went through just after the Mescal location was leveled by a storm!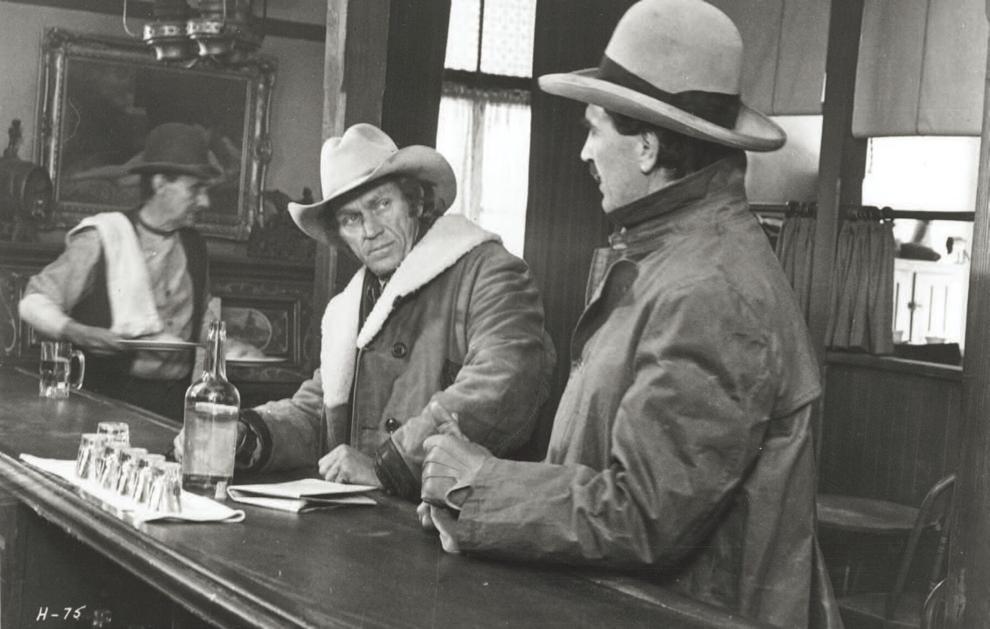 Shelton, then married to Jane Loew, whose grandparents had started Paramount Pictures, had many connections to the filmmaking business. These included friendships with John Wayne, Michael Landon, Elizabeth Taylor, Paul Newman and Maureen O'Hara, to name just a few huge stars. With his passion for the cinema, major films including Rio Bravo, Joe Kidd, Hombre, Tom Horn and McClintock! were filmed at Old Tucson.
I'LL TUMBLE FOR YA
It was on the set of McClintock! where Shelton met Jack Young, a well-known stuntman who had worked in many films with The Duke. After sustaining a careerending injury — as the result of falling from a horse while filming The Alamo — Shelton convinced Young to come to Old Tucson and shore up the stunt programming for the park.
Cody Young, a history instructor at UArizona who also teaches a class on Westerns, recalls his dad sharing how the deal came about.
"Bob said to my dad, 'I can't pay you what you're worth.' And my dad said, 'That's OK, because I can fall off a roof … it doesn't move like a horse does,'" Cody shares, adding, "My dad never liked horses after that injury." Jack Young became vice president of entertainment and put together a "solid stunt crew that could produce quality shows for the public," Cody observes. "It really became a popular tourist destination.
"Growing up, Old Tucson was my playground," he muses. "It informed my entire childhood. The studio, and of course, living with my dad, is why I love the Western genre so much. It's intrinsic to who I am."
Cody says he was devastated when a fire of unknown origin took out more than half of the park on April 24, 1995. "I felt like a part of me was gone." It was later rebuilt and continued to be a big draw for filmmakers.
Alas, the park is now shut down due to the COVID-19 pandemic. Cody says he's hopeful it will reopen, and that moviemaking will continue to be part of the activities. He would also like to see the park collaborate more with the university, especially on film history.
He may yet get his wish.
In September 2020, Pima County assumed responsibility for the Old Tucson property and has been working with a task force to evaluate its fate moving forward. The county released a Solicitation for Qualifications (SFQ) in January 2021 to identify potential operators of the park. Their options are as open as an unbroken spread of sunlit prairie.
"Suggestions for the future use of Old Tucson have included continuing as a Western-themed attraction; upgrading the facilities to a working movie studio; and utilizing the undeveloped portion of the lease for outdoor activities in line with Tucson Mountain Park," concludes Diane Frisch, director of Pima County's Parks and Attractions. "Our hope is this valuable property will continue to be a tourism draw for both the residents of Pima County and those visitors drawn to Southern Arizona, perhaps by including all of the above."
A RANGE OF OPPORTUNITIES
Blockbusters like Tombstone and The Quick and the Dead are just some of the more than 400 films, television shows and music videos that have been filmed at Old Tucson and Mescal. Just in the past two years, You're Gonna Miss Me, produced by and featuring country artist Kix Brooks, made its world premiere at Old Tucson where it was filmed (Casino Del Sol also was a location). The Legend of Five Mile Cave, a production of INSP Films also shot at the famous movie location in 2017, and it's currently available on Netflix.
The activity generated at Old Tucson has drawn the attention of filmmakers to other locations throughout Southern Arizona, including Marana, Bisbee and Nogales. Peter Catalanotte, director of Film Tucson, says that even though Arizona doesn't have film incentives, there are still assets that continue to attract productions.
"It's a very competitive environment, and there is a lot happening in filmmaking today, with so many streaming channels and alternative distribution resources out there," he comments. "Southern Arizona has assets that can't be replicated anywhere else, including our geography and weather." He also notes that several projects from Mexico have expanded their network across the border.
"Three years ago we had a producer pitch a web streaming program that ultimately became a Netflix series. We continue to look at every opportunity."
John Fusco, who wrote the Westerns Young Guns and Young Guns II, recalls his time filming in Southern Arizona. He remarks that he returns to Old Tucson at least twice a year, just to walk the streets and see how the park is changing. "I always liked to be the first one on the set, watching the sunrise, getting my breakfast burrito and walking the streets. I had a lot of time to just explore nooks and crannies and images, the spirit of the place, and feel the history that shaped and inspired all of us."
Fusco says he currently has a few Western features, as well as a series, in the works.
"Since Young Guns, I have continued to find a way to keep Westerns going, and I'm very encouraged. The industry, despite and apart from COVID, is in a really exciting period in the world of new media. Every day there's a new streaming venue opening and looking for content. We're also going through a time right now where there's a real hunger for Americana.
"My perfect career dream at this point would be to have a series shooting in Tucson," he continues, sounding a little like a Western hero from the Golden Age of Hollywood. "I could just go out to Old Tucson every morning and walk those streets for many seasons and many years. That would be a nice way to ride into the sunset."