In a desert environment, water is one of nature's most valuable resources. We asked local experts to explain what is being done to ensure a safe, sustainable water supply for the Greater Tucson area.
Flashback 10 years ago: the Southwest was under a record-breaking, 11-year severe drought warning. The Colorado River Basin was at an alarmingly low rate not seen in more than 1,000 years, and Lake Mead's water levels were at their lowest since it was filled in the 1930s. Local cities and towns were implementing strict conservation measures to reduce the flow of water to landscapes, pools, golf courses and more.
Fast forward to today and the glass is more than half full, especially in Tucson. To understand the significance of how the state of water in the Southwest has changed, one must first understand how Arizona's water is managed.
Turning on the CAP
The Colorado River Basin serves seven states' water needs. In 1921, motivated by California's burgeoning growth, the states' leaders got together to develop a plan that would manage water resources into the future. In meetings mediated by Secretary of Commerce Herbert Hoover, they signed the 1922 Colorado River Compact, which outlines the allocation of water for each state. The agreement established the Upper Basin to include Colorado, New Mexico, Utah, and Wyoming; the Lower Basin includes Arizona, Nevada, and California. In 1944, the U.S.-Mexico Water Treaty added an annual allocation to Mexico.
Hoover Dam (dedicated in 1935) was built to provide hydroelectric power, and store Colorado River water in what is now known as Lake Mead. Lake Powell, north of Lake Mead, created by flooding Glen Canyon, took approximately 16 years to fill to the 3,700-foot level in 1980. Water levels in both the Colorado River Basin, and Nevada's lakes, are key indicators as to whether the region is heading toward — or in — a drought, and to what degree.
In 1968, President Lyndon Johnson signed the Colorado River Basin Project Act, establishing the Central Arizona Project (CAP). CAP was responsible for the construction of the 336-mile system that brings Colorado River water to Central and Southern Arizona. According to the CAP website, CAP "delivers the state's single largest renewable water supply and serves 80 percent of the state's population." CAP is managed by a board of directors with representatives from around the state.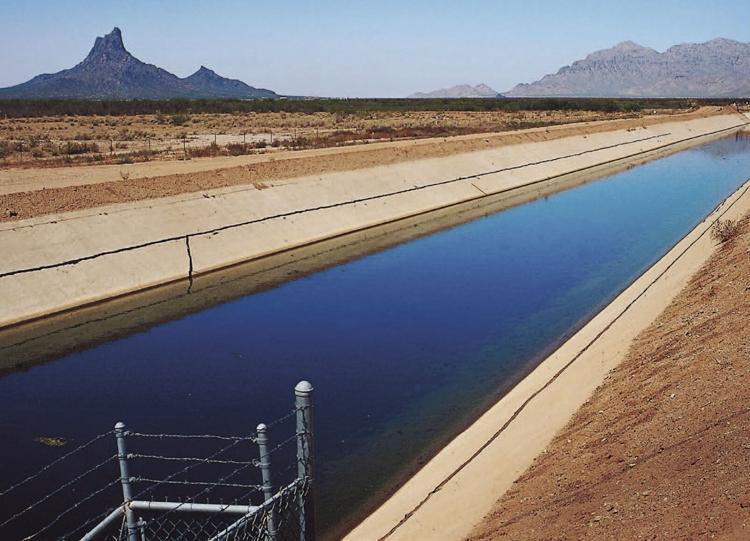 Once the water is received in the Tucson region, there are nearly a dozen water utilities between Catalina and Green Valley to source the water to customers. Within each of the municipalities, water utilities may share service areas.
The Colorado River Basin and Lake Mead have been in a drought situation for 20 years and counting. Climate change, dry winters with little rain — offset in some years by higher-than-normal rain seasons — and the growth in the state have all contributed to the ongoing condition. Another challenge is that the allocations agreed to in 1922 were too optimistic almost from the beginning, leaving the river in what is known as "structural deficit," meaning there's more water being used than can be replaced, even under the best natural conditions.
Without a Drought
Karen Cesare, RLA, president/owner of Novak Environmental, Inc., and a member of the Central Arizona Project (CAP) board of directors, says that Arizona is no longer in "dire straits" as it appeared to be even as recently as 2017 in some parts of the state. "Ten years ago, everything was lining up to look like we were driving into a shortage," she adds. "We're no longer looking like that. One major reason is the completion of the Drought Contingency Plan (DCP)."
The DCP is a master plan for the Colorado River Basin and the states it serves, Cesare explains. It will not prevent a shortage, but it does provide security for Arizona residents that future water supplies are more reliable and secure. The plan was developed through leadership from CAP and the Arizona Department of Water Resources (ADWR), representatives from the affected states, and 40 water professionals from Arizona.
"It's not one single document, but rather a set of agreements and legislation from all seven states to work to protect the river's resources through voluntary reductions and increased conservation efforts."
The Drought Contingency Plan Authorization Act was signed into law on April 16, 2019, and lasts until 2026. Voluntary reductions already are taking place.
"CAP and others are already leaving large amounts of water in Lake Mead, which is looking a lot better this year than we expected a couple of years ago," Cesare says. As of late March 2020, after a wet winter, Lake Mead was eight feet above a shortage declaration, she notes. "With the drought plan in place and Mother Nature flowing again, we may not have to declare a shortage this year."
Cesare says the DCP was a milestone upon which they would like to build the next solution before 2026: updating the water allocations that were set in 1922 for the Upper and Lower Basins. The first meeting for that effort was postponed due to the Coronavirus pandemic. "We can't delay it too much," Cesare says. "Six years is not a lot of time in 'water years.'
"We live in the desert, and taking personal responsibility for our water use is always going to be a consideration," she adds. "We're doing some great things when it comes to water conservation; on a macro level, thousands of acre-feet of water are being left in Lake Mead. That, combined with personal responsibility and conservation efforts, is what got us to this point."
Notes Tucson Water Director Tim Thormure, "We're a community in the Sonoran Desert — water will always be top of mind. That in and of itself is a challenge and a lifestyle."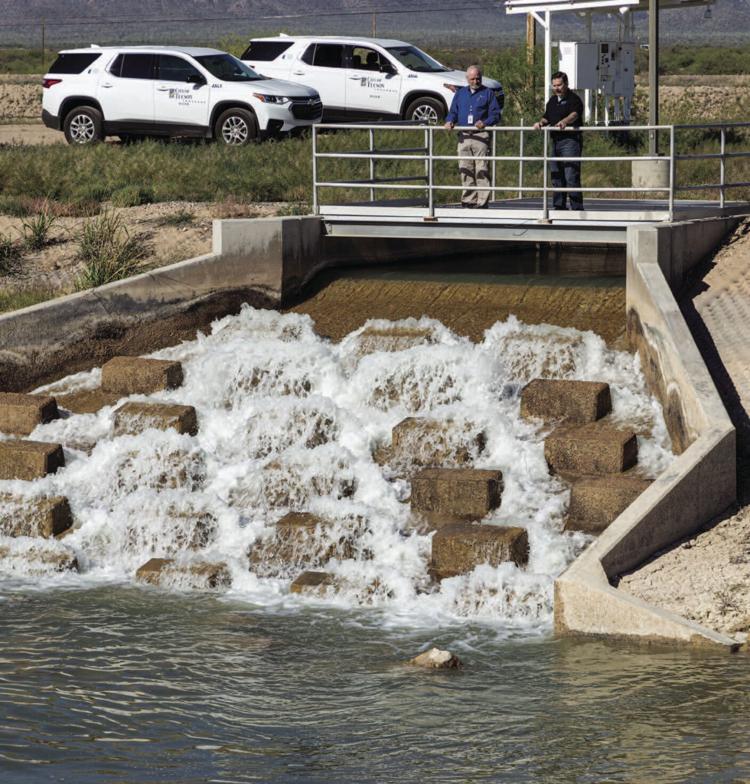 Tucson is a community that embraces the desert and recognizes that water is a commodity. "Not all communities have done so," he adds. "They've fought that notion, but in recent years they've had to make significant adjustments in how their communities look and feel to deal with the scarcity of water."
Thormure says the utility is constantly challenging itself to be more efficient in how it delivers water to both residential and business customers.
"Tucson has the most resilient water supply in the Southwest," he says. "This is because we have made investments in our water resources, identifying alternatives to groundwater by using rain and stormwater more efficiently, and focusing on conservation education."
Thormure backs up his boast with the numbers. Tucson Water has approximately 170,000 acre-feet of renewable water available for use each year. One acre-foot of water is equal to 325,851 gallons. This source does not include available groundwater. Total demand for the year is an average 105,000 acre-feet, leaving 65,000 acre-feet to put in reserves. Those reserves are stored in large aquifers west of Tucson.
"We have about 500,000 acre-feet stored for Tucson Water," he observes. On top of that, Tucson has another 500,000 acre-feet of water stored in the event of severe drought conditions in the Colorado River, and approximately 10 years of groundwater, providing water for the next 40-50 years.
Other cities also have made great progress in reducing water use. "As a region, we're in a better place than we were 10 years ago," he says. "Las Vegas and Phoenix have done a lot to bring water use down. Even with economic growth, demand is lower and continues to decline."
Ten Across, Eight Down
John Take, executive vice president and Water Business Operating Unit leader at Stantec in Tucson, says he has seen a noticeable increase in how the industry has come together over the past 10 years.
"The number of partnerships in the water space has made a difference in how we are addressing water challenges," he says. "There's connectivity across the industry as we all recognize these challenges are basic and very similar."
Arizona State University also recognized this on a national level and launched the 10 Across initiative. This program identifies the states along the US I-10 corridor as representative of the future challenges of the water supply. The states are California, Arizona, New Mexico, Texas, Louisiana, Mississippi, Alabama, and Florida.
"These states contain some of the most populous and growing cities, and water seems to be the focus that draws all of these communities together," Take says. "They experience challenges ranging from not enough water, to too much."
Ten Across brings experts together from the states and the industries to share best practices and research, and acts as a conduit for partnerships to work together on specific projects. Arizona hosted the second summit in 2019.
"We now recognize that it's not about jurisdictional and political boundaries," Take concludes. "We're all downstream and we need to work together to ensure water resources are available for the future."
Stream Team
Thormure says that on the local level, the regional water utilities also are collaborating more. For example, Tucson Water transports recycled water to Oro Valley for use on their golf courses because they do not have direct access to their Colorado River allocation. They also do this for the Pascua Yaqui Nation and Vail, thus helping to reduce their groundwater demand.
Marana and Oro Valley water utilities have teamed up with Metropolitan Water to construct The Northwest Recharge, Recovery, and Delivery System. The project involves the construction of a groundwater withdrawal well field, a large diameter pipeline, and a two-million-gallon capacity reservoir that will allow the movement of CAP water from northern Avra Valley to the north side of the Tucson Basin. From that reservoir, Oro Valley and Metropolitan Water will be able to move water to their respective service areas. This will reduce groundwater use and give both towns direct access to their CAP allocations.
"This is not a new source of water for us, but different use of our water portfolio, so we'll be able to turn off wells and reduce groundwater pull while our water is recharging and hopefully see those groundwater levels rise," explains Scott Schladweiler, director of Marana Water. "We currently have more than enough resources to meet demand in our service area. The goal is that eventually we'll reduce the use of wells where groundwater is not being replenished as quickly as it is being withdrawn."
Metro Water will be the owner/operator agent on the project. Marana and Oro Valley will own the capacity, and pay infrastructure costs proportionate to their use. The system is expected to recover 10,400 acre-feet per year, with 4,000 going to both Oro Valley and Metro Water, and the remaining 2,400 to Marana.
Marana, with just under 50,000 residents, has been in the top five fastest-growing communities for the past several years, Schladweiler says. That growth is expected to continue. In 2012, Marana took over Pima County's Wastewater Treatment Facility and immediately implemented state-of-the-art systems to treat an average of 600,000 gallons of wastewater daily.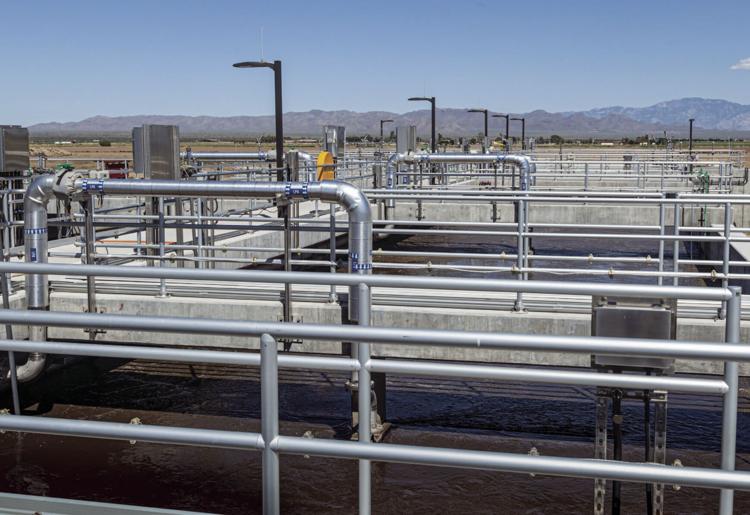 "One of the reasons we did that is for the water rights," he explains. "You treat the sewage, you treat the water, you have the rights to the effluent. We're getting credit for recharging it back into the ground. Marana wants to grow and we need to support that growth."
Looking forward, climate change will continue to be a challenge for Arizona's water supply. The actions being taken today by the water industry are mitigating drought conditions, and users are heeding the call to conserve. Water officials say they continue to evaluate efficient delivery systems, mindful that nothing will be without a price tag.
"There will always be opportunities that come along in technology and new treatment options. Along with those considerations is the cost to the developer and the end-user," says Schladweiler.
Hip to the Drip
Although there are signs of some easing of the 20-year drought facing the Southwest, wet winters and heavy monsoons won't be enough to ensure long-term water supply, according to industry officials. Conservation efforts have not only helped to make a difference in the last several years, but they also will be even more important as the population in Arizona continues to grow.
Tucson has implemented several incentive programs to encourage customers to join in with conservation efforts. These include offering rebates for installing newer, efficient appliances; residential water harvesting, and pricing for lower use.
"Assured water supply has three components," explains Thomure. "The mayor and city council provide direction, and the water department provides rebates and incentives, but if customers don't engage with these first two components, conservation doesn't work."
Informing the public about the importance of water is a priority for Tucson Water and other water providers. From education programs within the schools, to community education to the users, the industry is focused on getting people to understand the true value of the resource and the need to conserve.
Here are just a few options for conserving water. For the full list of the nearly 200 ways, visit WaterUseItWisely.com.
• When shopping for a new dishwasher, use the Consortium for Energy Efficiency website to compare water use between models.
• Show your company's dedication to water conservation through a policy statement. Commit management, staff, and resources to the effort.
• Turn off the water while washing your hair and save up to 150 gallons a month.
• Soak pots and pans instead of letting the water run while you scrub them clean.
• Support projects that use reclaimed wastewater for irrigation and industrial uses.
• Collect the water you use while rinsing fruit and vegetables. Use it to water house plants.
• Install a thermostat and timer on your evaporative cooler so it only operates when necessary.
• Wash company vehicles at commercial car washes that recycle water.
• Visit your local xeriscape garden to view plants that thrive in our hot desert environment.
• While you wait for hot water, collect the running water and use it to water plants.
Healthy & Well
"Every water director is concerned about water quality," says Thomure. "At the end of the day, it's about the quality and quantity of water."
There have been many challenges to the region's groundwater over the years. The biggest discovery was made in the mid- 1980s and '90s when trichloroethylene, or TCE, was discovered in the wells on Tucson's southside, resulting in the creation of a Superfund site at Tucson International Airport. The contamination reportedly occurred when defense- and aviation-related companies in the 1940s and '50s used the chemical in an industrial degreaser, dumping waste into the ground and some unlined wells. Tucson Water closed down all of the affected wells by 1987 and built an airstripping facility to treat the water.
"It took several years to conduct hydrologic studies and design the air-stripping treatment process," explains Fernando Molina, public information officer for Tucson Water, who noted the treatment facility began operations in 1994.
In 2002, the compound 1,4-dioxane was discovered in Tucson's groundwater. Tucson Water built the Advanced Oxidation Process (AOP) facility designed to remove the compound, which the air-stripping process wasn't able to do, Molina says.
"The AOP facility removes both TCE and 1,4-dioxane. The original air-stripping facility is still in place, and because it is stipulated in the official Consent Decree as the remedy for removal of TCE, we must still pass water already treated through the AOP process through the towers."
Tucson Water also monitors its entire water system for perfluoroalkyl and polyfluoroalkyl substances, or PFAS. These synthetic chemicals are found in many products, including food packaging, household cleaners and nonstick cookware, according to the U.S. Environmental Protection Agency (EPA). There are more than 3,000 synthetic chemicals classified as PFAS. Recent studies found that two classes, perfluorooctanoic acid (PFOA) and perfluorooctane sulfonate (PFOS), are more harmful than originally thought because they don't break down in the body or the environment. These are the PFAS that Tucson Water focuses on with testing.
Tucson Water began monitoring its wells in 2009. Two years ago PFAS was found at the Tucson Airport Remediation Project site, but those wells already were shut down in the 1980s. If any PFAS are found in drinking water wells, they are taken out of service.
"It's important to understand that just because PFAS is in our groundwater, that does not mean it is in the drinking water," Thomure emphasizes. "We have shut down nearly 25 wells and are doing everything to ensure that Tucson Water is safe."
Thomure says that although there are EPA "suggested standards" for what levels are acceptable, there are multiple cities and towns with a "hodgepodge" of different guidelines but nothing universal.
"We have set our targets that we hold ourselves accountable to, and they are the lowest of any other city or state in the country," he adds.
"Tucson and Marana have gotten ahead of these contamination issues and solved many of them," comments Take. Stantec also is a member of the U.S. Water Alliance, "a member-supported organization that educates the nation about the value of water and proactively advances policies and programs that manage water resources to advance a better quality of life for everyone," according to the nonprofit's website.
"Emerging contaminants always will be a continual focus for the water industry," Take adds.
"There are several levels of testing mandated by EPA with which Tucson Water complies," Molina says. "We also undertake our own discretionary sampling program where we sample for items that are not on any EPA lists, or items that are not in the schedule required by EPA.
"We're setting the standard for water quality," Thomure concludes. "We're on it, we're dealing with it and protecting the public health."