Single and ready to mingle? Love may be as close as your computer. But beware the spiders in the Web….
Kimberly Schmitz
If finding love online is wrong, 219 million people worldwide don't want to be right. But will they reveal their search to their friends? Coworkers? Parents? Many won't, at least not until there's a sure thing. Though we watch TV shows such as The Bachelor fix up couples with obsessive attention, morbid curiosity or even a little disdain for the process, our nose may well crinkle when someone mentions online dating/meeting.
What's it really like to meet through cyberspace? We talked to some online daters to get the real skinny and even managed to garner some advice for newbies or those who have tried the Web way and not found success. In the process, we learned that online dating is an enormous cyberworld with many winding roads to take as a participant.
A recent survey by TheKnot.com of 14,000 newly engaged or married couples indicated 22 percent of them met through online dating, 17 through friends, 15 during college, and 12 at work. It is estimated that by 2040 70 percent of couples will have met online.
There are currently more than 2,500 online dating sites in operation with an estimated 1,000 new ones popping up every year. Popular sites include Tinder, Bumble, eHarmony, PlentyOfFish, Match, OKCupid, and Grindr. Further down the list by user base are BlackPeopleMeet, SoulSwipe, MiCrush, AmoLatina, and AsianDate for those interested in ethnicity-specific matching. OurTime and SilverSingles specifically serve a more mature audience. LoveHorse, Purrsonals, DateMyPet, DateAGamer, StarTrekDating, Hatr, GlutenFreeSingles, and FarmersOnly are just a few niche sites designed for lifestyle specific attributed matches.
Many of these web companies are part of one conglomerate or another. Match Group is a publicly traded entity (MTCH; NASDAQ) that hosts more than a hundred sites, including OkCupid, PlentyOfFish, Tinder, and Hinge. There are websites and forums galore dedicated to dating, such as Datingadvice.com and Datingnews.com. It's easy to understand the proliferation when you look at the profits. Allied Market Research reported that the global dating services industry generated $6.7 billion in 2018, with expectations of growth to $9.9 billion by 2026.
As Advertised?
There is no "typical" person who helped account for this massive payout, but chatting with several Tucsonans who've had experiences — both the stuff of fairy tales and horror movies — helps to fill in the picture.
Brad Poole, a 57-year-old reporter/ amateur stand-up comic/outdoorsman isn't shy about saying he has met more than 150 women over the last 10 years through online channels. Some he has dated, some he's been in relationships with, and others have become platonic friends. "I learned early that some people don't want you to mention that you met online," he says. "I've never really understood the stigma. I think it's because people used to think that online dating or personal ads meant desperation, or that all people on Tinder just want to 'hook up.' That's not universally true, and I think the stigma is going away."
Mostly, Brad enjoys the efficiency that the services allow. "Reviewing [honest] profiles eliminates all the stuff you have to find out about people in the first few hours of meeting," he explains. "Otherwise, you might end up wasting time and money buying drinks for someone only to find out they have conflicting beliefs or lifestyles that aren't compatible with you."
When he's not in a relationship, Brad keeps several profiles on different sites, and he has noticed many others singles do the same. He has used the free versions of Match, Tinder, PlentyOfFish, Bumble, Fitness Singles, and OkCupid. He believes the paid versions are not worth the money. He's met scientists, doctors, and professionals of all kinds with the free versions of the apps.
He finds the unwritten rules online very similar to those in real life. He feels that it's expected he take the "man's role" of making the first move. That can make it challenging to get noticed, except on Bumble, which only allows women to send an instigating message. "Attractive women on dating sites get inundated. It's a form of harassment. Men don't get that. Some of the messages women get are sick, weird stuff. I could use it in a stand-up routine! If I send a message and don't get a response, I don't bother to send another," he admits.
Brad notes a common issue hindering the success of finding matches is a lack of honesty. He believes older women lie about their age because they don't want to be ignored in searches. He accepts some responsibility for this phenomenon. His ideologies tend to align more with younger partners. He's an extreme outdoorsman who enjoys camping for weeks at a time and kayaking down the Colorado River. When he meets with matches who claim a similar outdoorsy lifestyle, but he discovers they have only a few tame strolls and three-star resort camping experiences to speak of, it's obviously not a good fit. He gracefully allows, "I really think it's less a lie and more about selfperception. People put their idealized self in their profiles. It's more an exaggeration than conscious lying."
Brad's two personal rules of online dating relate to honesty and safety. He suggests that online, as in real life, honesty is crucial to a successful dating experience. He also practices and preaches the value of Googling potential partners before meeting in person. One potential match he researched had been to prison for embezzling money. He went ahead with the date, but admits that he wouldn't have if she had served time for a violent crime. "It's irresponsible and dangerous not to look up someone before you meet them," he emphasizes. "If someone is a criminal, there usually are ways to find out that don't involve paying for a full background search."
He concludes that he's had better experiences than many of his contemporaries using online dating, though he hasn't yet found a life partner. Not that he's always looking for one, but he does enjoy having a significant other in his life. His profiles are currently up and running.
The Thrill of Victory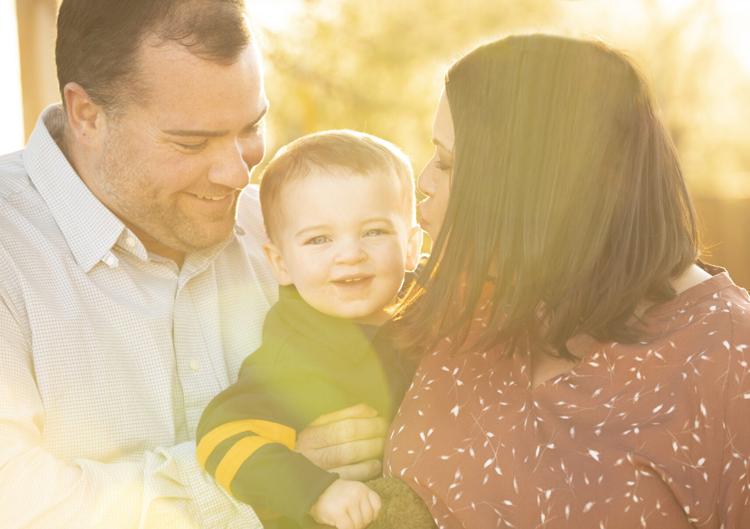 Dan and Caitlyn Kauffman were 29 when they met on PlentyOfFish. Now a blended family that includes his cats, her dog, and a baby boy together, the couple began exchanging messages in 2015 and married two years later. Dan jumped into the online pool in 2009 and Caitlyn in 2014 with a shared objective — finding a love connection.
Caitlin shared some of her experiences with friends who also were on dating apps, but she didn't mention it to her parents. She thought they would be "judgy" about it and worry for her safety. Dan didn't bring it up with his friends but kept his parents in the loop. He observes, "A lot more people have been on dating sites than will admit to it. There is a stigma behind it because it's not thought of as the traditional way people have met."
Both Dan and Caitlyn had cast a virtual net on Match, eHarmony, and PlentyOfFish, and each has a few weird and mildly creepy stories of navigating the "online meet/ in-person greet" process. Caitlyn's stories include a man claiming to be 10 years younger than he was who wanted to introduce her to his family immediately; and a guy who had boudoir pictures of his ex-wife all over his house. Dan's accounts include the use of 10-year-old photos, fibs about age, and insistence on hook-up dates of which he had no interest. He says, "The hardest part was finding someone who actually was who they said they were online. Women lied to me about how many children they had. Why lie about that?"
To that end, the Kauffmans each explicitly outlined what they were looking for and were as honest as possible about who they were. Caitlyn was looking for a college-educated professional, and Dan for a connection with a child-free, self-sufficient woman. The two exchanged messages and talked on the phone for a month before they met in person. Both were pleasantly surprised when the real version of the other was as represented in bios and previous conversations.
Theirs is certainly a dream scenario for those looking for love online. Both would wholeheartedly recommend that friends try the process, with an advisor. "You have to approach the whole thing with an open heart and a sense of humor," Caitlin says. "You may find a match that isn't someone you would walk up to in a bar, but who is actually really compatible for you."
Dan stresses the importance of honesty in self-representation and in what one is looking for, "Be specific about who you want and who you are. Dishonesty or neglect in outlining expectations leads to a lot of failure in online dating."
The Agony of Deceit
Beyond singles simply lying about details such as their age, there's a much darker side to online dating. Rosalee* is a very active and social retired sales executive from the east coast who moved to Oro Valley with her husband. She was widowed several years ago and, at 66 years old, decided to try online dating.
She tried Match, ArizonaSingles, and OurTime. Out of the gate, some of the dangerous potential of online dating presented itself. Scammers, posing as dating candidates on Match, reached out to Rosalee and established relationships via text, messaging and telephone. Rosalee is an intelligent, educated, and savvy woman. Yet, she was still susceptible to attempts to lure her into a complex web of lies.
The first attempt took months to set up. Jason* presented himself as an entrepreneur traveling the world, establishing and maintaining intercontinental business enterprises. After months of long talks, love letters, and promises of a pending rendezvous, Jason called with an incredibly elaborate story and setup — including a fake online bank account showing a multi-million-dollar balance programmed to appear frozen — that culminated in his desperate plea that Rosalee wire him $100K. She didn't do it, cursed him out, and he disappeared. "It was wild. He was so dedicated, and romantic when we spoke. He would check in often and so much of what he told me seemed legitimate. I didn't even question it," she remarks.
She reported him and nothing was to be done. He was smoke. Gone. Likely to appear elsewhere to attempt to defraud yet another woman looking for love. Two more Fraudulent Freddies tried similar ruses with Rosalee. They didn't quite have the patience that Jason had so she cottoned on to their game much earlier in the process. They, too, were reported and disappeared into cyberspace, probably to continue the hunt for other victims.
Rosalee did meet some legitimate and dateable gentlemen from Match after weeding through the myriad candidates looking for a much younger mate or a sugar-mama. Last fall, she met her current beau at a social function and shut down her dating profiles, proving that some old systems do still work.
Rosalee declined to be identified out of embarrassment for having nearly fallen for a scam artist. She reports that many of her single peers use dating sites. Some have experienced similar issues with much older men looking for younger women to care for them, although others have found love. She feels the stigma of online dating in general is lessening as more people have enjoyable experiences with the process.
Sophia* is a Latina, college-educated professional who identifies as a "solid boomer." She divorced after 20 years of marriage, during most of which she was a homemaker. Still shell-shocked from her divorce, a year after it was finalized, Sophia dove into the dating pool when she was in her 50s. "I'm a little uncomfortable sharing this with people, probably just because of the generation in which I was raised," she reveals. "There is absolutely a stigma about online dating, especially with people my age. Mostly I felt like it was all so 'out there' and over the top. I was really uncomfortable operating in that world."
She tried Match, eHarmony, OurTime, and AmoLatina. She remains utterly unimpressed with the results. Each time she moved to a new platform, she thoughtfully filled out questionnaires, and waited for connections to happen. There were one or two viable candidates that came her way, but mostly she found men much older than she was interested in dating, with multiple divorces under their belts, or misrepresentations of education and career experience.
Currently Sophia is focused on her last few years of work before she retires, adding that she doesn't have the time to dedicate to the online dating process. "It's like looking for a job," she explains. "You've got to put a lot of effort into it. I admit, I didn't put in what it takes." After she retires, Sophia plans to join some interest groups and possibly pursue romance the "old fashioned way." She's single, unattached, and glad to keep her online dating experience under wraps and in the past.
EDITOR'S NOTE: As with seemingly every aspect of modern life, there are very unfortunate and even tragic events that have transpired through online dating encounters. We acknowledge these but chose not to delve into them for this piece. Note that all interactions initiated online should be approached with caution. Very few dating sites perform detailed background checks and some have admitted to allowing known predators to populate user bases. Please research new connections and employ safe dating practices.
*indicates name changed
A Site to See
These are some of the more popular online dating sites.
Match: Free and paid options available. Largest/most trusted user base with fairly sophisticated algorithms to learn likes/dislikes from activities within the program. Match guarantees users will find someone in six months and offers a limited free subscription if it doesn't work. 1.95 million U.S. users. LGBTQ, all-ages and ethnicities friendly.
eHarmony: Paid options are a little more expensive. Best for marriageminded people. Excellent success rate with low "creep" factor. Uses a comprehensive questionnaire to match for long-term compatibility. 10 million monthly users. Not particularly LGBTQ friendly.
Tinder: Free and paid options available. Generally considered best for hook-ups or casual encounters. Very brief profiles, superficial selection with no matchmaking algorithms. 7.86 million users and 1.6 billion swipes per day.
Zoosk: Free and paid options available. Nice option for people not into swiping apps but not ready for Match or eHarmony. Low pressure messaging system with Match-like algorithms. A lot of dead profiles and annoying messages. 900K U.S. users. Reddit users prefer it over eHarmony.
Hinge: Free and paid options available. Resonates best with Millennials. Offers restricted matches. Offers the feel of swipe apps with a Match-like engagement. Only offers two genders for algorithms.
EliteSingles: More expensive paid version. Ideal for career-focused people. Eighty-two percent of members are college graduates 33-50 years old. Very exact five-factor personality test with a lengthy questionnaire. Only a few matches per day offered. 2 million monthly users.
OkCupid: Free and paid options available. Best features are in the paid version. One of the first dating apps. Cross between Tinder and Match. Twelve gender identities and 20 sexual orientations offered for identification. Liberal-leaning answers in questionnaire tend to yield more matches. 1.79 million U.S. users.
PlentyOfFish: Free and paid options available. Lengthy questionnaire and room for deeper profile descriptions. Hookup and relationship-seeking users. Very basic, no frills site. 4.8 million U.S. users. LGBTQ friendly.
Bumble: Free and paid versions available. Women make the first move. Lesbian and female identified friendly. 5.03 million US users.
HER: Free and paid options available. Made by queer women for queer women. Way beyond a hook-up app. Social media-like feed includes LGBTQ events and news. 4.5 million U.S. users.
Grindr: Free and paid options available. The world's largest location-based dating app for gay, bi, queer and trans people. Mostly known for hook-ups and some relationship seeking. 3 million daily users.