Get snap happy! There are many places in Tucson to take a sensational photo of your smiling self. Here are a few to check out.
Wheel Faith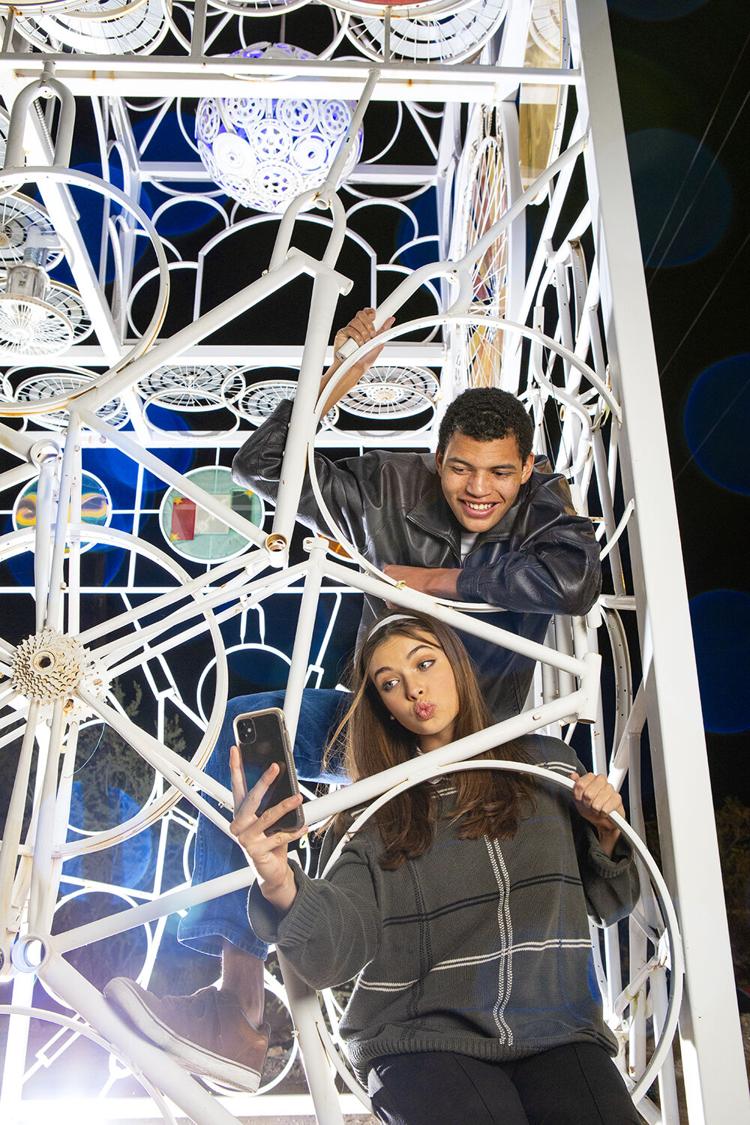 Dubbed the Bike Church, this interactive sculpture on Granada Avenue is crafted of cycle parts, and punctuated by stained glass. With iconic design features that reference many faiths and traditions, it's a "church" that's meant to be all-inclusive. It's also a memorial to bicycle riders who have died on Tucson roadways. Designed by Joseph O'Connell, Blessing Hancock and others, the 22-foot-tall artwork was built in 2009 and really pops out when the sun goes down.
Martian, Martian, Martian!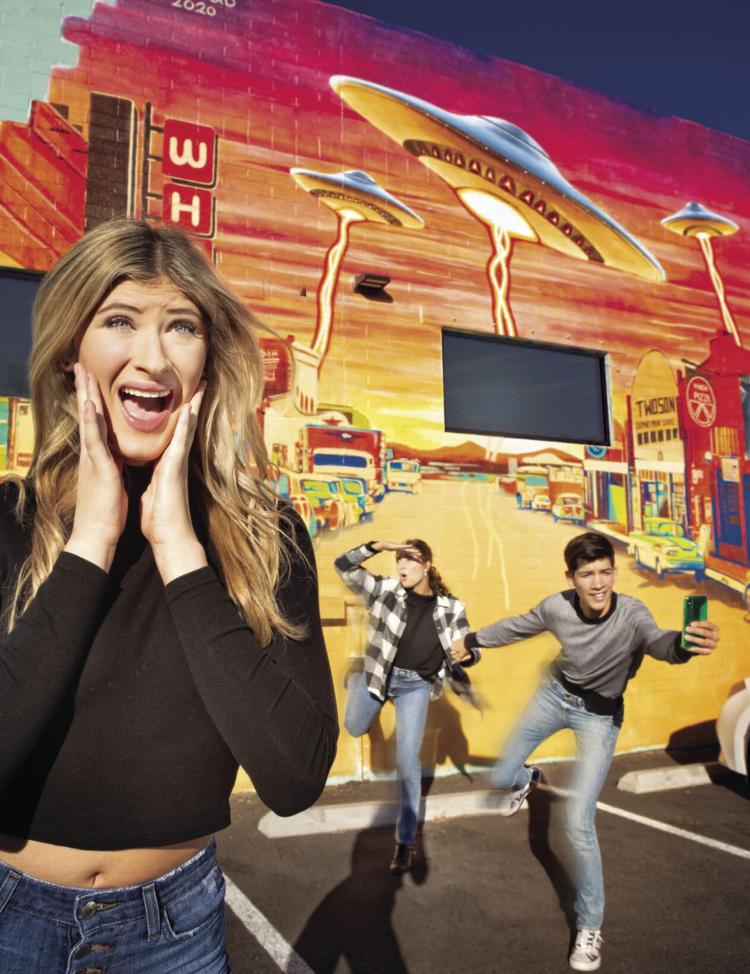 When you're driving west on Speedway near Rosemont and glance to your right, you can be forgiven if it appears that flying saucers out of a '50s sci-fi movie are attacking. Ignacio Garcia did an interstellar job of painting the colorful mural on the side of what was once a Carpet Giant, later an antiques mall, and now Fangamer, a company that sells and distributes videogames and related merchandise. Created in 2020, the mural hasn't been up long enough to become iconic yet, but we predict it soon will be a must-stop place for selfie enthusiasts.
Saguaro You Doing?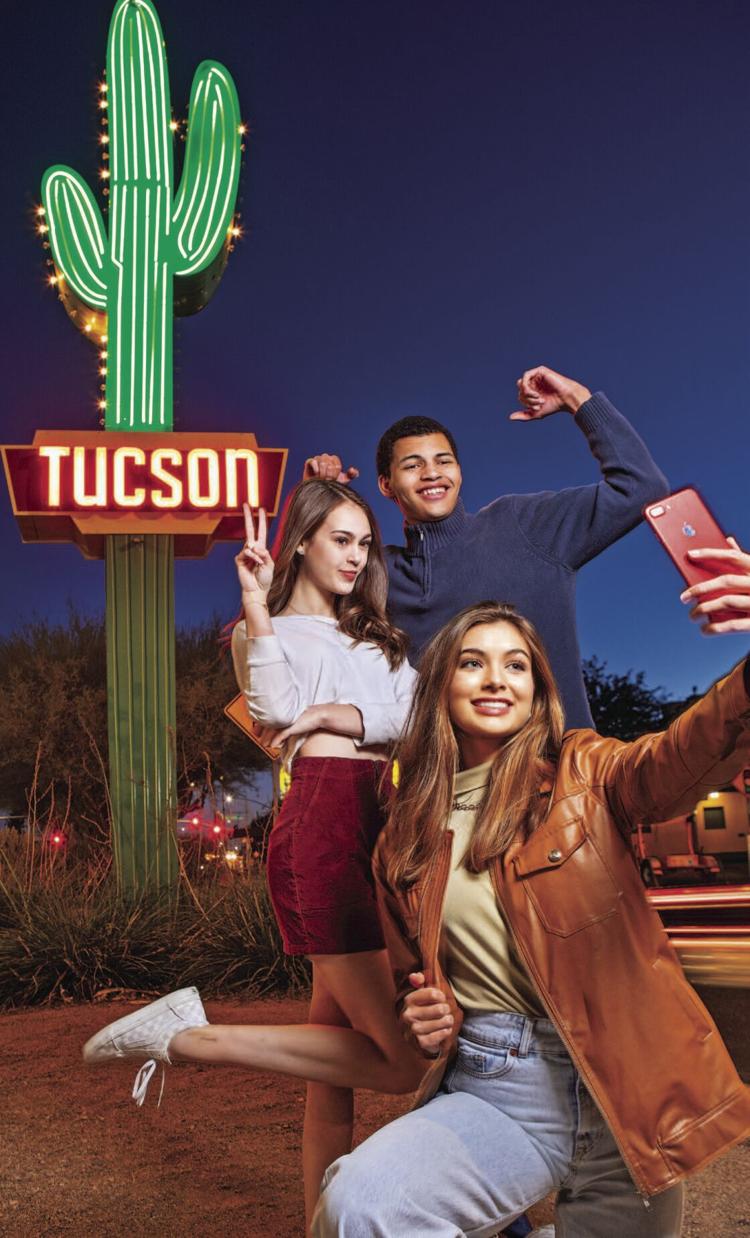 On what was once Miracle Mile (now North Oracle Road), a 30-foot-tall neon saguaro welcomes all who pass by. Designed by Dirk Arnold and built by Cook & Co. SignMakers, the public artwork has been a hit with picture takers since it went up in 2010. Though it's fun to see in the daylight, nighttime is when it really comes alive!
A Covey of Cuteness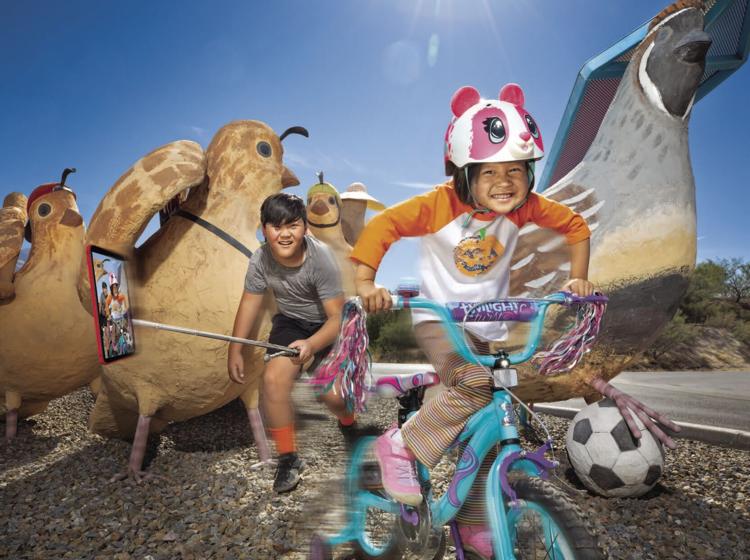 Oro Valley has a lot of picturesque points, but this one's for the birds. Really BIG birds! In Naranja Park, artists Jason Butler, Hiro Tashima, et al., created this whimsical family of six quail, all setting off for a day of recreation (even toting items such as a skateboard, kite and a soccer ball). Constructed in 2015, the feathered family is just one of the attractions of a park that includes soccer fields, dog parks, hiking trails, birding trail, archery ranges, ramadas, grills, and other amenities. Butler and Tashima's artworks can be seen in other areas, too, including eight-foot tall concrete sculptures of a coyote, Gila monster, tortoise, and other desert animals along Valencia Road.
The Long & Winding Road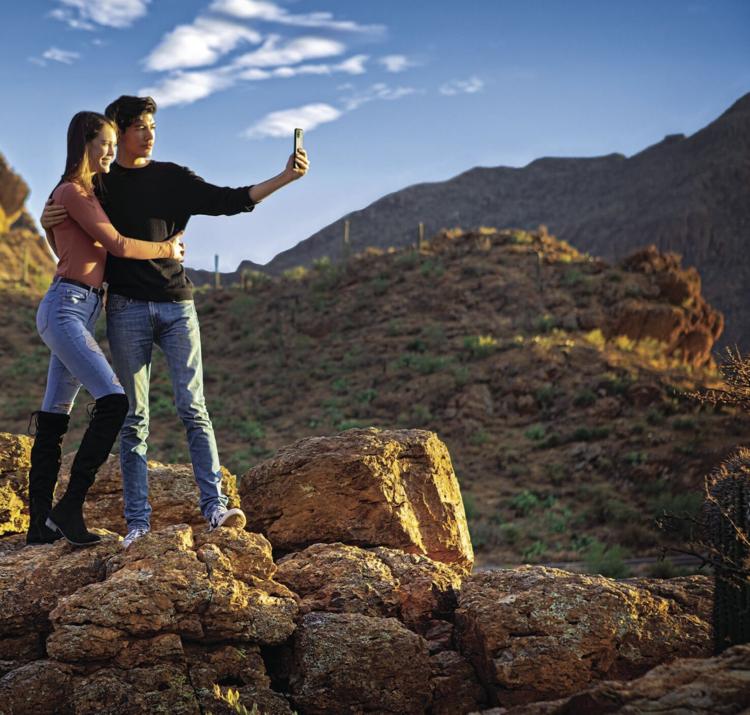 One of our favorite drives with visitors is west on Speedway until it winds through the Tucson Mountains at Gates Pass. The road was built in 1883 by Thomas Gates, a man whose story reads like the plot of a Western novel. Originally from Mount Pleasant, Canada, Gates was a card player, saloonkeeper, and even a political lobbyist, working to repeal the bullion tax law. While living in Tucson, he used his own funds to create a faster route through the mountains. Just a few years later, he became the warden of Yuma Territorial Prison, and was stabbed during a prison riot. It's hard to think of anything so depressing, however, when you bask in the glow of a sunset at this magnificent spot!