A Posse of Painted Peccaries
One of Arizona's most famous critters is honored with an outdoor sculptural exhibit.
Tubac is wild about their local "painted" wildlife!
Javelinas de Tubac is an eye-catching outdoor exhibit coordinated by the Tubac Center of the Arts.
This community-wide endeavor began as an idea developed by two local artists: Virginia Hall and Nicholas Wilson, who also designed these Southwest-inspired peccaries once the project was approved. Wilson has been a painter, sculptor and printmaker for more than 50 years, with his main career focus on wildlife art. Wilson was curator of exhibits at the Arizona-Sonora Desert Museum from 1970 to1972. This led to a professional career as an artist being represented in many galleries.
"The Javelinas de Tubac project is an opportunity for visitors to enjoy the beauty, uniqueness and variety of talent exhibited by Tubac's many artists," according to Karin Topping, executive director of the Tubac Center of the Arts.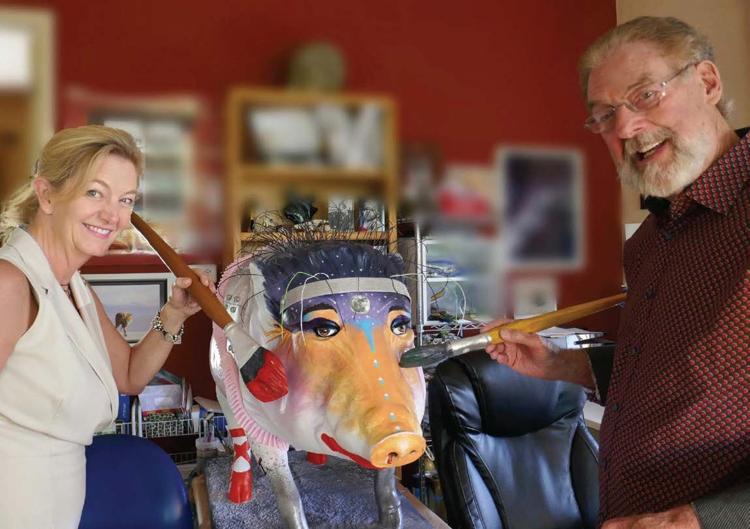 More than 40 adults and six sets of baby javelinas have been designed by local artists and displayed in Tubac and various Southern Arizona locations, such as Tucson International Airport, Arizona-Sonora Desert Museum, Mesquite Valley Growers Nursery, Wisdom's Café, Santa Cruz Chili & Spice Company and Tumacacori National Historical Park.
The javelinas will be on display until the end of March. A live auction will be held on April 4, with funds that are raised benefiting the Tubac Center of the Arts and several local charities.
Note: More information about the project and the individual artists can found at Javelinasdetubac.com.
Clockwise from top left: "Starry Night in Tubac," by Michaelin Otis; #A10-J by Tige Reeve; "Javelina de Tubac Road Trip," by Roberta Rogers; Noel Daniels (left) and Fred Collins with "Tubac Tootsie."