The three finalists for Tucson Lifestyle's Cover Dog 2020 each display a lot of heart, and a powerful bond with their human companions. Here are their stories.
When we held our annual Cover Dog Search on Feb. 15 at La Encantada, we knew that we would be helping a worthy cause. And like every past year, we were prepared to see a lot of great canines of all types, sizes, and personalities. Choosing just three as finalists was a very tough job!
Judges this year were Alex Steiniger, co-anchor of KGUN's Tucson Morning Blend, and Scott Barker, Editor-in-Chief for Tucson Lifestyle. Somewhere around 130 canines came to show their stuff, and all the monies raised benefited the vital programs of the Humane Society of Southern Arizona. Our most sincere gratitude to all the dog "parents," supporters, animal related vendors, and the staff and volunteers of HSSAZ for making this a wonderful and very successful event.
The photo shoot for the pups took place at Udall Park, and Thom McDonald supplied the awesome, 1950 Chevy truck.
THE WINNER Brewski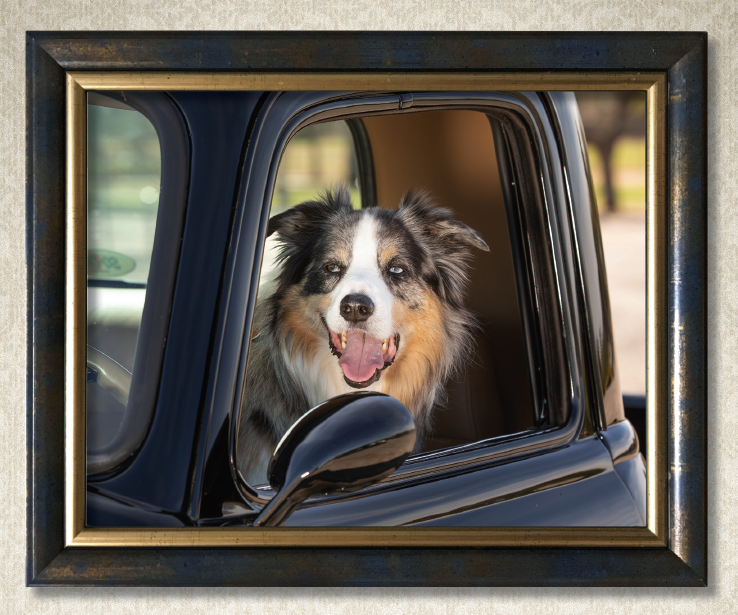 Human companions: Dani and Jaydee
Brewski, a border collie, came into the lives of his human companions in 2012. Jaydee had grown up in Wyoming and worked on a sheep ranch as a kid, giving him a lot of respect for the breed. He has spent many hours training Brewski, as well as coaching Dani in how to be consistent in handling him. Dani also took the personable border collie to work with her for about the first five years of his life, helping to create a very powerful bond.
His unusual name is the result of the black and tan in his tri-merle coloring, and his nickname is "Bruce."
Border collies are thought to be the result of breeding between herding dogs that were used in the area that's currently the United Kingdom during the time of the Roman Empire, and smaller, faster spitz-breed dogs that came over with the Vikings. The exact origin of the word collie is disputed, but it may have come from the Scottish word coolly, which refers to a type of sheep. To this day, border collies can frequently be found herding sheep in the highlands of Scotland and Wales.
RUNNER UP Guinness
Human companion: Joan
Guinness was adopted from Basenji Rescue and Transport (BRAT) when he was four months old. He was left in a box at a veterinary clinic in Las Vegas with a litter of five other puppies, and was originally named Ace (his siblings had gambling-related names, too). Due to his coloring, he was renamed for the famous Irish beer, popularly used to create a "black and tan" mix of two beers layered together.
His breed originated in Central Africa, and is well known for vocalizations that run the gamut of howls and yodels (rather than barking), and for athleticism and intelligence — often mixed with "I'm-Not- Listening-To-You" stubbornness.
Basenji means "villager dog" in the Lingala language.
RUNNER UP Louie
Human companions: Paul and Sue
Louie is a mixed breed, with some evident Australian shepherd, who was adopted from Pima County Animal Care Center (PACC). He had been hit by a car, and was personally attended to by PACC's Dr. Jen Wilcox, who even took him into her home for a month. He had several different names as he moved through the system until Sue, who volunteers for PACC's clinic, felt — together with her husband Paul — that Louie was a good fit for the sweet little canine.
Australian shepherds, despite their name, are believed to have developed exclusively on ranches in the Western U.S. Their association with Basque sheepherders, who emigrated here (sometimes from Down Under) from the 19th century into the 1950s, is where the "Aussie" tag seems to have originated.
They are intelligent, tireless, and good-natured, making them wonderful companions and family dogs. The American Kennel Club reports that they are ranked number 17 out of 195 breeds in popularity.
2020 COVER DOG SEARCH
Pictured at The Event
EVENT PHOTOS BY Daniela Siqueiros
Keep on Truckin'!
Thom McDonald bought this 1950 Chevy truck for his wife Sharon in 1999. The truck was a mess, and he paid only $700 for it, and then took the next six years for a complete, frame-up restoration.
The Chevy sports a 402 cubic-inch motor with an M-22 4-speed transmission, Lincoln 9-inch rear end, Mustang 2 front independent suspension, and 4-wheel disc brakes. Thom painted it himself and added the chile graphics. He comments, "Since it was finished in 2005, we have driven it to all the local shows in Tucson, Scottsdale, Sierra Vista, and Silver City.
"Sharon wanted the truck to be black with tan interior and all the chrome redone. She calls the chrome the jewelry."