PHOTOS SUPPLIED BY JACK KULAWIK AND ERIC HINOTE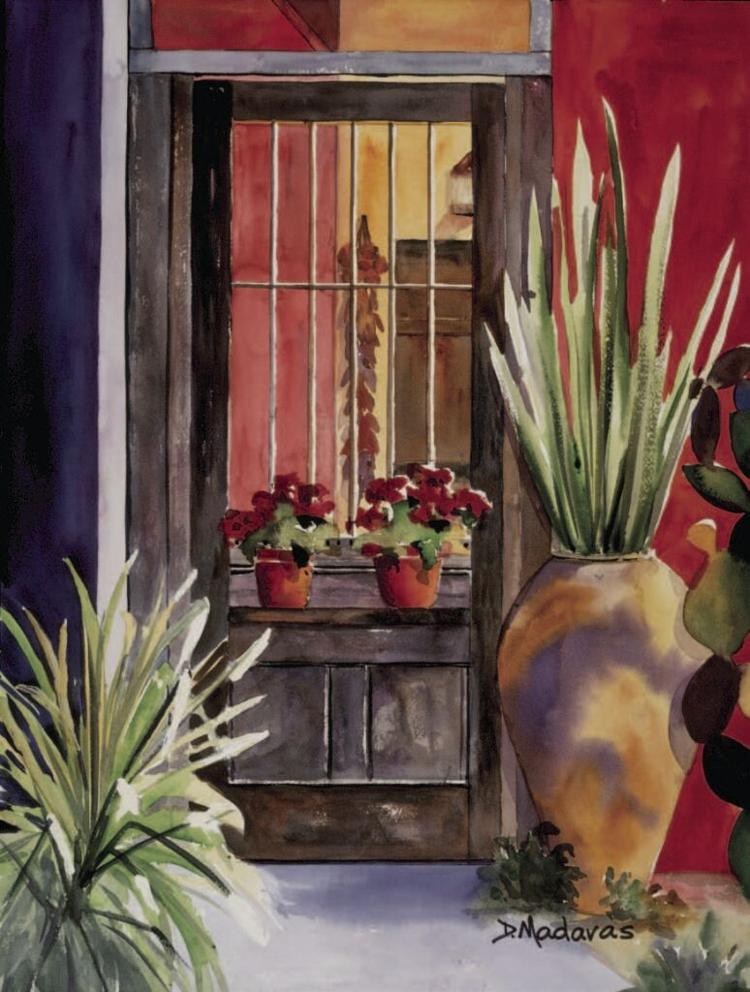 Private Space II
A vignette from a barrio dwelling, this work was the beginning of my painting local scenes and adding colors that actually might not be there. That technique helps me to tell the story of how I feel about a place, rather than trying to exactly replicate it.
The Four Seasons in North Scottsdale commissioned this painting of Pinnacle Peak, and it has become one of my gallery's most-popular images. In preparation for painting, my husband Miro and I spent the night at the hotel and began photographing at dawn to ensure we would capture the moment when the first light illuminated the top of the peak.
Greek Table
A painting trip to Greece in 1993 changed my life. It prompted me to sell my sports marketing company and become a full-time artist. I have never regretted that decision, and still get as excited about a blank canvas as I did all those years ago. Six years after that trip, Madaras Gallery opened.
Fly Me to the Moon
The Spirit Animal collection is my first extensive series, and creating these images has been joyous. I committed to painting 20 spirit animals to celebrate the gallery's 20th anniversary, and have now completed 25. More are on the drawing board. Each one has five common elements including a tattoo. The original paintings are sold, so we now offer the entire collection in canvases, prints, coasters and ornaments.
Funky Cow Medina
This painting represented a breakthrough for me. For the first time, I gave myself permission to play and experiment, rather than trying to re-create a life-like scene. Having my own Gallery has afforded me the freedom to explore, whereas oftentimes, if an artist is successful with a certain look, the gallery will insist they continue to create in that style.
Afternoon Sun
One of 80 paintings selected as an award winner out of more than 1,000 entries in the Western Federation Show in 1998, held at the Tucson Museum of Art. This award helped give me the confidence to open my gallery.
Saguaro Matisse
This is the fourth painting I have done in the style of the masters, using subject matter I frequently paint. Preceding this were Saguaro Matisse, Saguaro Nieto, Saguaro Picasso, Saguaro Klee and most recently, Wildcat Picasso.
Maui
A commissioned painting, this portrait incorporates the bird's feathers and eggshells. The mixed media work later received national acclaim and was included in a book on the Best of Acrylic.
King of Sandibe
This was the first painting I finished after returning from a three-week African safari. I was sent there by Destination Southern Africa to shoot photo reference for a show to benefit charities in Africa and Tucson. This painting raised $10,000 for the charities, and it embodies the spirit of giving back that is a part of my gallery's culture.
---
Meet Diana Madaras
Her art has appeared on the covers of nine magazines, including Art Book of the West, The American Veterinary Hospital Journal, and Tucson Lifestyle. Her coffee table book Private Spaces includes 152 of her works, and her newest book, The Colors of Tucson, is a tour of "The Old Pueblo" through her imaginative paintings.
Madaras has completed commissions for all of the major resorts in Tucson, along with eight paintings for the estate of a former President of Mexico.
She is founder and president of the nonprofit Art for Animals Foundation, which has raised more than $200,000 to help abused, injured and orphaned animals. For the past several years, she has concentrated her fundraising efforts on the Tucson Wildlife Center and was the chair of their benefit in 2018. The event raised enough money to hire dedicated veterinarians for the first time in the Center's 20-year history.