Expanding the Limits
Dan Ranieri, president and CEO of La Frontera, is a Pennsylvania native and ASU grad who fell in love with Tucson.
By Betsy Bruce
Photo by Tom Spitz
IT'S BEST TO OPEN DAN RANIERI'S STORY BY DEGREES … there's the B.S. in Biology from Penn State, a B.S. in psychology from ASU, a Ph.D. in Clinical Psychology and a Masters in Clinical Psych, both from ASU. If there was a degree in problem solving, the longtime president and CEO of La Frontera, one of the state's largest nonprofits, would have one of those, too. Ranieri states, "I have a good eye for people and things that are key components of a solution."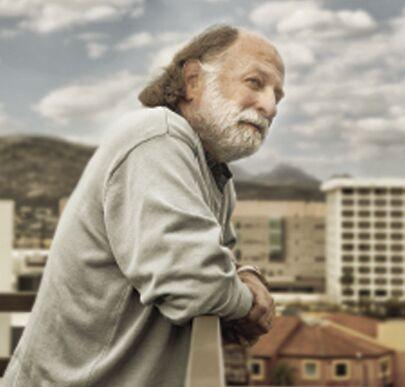 The 64-year-old Ranieri has been at the helm of the ever-expanding agency for nearly a quarter century. Established by President Kennedy's "Community Mental Health Center Act" of 1964, La Frontera has grown in reach and programming to serve 50,000 clients across Arizona annually. The organization's 1,200 employees work in the areas of Behavioral Health, Family and Children Services, Employment, Crisis Intervention, Community and Cultural Education and — Ranieri's current focus and passion — affordable housing.
"La Frontera rebranded about eight years ago, becoming Community Problem Solvers and adding the low-income housing piece," he notes.
Casually attired in a blazer, cotton T-shirt and trousers, Ranieri sports a pair of reading glasses around his neck, at the ready for delving through the mountains of folders that landscape the large oval desk in his office at 29th Street near I-10.
A native of Punxsutawney, Pennsylvania, Ranieri was born to second-generation Italian Americans. An ambitious boy, he started working at 12, caddying at the local country club for $1.50 a round.
While a teenager and feeling the squeeze of small-town living, he received a letter of acceptance and an offer of an academic scholarship from Penn State University. His gray matter mattered to institutions of higher learning wherever he dropped anchor. "I never had to spend a penny on tuition … I had academic scholarships for all ten years of education," he says. Spending money would be earned each summer back in Punxsutawney, with Ranieri amassing enough green for his first car, a yellow and black (Steelers colors) '67 Dodge Charger. "It spent more time in the shop than on the road, but boy, was it fun."
After three and a half years hitting the books as a Nittany Lion, the pre-med major realized becoming a physician was not for him. After he switched the tassel on his mortar board and loaded up his second car (a decidedly less sexy but more reliable '73 Impala), he headed for the desert Southwest at the invite of a former college roommate. It was 1976 and Phoenix had more open sky than skyline. The 22-year-old Pennsylvanian drove right through the city thinking it was too puny to be his destination. Yet the Valley of the Sun proved to be a good fit for the next step in his education.
Classes in psychology had piqued Ranieri's interest and he set about immersing himself in the study of the mind and human behavior at Arizona State. He credits ASU's program as being "exceptional," cueing students' ability to problem solve.
"The best job I ever had" is how Ranieri describes his position as a psych tech at a private psychiatric hospital just prior to graduate school. The hospital was composed of a lockdown unit, including patients with depression and anxiety, as well as a children's unit. "And I worked all those. There are things you can't learn by reading that you need to witness and experience."
After graduate school, Ranieri completed an internship at Palo Alto VA Medical Center and then worked at Atascadero State Hospital, a forensic facility home to more than 1,000 mentally ill violent offenders, moonlighting as a mobile crisis team (if one person can be a team) for San Luis Obispo County. "I was young so I enjoyed it." The job was a matter of assessing critical situations and making quick decisions. "It was exciting and, at times, a little on the edge."
Another exciting step was meeting and falling in love with wife Rhonda in the early 1990s, when both were working at Cigna Healthcare in Phoenix. The pair promised to love and honor each other on the deck of a cruise ship in the waters of the Caribbean.
Indicators of Ranieri's life outside La Frontera are abundant in his second-story office. Photos of daughter Alexis, a skilled softball pitcher, whom he coached for many years, show a young woman gifted with beauty, brain and brawn. She is graduating from West Texas A&M University in a year and already is fielding internship offers. Steelers' memorabilia tops side tables, a pair of autographed footballs signed by Rocky Bleier and others, a "Terrible Towel," and a golf trophy. The gilded figure in full backswing is missing his golf club … a problem perhaps for Ranieri to solve another day.
La Frontera's Tucson International Mariachi Conference
Apr. 24-27
Casino Del Sol Resort
For information on this fundraiser, call 792-0654 or visit Tucsonmariachi.org