BY: ELENA ACOBA
Dominic Ortega
Outstanding Philanthropist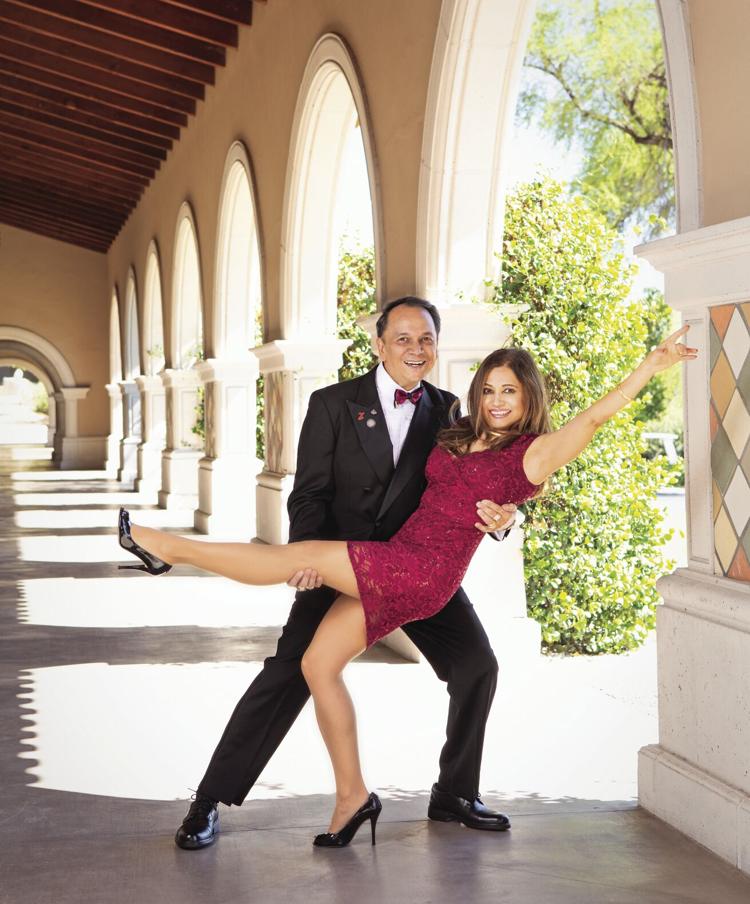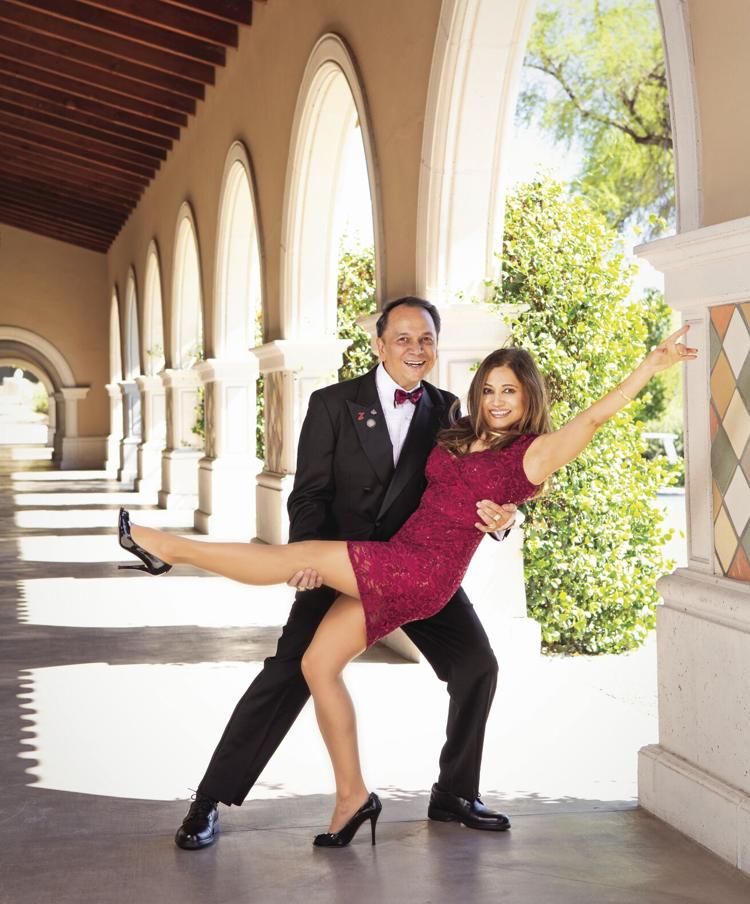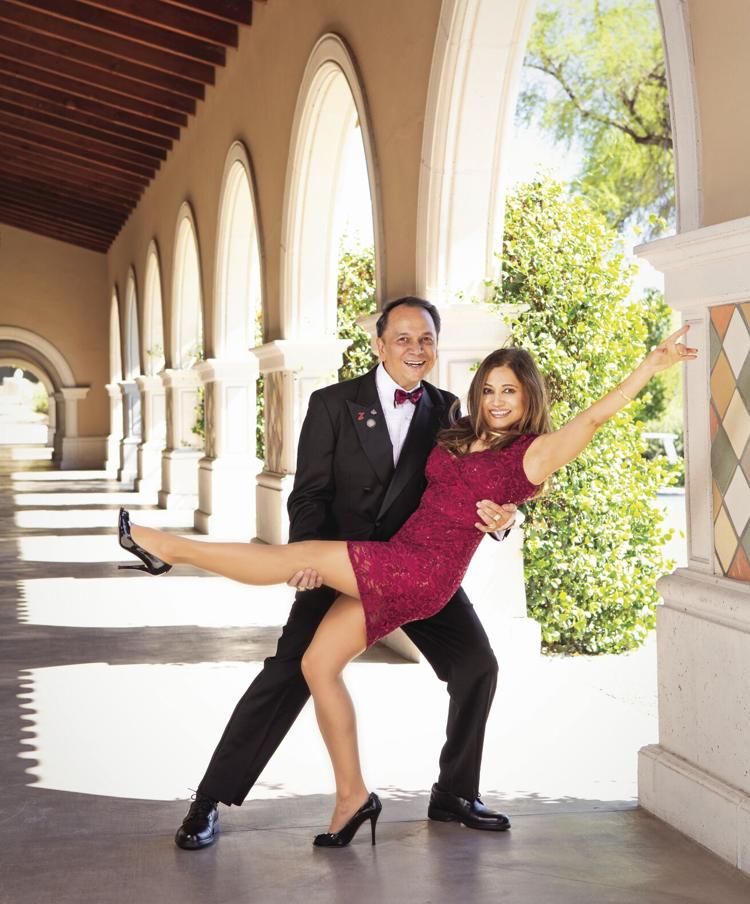 Oh yes, and for one other accomplishment: Using these talents and much more to raise funds, mentor youth and bring awareness to dozens of service organizations in Tucson.
Ortega, 62, attends up to seven fundraising events a week. He hosts them, buys event tickets, connects people who could help each other, serves on boards, and takes plenty of pictures that he posts on Facebook. "It's a mission of love," the retired marketing specialist says.
"I think my photos show the love I feel for my friends and their causes," the self-taught photographer says. "My photos and Facebook posts tell these stories and encourage others to give their time, talent and treasure."
As for the handstand? That started at a fundraiser. He and his wife Myriam acted as hosts for a dinner by a University of Arizona Club. The annual event typically raised around $20,000 to $30,000.
"I wanted to shake it up a bit," Ortega recalls. "In a tuxedo and from the stage I said I would do whatever it would take to raise more money for the event. I flipped over and started walking on my hands. We grossed $325,000 that night."
Now, organizers of the 10 to 12 galas the couple attends each year encourage him to show off this maneuver. "It is especially fun representing the older crowd after some youngster has 'busted a move' inside a large dance circle," he says.
There is a short list of interests and causes that attract Ortega, but a much longer one of those he supports. "My greatest passions are education, health care and the support of women and children," he states. "I also try to give my time to groups that will have the greatest impact on the community."
He works for and with the American Heart Association, YWCA, Girl Scouts of Southern Arizona, El Rio Foundation, Casa Maria Soup Kitchen and dozens more organizations. The self-described Wildcat for life is involved with several University of Arizona colleges and clubs, as well as the Alumni Association, Hispanic Alumni Club and Student Alumni Ambassadors.
His presence and efforts don't go unnoticed. "He inspires and motivates other community members to be more involved simply by the sheer number of events he personally supports every year," says Wendy Erica Werden, manager of community investment with Tucson Electric Power.
Ortega has been named the 2019 Outstanding Philanthropist of the Year, but his reward for this work is more internal.
"The secret to happiness is in the genuine act of caring for others, service to others and giving to others," he says. "It is looking in the mirror and saying, 'Did I do my part? Did I make a difference?'"
Julie Ragland
Outstanding Fundraising Executive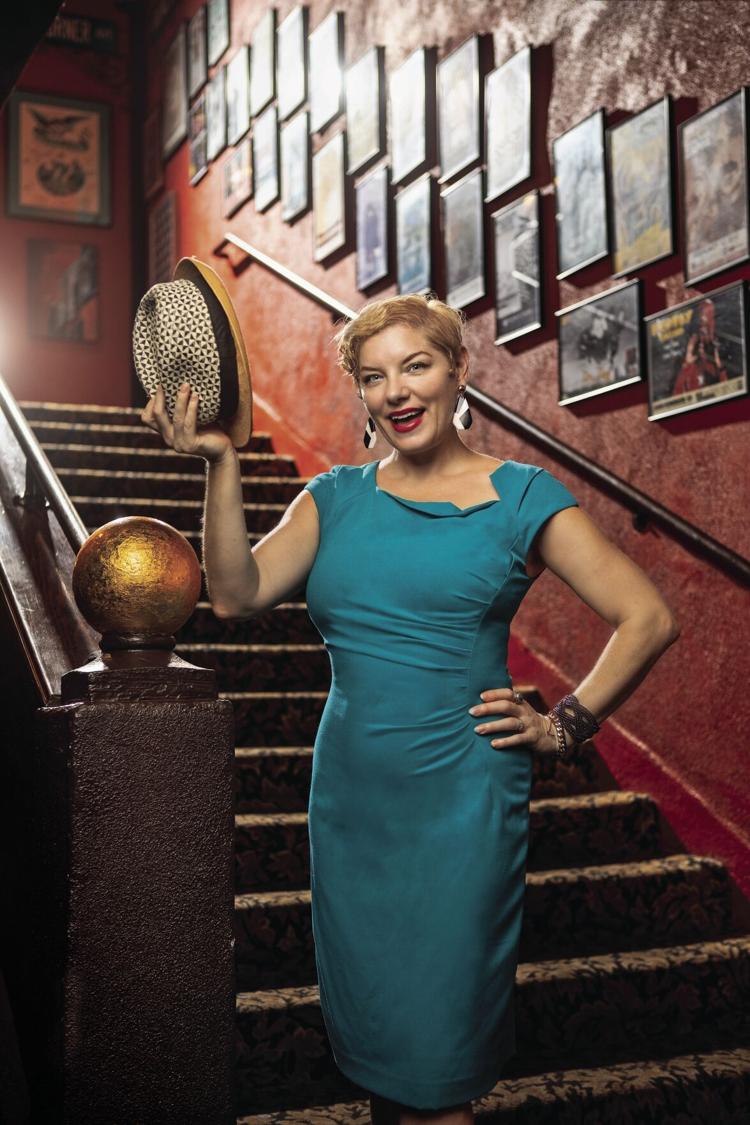 "I think of fundraising as a bit of a magical exchange," says Ragland, who has been development director for The Rialto Theatre Foundation for three years. "I'm looking for people who are looking for me or, more accurately, my organization so that they can give gifts that are meaningful to them."
As the foundation's first-ever development director, Ragland, 42, has been able to weave her magic to great effect. Her efforts pumped up membership at the downtown entertainment venue from 300 to 1,700. She helmed the successful "I Rock the Rialto" capital campaign that raised $1 million to rehab the theater's historic building. She also manages the foundation's Giving Program that supports other organizations.
For this and other accomplishments, Ragland has been named the 2019 Outstanding Fundraising Executive.
Ragland's career path wasn't clear in 2001 after the Chicago-born and Wisconsin-raised University of Arizona student graduated with a degree in anthropology. She took an entry-level job at the Humane Society of Southern Arizona, cleaning kennels and taking in homeless animals. That opened her eyes to working for nonprofits.
She stuck with community work through the Birth & Women's Health Center, Fox Tucson Theatre and Center for Biological Diversity.
It was at this last post, where she worked with major donors, that Ragland had her "aha" moment. "I realized how my strengths — my ability to build strong, meaningful connections with people and organize data and systems on the back end — lend themselves really well to development work," she says.
And she's good at it, having helped to raise more than $8 million for these organizations.
It turns out the anthropology degree does serve her well in her career. It enabled her to understand people's motivations and how they are shaped by where they come from. "I'm really a people-person, which is one reason I studied anthropology," Ragland says.
"The thing that brings me the most joy has been meeting the people in this community who make it vibrant and unique."
Ragland is all in for a development career. She'll lead the Association of Fundraising Professionals, Southern Arizona Chapter after serving as membership chair and, currently, president-elect. She was introduced to the organization by mentor Deb Dale, who earned the Outstanding Fundraising Executive Award in 2008.
Ragland has helped her small foundation staff sharpen their skills to become a proficient development team.
Curtis McCrary, for one, is grateful for Ragland's skills. McCrary is the executive director of The Rialto Theatre Foundation, as well as executive director and general manager of the theater.
Her work has established the venue as a "pre-eminent arts nonprofit" in the community, he notes.
"She has been integral in imbuing the Rialto with the 'spirit of philanthropy,'" he says, "something that we were largely lacking before her arrival."
Michael Cyrino
Outstanding Volunteer Fundraiser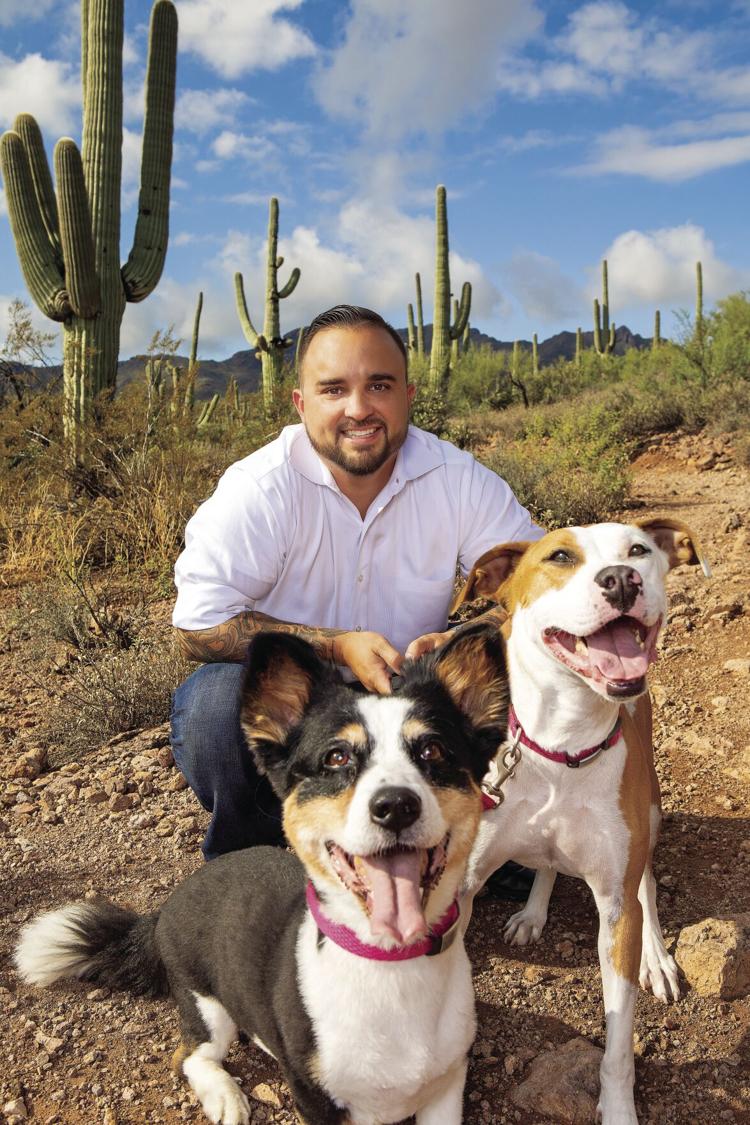 He's coordinated distribution of funds from the company's community reinvestment program to pay for mental health first aid training, youth education on resisting drug use and peer pressure, the Pima County Sheriff's Crisis Canine Response Team, and more.
After giving all day, Cyrino spends his free time giving even more. It's why he has been recognized as Outstanding Volunteer Fundraiser of the Year for 2019.
"Managing corporate philanthropy is my job," says Cyrino, 32, "but giving to my community is my passion. Passion doesn't stop at 5 p.m. and neither do the needs of our community."
The Southern California native recalls volunteering at an early age with the guidance of his grandparents. One memory is of selling Tootsie Rolls outside of grocery stores with Knights of Columbus members from his family's church.
"I have many fond and vivid memories of wearing my yellow vest that was way too big and ringing my little bell," he says.
Cyrino moved from Albuquerque to Tucson in 2013 following a visit with a friend who introduced him to eegee's and Sonoran hot dogs. "The rest is history," Cyrino says with a laugh.
He spends his volunteer time working on boards for organizations such as the Ronald McDonald House Charities, Social Venture Partners, Greater Tucson Leadership and the Humane Society of Southern Arizona. They allow him to fulfill his desire to support Ronald McDonald House, serve as a mentor and help with dog welfare efforts.
Other organizations he's volunteered for include the National Alliance on Mental Illness, the Centurions, El Rio Vecinos and the Education Enrichment Foundation.
He likes to help people connect to the community. "It's really about relationships," he says. "When one thrives, we all thrive."
Cyrino is willing to put himself out there for the causes he cares about. He has rappelled down the side of a building wearing a green tutu, danced the tango blindfolded, competed in a spelling bee, and acted as a celebrity bartender.
"There isn't much I wouldn't consider if it would raise money for a good cause," he says. "I have been very fortunate to build a personal brand that excites the community, and if I can leverage that to raise money for a cause, why not? For me, it's just the right thing to do, and it's fun."
That combination of behind-the scenes work and public — some may say wacky — displays of support is what's key to Cyrino's leadership style, says Kate Maguire Jensen, president and chief executive offer of Ronald McDonald House Charities of Southern Arizona.
"He is equally adept at working a room," Jensen says, "and having a meaningful, private conversation with a constituent or potential donor."
The David and Lura Lovell Foundation
Outstanding Foundation Philanthropist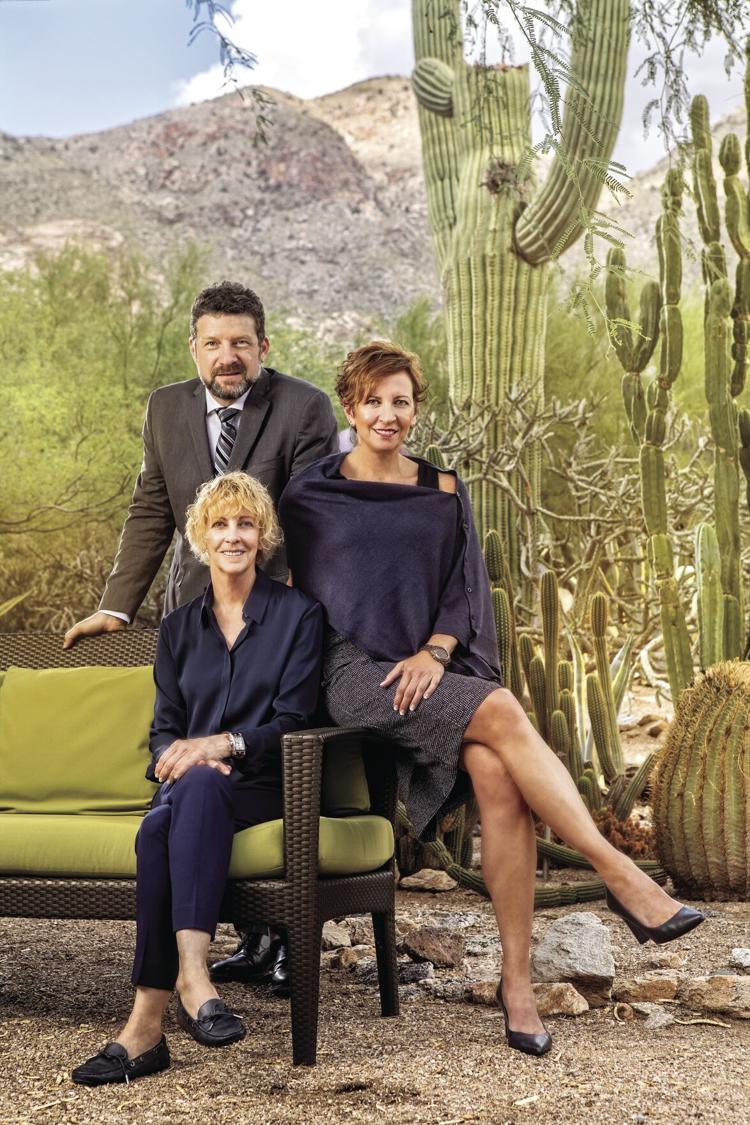 "My mother always spoke of the ripple effect," says Ann Lovell, the second of David and Lura's four children. "Drop a stone into a lake and watch the ripples. Live a good life and help others and the ripples of that keep spreading out."
The 25-year-old David and Lura Lovell Foundation has focused its funding on mental health, integrative health and wellness, youth access to the arts, and gender parity. It has been designated 2019 Outstanding Foundation Philanthropist.
One signature project is the Arizona End of Life Care Partnership. The foundation collaborated with Community Foundation for Southern Arizona to fund nine Tucson organizations and one statewide partner that spreads the word about advance directives, educates about end of life care options, and seeks to, "fundamentally change the way we talk about death."
Lovell Foundation and Tucson's Marshall Foundation co-funded an award-winning documentary, Passing On, produced by Arizona Public Media and narrated by National Public Radio's Scott Simon, which preceded this initiative. The partnership now is considered the country's largest funded community-based end-of-life-effort.
This project is personal. David Lovell, who died of cancer in 1993, spent his last months selling the family's Toledo, Ohiobased chemical company in order to create the foundation. David relied on integrative medicine techniques to alleviate suffering through his illness.
After David died, Lura created the foundation in 1994 in Ohio, but spent more time at the vacation home that the couple bought in Tucson in 1989. Lura worked full time alongside Ann on the foundation until Lura died in 2013. "It was her baby," Ann says. "She participated in every part that she could."
Ann served as executive director for a decade until she transitioned to professional management. She still serves as president and chair of the board, but has stepped away from day-to-day activities, believing in a team approach to philanthropy. She works closely with Executive Director John Amoroso, Office & Grants Manager Ann Borden, consultant Christina Rossetti, and nine other Trustees and Board Advisors, including Tucson's Bonnie Kampa, to amplify the foundation's impact.
By focusing on initiatives instead of programs and operations, the foundation tackles social issues using the collective brainpower of partners to make big changes.
The Bravewell Collaborative, for instance, spurred acceptance of integrative medicine and has led to more than 80 programs in medical schools worldwide. Funding has expanded residency and fellowship programs at the Andrew Weil Center for Integrative Medicine and faculty training at University of Arizona College of Nursing.
Dr. Mindy Fain, co-director of the UA Center on Aging, has seen how Lura's ripple effect works. Lovell Foundation funding allowed the center to permanently include a living will component in the medical curriculum that Dr. Fain says, "will impact future medical school classes and their patients well beyond the life of the grant."
Students at Salpointe Catholic High School
Outstanding Youths in Philanthropy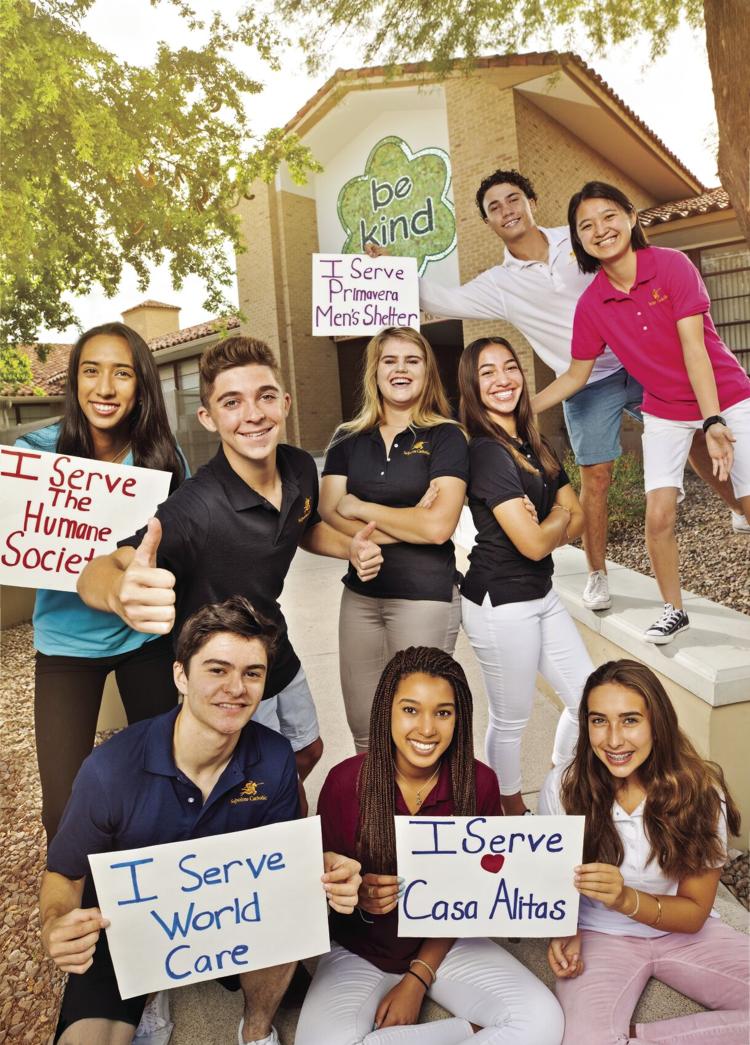 They make up the student body of Salpointe Catholic High School. Last school year they spent more than 42,000 hours on charitable works.
Service is a hallmark of Salpointe students, whose education includes living their faith through good works. Every student is required to complete 15 hours of service each year. Last school year that totaled more than 23,000 hours — 23 percent more than what was required of them.
The beneficiaries of that work included Ben's Bells, Boy Scouts, Kino Border Initiative, Gospel Rescue Mission and St. Luke's Home.
A program that started in 2016 goes a step further. IMPACT Service Days tie directly to course work. "The IMPACT Service Days are unique as they align course curriculum to justice on a much broader sense," says Jennifer Harris, the school's director of advancement. "We ask the question, 'How does our high school curriculum link to justice?'"
Freshmen attack hunger and poverty; sophomores focus on stewardship of God's creation; juniors learn compassion by helping the poor and vulnerable; and seniors design projects on social justice issues. In the two November days of service, more than 60 partner organizations and sites receive student assistance while teaching them about the lives of the people they serve.
That's the experience of Zoey Delgado, a Salpointe senior who has participated in IMPACT Service Days her entire high school career. She recalls one incident in particular.
Last year she was among a group of Salpointe students who organized a field day for an elementary school in which many students were from low-income families. The high schoolers gave the kids a fun day and talked with them about healthy living.
One child spoke with Zoey about vaping and how it happens in that child's home. Zoey says she felt good to be able to have that conversation. "To be a positive influence in these kids' lives was really special," she says.
Through the IMPACT program, Zoey has helped paint a mural at Elvira Elementary School and share Communion with homebound elders, many of whom were sick and bedridden.
In this final year of high school, Zoey also is involved with the National Honor Society; Assisteens, which is run by the Assistance League of Tucson and was a 2016 Outstanding Youth in Philanthropy winner; and Kino Teens, a Kino Border Initiative network.
This level of community involvement is not unusual for Salpointe students, she says. Many of her friends belong to various service organizations.
"I'm very fortunate to be going to Salpointe in the first place," Zoey says. "To have the opportunity to help with projects and interact with people who aren't as fortunate as us is a touching experience for us. We learn a lot about gratitude and how we can affect others by helping out."
Tucson Federal Credit Union
Outstanding Corporate or Corporate Foundation Philanthropist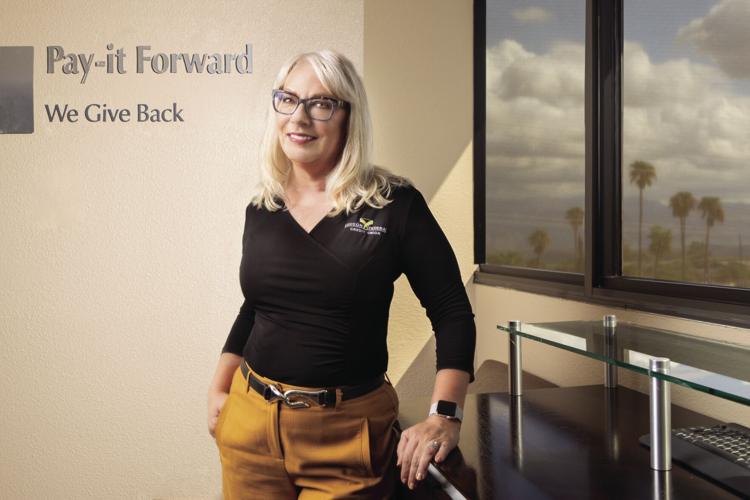 Instead, they are encouraged to show up at a nonprofit's project location, ready to do good deeds for the Tucson community. And it's still a workday of sorts because TFCU pays its employees for eight hours each year to volunteer.
This is one of several ways that TFCU contributes to a better Tucson. These actions have led to it being named Outstanding Corporate/Corporate Foundation Philanthropist of 2019.
The credit union's motto is "Tucson Matters!", and its mission is to use TFCU's resources to help residents meet their basic needs.
"When people find housing, live in safety and eat nutritious food, then we know that they have a better chance of improving their future," says Susan Stansberry, TFCU's president and chief executive officer.
The company's philanthropy isn't focused on a handful of nonprofits or particular causes. Instead, it prefers to respond to the needs of the community as various sectors define them. "This allows us quickly to adapt our community engagement to the social needs and issues occurring in Tucson," Stansberry explains.
To that end, organizations can appeal for support through the TFCU Gives application. A company committee made up of employees makes decisions about group volunteer projects.
One big project is delivering free financial education to a variety of residents. They include felons on probation, Pima Community College students taking basic education classes, low-income clients of the Primavera Foundation and teens training for culinary careers in classes supported by the Community Food Bank of Southern Arizona.
Stansberry walks the walk, according to Becky O'Hara, director of development for the University of Arizona Cancer Center. When O'Hara held a similar post with the Arizona Oncology Foundation, she observed Stansberry working on boards and empowering employees to contribute to communities in need.
"Susan's leadership is remarkable," says O'Hara, "and she is always ready to volunteer with staff at nonprofit events.
"Susan has made a passionate commitment to ensure that TFCU serves as a business role model for social consciousness and corporate responsibility."
That commitment has translated to substantial amounts of volunteer services and financial contributions.
In 2018 alone, 92 percent of TFCU's 146 employees gave 4,231 volunteer hours in service to 136 organizations. The company donated $155,254 to nonprofit groups.
Beneficiaries have included Pima County JTED, Aviva Children's Services, Big Brothers Big Sisters of Southern Arizona, Boys & Girls Club of Tucson, Tu Nidito, Southern Arizona AIDS Foundation and the Erik Hite Foundation.
Philanthropy is a natural outgrowth of the company. Says Stansberry: "As a credit union with a community charter, we believe this to be part of our DNA."