There has been organized quarter horse racing in Tucson for more than seven decades, and it continues this month through March 22. To some, it's tradition, to others, tragedy. What does the future hold for Rillito Park Racetrack?
Written by Elena Acoba
Operators of the non-profit Rillito Park Racetrack were in high spirits just before the current meet launched. There were predictions that 2020 would be the best season ever for quarter horse and thoroughbred racing at the historic track. The annual meet going on until March 22 is two days longer than last year, giving this event the chance to set new attendance and wagering records following last year's stellar numbers.
It's too early to tell whether the predictions will come true. But several activities this year add to high expectations.
Track operator Rillito Racing Inc., which is part of the Rillito Park Foundation, expects to draw crowds with a more talented stock of quarter horse (named because of their speed in a quarter mile) and thoroughbred racers in pursuit of bigger purses. Two races this year have been inserted as regional qualifiers for the Bank of America 440 Challenge and the John Deere Juvenile Challenge.
Equine celebrities are scheduled to appear. The famed Budweiser Clydesdales will visit Feb. 29 and March 1. A charity event March 7-8 for equine rescue features Mine That Bird, the 2009 Kentucky Derby winner who's in the history books as having the second-longest odds of winning that storied race.
Popular non-racing activities are back, such as live mariachi music and an art exhibit by the Sonoran Plein Air Painters. The Tucson Arizona Boys Chorus will perform March 14.
"It's a fun place and Tucson loves its horse racing," says Cass Dewey, the track's hospitality manager.
Down On The Track
The festive atmosphere at the meet is tempered by a watchful public concerned about the humane treatment of the horses. Last year's news of 43 horses dying at Santa Anita Park in California has brought into focus horse health at all race tracks.
Horseracing Wrongs, a national group that wants to end the sport, logged 569 racetrack deaths nationwide in 2019. Through Jan. 12 of this year, it noted eight deaths.
Four horses died at Rillito during the 2018 meet — three while racing and one during morning workouts, according to the Arizona Department of Gaming. In 2019, there were no race fatalities and one during workouts.
Rillito officials implemented an equine wellness program for its 2019 meet and strengthened it this year in the hopes of continuing to save horses from injury or death.
"What we're doing in 2020 is just an extension of that program, not in reaction to the news," says Dan Fick, Rillito track steward. "The main emphasis is to create a racing environment so that the safety of the horses and riders are primary goals."
Santa Anita is a wake-up call for tracks to implement safety protocols. "I'm certainly concerned," Fick says, "and this is going to make us double our efforts. We want to make sure we have a safe environment."
Under the program, the track increased its veterinary staff from one to three. They are assisted by University of Arizona students who are pre-vet or equine science majors, Fick says.
"My job is to come to the track in the morning on race day and check every horse," says Tucson vet Larry Shamis, DVM. "As the horses go on the track pre-race, they are watched carefully." He and his assistant look for signs of lameness, limping, respiratory problems and eye problems, among other health concerns. The assistant also checks available records about the horse's health history, including reasons why it might have been scratched from a previous race or is barred from racing.
Dr. Shamis, who has practiced for 30 years, and the other vets have great leeway to remove a horse from a race for health reasons. Previously, it wasn't always easy to do so while under pressure from owners and trainers. But Dr. Shamis says the equine wellness program now gives him the confidence to take a horse out of a race. "I don't feel that I want to be intimidated on any level," he says.
"The objective is to have no injuries, no breakdowns," he adds. "That's not realistic, but we try to reach that endeavor as much as possible."
For some racehorse advocates, that objective isn't even close to protecting equines. For them, racing needs to end.
"Horse racing has been glorified in American history," says Gary Vella, chapter coordinator of Tucson-based SPEAK (Supporting & Promoting Ethics for the Animal Kingdom). "Once you strip out all that icing, the cake underneath is still moldy."
Concerns about humane treatment span the entire life of a horse. Overbreeding to produce the number of horses that can become successful racers leads to many unwanted animals. Trainers start working with yearlings before the equines' skeletons are fully formed. This makes racehorses prone to breaks that can end their racing careers, lead to fatal injury, or result in euthanasia. Racehorses are subjected to drugs, whips and confinement. Finally, retired racehorses could end up in auctions that lead to slaughter.
Tucson isn't a town full of racehorse breeders. Most of the horses that race at Rillito are shipped in for race day. But there are some things Rillito track operators do to address the well-being of racehorses.
Most significant is the anti-slaughter rule, to which all owners are required to agree. Rillito track operators will impose sharp consequences for a racehorse owner or trainer who contacts a kill buyer to pick up a horse from the track for slaughter auction. That includes banning the owner or trainer from racing horses there.
In another positive trend, this year will mark the third meet in which horses that are no longer wanted for racing could be put up for sale or rescue at the track.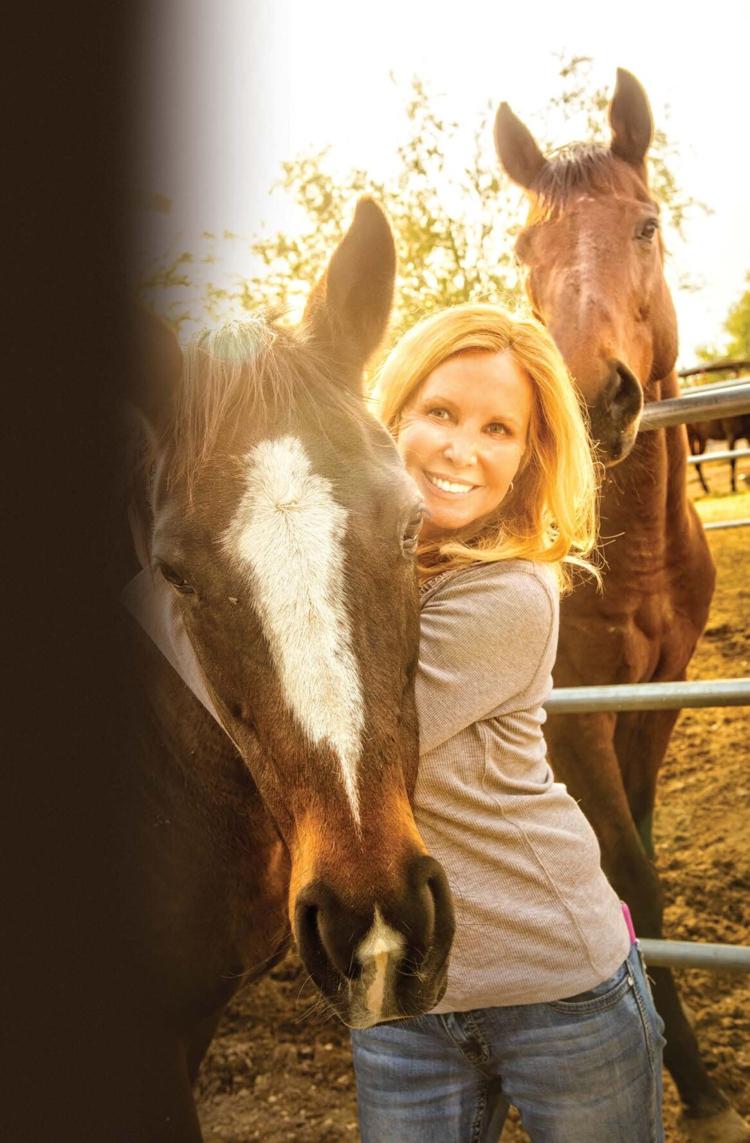 Cass Dewey lives both sides of the issue. As president of the nonprofit Desert Oasis Rescue, she's saved racehorses and other animals for 35 years. The local horse racing community knows her well because she's worked at Rillito for 16 years in various positions, from grooming horses to now running the clubhouse.
"I actually have a love-hate relationship with horse racing," Dewey says. "These horses are cared for immaculately," but the injuries and deaths are hard to take.
She nurses injured racehorses back to health and finds homes for all her rescues. Some are used as show horses. She's proud of Rillito's attention to horse safety, from improving track conditions to adding more vets to holding the after-meet auctions. Last year, she says, 13 horses "ended up going to good homes."
Although Rillito may be experiencing a resurgence of interest and support — it had a record 50,000 spectators in a cold, rainy 2019 season — the horse racing industry overall is contracting. Horseracing Wrongs has noted 33 track closures since 2000. Only two that opened since then are still operating.
"The industry is contracting as we speak," says Patrick Battuello, founder, president and director of the non-profit, anti-racing organization. "The demand for the racing product has been in steep decline. All the metrics are down."
Battuello maintains that part of those closures result from people who decide not to support a sport in which horses are inhumanely treated. Vella agrees with that assessment.
"In days of old, especially with horse racing, you didn't hear a lot about the stuff that happened at the track," Vella says. "In today's culture, that's all changing, so the word gets around very quickly." Today, awareness is just a social media post away.
The Pitch for Soccer
Rillito may be bucking the industry trend. As a non-profit, its survival depends on covering its costs, not making a profit. Its existence continues in part because it's a historical attraction, a recreation partner and an educational resource.
The 77-year-old facility is known as the birthplace of modern, formalized quarter horse racing. Stud farm owner J. Rukin Jelks and fellow breeder Melville Haskell built the 3/8-mile straight track in Jelks' backyard to demonstrate the quality of his horses, bred for bursts of speed. Haskell formalized rules and specifications using race results at the track. By 1946, the American Quarter Racing Association they helped establish adopted the racing rules at Rillito for national use.
A circular track was added in 1953 for thoroughbred racing, as were the grandstands and clubhouse.
Racing at the track, which also is known by Rillito Downs, was popular for decades, but flagging interest forced its closure in the early 1980s. In 1985, a group that eventually would become the Pima County Horsemen's Association gained a 25-year lease from the Pima County Board of Supervisors to bring racing back. By 1988, thundering hooves were heard once again.
Local historians also wanted to save the track. In 1986 they successfully got the original straight track, known as a chute, listed on the National Register of Historic Places. Additional parts of the facility were listed in 2012.
Recreational needs grew in ensuing years. In 2006, the Board of Supervisors, at the recommendation of its advisory committee, voted to tear down the grandstands to build soccer fields. Once the horsemen association's long-term lease expired in 2010, it operated under a year-to-year lease while plans were made to move racing elsewhere and issue a bond to build the soccer tournament facility.
Race supporters were not deterred. The Rillito Park Foundation was founded in 2011 to try to rein in competing interests for the county property, which by this time had become Rillito Regional Park with multiuse fields. Three years later the foundation, operating the non-profit Rillito Racing Inc., won a one-year operations and management agreement with the county.
In 2015, voters rejected the proposed bond issue to build the soccer facility. The board in 2016 gave the Rillito Park Foundation another one-year agreement, then extended that to June 30, 2021. The foundation's task: Improve the track and racing with donated funds, move the barns to make room for more fields and expand community use of the regional park.
Since then, additional multi-use fields have been built at the park, including four in the track's infield. The Rillito Farmers Market, already Tucson's largest year-round farmer's market, is expanding as a major feature along The Loop, the 131-mile recreational trail.
Outside professionals were hired to run the meets, including Michael Weiss, an industry veteran who is Rillito Park Race Track's general manager. He comes to Tucson from Florida for the meets.
What Waits at the Finish Line?
With the penultimate meet under the current operations agreement now underway, the Rillito Park Foundation is moving to put itself in a good position to negotiate for a long-term presence for the race track. Events like the Kentucky Derby viewing party extend track activities outside of meet dates. Simulcasts and off-track betting on Rillito races give the meet a broader presence.
Work continues on turning the original Jelks Stud Farm property into an attraction that will feature a museum on horse racing. Funds are being raised to add more barns and operators are eyeing additional upgrades to the clubhouse and grandstands.
New Tucson betting parlors, which were in the works at press time, would provide a stream of funding that could go toward track improvements and bigger purses that attract better racing at the facility.
"I believe it will never be a thoroughbred racing track," Weiss says, "but it could be one of the top quarter horse tracks in the world again."
Jaye Wells, president of the Rillito Park Foundation, envisions a new agreement with the county that allows the organization to manage the track year-round and win more racing dates. A year-round operation would open opportunities to market the space for festivals and other non-racing activities.
Wells says the foundation's goals go beyond saving horse racing. "Our concept was making (Rillito Regional Park) a multiuse park and to get the track up and running at a professional level," says Wells. "The pieces of the puzzle are on the table. Now we're just putting it together."
It may not be an easy road toward a new agreement. Leaders of youth soccer still want to push for a tournament facility where the track facility sits, even though the county has provided several soccer fields at the Kino Sports Complex.
Attorney Ted Schmidt, president of the FC Tucson Youth Soccer club, says that the new fields will be too expensive to rent for practices and small tournaments.
"The other problem with Kino is that it is not where most of the population lives," adds Schmidt, who also is an ex-officio board member for Pima County Junior Soccer League. "Rillito is the most convenient location, particularly for kids to play football, play soccer and other field sports.
"Everybody knows what the right thing to do is," he says, "but nobody has the money to do the right thing."
SPEAK, which traditionally holds a protest at some point during the meet, also wants to convince the board of supervisors that the right thing to do would be to close the track.
The group was absent during the last agreement approval because it was busy with efforts to close Tucson Greyhound Park. Group members plan to have a bigger presence when public comment on any new agreement opens in 2021.
"Absolutely," says Vella, "and with public sentiment being what it is and the focus on the disastrous season [at Santa Anita], I think people are taking this issue a lot more seriously."
Unless there is a major change affecting the mix at Rillito Regional Park, at least one county supervisor feels it's unlikely the track will go away when the current agreement expires. "I don't perceive us changing the use," says Richard Elias, the board's chair and District 5 representative.
He believes that the Kino soccer facility will take pressure off of demand for fields at Rillito. He sees the farmer's market as a "very good" asset.
Although the recent news of racehorse deaths is "troubling," he's satisfied that the meet operators are doing the best they can. And he notes that the race track is a popular attraction. "Horse racing has that big tradition there," he concludes. "It's an important part of our culture and history."
For more on Rillito Park Racetrack and horse racing in Southern Arizona, watch Arizona Illustrated this month.