When the pandemic hit the Old Pueblo, many individuals and organizations answered the call to help out. Here are just some of the inspirational stories.
Tucson Sew Strong
On the front line of this new battlefield, medical and caretaking personnel have faced a shortage of critical personal protective equipment (PPE) — the healers' equivalent of a Kevlar vest. Tucsonans responded to the need in spades. Although their curtains have closed for an indefinite intermission, Arizona Theatre Company's production and costume team members took advantage of the unexpected downtime to contribute to the mask supply. Costume Shop Manager Mary Woll, Assistant Production Manager Tajh Oats, Costume Designer Kish Finnegan her husband Ed, and many other ATC staffers made masks and delivered them, along with a helping of unused gloves from the paint shop, to Tucson Medical Center.
Similarly, Sparkle Cleaners and Mendel's Wife the Tailor stepped into action without hesitation. Once the team, headed by Sparkle Cleaners owner Heath Bolin, announced a change of gears to mask production the orders came rolling in. The group also transitioned from cleaning fancy workwear to laundering scrubs and facemasks for free. As of press time, masks still can be ordered via telephone or SparkleCleaners.com for $7 each, and can be picked up or delivered to home or office free of charge.
Although it's amazing that professionals in our community switched gears to apply their talents and resources to making masks, amateur volunteers joined in as well. A relative newcomer to Tucson, Red Herring Puppets' Lisa Sturz partnered with a staple Tucson sisterhood of the sewing machine, Mending Souls — spearheaded by Michelle Don Carlos. The partnership produced and delivered "more than 50,000 masks to hospitals, senior homes, fire departments, police departments, the Navajo nation, and many more," according to Sturz. "Mending Souls is the largest non-profit supplier of masks in Arizona and, we think, nationally. Michelle has put together a team of thousands," Sturz adds. The group works closely with hospitals to design comfortable, fitted masks. "We use a material designed to wrap surgical supplies that is as protective as the N95 masks. They can be put through an Autoclave machine to be sanitized and can be reused as many as 20 times." Hospitals supply the fabric and Don Carlos works with them to design the best mask for their needs. To donate, participate, or get amazing designs and tutorials for masks, visit LoveMendingSouls.org.
Erin Jensen, an emergency room nurse at Tucson Medical Center, grew concerned for her coworkers' safety and sought a solution. "TMC was great with PPE, but I saw that other hospitals were running out and I wanted to help," Erin explains. She looked up patterns and began sewing masks from fabric in her closet. She started the Operation PPE Tucson Facebook group to encourage and enlist others to do the same, and things really got rolling. Erin's sister-in-law Cassandra Jensen stepped in, and an idea to help out became a well-oiled machine. "After the Facebook group started, it just really blew up," Cassandra recalls. "There are nearly 1,000 members overall, with 200-300 active members.
Tucsonans dusted off sewing machines, sharpened scissors, and pulled out wallets to help supply more than 11,000 masks, N95 mask covers, and replacement filters delivered through an amazingly organized gathering and drop-off system Cassandra devised and executed through volunteers. Erin added that the effort was "All 100 percent volunteer and donation. Every single person who has been part of this group has poured themselves into this, with some of them putting in 8-10 hour days. It really does take a village. It's been a huge effort and every single thing everybody has done made a huge impact." Masks went to Banner — University Medical Center, Northwest Medical Center, The VA Hospitals, Pima Council on Aging, Mobile Meals of Southern Arizona, clinics, nursing homes and Tohono O'odham Nation Healthcare.
A group of five teenagers, part of the India Society of Southern Arizona — a non-profit organization established to teach and share Indian culture and tradition with the community — rose to the challenge. Founding members Ananya Munjal, Tanvi Narendran, Mallika Sunder, Meena Caputo and Fida Bijin christened themselves as Seva Squad (loosely translated to Service Squad) and helped mobilize Tucson's Indian community to gather, create, and donate resources to provide PPE masks to Tucson Heart Hospital and El Rio Community Health Center. The 15- and 16-year-olds bought sewing machines, solicited donated materials, Ubered and enlisted familial chauffeurs, and found someone with a 3-D printer to make earsavers, face shields, and children's masks. These young ladies are a force. They even led a fundraiser to help out a physician in need of viable transportation on the Navajo Nation.
Is this the future of the Tucson community? No, this is our community in action, today. And it's amazing.
Destill the One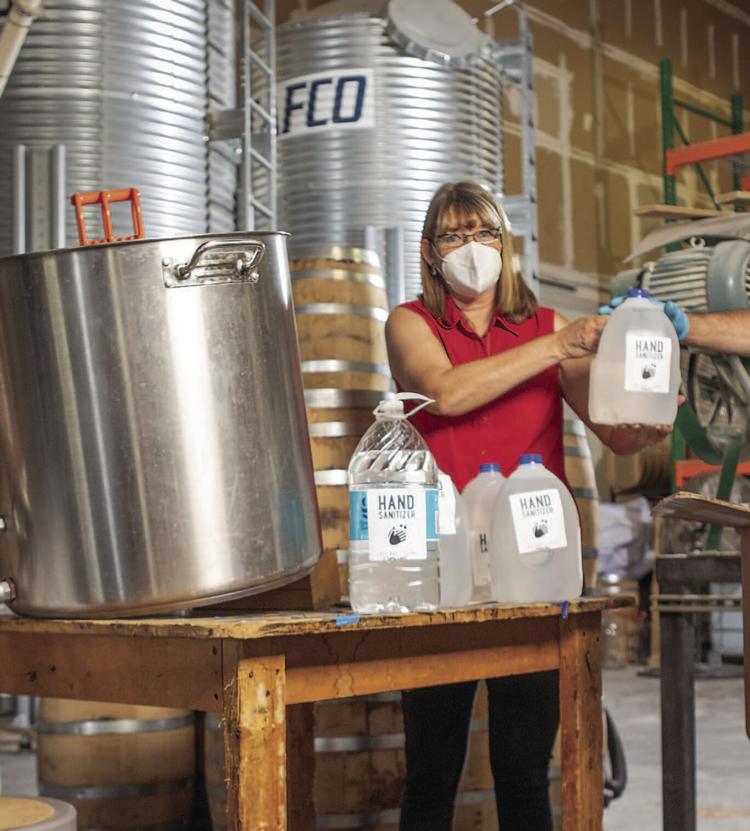 As the COVID-19 crisis escalated, so has the need for — and scarcity of — hand sanitizer. Distillers, brewers, and vintners in our region have proved to be a powerful force in successfully replenishing its supply to residents and healthcare facilities. The bare basics process of brewing and distilling: liquid from fermented fruits or plants is heated in a still, which vaporizes and re-condenses it. The liquid that first comes from that process is the most volatile — basically methanol or acetone — liquids nobody should be drinking. The artistry of distilling and brewing happens when experienced makers are able to separate the volatile product from the spirits having achieved just the right taste, texture and strength as the volatility changes. Many distillers use the leftover ethanol/ alcohol as sanitizer for their own operations. Those leftovers can be mixed with skin-soothing agents for spreadability, to make hand sanitizer.
Town Under Black Distillery, co-owned by Rebecca Caroli and Vlad Novokschenov, opened for business in 2019 after five years of planning. They make heritage spirits utilizing historical and ethnographic resources to create beverages reminiscent of those produced 100- 500 years ago in the Sonoran Desert region. Continuing business as usual at the start of the crisis, Caroli put out feelers on her personal social media pages to gauge interest in their leftover sanitizer. "Within two days we had 500 requests," she says. "Not for small amounts either. Essential businesses, hospitals, and caregivers were making the requests, and we realized that a few gallons weren't going to go very far. There was an enormous need." They stopped their whiskey production for a while and applied all resources to making the alcohol to meet the nearly 50 daily requests. At the end of April the partners built a vodka still so they could get a higher proof of alcohol for the sanitizer.
Other distilleries and breweries were performing similar tasks. "That's when the Arizona Craft Distillers Guild came in. We had all been making our own efforts but we needed to pool our resources to order tankers of pure ethanol," Caroli explains. The tankers arrived at end of April and high-gear production ensued. She made another call for containers and they poured in. Tucsonans donated all shapes and sizes of containers, including sterilized water sample collection containers, to hold and transport the sanitizer.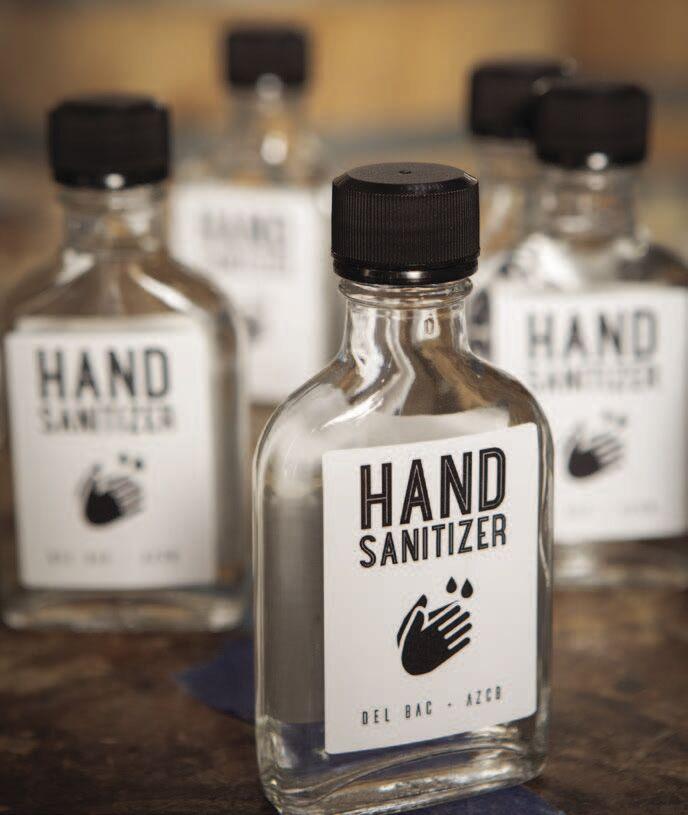 Town Under Black Distillery donates all of their sanitizer to medical facilities, essential businesses, and care facilities. Whiskey del Bac donates sanitizer to the Tucson Police Department and hospitals. Other facilities donate and sell the sanitizer they produce to help cover costs.
The distilleries were joined in the effort by compounding pharmacies, which specialize in mixing existing drugs to suit customized prescriptions for humans and animals. As of late, some have become expert hand sanitizer producers as well. Reed's Compounding Pharmacy began mixing, selling, and donating hand sanitizer after receiving approval of relaxed guidelines by the FDA in response to requests from the Alliance for Pharmacy Compounding. Reed's donates sanitizer to first responders, Boys & Girls Clubs of Tucson, Pima County Health Department and the American Red Cross. Remaining bottles are available for public purchase.
Mural, Mural on the Wall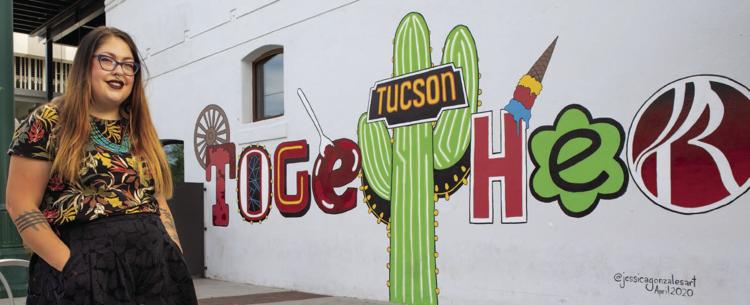 These challenging months have created the need for something to soothe the mind and spirit of many among us. To this call, Tucson art lovers, artists and arts organizations have answered with offerings large, small, everlasting and intangible.
Love Block Partners tapped Tucsonan Jessica Gonzales to paint a mural to symbolize a message of unity and community strength on the east-facing outside wall of The Playground's building at 278 E. Congress Street. Incorporating letters artistically distinctive to Old Tucson, Fox Tucson Theatre, Hotel Congress, and egees, Gonzales, in creative partnership with Love Block Partners, dipped her brushes to say, "Tucson Together," while the message conveys that and so much more.
Southern Arizona Arts and Cultural Alliance (SAACA), headed by Kate Marquez, and her band of (five full-time and two part-time) miracle workers mobilized to create yet another way to deliver arts experiences to community members during the crisis. In late April they placed a call to Tucson's artists and art organizations for donations to deliver art and activities to vulnerable quarantined Tucsonans. More than 50 contributors emerged with thousands of items, including craft kits, art projects, and music that were packaged, sanitized, and delivered to assisted living residents and hospital patients. Each package contained a multitude of ways to allow recipients to enjoy and participate in unique art creations. The group also partnered with the Lodge at Ventana Canyon Golf and Racquet Club to provide meals for caregivers and staff when arts packages are dropped off. About the project, Marquez says, "The outpouring of support from the arts community has been amazing. We're seeing this as an opportunity to begin something that we'd really like to continue. We are building relationships with caretakers and really learning how we can keep these residents happy, healthy, and emotionally alive through the arts."
Fine artist, graphic designer, and digital painter Esther Rogers contributes her talents by day to Raytheon Missile Systems and her off hours to family in Sahuarita and many levels of artistic endeavors. Esther experienced the dramatic effects of stay-at-home orders for school children through her own high school senior. Thinking of parents with younger children at home, Esther began to offer line coloring book pages via social media (@illustrationsbyesther) to give coloring enthusiasts young and old the opportunity to add their own mark to her wonderful pieces. "I felt so bad for all the children who wouldn't be able to go outside and play with their friends," Rogers explains. "I wanted to do something to help all those kids cooped up inside. I decided to start doing simple, weekly line illustrations that I would post for people to download, print on their home computers and color. It's a small gesture. but it's free and hopefully I can bring a smile to a child's (or adult's) face and some enjoyment to their day."
Lisa Cardenas, owner and artist at Haunted Hands Tattoo Studio, was inspired to apply the incredible talent of her artists to contribute to the community. Together she, Ben Ervin, Jason Pederson, and Andra King agreed to convert some of their creations into a wearable form that could be more easily removed — shirts. Each inker provided a design for a clothing line sold through the studio's website. The crew collectively decided to donate proceeds to the Community Food Bank of Southern Arizona. "Sending the proceeds directly toward food for Tucson families seemed like the most tangible and direct way to help," explains Haunted Hands tattoo artist Ben Ervin. "We created art to communicate that we are all in this together. Not only in a financial way. Everyone is doing their best to help those not only close to them, but people they don't even know. We want to convey a message of hope and strength while applying direct action to a cause that matters."
Speaking of shirts, Aztec Embroidery & Screen-printing has joined a national movement to support other local businesses. The "Here for Good" campaign began with a shop called Tiny Little Monster in St. Louis, Missouri. Tiny Little Monster raised big funds through the program ($50K) and put the call out to other shops around the country to do the same for their own communities. The idea is to create messaging and monetary support for businesses by selling "Here for Good" shirts and hats and allowing buyers to dedicate $10 of each purchase to a company of their choice. "Here for Good Tucson" allows local businesses to offer shirts with their logos added to the messaging for purchase at HereForGoodTucson.com. Organizations with custom options include Jonathan's Cork, Tucson Rescue Now, Green Toes, Erin Powers Hairdressing, and International Wildlife Museum to name a few. If buyers would like, they may name additional non-profits to which Aztec will donate proceeds.
A meal good story
During the shutdown, restaurants struggled with limited or no ability to operate. Meanwhile cadres of Tucson's first responders and medical professionals went into overdrive. Scores of these frontline workers remained separated from their families to ensure the health and safety of their loved ones. Hill Bailey, co-host of radio station The Drive's "Bobby & Bailey Show" wanted to help. No, she needed to help. She sought a way to feed and thank first responders while also supporting local restaurateurs. Bailey explains, "We are locally owned, and don't have a ton of money to give away, so I thought we could ask restaurants to donate food in exchange for advertisement. But they just couldn't make that happen. So, I asked our owners Fletcher McCusker, Bobby Rich and Jim Arnold if we could turn it into a fundraiser." She received a green light and it was go time. The "Drive Thru for Tucson's Frontline" GoFundMe campaign was created and taken to The Drive's listeners (Bailey believes it wouldn't have happened in a timely manner, if at all, were she to have presented the idea to nationally owned station execs). She set what she though was a lofty, if not outlandish, goal of $45,000 dollars. At press time, the campaign had raised more than $39,000! Money donated to the "Drive Thru for Tucson's Frontline" pays for meals prepared by local restaurants to be delivered to varying shifts of hospital staff (including maintenance, administration, laundry and cleaning crews), Golder Ranch Fire, Tucson Fire, and more. Food trucks have been set up at police stations as well. So far, more than 1650 meals have been provided to 12 hospital shifts and 59 fire stations.
As of mid-May, the gambling floor was quiet and the hotel rooms empty at Casino Del Sol, but the kitchens were in high gear. Culinary staff prepared and delivered lunches to 2,000 healthcare workers at hospitals across Tucson.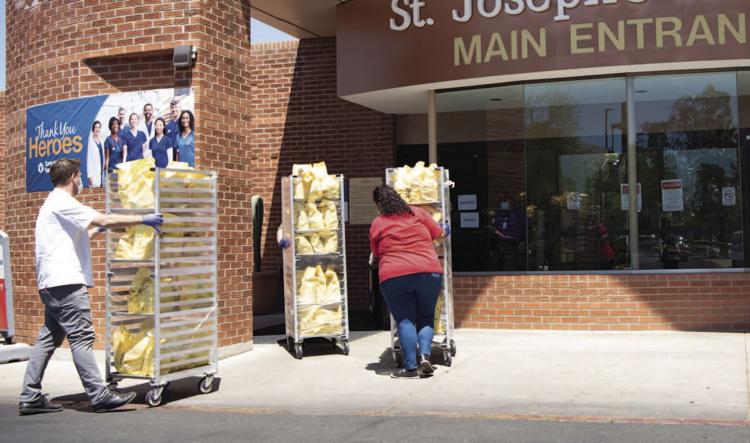 It's not just the big dogs of the local culinary pack stepping up to feed community members. For every meal purchased, Diablo Burger donated a meal to first responders and healthcare workers. BK Tacos donated lunch bags with Sonoran Style hot dogs and a drink to St. Mary's Hospital employees. Sammy's Mexican Grill offered free meals to those out of work or hungry. La Cocina restaurant served free meals to unemployed restaurant workers. 4th Avenue Deli gave away grab-and-go sandwiches to unemployed service industry workers. Food Not Bombs gave away groceries to anyone in need. Pop's Hot Chicken partnered with the People's Defense Initiative to offer free chicken sandwiches on Sundays. We don't need science to prove that giving is contagious, too.
Nelson Mandela said, "There can be no keener revelation of a society's soul than the way in which it treats its children." Well, Tucsonans proved they are well worth their salt with efforts to feed school children who may not have otherwise received regular meals during the shutdown. Ten Pima County Public Library branches offered pre-packaged grab-and-go snacks for kids under 18 years old. Tucson Unified, Catalina Foothills, Sunnyside Unified, Amphitheater, Vail, Altar Valley, Tanque Verde, and Marana Unified School Districts offered breakfast and/or lunches delivered along bus routes and at designated schools Monday through Friday through the duration of school closure. Some pick-up locations require children to be present while others require school IDs or other verification. For details and information on pick-up locations, visit Pima County Library (https://www.library.pima.gov/news/grab-n-go-supersnacks-to-begin-at-10-libraries/) or Arizona Department of Education (https://www.azhealthzone.org/summerfood) websites.
There are literally tens of thousands of Southern Arizonans helping one another during this crisis with whatever talents and resources they have at hand, and without hesitation. The examples we've extolled here are but a few of grains sand, part of a vast, shining desert floor that makes Tucson and surrounding communities the complex, life-sustaining system it is. Those we've called out and the many, many unsung heroes and helpers will continue their work and steadfast support of friends, neighbors and strangers because that's just how we roll. Whether we were able to include you or not, we offer our deepest gratitude and thanks to residents and businesses of Tucson, South Tucson, Oro Valley, Marana, Sahuarita, Vail, Green Valley, Catalina, Three Points, and beyond for caring and acting to keep each other strong, healthy and supported.
Hey Yogi!
Many among us stay fit, centered and sane through regular exercise. For gym- and studio-goers, the closure of these facilities has been particularly challenging. In a destination where a large percentage of residents take advantage of the multitude of outdoor amenities (e.g., the Chuck Huckleberry Loop, state parks, national forests, etc.), numerous locals still opt for indoor exercise/health enhancing options. And without fail, Tucson providers stepped up to offer free or sliding-scale options for those in need. Gym, yoga and Pilates instructors throughout the city took a crash course in technology and moved classes online to keep clients and students moving (or finding stillness), and to provide a sense of community and continuity in their practices.
There are far too many movers, shakers, and Omies with complimentary classes to include them all, but as of press time, the following were wonderful offerings to anyone who can plug in from around the world. Yoga Pod, Sumits Yoga Tucson, and Tucson Yoga all have offered several complimentary virtual classes weekly. Yogi Trisha Lotzer began free outdoor/ socially distanced Yoga practice and philosophy training that, if continued per specific guidelines, may allow practitioners to earn a teacher training certificate. Yogi Amy Weintraub offers free "Remote Relief" practices on YouTube that don't require a yoga mat or previous yoga experience. Studio 520 and Radiant Spirit have movement, meditation, and Yoga Nidra sessions for free and by donation. The Core and Amanda Freed provide free, 20-minute meditations live and archived on TMC Health's YouTube channel and AlignTucsonMeditation.com. Visit websites and/or social media pages for date/time/registration details.
.Yogis aren't the only ones getting their move on. At press time, Tucson area YMCAs are streaming 18 classes per week through Facebook or ZOOM. Classes ranged from Body Combat to Mat Pilates and Body Pump to Chair Yoga. YMCA nationally also released a deep series of online and app-accessible classes called YMCA 360. Anybody can access kids Yoga, Spin, Barre, Bootcamp, Tai Chi, Dance Fitness and more on-demand