To quote Charles Schultz, "Happiness is a warm puppy." Dogs may not be the cure to all of our ills of the past year, but they have helped many Tucsonans to get through a very tough time. In the following pages, we salute the canine heroes who took part in our annual Cover Dog Search.
This is only the second year in the history of Tucson Lifestyle's Cover Dog Search that we elected to have photo submissions only, and not do an in-person event. The last time we tried this approach, it was so that we could allow folks who have companion animals that might not travel well to enter (and, if memory serves, we even had a snake in the running that year!). This time, the pandemic forced us to hold a virtual event.
It didn't dampen anyone's enthusiasm, and some 165 people entered their dogs in the competition. A total of $30,141 was raised via entry fees for the Humane Society of Southern Arizona. We extend our gratitude to the staff and volunteers of HSSAZ for making the Cover Dog Search such a wonderful success! On the next few pages you'll meet the winner, the runner-up, and some of the other amazing dogs who stole our hearts with their entries.
COVER DOG WINNER!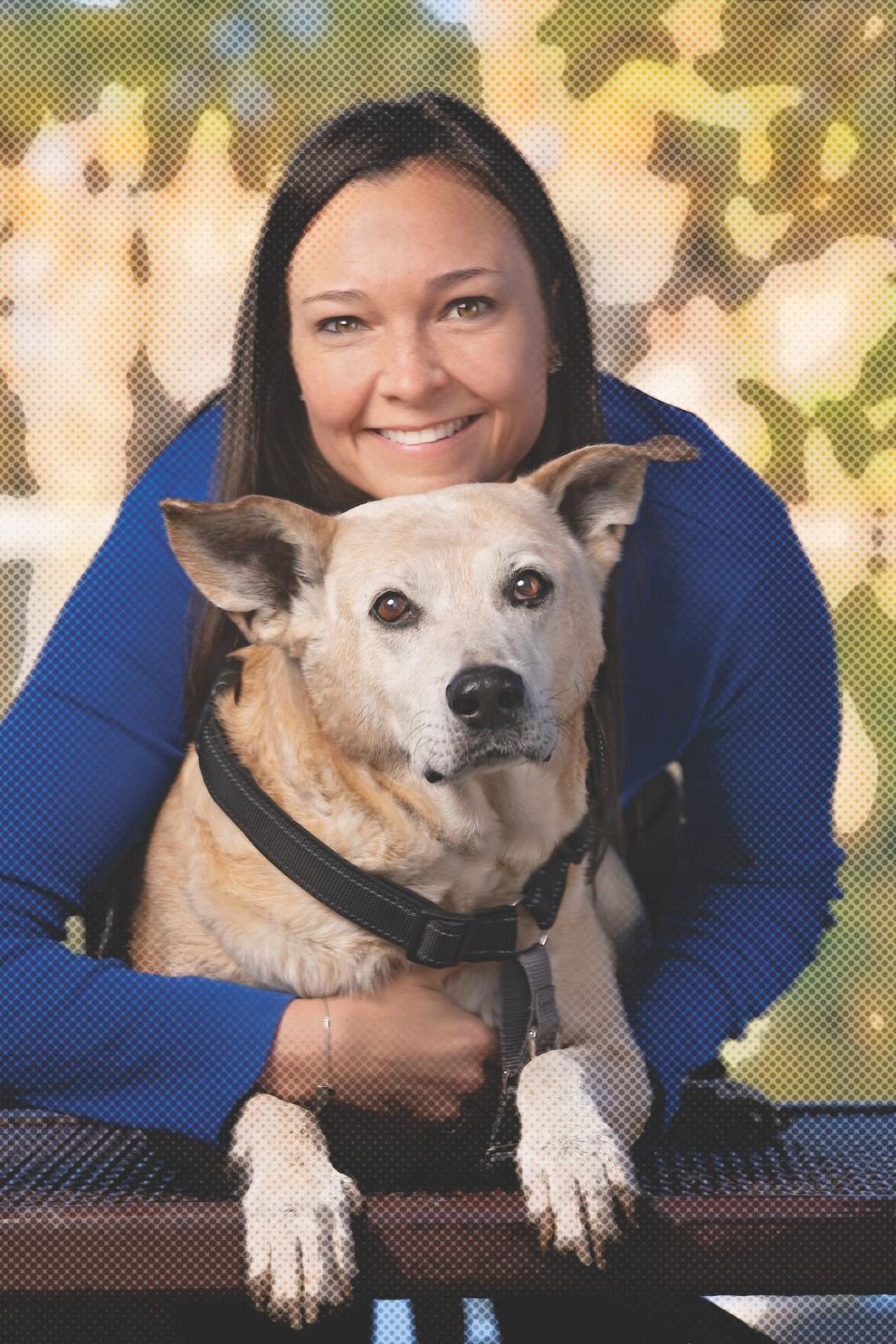 Q: How and when did you adopt this dog?
12 years ago I rescued Dingo off the streets in Springfield, Missouri, when he was around two to three years old. He lived in my old neighborhood and would sleep on a random person's porch where he dug out a footstool to burrow into to keep warm on cold days. I saw him often and was drawn to him. I tried to catch him for months and had a desire in my heart to help him. The people in the neighborhood would feed him but no one could catch him. Finally one day I think he had enough of living outside in the cold and he allowed me to coax him with some scraps of food, and I was able to gain his trust. I got him into my car and we have been inseparable ever since.
Q: What most stood out about him, and did it contribute to naming him?
Despite living on the streets and having to beg for food and shelter he has always been the sweetest pup, always loving, never aggressive or upset for all he'd been through. My friends called him Dingo even before I rescued him because he looks like a Dingo and it just stuck.
Q: Any nicknames for your dog?
His dog park friends call him King Ding and I lovingly call him Dingy, Baby Boy, and My Love.
Q: What are his favorite activities?
Dingo loves going to the dog park, playing with his squeaky toy, laying in the warm Tucson sun, hanging out with his kitty sisters Faith and Gracie, nightly walks at Udall Park and going for car rides.
Q: How has having him enhanced your life?
When I look into his eyes I don't just see the beautiful dog he is — I see all animals. I've realized how much they trust us to be their voice and speak up on their behalf. He has taught me how to love unconditionally, how to be more responsible, how to be patient, how to forgive, how to trust, how to be present and live in the moment. Many would say that I rescued him, but I would say that he definitely rescued me. This has allowed me to find my purpose and speak up when others do not. Since Dingo came into my world, I've spent my life collaborating with others to liberate all animals from abuse and neglect, and helping people to understand why they need to make more compassionate choices about how they treat all living beings. This includes companion animals, farm animals, animals used for entertainment and animals that live in the wild. The world wasn't created for us to just live in and do as we please, the world and all living things are a gift that should be loved and cherished.
RUNNER-UP!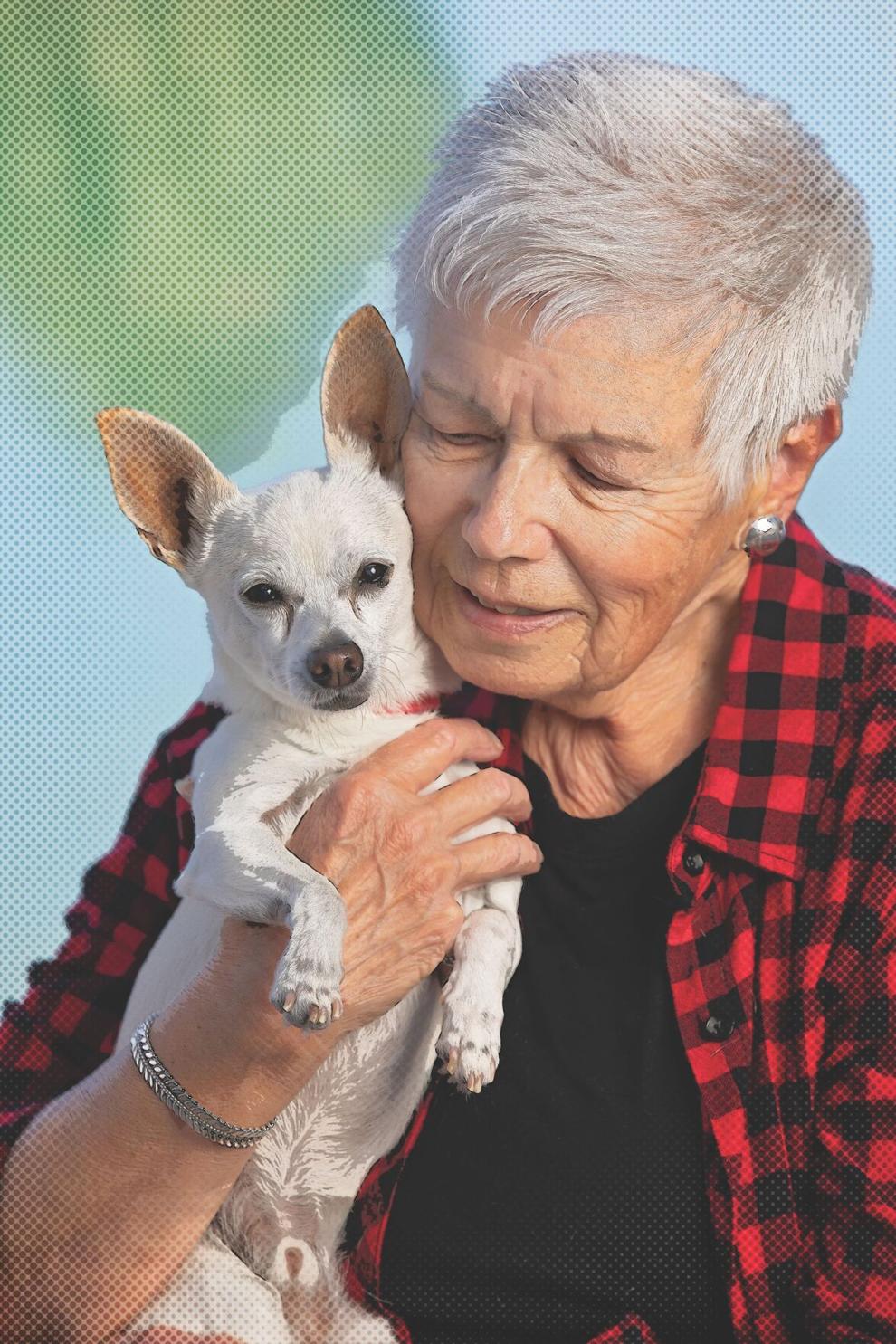 Q: How and when did you adopt this dog?
I saw an ad on Craig's list: "The Great Dane Rescue of Arizona Alliance presents 'Little Man.'" I had two Chihuahuas and had an "empty niche" for another therapy dog. I met him at his Tucson foster mom's place where he was living with her big (of course) Great Dane and a young black Chihuahua. The Dane had become his BFF (they slept together!) and the Chihuahua was his first love. Wagging his little tail, he hopped up on my lap as if to say, "Well — Here I am!" I learned that he had been dumped outside the Great Dane Rescue in Phoenix. He was full of ticks and very thin and about two months old. So I met "Little Man" and the next week I brought my two Chihuahua "girls," Awinita and Martini, to meet him. They accepted him as the little man into the pack and thus, in December 2013, he began his journey as a therapy dog, a competitor in AKC (American Kennel Club) Rally, and an AKC trick dog.
Q: What most stood out about him, and did it contribute to naming him?
His personality was always Great Dane-size and he has a bouncing and self-assured, tailheld- high trot. Since the Dane rescue called him "Little Man," I thought something similar in Spanish would be fitting.
Q: Any nicknames for your dog?
His full name for AKC is Cheeto's Chico Machito. A mouthful, so I usually call him "Cheeto" or — when I'm kidding him — "Little Mouse!" Then he gives me the eye and looks at me sideways (dogs' version of rolling the eyes) as if to say, "Oh mom!"
Q: What are his favorite activities?
Lots! He is registered with the Alliance of Therapy Dogs and loves visiting residents in assisted living, memory care and independent living communities. It's wonderful to see smiles and hear the residents laugh as he brings them joy with his bright eyes, big ears and fun tricks. We miss our visits during this time of COVID.
He also enjoys competing in AKC Rally and had begun volunteering in our local library "Read To A Dog" program. This program also has been on hold since Pima County libraries have been closed to indoor visits. He also enjoys being a demo and "distraction" dog when I assist teaching local dog obedience and rally classes. His focus is always perfect and he knows most of the obedience and rally moves and exercises.
Oh yes — he also enjoys just being a dog and chasing lizards, gobbling treats, basking in the sun and taking naps!
Q: How has having him enhanced your life?
He is a joy and such a little cutie. He makes me laugh! He'll kick back his little hind feet and do pogo jumps when he wants attention. Although I have back and balance issues, he motivates me to find ways to adapt and to keep moving and be as active as possible. Using a stroller to transport him is convenient (gets him up higher for petting) and the stroller gives me the support I need. He is my Little Man, my Little Tough Guy, my joy and my therapy dog. We are a good team!