A new, expanded facility, and more partnerships, shows that this organization is four decades strong.
When it was launched 40 years ago as The Greater Tucson Area Foundation, the creators of this group — Buddy Amos, James Burns, Jim Click, Edward Moore and Granger Weil — could not have imagined how it would grow into such a vital center of connectivity for philanthropists, nonprofit organizations and the community at large.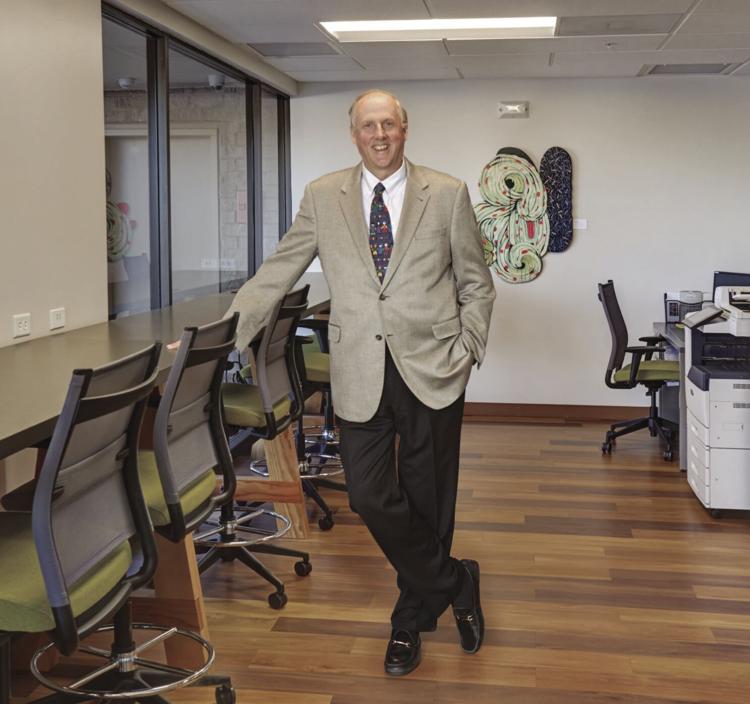 Rebranded in 1997 as the Community Foundation for Southern Arizona, the success of the Foundation can be attributed to sticking to its mission. "The community and donors have put a lot of trust in us, so we need to honor that trust everyday," states Clint Mabie, president and CEO of the Community Foundation (CFSA). "Everybody wants to make an impact. People have different strategies for getting there. For us it's a question of how we're learning from and about the community, so we can partner better with business, government, the university and the social sector to help the clients we serve. In the end, that's it."
The Foundation not only assists philanthropists in connecting with non-profits, it manages private foundations, and helps charitable organizations connect with donors, and with each other. There are myriad ways in which the Foundation does this, and recently, with the move to a re-purposed and re-envisioned campus, there are new arrows in the quiver.
The story of how the new facility came to belong to CFSA is a tale of assessing needs, and making a move that benefits everyone.
"Five years ago, the board and staff did a strategic plan," explains Mabie. "When we were doing that, we said, 'In the space that we have, we cannot create a stronger community by connecting donors to causes they care about.' It simply did not allow us to be able to deliver our mission. We needed to have a bigger space in order to convene and connect the community. It took us a year to find the right building, and then a year of research, partnering with Eller College of Management, about what the community needed. And then it took a couple of years to get it done — to redevelop this building and get it to where it is today."
Leave it to the always-helpful Boy Scouts to play a vital role in assisting CFSA!
"We swapped buildings with them," reveals Mabie. "In the survey we did of the community, people wanted a central location with access to free parking, and adequate meeting space. The Boy Scouts' campus was perfect. While I was touring the campus, I asked Ken Tucker [then the CEO of the Boy Scouts of America Catalina Council] how much space they needed, and he said, 'We only need 5,000 square feet.' So we traded with them. They moved to our 5,000-squarefoot building, and we moved to their 25,000-squarefoot campus — it was and is a win-win situation."
It wasn't as simple of a process as simply loading up some moving vans and shifting belongings around. For starters, what used to house administrative offices, a mini-museum and retail space for the Scouts needed to be utilized by a lot more people for many purposes.
"We hired the architects who created Connect Coworking — FORS Architecture + Interiors — to design this building," observes Mabie. "What we heard from non-profits when we did our survey through Eller is that we just didn't have a facility that allowed us room to get to know each other. And absolutely, that's the purpose of this space."
Determining the needs of the community was step one, locating the building that would align with the CFSA's mission was the second step, and designing the interior so that function and form could be united was the third barrier to hurdle. But further research was definitely necessary so that Mabie and his staff would be effective in the many roles the Foundation was taking on.
"We joined the Nonprofit Centers Network [NCN]. There are more than 200 such centers across the United States, and we joined NCN to learn how to be able to do that. We also owe a big thanks to Gerald Wissink who is the CEO of the BHHS Legacy Foundation in Phoenix. He was a huge help in creating a shared space, as he had done with his organization five years ago."
More than just a building, the new Community Foundation Campus hosts a variety of activities, much of it revolving around capacity building. Mabie defines that term this way: "Capacity building is helping non-profits be more effective at delivering their mission. How are we developing their capacity to be able to do that? It may be on a human connection level, on an intellectual level — learning new strategies — or deciding how to raise more money and capital."
Mabie adds, "We've had more than 100 capacity-building events on the Campus, including our Ask An Expert series — where we have consultants coming in and offering free capacity building workshops. And organizations such as the Alliance of Arizona Nonprofits and the Pima County Public Library are doing ongoing capacity building training on campus for the community."
Although some nonprofits will simply drop by the facility to take advantage of a training session, others have chosen to actually headquarter their organization at the Campus. "Small organizations can be a tenant at the campus," Mabie says, "either having space in our co-labs, or being a tenant in the tenant suites."
After having completed that five-year plan, CFSA isn't slowing down at all.
"We are in the midst of our next three-year strategic plan," reveals Mabie, "and it's going to focus on equity. We are using our business model and our ability to partner with others to develop a more equitable system here in Southern Arizona. That's everything from the micro-business economy and how to make it more efficient, to how we are implementing strategies that are inclusive of the communities we serve.
"We've been proud to serve this community for 40 years," he concludes. "And we've just granted our 200 millionth dollar to the community. We only see increased impact over the next 40 years as we continue to grow and partner with others."
CFSA Programs, Affiliates, and Supporting Organizations
PROGRAMS
African American Legacy Fund (AALF) has a simple goal: direct dollars and foster collaboration among organizations and individuals serving the most pressing needs of the African American and greater Tucson community. The initiative mirrors others around the country promoting greater investment in the African American community. Led by a board of community leaders, the vision for AALF is to become the forum for the community to collaborate and prioritize its needs and aspirations and to improve the quality of life of everyone living in metropolitan Tucson.
The Center for Healthy Nonprofits works to strengthen the Southern Arizona nonprofit community by offering free and reduced cost capacity-building workshops and training. Built upon CFSA's in-depth knowledge of the nonprofit community, the Center helps nonprofit professionals and volunteers improve their ability to manage, govern, and grow their charitable organizations. The Center currently has four main programming areas: an "Ask an Expert" workshop series that offers free professional education on a variety of nonprofit topics; peer-to-peer programs that build skills and networks for staff and leadership volunteers; a CEO Survival Series for newer nonprofit CEOs that offers practical information and skillbuilding to help them thrive in their positions; and a series of workshops designed to provide health and wellness strategies that everyone can implement.
The Latino Community Fund (LCF) is grounded in cariño, which is the Spanish word for love, caring, and compassion. Family and community are at the heart of Latino values and inspire giving. LCF promotes love for community and viewing your community as an extension of your family. Its mission is to build on the Latino legacy of giving by inspiring action and advancing love and justice within families and communities, and it focuses on Latino-led, Latinoserving nonprofits that create real, positive, lasting change in our community through racial equity and social justice.
The Lesbian, Gay, Bisexual, Transgender & Queer (LGBTQ+) Alliance Fund seeks to foster charitable giving in support of innovative programs and initiatives that benefit the LGBTQ+ community in Southern Arizona. Created in 1999 in partnership with the National Lesbian and Gay Community Funding Partnership, the Alliance Fund addresses the chronic pattern of underfunding of lesbian, gay, bisexual, and transgender programs and supports efforts to address these issues through philanthropy and endowment building. The Alliance Fund connects donors with projects that benefit the LGBTQ+ community through annual competitive grant rounds.
MAP (Making Action Possible) Dashboard was created to measurably improve Southern Arizona through data-driven, collective civic action and education. MAP fills a gap by providing a common collection of information upon which to evaluate our community and collaborate to address our shared issues. MAP Dashboard is sponsored by the local community and the product of a partnership between the Community Foundation for Southern Arizona, the Pima Association of Governments, the Southern Arizona Leadership Council, Sun Corridor, Inc. and the University of Arizona. The UA's Economic & Business Research Center maintains, updates, and administers the MAP Dashboard website.
Pima Alliance for Animal Welfare (PAAW) is a volunteer organization working toward ensuring that all Pima County companion animals have a loving home and humane care. An initiative of CFSA, the group currently has three focus areas: increasing awareness about available resources for people and their pets, a marketing campaign to encourage private location animal adoptions, and a collaborative community program that helps homebound seniors and disabled individuals care for their pets.
AFFILIATES
Founded by area residents to empower their community to invest in itself, the Santa Cruz Community Foundation promotes philanthropy and assists with the creation of a healthier, more productive community for the residents of Santa Cruz County.
Stone Canyon Community Foundation assists local charitable organizations that help young people in Oro Valley and Tucson get on track and stay there, placing special emphasis on early childhood education, high school graduation, and the development of life skills.
SUPPORTING ORGANIZATIONS
CFSA Properties, Inc. holds, owns and operates real properties to benefit the mission of the Community Foundation for Southern Arizona.
The David S. and Norma R. Lewis Foundation supports global initiatives that give people the tools and resources to build hope, equality, opportunity, justice, equity, and compassion in human relations. They also support Southern Arizona creative-arts organizations and initiatives that help the less fortunate succeed.
Howard V. Moore Foundation makes distributions to the Community Foundation for Southern Arizona in support of philanthropic purposes.
Social Venture Partners Tucson combines the power of business with the passion of philanthropy to enhance philanthropic education and invest in innovative nonprofit organizations.
Sycamore Canyon Conservation Foundation was established for the purpose of monitoring, maintaining and repairing certain environmentally sensitive areas near Tucson, Arizona.
Thomas R. Brown Family Foundation supports the community through grants to qualified religious, charitable, scientific, and educational organizations.
William Edwin Hall Foundation supports the community through grants to programs for children.
Worth & Dot Howard Foundation offers educational scholarships to a wide range of meritorious individuals from designated Arizona schools, community colleges, and other higher learning institutions.
Current CFSA Campus Tenants
Act One
American Immigration Council
Bag It
Center for Community Dialogue & Training
The Centurions
Children's Action Alliance
Community Gardens of Tucson
Echoing Hope Ranch
Educational Enrichment Foundation
FoodCorps
Friends of PACC
Generations Communication Centers
Go For Vertical
Higher Ground
Nuestros Pequeños Hermanos
Our Family Services
Pima County Public Library
Social Venture Partners Tucson
---
CFSA Contact Info Community Foundation for Southern Arizona 5049 E. Broadway, Suite 201
Call (520) 770-0800 or visit www.cfsaz.org