Many makeovers have taken a ranch-style home
from its 1970s roots, into the 21st century.
By Debby Larsen / Photos by Amy Haskell
Situated on the edge of a golf course, the home of Debbie and Mike McGovern has been transformed over a more than 30-year period. Today, it is a serene scene in shades of ecru and white. The carefully curated interior furnishings all have a vintage vibe. In contrast, the carefully tended gardens are brimming with bright, colorful hues.
Debbie's parents — Bob and Irene Lee — raised their four children in this neighborhood. Debbie fondly recalls her childhood days riding bikes, playing tennis and swimming in this small community. "I guess I never wanted to leave those happy memories," she muses.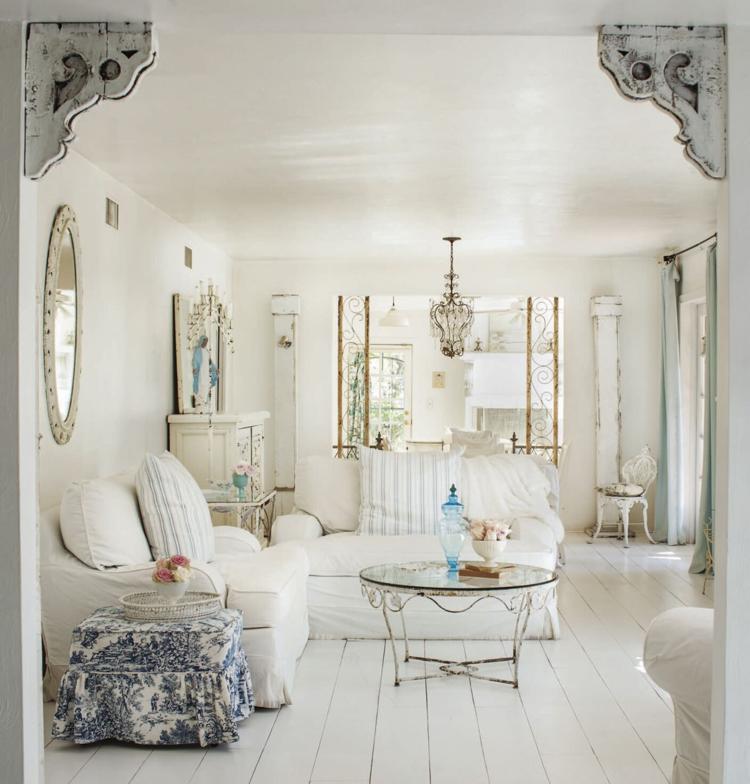 Not only were the McGoverns able to purchase a house that is just blocks away from Debbie's childhood residence, Debbie's brothers Robert and Mike also found homes in this neighborhood. "It makes family gatherings very convenient," Debbie says with a laugh.
When constructed, the ranch-style home was typical of the '70s, with its low ceilings, dark wood tones, carpet and tile. Debbie and Mike slowly removed all the remnants of that era. "I grew up in a Spanish Colonial-style home with its dark furniture and saturated color scheme," Debbie notes. "When decorating my own home, I chose to go with a much brighter approach. I wanted to create décor that was light and airy."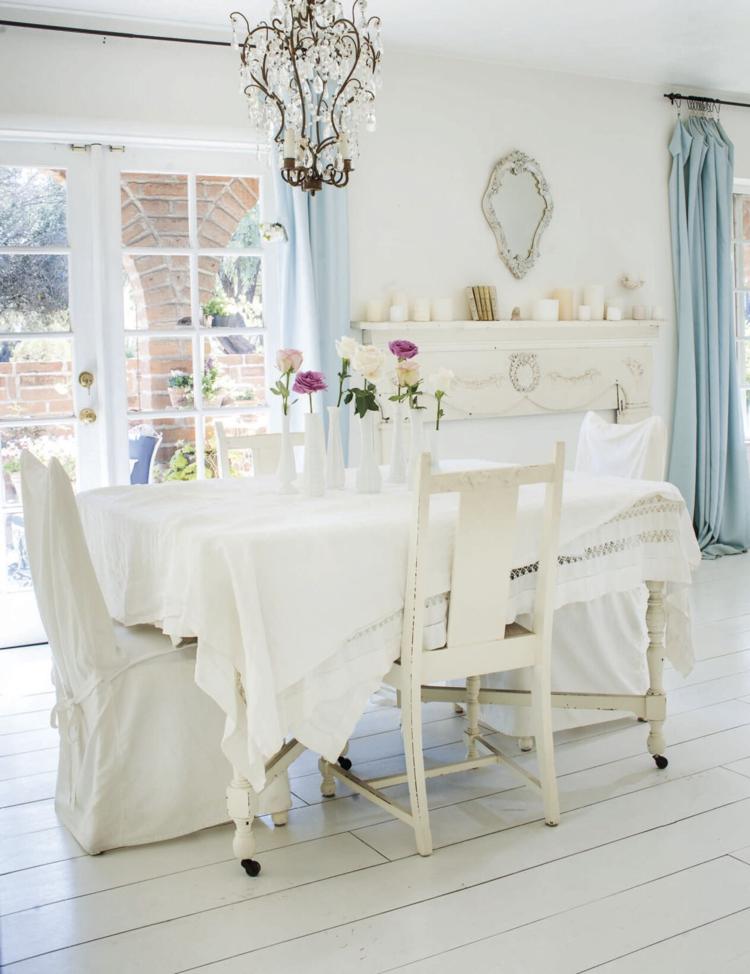 Over the decades, the couple has taken their time remodeling the house, tackling just a few projects at a time. Early efforts involved removing all the original carpeting and tile and constructing a garage. French doors were added to the dining area, which now opens up to their front garden. "It gets lovely morning light, and it's a great spot for enjoying a cup of coffee," Debbie adds.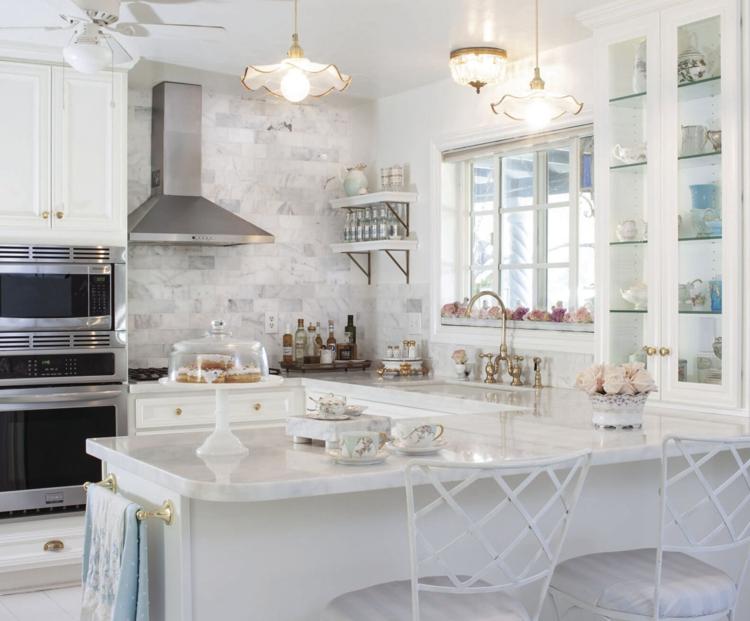 More space was gained by removing a wall between the living and dining areas. This resulted in a large room that the McGoverns extended into the original garage space.
"My thought for choosing an allwhite theme was to create the illusion of increased space. The low ceilings always felt closed in," she says.
Most walls are painted in shades of white, with just a few rooms in very pale hues. The flooring consists of wide wooden planks, also painted white.
A flood in the kitchen area prompted the last bit of remodeling. All the remnants of the dated space are now gone, and it is modern, open and bright, with white cabinetry, shimmering backsplash tile and marble countertops. Debbie chose several cabinets with glass fronts to showcase their dinnerware collections. In the adjacent breakfast nook, an antique armoire provides pantry storage.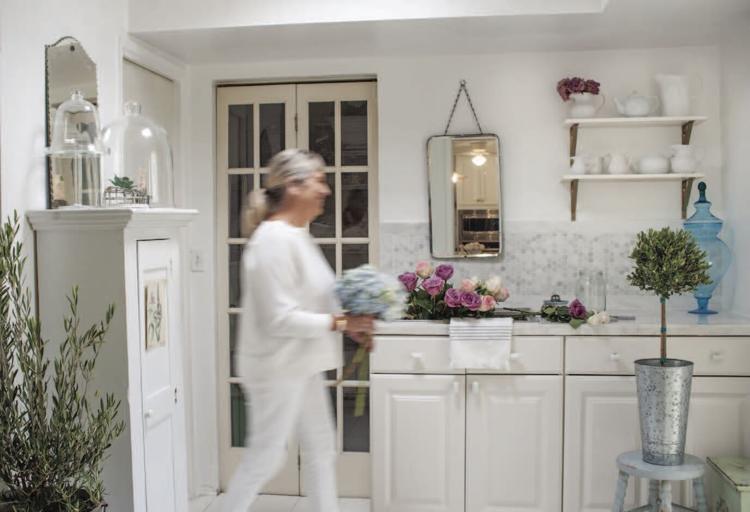 Over the years, Debbie has been drawn to a vintage look for her décor, little by little adding to her collection. Her favorite pieces have been found in places such as antique shops, used furniture stores and estate sales. "I love the look of weathered wear. I don't mind the bumps, cracks and peeling paint. I think it adds character," she remarks. "My white-on-white theme is not only very calming, but it makes a nice backdrop for my vintage finds."
In direct contrast to the subdued interior vibe, Debbie chose to add abundant color in the gardens. As an avid gardener, she spends many hours nurturing her large variety of plants. "Yes, it takes time to water, but, I enjoy the serenity of watering by hand," she says.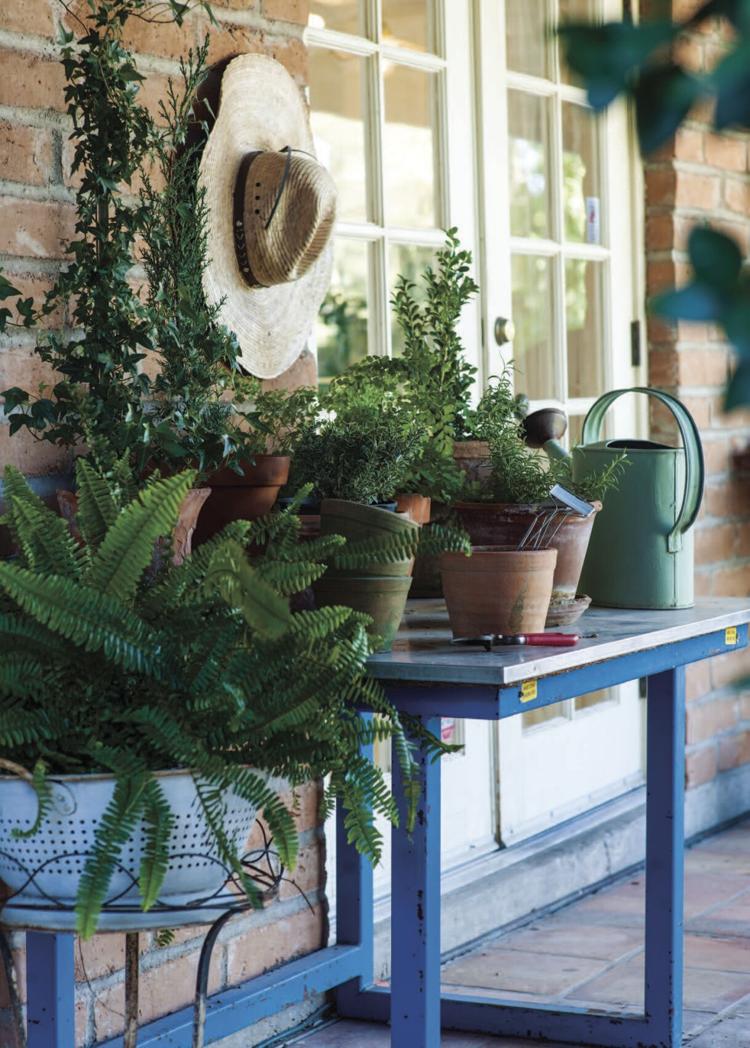 Both front and backyard landscapes are adorned with large containers of bright, colorful annuals with several perennials tucked here and there. Debbie works diligently to keep all her gardens looking great throughout three seasons of the year. "I take a break when the summer heat arrives. Then, it's time for relaxing in the pool and early morning tennis games." The grass around the pool is kept looking good with reclaimed water.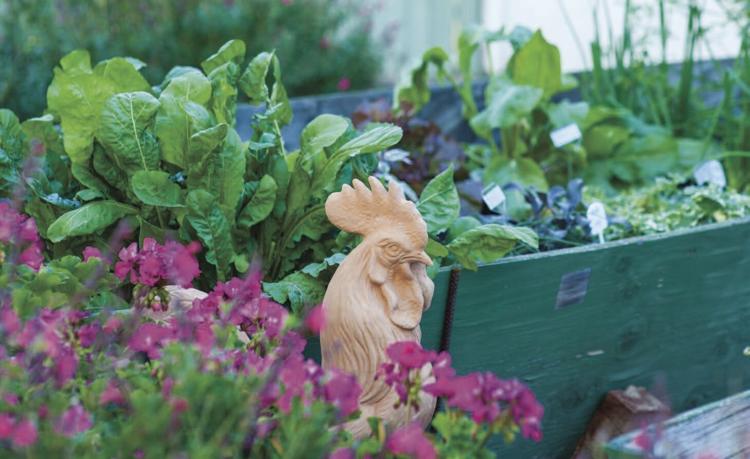 The cooler winter weather slows down their growth a bit, but they perk up in February and are glorious through April.
Debbie has a passion for roses. "I appreciate the unique varieties and fragrances that only garden roses can offer."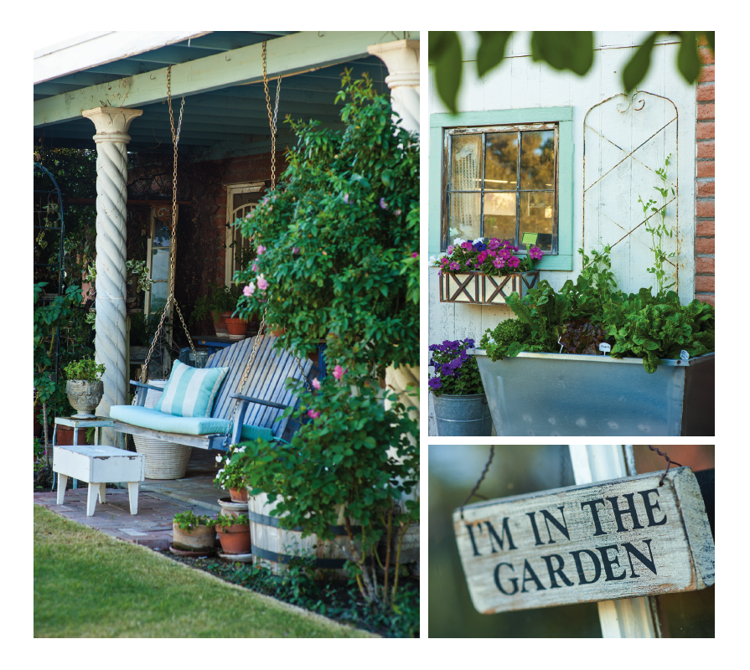 Along the backyard wall — adjacent to the driving range — was the perfect place for a rose collection. After encountering problems with gophers, she repurposed large metal containers for the plants. "That way I can control the watering and fertilizing. I do a hard prune in January resulting in abundant blooms in spring. This coincides nicely with the time of our family's Easter brunch. By then, the raised garden beds are abundant with herbs and spring vegetables."
A long covered patio is well utilized for entertaining. Always on the lookout for interesting finds, Debbie rescued a well-worn metal prep table from the University of Arizona Pi Phi Sorority house's renovation. Now in its new home, the piece works great as a buffet, while adding a touch of nostalgia from her college days.
---
Sources:
Roses: Mesquite Valley Growers Nursery, (520) 721-8600 Antiques: Tom's Fine Furniture and Collectables, Tomsfurnituretucson.com