A midtown home retains its '30s appeal, while looking fresh with updated landscaping.
In the spring of 1996, Leigh Ann and Greg Waterfall were not really looking for a home. It was Easter Sunday, but Leigh Ann spotted a newspaper ad for an open house in a historic area of town. They were familiar with the midtown neighborhood because Greg's mother Patricia had lived there. On a whim they decided to take a quick look, finding the perfect home on that fateful day. They loved the Spanish Colonial Revival architecture and knew that this would be a great family home. They quickly made an offer and soon it was theirs.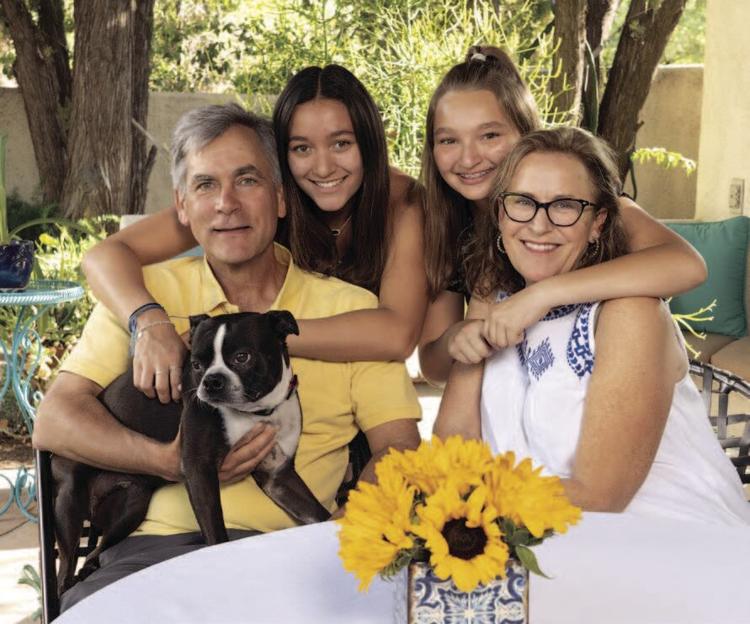 The house was built in 1936, and the Waterfalls only are the third owners, so it retained many features that are reminiscent of the architectural details from that era — large beamed ceilings, a Spanish red tile roof and stucco façades. Listed on the National Historic Registry, the charming casa has blueprints that are credited to architects Bailey & McCoy.
As with many of the homes of the era, it sits far back from the street. After many decades, the trees are now large and stately. "We really don't spend much time there. But, it has great curb appeal," Greg says with a laugh.
Interior-wise, some updating was certainly necessary and the Waterfalls first tackled the kitchen, and then the bathrooms.
In 2011, the largest renovation project on the list was achieved, with the addition of a new wing. This space was designed to match the original architecture of the home. It not only accommodates out-of-town guests, but also provides a large getaway space for the couple's children — Chloe, 13 and Sophie, 17 (and of course their dog Otis). In addition, office space was included for Leigh Ann and Greg.
The landscaping wasn't overlooked, either. "When we purchased the home, the backyard was not inviting at all. There was a very small patio with just a few shrubs of arborvitae and pittosporum," remarks Greg.
"We first thought about building a pool. However, this meant erecting a wall and the area remaining would have been very tight," he reveals.
Greg's mother is not only a veteran of the neighborhood, but also a landscape architect. The couple reached out to her to assist in transforming the drab space into a family friendly garden. Her early sketches provided inspiration for a covered structure replicating the style of the home, with white stucco pillars and a Spanish tile roof. A central focal point was a fireplace covered in Mexican tile, flanked with a grilling station and a banco seating area.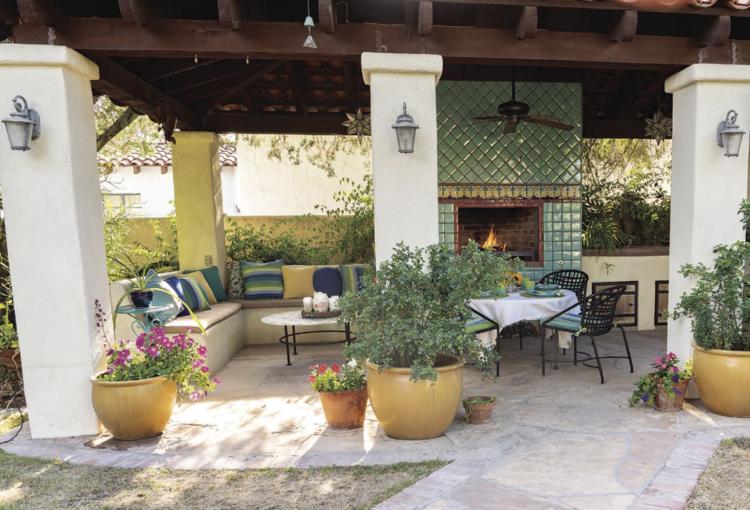 Patricia also sketched plans to rehabilitate a narrow, under-utilized side yard. Here, she envisioned a lovely stone fountain. Local mason Anthony Caballero surrounded the structure with a radial brick design. The fountain's location is perfect, as its soothing trickling sounds can be heard from the master bedroom.
A fascination with plants runs in the family, on both sides. Leigh Ann is the owner of Waterfall Event Design, and she uses her creativity on a daily basis by creating themed display pieces for galas and events. Nonetheless she reveals, "I handle flowers for my event business, but Greg is definitely the gardener in the family!"
Greg recently retired as a marketing manager for Texas Instruments. "He keeps track of the seasonal varieties on his computer, making notes on what plant varieties worked well and those that didn't," Leigh Ann says.
The flora complements the home and its exterior areas. The original French doors in the dining room open to a small patio overlooking Greg's garden. It's perfect for casual outdoor dining, with mature Texas olive, citrus, and Arizona ash trees providing shade.
The large courtyard is divided by a low stucco seat wall, with the garden in the center. In the winter and into early spring, a cool season palette of geraniums, alyssum, delphinium, pansies, petunias, Iceland poppy, snapdragon, and dusty miller creates a focal point of color bordering the wall.
The garden is always at its best in the spring, just in time for the Waterfalls' annual Easter brunch. Over the years, this gathering has grown in size as friends and family all bring their children for an egg hunt.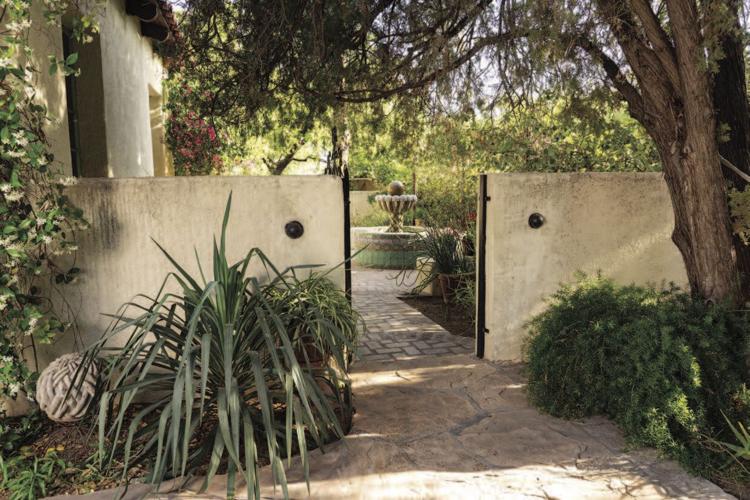 In spring, bright bougainvillea begin to set color, and a wall covered by star jasmine vines adds a sweet fragrance. At the beginning of May, as warm weather arrives, Greg gets busy setting out new plants, choosing heat-tolerant ones such as vinca, zinnia, cosmos, gomphrena and salvia.
He prefers to shop at local nurseries like Green Things and Mesquite Valley Growers for the best plant selections. By October, he has compiled his list of next year's plant projects, proving that although some things stay the same at this historic home, there is always an element of change!