It's an oft-asked question: Will midcentury modern design and architecture always be in style? The answer is anyone's guess, but its current popularity shows few signs of waning. According to Demion Clinco, Executive Director and CEO of the Tucson Historic Preservation Foundation, one reason may be that the midcentury modern aesthetic elicits "a strong sense of nostalgia for people from that era — Boomers and Gen Xers — who share an affinity toward that design."
Modernism in America became synonymous with American culture. It expresses something about our country's identity and the optimism of the post-WWII period. It's a tangible reflection of the American dream and a time where it seemed anything was possible.
The transformation of Tucson can be seen reflected in imaginary twin snapshots taken before and after World War II. After the war, as people sought sunny weather, a healthful climate and economic opportunity, Tucson's population boomed and the city experienced a period of rapid growth. The Old Pueblo evolved from being a sleepy Southern Arizona outpost to joining the ranks of other major American cities. Outside investment poured in and brought changes in architecture, design, culture, and even cars, here and throughout the West. Local architects and designers responded to Tucson's warm/dry conditions by adapting modern approaches to suit the desert environment, using regional materials, and emphasizing indoor/outdoor living. The interpretation of modern ideas expressed themselves in a dynamic and vibrant vernacular in Tucson. Tom Gist, Anne Rysdale, Robert Swaim, Arthur T. Brown, Bernard Friedman, Nicholas Sakellar — these are just a handful of the architects from the midcentury period whose work we continue to enjoy today.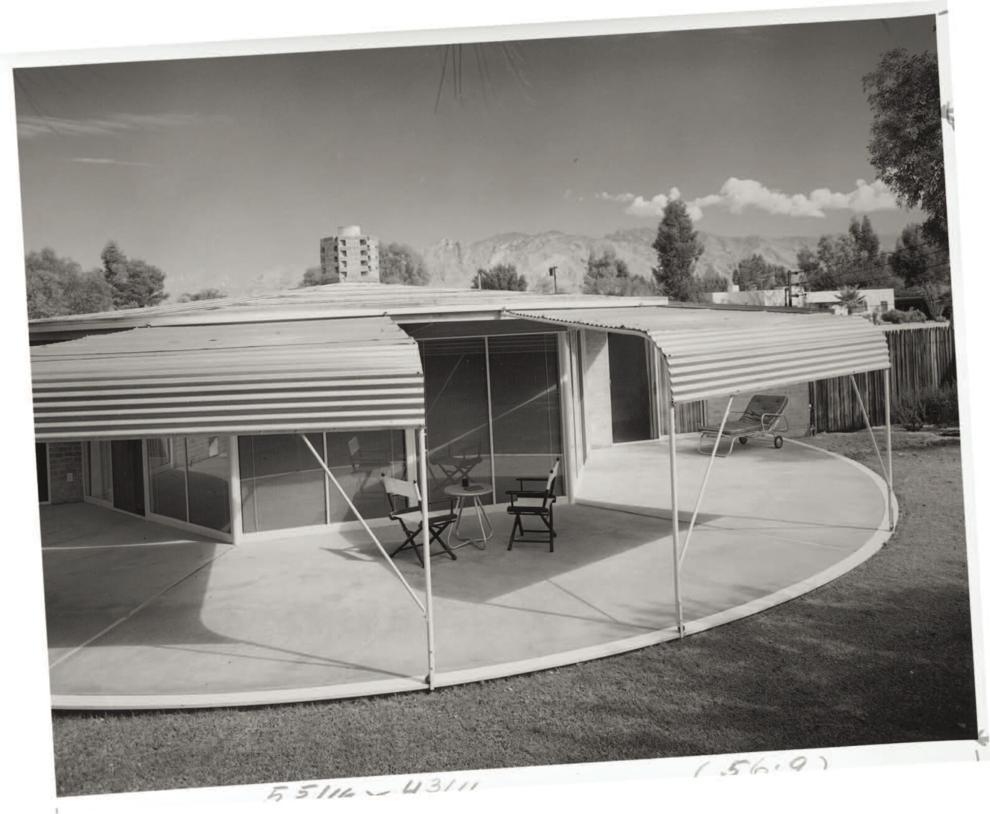 Functional & Fabulous
The 1952 Ball-Paylore House, located in the historic Catalina Vista neighborhood just northeast of the University of Arizona campus, was purchased by the Tucson Historic Preservation Foundation in 2019 and is available for overnight stays or open for special tours. Clinco notes that the home is, "a lovely example of early passive solar use, with eaves that protect the south-facing wall of windows in summer but in winter allow the sun to penetrate and warm the floor. Even the colors of the walls were meant to absorb heat." Designed by early modernist Arthur Brown for a pair of librarians who wanted a space "free from things," the house is based on a hexagon broken into zones and elicits a feeling of discovery upon entering. Another unique feature of the house is the two large shade structures that run along a circular track, designed to control the amount of sunshine entering the home.
Historical photos were used to restore the home to its original design after purchase. Operating as a short-term rental, "allows people to have an immersive experience and appreciate the real sense of place it offers," Clinco notes. "You gain an awareness of who we were as a community back then, and those values are still important today."
Another example of this response to place can be seen at Pima County's Murphy- Wilmot Library near Wilmot and 5th Street, which opened in 1965 and was designed by architect Nicholas Sakellar. There you'll find articulated shade systems that control the way light enters the building with a maximum use of shade, glass, and extended roof lines, furthering the indoor-outdoor relationship, a common midcentury theme here and elsewhere. The distinctive Chase Bank at Broadway and Country Club, designed by Bernard Friedman and John Whitmire of Friedman and Jobusch Architects, provides another knockout example of midcentury modern architecture. This iconic building anchors the eastern terminus of the Sunshine Mile, which the National Trust for Historic Preservation has called, "one of Arizona's most significant concentrations of historic mid-century modern architecture." You can download at tucsonmod.com Tucson Historic Preservation Foundations' Sunshine Mile driving tour entitled, "Broadway Born Modern," guiding you past 24 significant modernist buildings, from Euclid to Country Club.
Among those who have been instrumental in creating Tucson's midcentury scene is retired architect Robert Swaim. He was was born in 1930 and graduated from architecture school at the University of Nebraska in the mid-1950s. His own Old Pueblo home — set amongst a 10-acre mesquite bosque — is a masterful example of midcentury modern design and has been featured in Sunset, House Beautiful and other publications. Swaim defines his midcentury aesthetic applied to his own home as, "a simplicity of form, an expression of structure, and an honesty of material with no applied decoration. The concrete is concrete. Form follows function." He adds, "The indoors and outdoors are treated as one. We can sit inside with the floor-to-ceiling glass walls and see what's going on all around. Even the dog has a good view." Other examples of his work around town include the inverted pyramid Vantage West building at the northeast corner of Speedway and Wilmot and one of his favorite professional projects, the El Rio Neighborhood Center just north of Barrio Hollywood.
In the market for a midcentury modern home of your own? A few Realtors now specialize in that time period and style, including Michelle Hotchkiss of RE/MAX Results. She's also the creator of Atomic Tucson, a web-based resource for aficionados. The market for midcentury modern properties is brisk, but you get much more here for your money than in other markets such as Palm Springs or Los Angeles. "You can still find an affordable midcentury modern home that checks off all your boxes," says Hotchkiss. There are certain neighborhoods, such as Indian Ridge Estates and Wilshire Heights, where you'll find a greater concentration of midcentury modern homes. "Hopefully when a person buys a midcentury house they understand what it is and that it has certain characteristics, and they will preserve it or only do thoughtful updates," she adds. And if a Tom Gist design has caught your eye, get in line. There is quite a demand for his work currently. His homes usually feature lots of view windows, often sitting frameless on the brick running the elongated length of the house. Burnt adobe construction and high-quality interior mahogany woodwork in the bathrooms and kitchen, which often did not include upper cabinets, also are Gist calling cards. "When you walk into a Gist, you know it right away," says Hotchkiss.
NOSHING On Nostalgia
At the west end of Broadway's Sunshine Mile, Welcome Diner serves up farm-to-table comfort food in an exuberant, space-age Googie-style building designed by Ronald Bergquist in 1964. A 2016 remodel stayed true to the architectural intent of the original. Farther west, in Barrio Hollywood, sits Pat's Chili Dogs, whose iconic neon sign has been welcoming diners since 1961. If it's adult beverages you want, look no further than Kon Tiki Restauant and Lounge, which opened in 1963 and serves up Polynesian-themed eats and drinks inside a kitschy interior; or The Shelter, designed by Anne Rysdale in 1961, which serves up cocktails in classic retro style.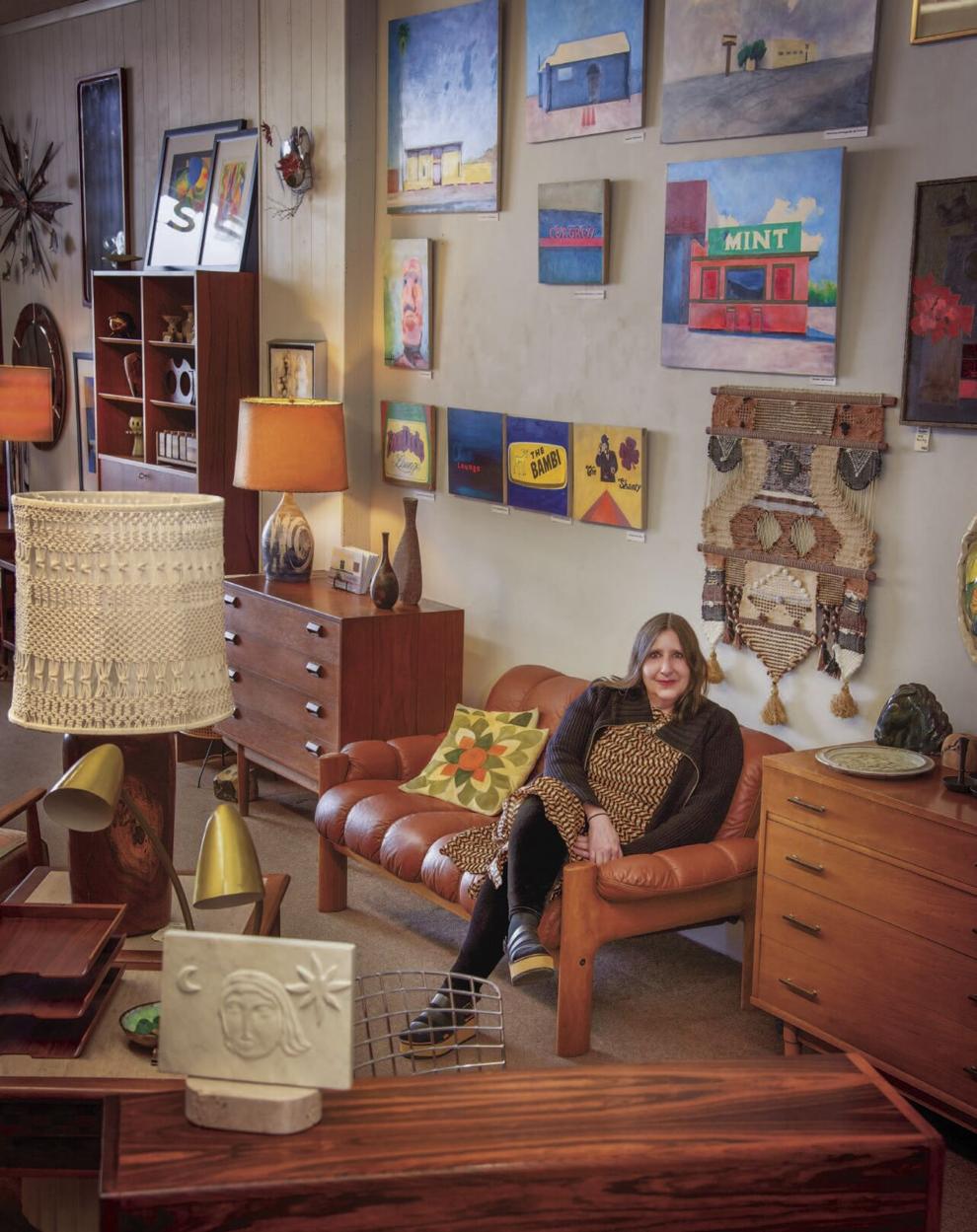 Decorate Me Home
Even if your home wasn't built in the 1950s, you might be drawn to the furniture, art, lighting and décor of the era. As an interior design style, its popularity endures. Those looking to trade up and elevate their interiors and exteriors have three dedicated options in Tucson for authentic vintage treasures. First up is the Sunshine Shop, located on East Broadway (along the Sunshine Mile) in the historic Hirsh's Shoes building designed by Bernard Friedman in 1954. It's now owned by the Tucson Historic Preservation Foundation as part of its preservation efforts. Among identifiable vintage modern furniture, striking art, jewelry, and home accessories, owner Patricia Katchur is known for offering an impressive collection of ceramics. "I mainly do Tucson artists of the midcentury era," she says. "I love the work of Erni and Rose Cabat, especially Rose's 'Feelies.' Erni's work is very much of the time period, where Rose's Feelies seem more timeless. I love that her glazing is all about the colors of the desert. I see the desert landscape reflected in her pottery," she explains.
The artists of Tucson's midcentury era belonged to a strong community of creatives. "They respected each other. They were friends, hung out, yet they were serious about their craft," says Katchur. Among those artists and craftsmen were ceramicist and popular Tucson figure Maurice Grossman, whose work you will find at Sunshine Shop. On any given day you also might stumble upon the screenprinted fabrics of Harwood and Sophie Steiger of Tubac, the abstract stitchery of Nik Krevitsky, fabrics by Berta Wright, paintings or ceramics by Philip Bellomo or Ted DeGrazia, and the list goes on. "I think good craft, good art, and anything that's well conceived and well made has staying power," Katchur asserts.
Adobe House Antiques recently moved from their Campbell Road location into a beautifully updated Arthur T. Browndesigned building on Country Club. There you'll find high-end American and Scandinavian midcentury modern pieces by the likes of George Nelson, Milo Baughman, Frank Lloyd Wright, Paul McCobb, etc. They also sell online at luxury retailer 1st Dibs.
Jerry Schuster, AZ Modern's owner, renovated the former Erv's Tool Rental on 5th Street into a hip shopping destination where you'll find works by Charles and Ray Eames, Eero Saarinen, Arne Vodder, Knoll, Hans Wegner, Harry Bertoia, Herman Miller, and other great designers and manufacturers of the time period. AZ Modern also features an impressive collection of vintage Arcosanti bells.
Says Katchur, "Our shops are all different, with some overlap. We all offer iconic pieces, but we have our own flavor. I don't get caught up in names. I want items to be high quality, but they don't have to be perfect. I like things that age well — the patina of life."