Beautiful landscaping that flourishes throughout the seasons is only part of the appeal of this oasis.
BY ROMI CARRELL WITTMAN
PHOTOGRAPHY BY ROBIN STANCLIFF

If you visit Eileen and Robert Durazo's Foothills home, you'll enter a stately courtyard, at the center of which stands a large, gently flowing fountain. Plants surround you, from bougainvillea that climbs the courtyard walls, to potted varieties such as asparagus ferns and flowering bushes. On either side of the front door stand two topiaries, shaped into spheres.
The backyard is equally colorful, providing a gorgeous frame for the Catalina Mountains that sit to the north. This yard has evolved through the years, and will continue to do so, as it is Eileen's passion.
"We moved here 15 years ago," she says. "We had to do a lot of work to the backyard."
That renovation included adding a retaining wall to better secure the large mesquite trees growing on a slope on the western half. In addition, Eileen and her husband incorporated a grass lawn and a built-in barbecue. A large mesquite tree, which sat outside the backyard, was removed because it blocked the view.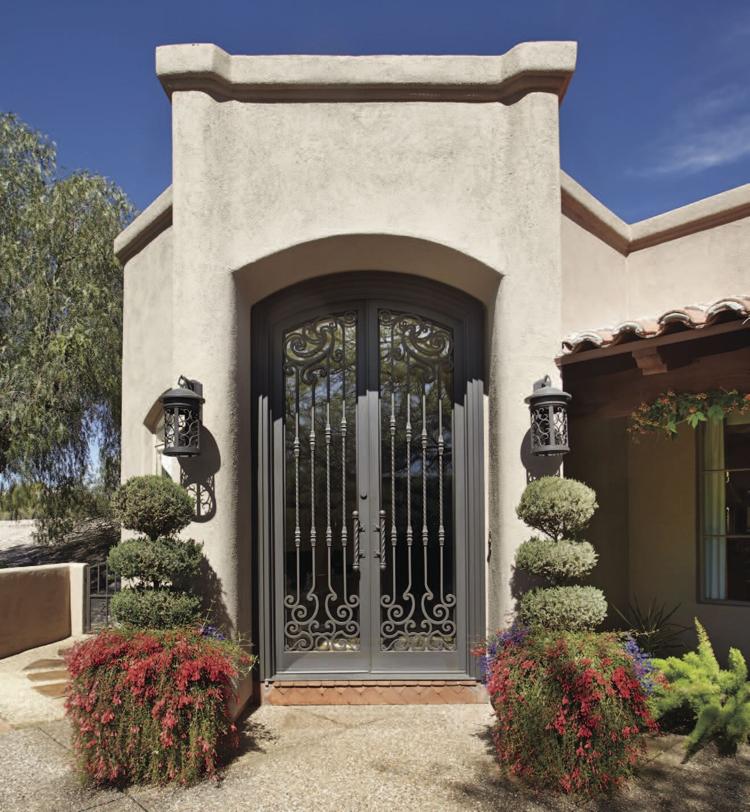 The Durazos and their guests aren't the only ones who enjoy this oasis. They get bobcats and javelina because they're near a wash. Snakes also are a concern, though Eileen has only encountered non-poisonous king snakes that like to hang out and get water.
In its past, the home was popular with celebrities, too. "It has a little bit of a history," Eileen says. "Melanie Griffith and Don Johnson rented it while Johnson was filming a movie here. Apparently, there were lots of parties."
That movie was the smash hit Tin Cup, the iconic golf film that has become something of a movie legend. Scenes were shot at The Westin La Paloma Resort & Spa, as well as the Tubac Golf Resort.
Just as you cannot make a big-budget movie by yourself, it's nearly impossible to tackle a major landscaping makeover and its continued maintenance alone. For help, Eileen turns to her friend Edd Ruiz, who co-owns Old Pueblo Petal Pushers. Their friendship goes back many years to their days as parents of Salpointe high school students. Ruiz worked in the insurance industry and later for a manufacturing firm before branching out into his current company, which he co-owns with business partner Gina Scherer. Together, Ruiz and Scherer create flower arrangements for special events, offer landscape design services, and build container gardens for clients.
With help from Ruiz in the selection process, Eileen plants a dizzying array of flora throughout the year. Kale, pansies,
flowering cabbage, foxglove, delphinium, alyssum, hollyhocks, geraniums, lantana, plumbago, trailing vines, and bougainvillea can all be found in the Durazos' yard at some point during the spring and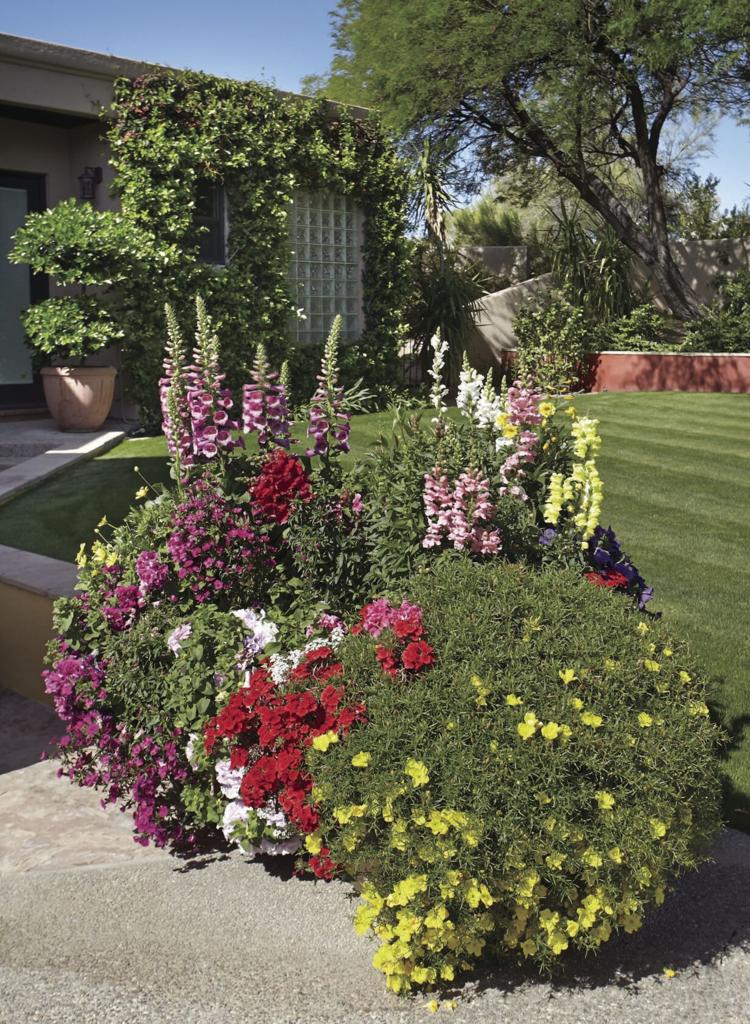 early summer months.
Although Ruiz assists with seasonal planting advice, Eileen does much of her own gardening, spending many hours doing basic maintenance like deadheading. However, she also has landscapers come in once a week for general upkeep.
She says that gardening in the Sonoran Desert can be hard. "I have to pay a lot of attention to the sun — what gets direct sun and what doesn't. Plants have to be moved a lot and changed out for that reason."
She isn't afraid of trying new things. She notes that her landscaper often will offer her plants that other people have decided they don't want. "They'll bring them here and we'll give them a shot," she remarks.
Source:
Old Pueblo Petal Pushers, Edd Ruiz and Gina Scherer, oppetalpushers@gmail.com