Tucson Botanical Gardens collaborated with a local landscape designer to pay homage to Brazilian landscape architect Roberto Burle Marx.
In recent years, Tucson Botanical Gardens has brought in or developed new exhibits to complement the themed gardens on display. In early 2019, the vision of converting the pre-existing Exhibit Garden into a Roberto Burle Marx-inspired modernist garden began to be developed. According to Executive Director Michelle Conklin, "The idea was particularly attractive because no modernist gardens existed at a public garden in the Southwest U.S. Additionally, the project provided the opportunity for us to create a formal, intentionally designed garden space using plants native to the Sonoran Desert, something rarely seen."
Roberto Burle (pronounced bur-lee) Marx was a Brazilian landscape architect whose designs of parks, gardens and the curving walkways at Copacabana Beach in Rio made him world famous.
He is credited with having introduced modernist landscape architecture to Brazil. Marx's career began in the early 1930s and continued through the early '90s.
Marx was a multifaceted landscape designer, essentially a painter working in landscape. The patterns he created with curved walkways and mass plantings mixed with water features and architectural forms all dominated his unique style.
Marx has been described as "the real creator of the Modern Garden." His bold approach offered an alternative to the complicated, manicured English cottage style that was in vogue at the time. His gardens did not sacrifice variety, but rather embraced Brazil's local plant diversity. His goal was to create artful, dynamic landscapes that were easy to grow and maintain. One of Marx's iconic trademarks was his use of garden paths. These were part of his vision to guide visitors to stroll through and enjoy his gardens.
Taking a cue from Marx, Jason Isenberg — owner and principal designer of REALM — collaborated with TBG's staff to design this tribute.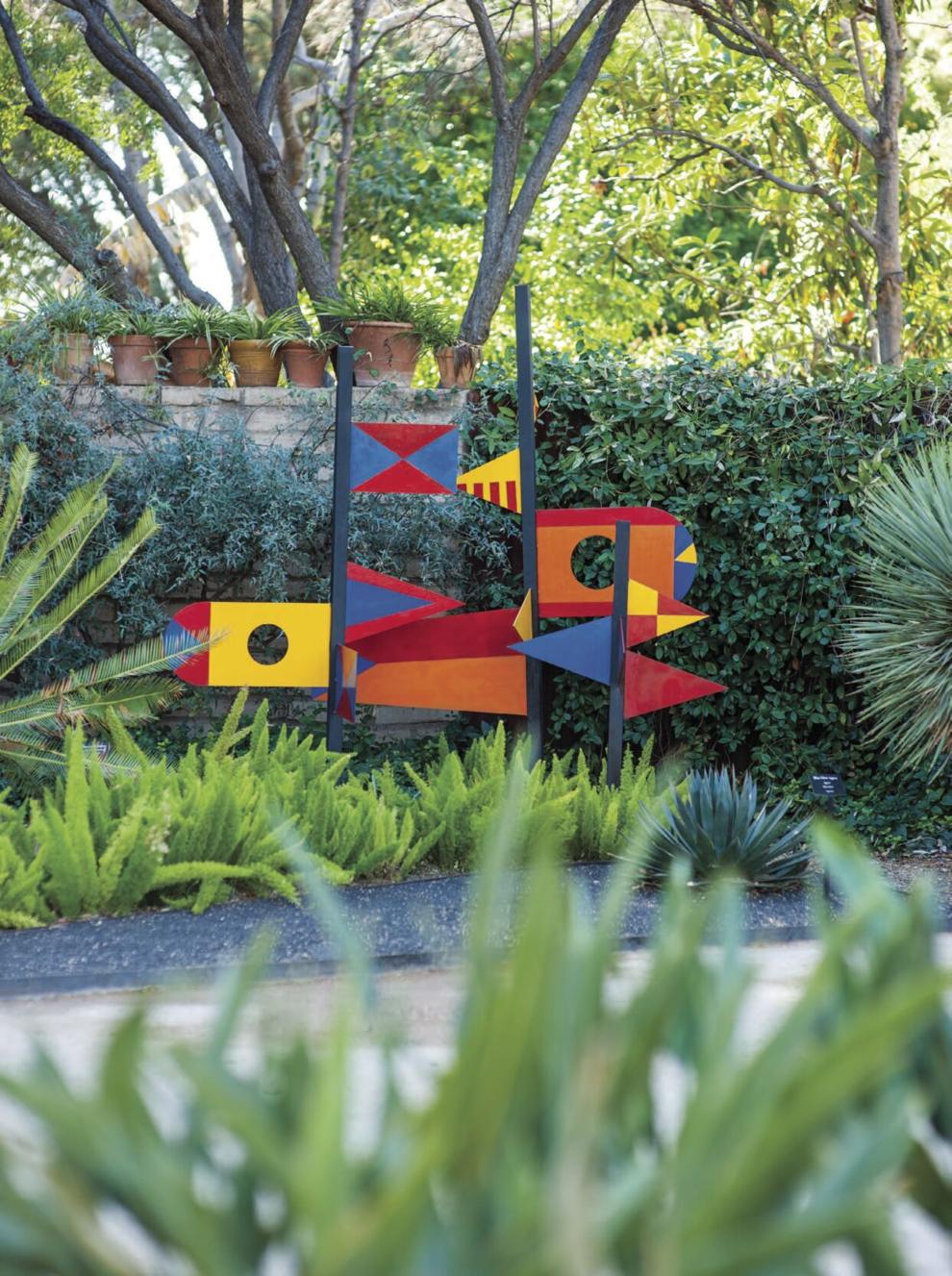 Isenberg explains, "Marx's garden style is still very relevant today as shown in this garden. Planting en masse creates a bold and distinctive look.
"Plants are not just plants — they are part of a much larger palette. Marx would see plants as color, texture and volume in space like a painter."
Isenberg also is known for his own distinctive style. In his designs for his clients, he often includes mass plantings of a single species. Planting in dense swaths maximizes the impact of plants whose attributes, including textures, shapes and colors, stand out.
Isenberg's challenge was to take into consideration the climate differences between arid Tucson and lush, tropical Brazil. He ultimately chose plants that would achieve the Marxian dramatic aesthetic by using combinations that would thrive in the microclimate of the Botanical Gardens.
Desert-adapted species were blended with semi-tropical plants. Instead of being reliant on a bloom-based plant palette, Isenberg chose foliage in various shades of green. He also incorporated low water- use and non-invasive species.
There were some things he couldn't plan for, however. In January of 2020, his garden was designed with a particular plant selection. He and the garden staff completed the project within the time frame and budget in early February. The final display was to open for public viewing in early March, and run through May. However, when the pandemic hit, the Gardens shut down.
Rather than lose his garden design completely, Isenberg revamped the original plant palette to last year-round. "The plants used in the first plan were never meant to withstand the summer heat," he notes.
As a result, a large Bismark palm, the New Zealand flax and blue fescue plants were removed to avoid the summer's drought. The New Zealand flax was replaced with Powis Castle artemisia and wooly jacket prickly pear. The blue fescue was swapped out for pale leaf yuccas. Fortunately, dozens of tropical bird of paradise plants, fortnight lilies and more than 80 golden barrel cacti survived.
Isenberg followed Marx's idea of drawing the visitor into the garden through the use of curved paths, but he added his own flair. His garden paths were outlined in curved steel and filled with decomposed granite and black lava sand to create contrasting patterns.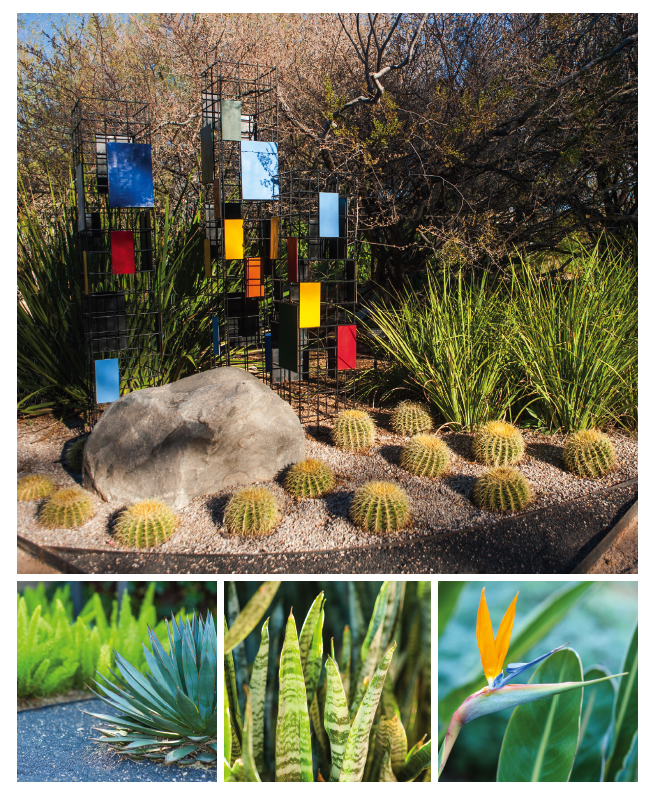 In addition to the plantscape team, REALM's metal artisans created colorful steel sculptures. For the designs, they took cues from some of Marx's archival drawings and photos.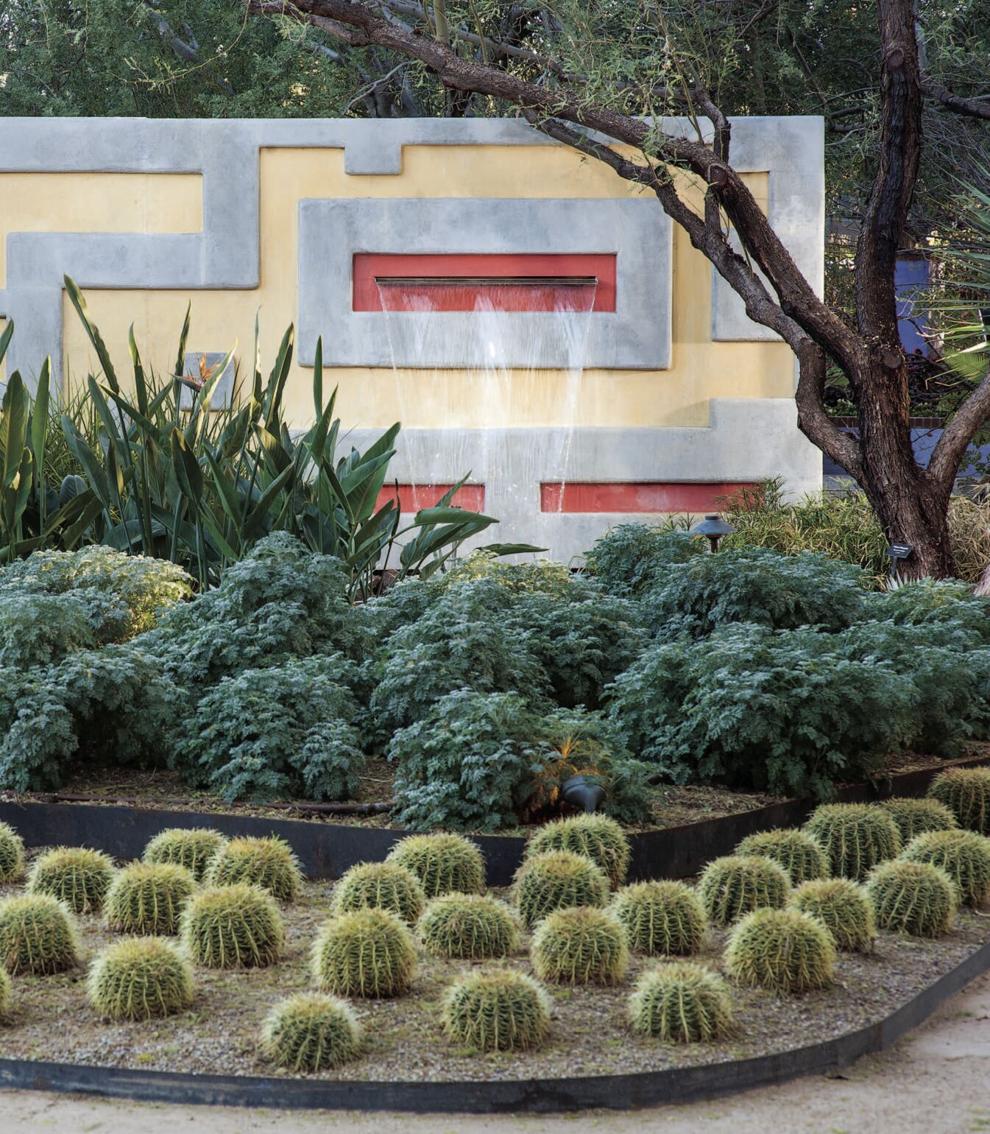 Wesley Fawcett Creigh, a local scenic artist, joined the team to design a wall structure for the exhibit. Creigh was tremendously inspired by photos of Marx's projects in Brazil. The 8- x 24-foot wall was constructed of Styrofoam with a plywood support. Creigh prepared the surfaces to create the look and texture of aged stone. She embellished it with paint and glazes to achieve the desired weathered effect. The final touch includes a sheer-descent water feature, adding a touch of sound.