Starting out as teen entrepreneurs in Sahuarita, these landscape pros have built a thriving business.
Chalk one up for a hard-work ethic, the driving force behind three former Sahuarita teens who grew up to be leaders in Arizona landscaping.
The Arizona Landscape Contractors Association (ALCA) gave its 2019 Lifetime Achievement Award to Santa Rita Landscaping owners Brian and Garrett Ham and Richard Spross. The annual award recognizes their professionalism in the industry.
Brian was pursuing a University of Arizona bachelor's degree in watershed hydrology when youngest sibling Garrett — a high school senior — decided to open the landscape business in 1985.
"Sahuarita being next to the retirement community of Green Valley allowed lots of opportunity for small side jobs doing landscaping," Garrett recalls. "I briefly thought about exploring a career in law enforcement, but quickly realized I like the landscaping industry."
He got his Arizona contractor's license at age 18, and used money from his landscaping gigs and selling livestock in 4-H to buy a truck and some tools.
Brian soon joined the company, which initially offered residential landscape maintenance. Its headquarters were in the family's barn, and their mom answered the business phone.
By 1988 they had a construction yard, plant nursery and office space in Green Valley. Larger jobs, more work from Tucson residents and the addition of commercial clients eventually led to a central Tucson location. Today the company has five divisions, 215 employees and more than five acres for their headquarters and operations.
Beside custom landscapes for residents, Santa Rita's work can be seen in new neighborhoods by 15 developers, including homes by Lennar, Pepper-Viner, Sombra, Pulte and Robson Communities.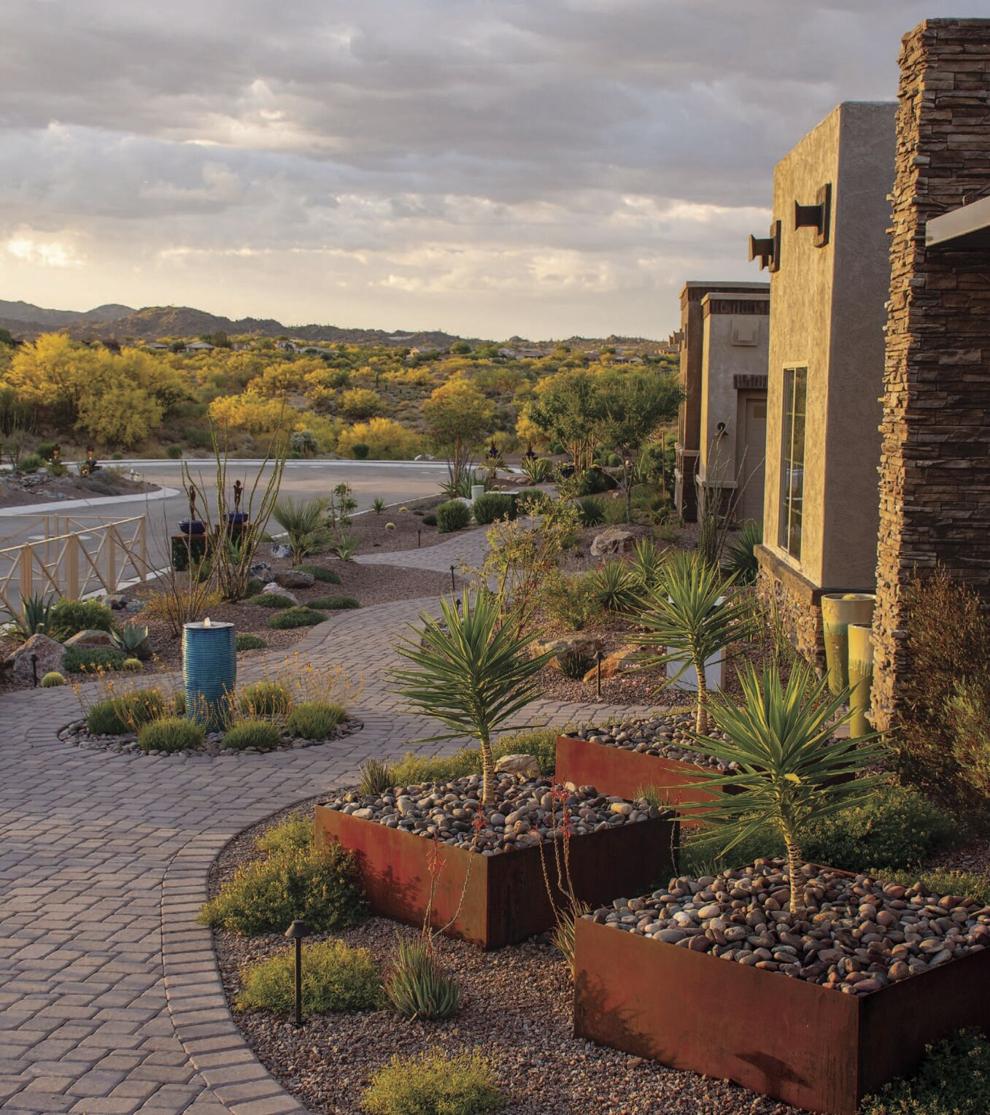 The Hams didn't grow up surrounded by knowledge of landscaping or gardening, but learned a lot about hard work.
"When I needed to make some spending money, it was easy to get small jobs trimming plants and watering," says Garrett.
That work ethic also influenced Richard Spross, who knew Brian when they were teens. "When I was in high school, I seriously wanted to just work hard and make money to save and buy a house," Spross says.
Armed with an architecture drafting degree from Pima Community College, the Tucson native landed a position with a landscape architect. "I was exposed to the industry and saw a need for commercial landscape contractors in Tucson," says Spross.
After learning the ropes with other contractors, he opened his own company, Southwest Enviroscapes Inc., in 1992. "The general contractors were really encouraging me to go out on my own," he says.
Spross' expertise in the commercial realm and the Hams' thriving residential business turned out to be complementary when they were weathering the Great Recession. "In the recession we were looking for ways to expand and survive," says Garrett. "We were very strong in the custom residential and homebuilder market, but needed some help and expansion in the commercial construction arena. Richard and Southwest Enviroscapes brought that to us."
"It was easier to merge these two companies than try to enter each other's markets," Spross says.
Their companies combined in 2012 under the Santa Rita Landscaping name. The owners wanted to make sure all employees embraced professionalism, integrity and constant improvements so they developed a continuous training program.
That business strategy has paid off with work that has been recognized within the industry. Santa Rita Landscaping has earned more than 30 ALCA landscaping awards over the years, including top Award of Excellence wins.
All of the Hams' children have worked in the business, as have Spross' three sons. Tanner Spross is chief executive officer, and Garrett's older son works part time as an estimator.
Garrett admits the company's success was a surprise for both brothers. "I never imagined it this big," Garrett says of the company's growth. And it's about to get bigger.
Westhook Capital, a Los Angeles investment firm, bought the company together with Tanner Spross and Kathi Roche earlier this year and is expected to expand.
Under the investment, Tanner continues as CEO and long-time employee Kathi remains chief financial officer. The Hams and Richard Spross are minority owners serving as consultants.
Garrett knows the new owners are committed to the hard work and professionalism that the ALCA Lifetime Achievement Award winners established. "It makes us all pretty happy now that Tanner and Kathi are coowners," he says. "They did well before and they're going to be phenomenal."