This midtown house took its design cues from its famous neighbor.
BY ROMI CARRELL WITTMAN
PHOTOGRAPHY BY AMY HASKELL
This midtown house took its design cues from its famous neighbor.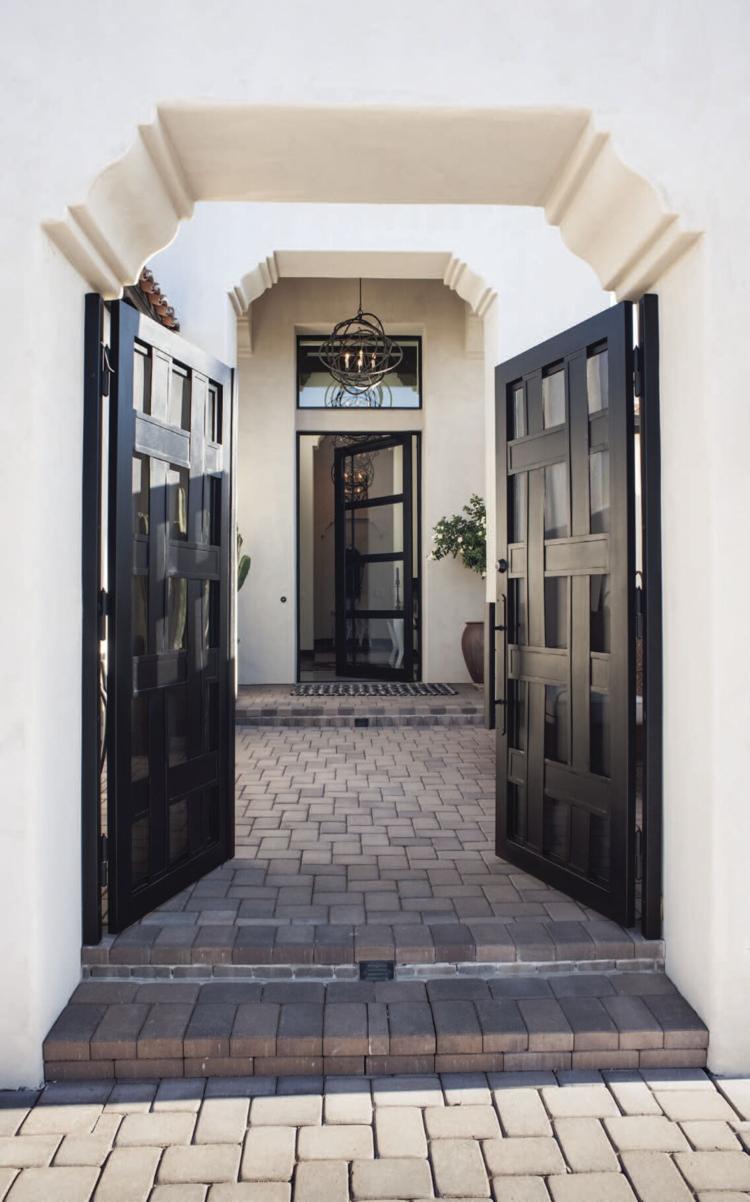 Tucked away on an elegant, pavered street across from the Arizona Inn is a group of homes that are classic in design, yet thoroughly modern in amenities. The 11 stately residences of Casa Seton do more than provide shelter. With their dramatic Spanish Colonial construction, which intentionally evokes their renowned neighbor, the homes instantly provide a distinct sense of place and history.
This is what drew Karol Gugino, owner of Elements Home Décor and Gifts, and her husband Bob to the neighborhood. "The homes were designed to complement the Arizona Inn," she says. "We wanted to honor the Inn's historic importance."
Karol and her husband not only purchased a place at Casa Seton, they were a part of the development team with local builder Miramonte Homes. Karol's store, Elements, provided interior design services at the floorplan stage and also worked with individual homeowners in the neighborhood. Ivan Escobell, Karol's business partner, also was involved in the design process.
From the graceful courtyard that's dotted with native plants, to the modern steel and- glass front door, there are numerous design cues to both the past and the 21st century.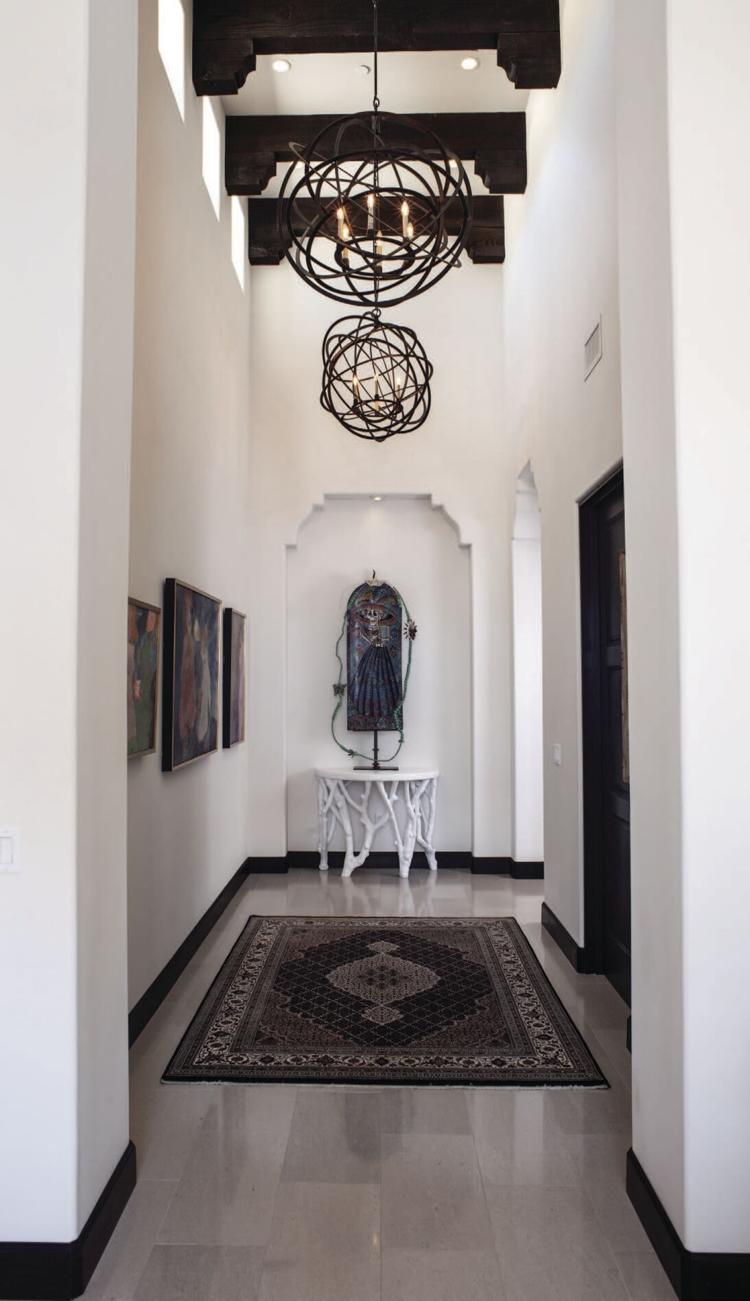 Upon entering the home's zaguan — a long hallway leading from the front door through the center of the house — one immediately notices the sweeping 18-foot-high beamed ceilings punctuated with clerestory windows. Linen-colored limestone floors are part of the light and airy palette. The bright space is perfect for showcasing art, and Karol has hung a beautiful Día de los Muertos-inspired calavera by Jan Barboglio at the end of the hallway to greet visitors.
The home's heart and soul lie within the kitchen and living room, which Karol modified to suit her family's lifestyle. A two-way fireplace separates the kitchen from the living room while also maintaining a seamless flow that prevents either room from appearing isolated. The natural gas fireplace is equipped with LED lights so that it may be used for colorful ambience even in the hottest months.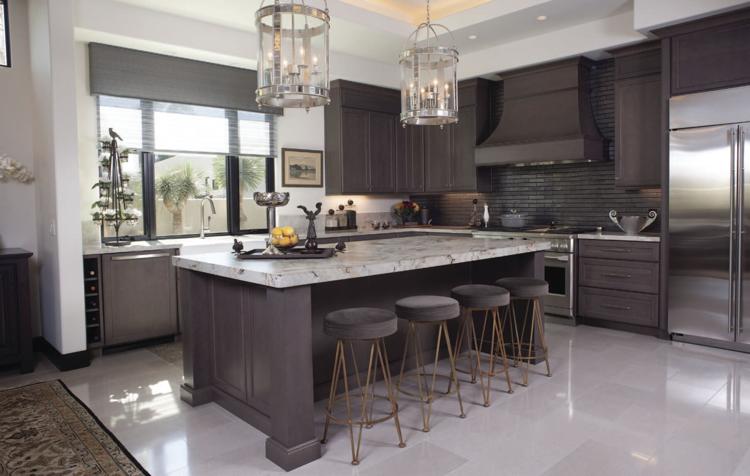 The kitchen features a huge island with leather-finish quartzite countertops, a six-burner stove and expansive cabinets for storage. A butler's pantry holds a coffee maker, second refrigerator, dishwasher, sink and shelves for easy appliance storage and access. "It's great when we have a big gathering because we can keep much of the food preparation in that kitchen, leaving the main one for gathering and serving," she says. "It's also valuable for staging."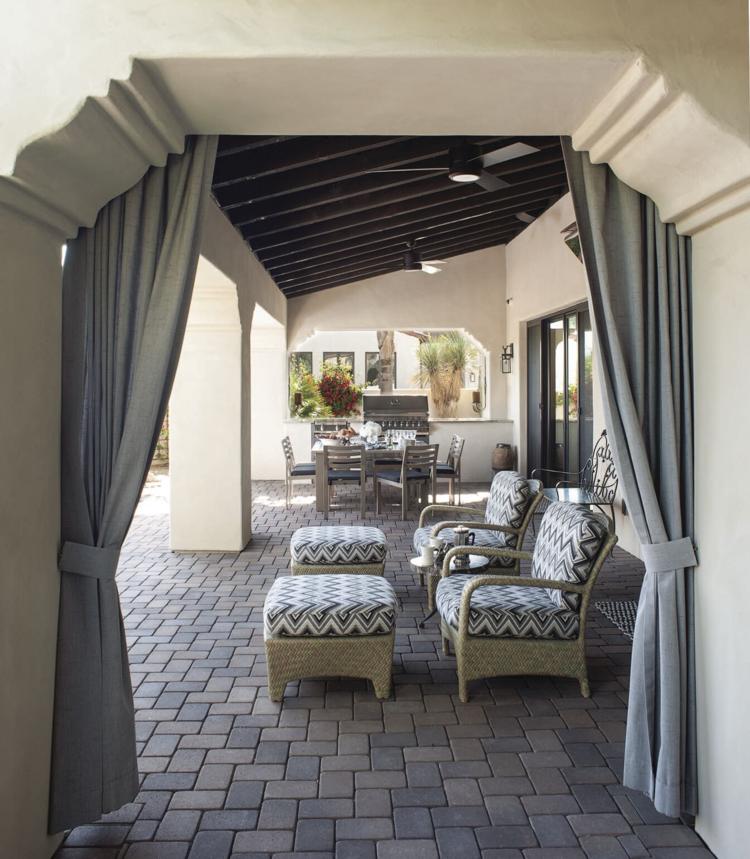 Retractable glass doors line the rear of the home and effectively transform the backyard and wraparound patio into another living space. With an outdoor heater and a natural gas fire pit, the area is perfect for entertaining or simply hanging out and having a glass of wine in the evening. Using the patio, kitchen and living room, Karol reveals she's hosted as many as 50 people at her home.
The walled backyard needed a touch of color and interest. The garden designs were the work of landscaper Tom Black of Plants of Distinction. He brought in many mature plants, such as oleander, yucca and queen palms. Unusual varieties of columnar cacti add height and texture to the narrow, raised beds. Several walls are covered with colorful bougainvillea.
With his-and-hers closets, a spa-quality rain shower, sumptuous vanity, as well as a large laundry room that leads to the den, the master suite serves as an elegant oasis away from daily life. When asked if noises from the nearby laundry room or den ever interrupt their sleep, Karol explains, "This house is very well constructed and insulated. I don't hear anything and, even better, I barely even turn the heater on in the winter."
The master suite also features a second fireplace, this one more classic in design than the one in the living room, but with a decidedly modern twist: a timer. "I can turn it on and set it for 15 minutes so I can go to sleep with the fireplace on," she says with a smile. "It's so cozy."
Karol furnished the home with Escobell's design assistance. Nearly all the pieces — furniture to artwork — came from Elements. The net is playful sophistication and simple beauty.
"This house is a wonderful living space," Karol concludes. "It's very comfortable and a pleasure to be in."
Sources:
Interior Design: Elements Home Décor and Gifts, 733-3399
Landscape: Plants of Distinction, 721-4577