The renovation of this foothills home turned it into the perfect showplace for the owners' collections of objets d'art.
Standing in the kitchen of the home of Carolyn and Mike Friedl, designer Luz Marina Mendivil says, "Look closely," pointing to the beautifully hand-carved wood that surrounds and conceals the range hood overhead.
"Those are the initials of Sonoran woodworker Daniel Cruz," Mendivil explains. Sure enough, there's a "D" on one end and a "C" on the other, elegantly concealed amid scrollwork that features conchas (shells).
Mendivil gave Cruz the freedom to create his own one-of-a-kind designs, including the hood surround and the fireplace mantel with its elaborate leaf and scrollwork patterns. It's common for carvers to "sign" their work in this way.
Until now, the Friedls didn't know the artist's flourish was there, but the discovery delights them. And so it is throughout the renovated home. It's full of embellishments that don't loudly announce themselves, but are quietly revealed to observant eyes.
At a time in life when many are downsizing, the couple chose to upsize. After living in another home in the foothills community for eight years, the Friedls purchased their four-bedroom, 5000-plus-square-foot Spanish Colonial in 2018. What started as a modest remodel of the bathrooms and replacement of bedroom flooring, grew to encompass the entire house. It's Mendivil's largest project to date, spanning more than 18 months.
"It was our Realtor Deidre Larrabee who told us to call Luz," says Carolyn. "We liked Luz and her work, especially with all the custom cabinetry. We gave her free rein for the most part," Carolyn adds.
Mendivil has owned La Casa Mexicana (LCM Interiors), a custom furniture store in the Lost Barrio, since 1993. She designs and makes custom furniture, as well as travels throughout Mexico to acquire home accessories, such as tiles from Dolores Hidalgo, and special furniture and lighting from San Miguel de Allende, for her clients. Her vision draws from many influences, including Spanish, Mexican, Mediterranean and Moroccan, resulting in a simultaneously simple, sophisticated and distinctive effect.
In the Friedls' home, every room glows with beauty, luxury and warmth without being ostentatious. The residence features calming Southwestern hues. A palette of terra cotta, salmon, aloe vera, bright blue and brick red, along with a unifying sand color, are a reflection of the desert landscape and provide continuity between the indoors and outdoors.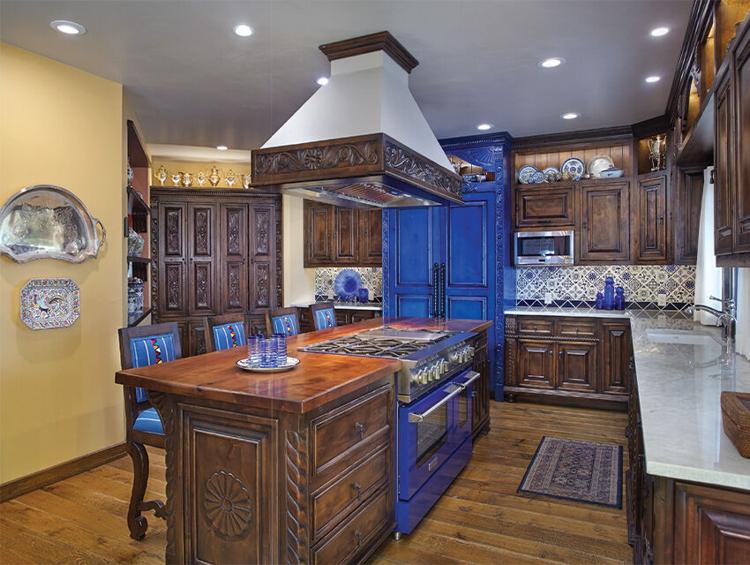 The kitchen, with its cobalt blue range and matching, carved custom-painted refrigerator doors, is a highlight for both the couple and their guests. Buttery yellow walls and blue and white hand-painted Talavera tiles — sourced directly from Mexico — enliven the room.
Built-ins such as cookie sheet, spice and tray racks, plus a cutting board, add functionality, while soothing views of the saguaro-studded backyard enhance the cooks' enjoyment. The generous mesquitetopped island and cream-colored stone counter expanses provide the necessary room for food preparation.
Mendivil opened a wall between the formal dining room and kitchen, creating shelving for decorative objects and allowing in natural light. Hand-hewn vigas bring visual interest to the dining room. The walls are punctuated by framed molas from San Blas, Panama, along with brightly colored traditional textiles from Guatemala and masks from Guerrero, Mexico.
Folkloric touches in the eat-in kitchen include custom chairs upholstered in Guatemalan fabric and decorated with Guatemalan belts, with "worry dolls" hanging from the chair backs.
The couple's art collection is center stage throughout. "One of the first things I told Luz was to find places to display my artwork," Carolyn comments. Mendivil opened up niches and added carved shelves and built-in cabinets to showcase the collection. Among the many items are cherished Blue Willow ceramics, silver family heirlooms and paintings, and Navajo and Seri Indian baskets.
Beyond the artwork, it's in every way a beautifully personalized home. Each of the en-suite bedrooms enjoys its own unique paint and tile treatment. A peek-a-boo window in one walk-in shower gives the sense of bathing alfresco with saguaros. Upstairs, the couple's master bedroom is a sanctuarylike retreat, with dramatic retablos (religious icons) filling the wall behind the bed.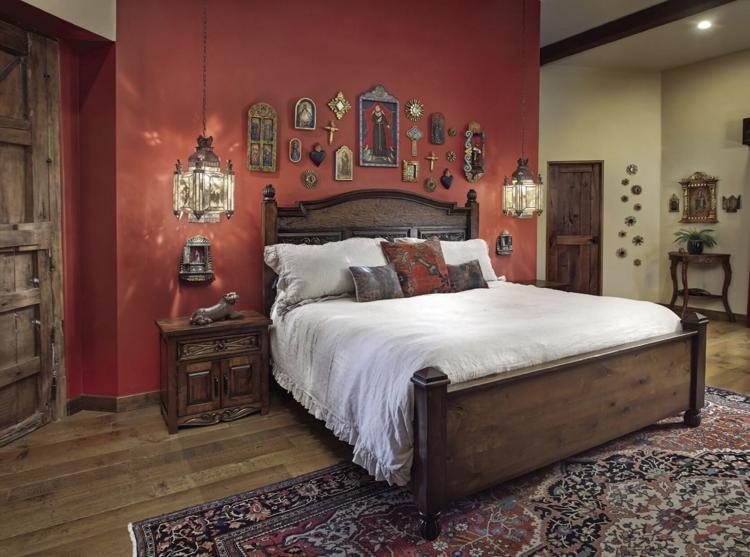 Fixtures of all sorts — cabinetry, cornices, curtain rods, furniture and lamps — were custom crafted. In fact, at one point, there were a dozen artists onsite, including carpenters, painters, metalworkers and lighting specialists.
In the "Cantina," which doubles as Mike's man cave, there's an appealing media room and bar, with a library off to one side. The space is decorated with blown glass and copper enameled pieces inside lighted niches. Sliding glass doors lead to a shaded patio and an infinity pool that's flanked with native plants. It's softly illuminated at night, evoking Frank Lloyd Wright's Fallingwater residence in Pennsylvania. As it happens, Carolyn's stepfather worked with the famed architect at Taliesin in Wisconsin and Arizona.
The connection for the Friedls to this one-of-a-kind showplace may even be as strong as that Wright felt for his iconic residence. "This is our dream home," concludes Mike. "We'll have to be taken out feet first!" La Casa Mexicana, LCM-Interiors.com