Santa Barbara's distinctive architectural style was the inspiration for this Tucson home.
BY ROMI CARRELL WITTMAN | PHOTOGRAPHY BY AMY HASKELL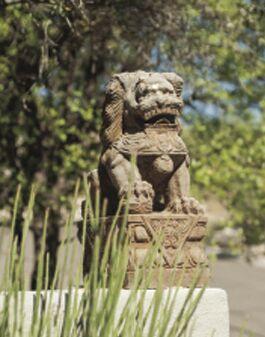 Sitting at the end of a quiet street, shaded by a dense canopy of mesquite trees, is a home that looks as if it was plucked from picturesque Santa Barbara, California. This was exactly the look that Georgann and John Munic aspired to when they built their 6,000-square-foot home. Santa Barbara architecture fuses design elements from many regions, most notably Spanish Colonial, Italian and Mediterranean. These iconic elements can be seen throughout the Munic property.
Inside and outside, no detail has been overlooked. The landscaping— using mostly native plants such as succulents and Golden Barrel cacti — ensures that the main focus remains on the home itself. Pea gravel, a staple in European gardens, was used in the outdoor spaces to evoke an Old World feel. Cantera stone accents further enhance the outdoor spaces.
Tall glass double doors serve as the home's entryway and are framed by concrete cast stone. As Georgann explains, guests enter a canvas of crisp, white walls framed by 14-inch mahogany moldings and baseboards. A stretch of hand-scored and waxed concrete covers the floors.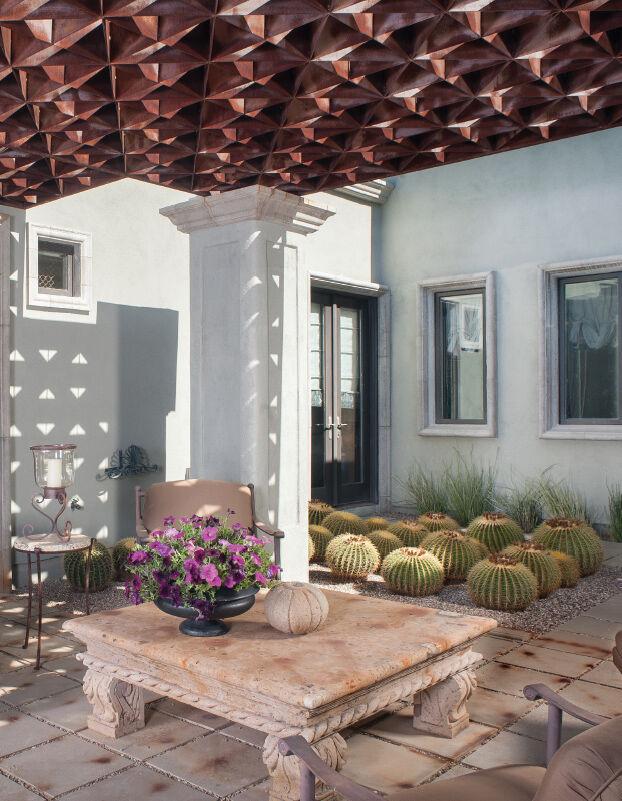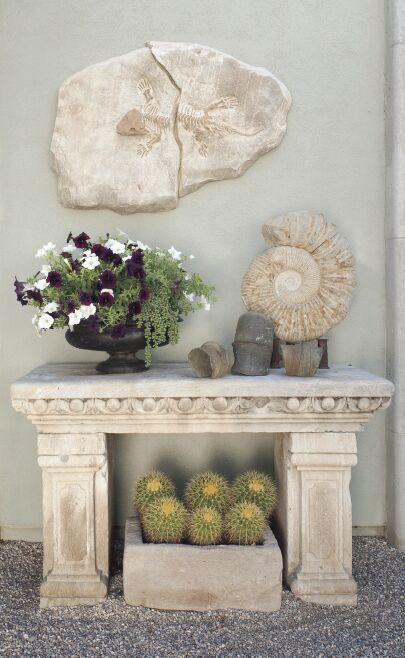 This formal living room, or salon, has an immaculate, high-contrast design aesthetic. White slipcovered sofas and chairs are positioned to create intimate seating areas, while an eclectic array of antiques and artwork, some from Latin American art purveyor Holler & Saunders Ltd., provides visual interest.
Georgann handled the interior design of the home. Her approach reflects juxtaposition, and the unexpected surprise of contrast can be seen throughout. An example is the way she has designed certain rooms, such as the library and the master suite having their own foyers. This adds both elegance and privacy.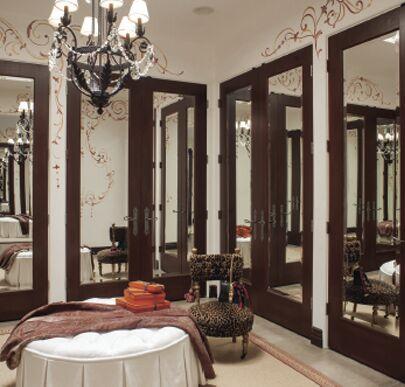 Each room also has double doors to afford access to exterior personal spaces. Arguably, the most stunning of these spaces is located off the library. Here, the patio is covered by a custom-made metal pergola that casts geometric shadows onto the concrete pavers below. These shapes change as the sun moves across the sky, creating an ever-changing art show. This garden holds a stunning array of barrel cacti planted en masse.
Located on opposite sides of the master bedroom foyer are identical dressing rooms, complete with mirrored doors. The walls are embellished with delicate, handpainted art created by Becky Hengsteler.
The master bath en suite was designed to have a spa-like ambience.
Two handcrafted mahogany vanities featuring Rosso Levante marble flank opposite walls of the space.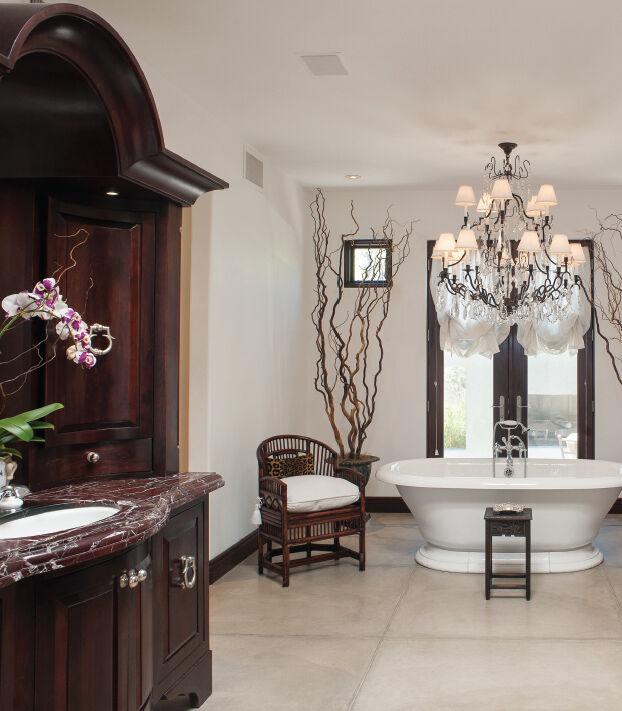 "The master en suite is a quiet, sunlit sanctuary with double doors leading out to a private garden and fireplace wall, which can be enjoyed from the soaking tub," says Georgann.
The home always has been shared with the community during many charitable events and celebrations, including the wedding reception of their son and daughter-in-law.
As Georgann says, "I've always felt one's home should be a reflection of its owners. In building, you leave a bit of your soul, a watermark for all those who follow to enjoy."
Sources:
Del Sol Tucson Landscaping, LLC., delsoltucson.com
Holler & Saunders Ltd., hollersaunders.com