People who claim that the desert landscape is boring have never been here in spring when the cacti blossom into a palette of many hues.
BY DEBBY LARSEN
Cacti are one of nature's dichotomies; their thorny sculptural spheres, spiraling columns and flat paddles are paired with beautiful tissue-paper-like flowers, creating a glorious contrast.
Some species, such as the ubiquitous prickly pear, cover the landscape with displays ranging from yellow to pink. Most species of cacti bloom in April, while others are late bloomers, extending the colorful show.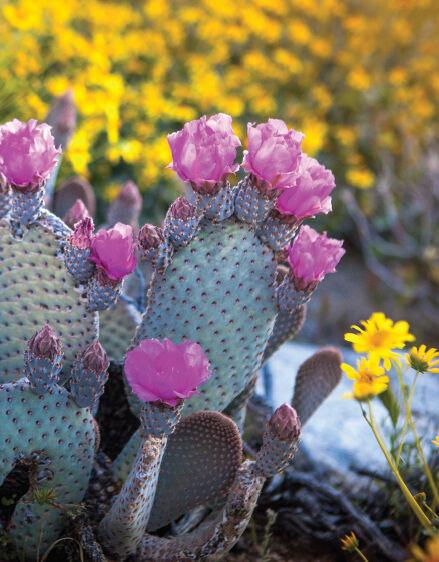 Beavertail Prickly Pear (Opuntia)
Low-spreading and slow growing, this cactus has blue-gray pads covered in tiny brown barbs rather than spines. It displays lovely pink to magenta blooms.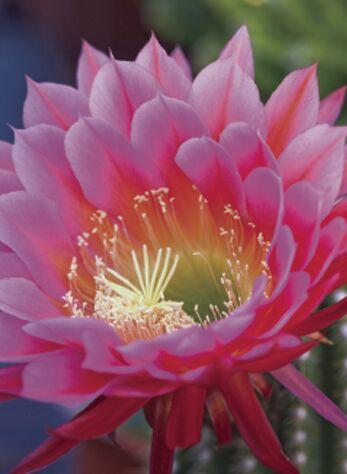 Torch Cactus (Trichocereus)
Trichocereus hybrids are columnar cacti that are admired for their brilliant flowers in a range of colors. Some cultivars produce magnificent displays in flushes (the period when all of a plant's flowers are in bloom) over time.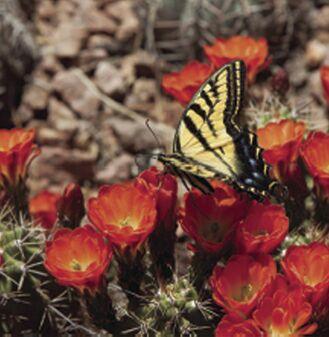 Hedgehog Cacti (Echinocereus)
Heavily spined and short statured, this cactus forms dense, low-clustered mounds. It produces large, brightly colored flowers, such as this variety, called Claret Cup.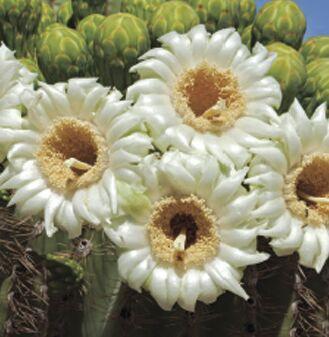 Saguaro (Carnegiea)
Easily recognized as the iconic sentinel of the Sonoran Desert, this slow-growing, columnar giant reaches up to 50 feet. A corona of large, night-blooming, white flowers appears in May, followed by red edible fruit in June.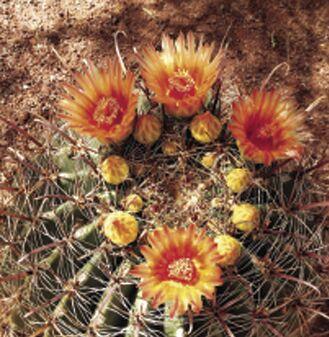 Fishhook Barrel (Ferocactus)
This basketball-shaped, long-lived cactus has ridges of curved red or yellow spines. Yellow or orange flowers form a crown, followed by a crop of yellow-pineapple-shaped fruit with many tiny black seeds.
Staghorn Cholla (Opuntia)
This very spiny, tree-like cactus has rod-shaped branches that are favored by native birds for nesting. The cholla species should not be planted in high-traffic landscape spaces!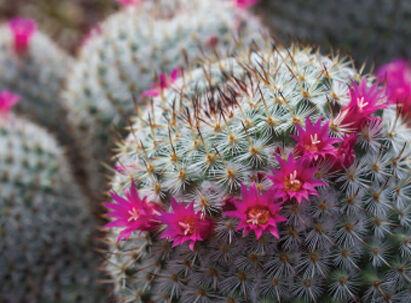 Pincushion (Mammillaria)
Small and spherical in shape, this species is covered with tiny spines. A ring of pink flowers appears at one time, followed by a circle of oval-shaped, red fruit.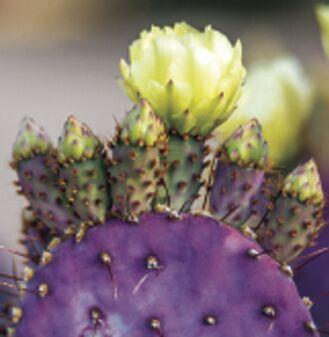 Santa Rita Prickly Pear (Opuntia)
This low-growing, clumping variety has flat, round, reddish-purple pads and fewer spines than others in its family. The pads' hue deepens when stressed by drought or cold.