They can all take the heat, but we asked six of Tucson's most renowned chefs to get out of the kitchen and name their favorite dishes at spots other than their own.
The average human tongue is covered in 10 thousand taste buds … sensory receptors that detect sweet, salty, sour, bitter and umami … then communicate to the brain the rapturous message: this is delicious. But Tucson Lifestyle isn't interested in average taste buds. We asked the most well-known, award-winning, food-obsessed chefs in Southern Arizona where they go when they crave a favorite dish. Just one rule applied to their passionate picks — no choosing their own establishment
Breakfast
Best Breakfast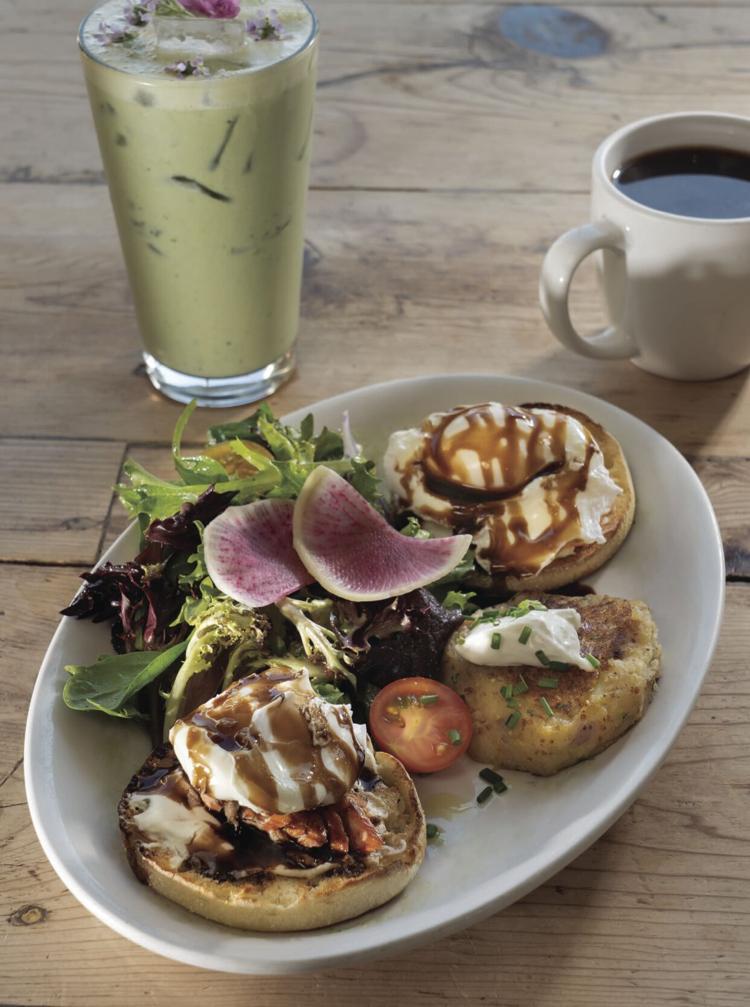 You'll find the frenetic line chefs cracking eggs for El Charro Café's Carlotta Flores at her favorite breakfast hang, Frank's on Pima at Alvernon — a true neighborhood joint. Choose a plate-covering omelet, such as Ham and Cheese or Denver, accompanied by home fries — chunks of savory potato, sautéed skin-on — or crispy hash browns. And because well-enough is never left alone at Frank's, diners must also choose from a fresh tortilla, buttermilk biscuit or half a dozen types of toasted breads. Classic diner stools overlooking the grill are in high demand … there is always another customer waiting to climb aboard.
Casino Del Sol's Executive Chef Ryan Clark moseys around the corner from his Barrio Viejo home to 5 Points Market Restaurant for their signature Smoked Salmon Benedict with poached eggs. Chef Ryan describes his favorite savory side as "that delicate potato pancake … sooo good." The restaurant scores another point from Kingfisher Chef Jim Murphy, who zeroes in on their Huevos Rancheros: over medium eggs atop a fresh corn tortilla, white cheddar, pintos and avocado slices crowned with cilantro-serrano pesto and pico de gallo. Travis Peters of The Parish jokes, "If I have something to prove, I'll definitely go after the King Kong at The Baja Café on Ina." The towering plate layers together crispy hash browns, sausage, ham, bacon and over-easy eggs, blanketed in smoked gouda cream sauce. Chef Travis further admits to being "a sucker" for Bisbee Breakfast Club's chicken fried steak, with sunny-side up eggs and  hash browns.
Brunch
Best Brunch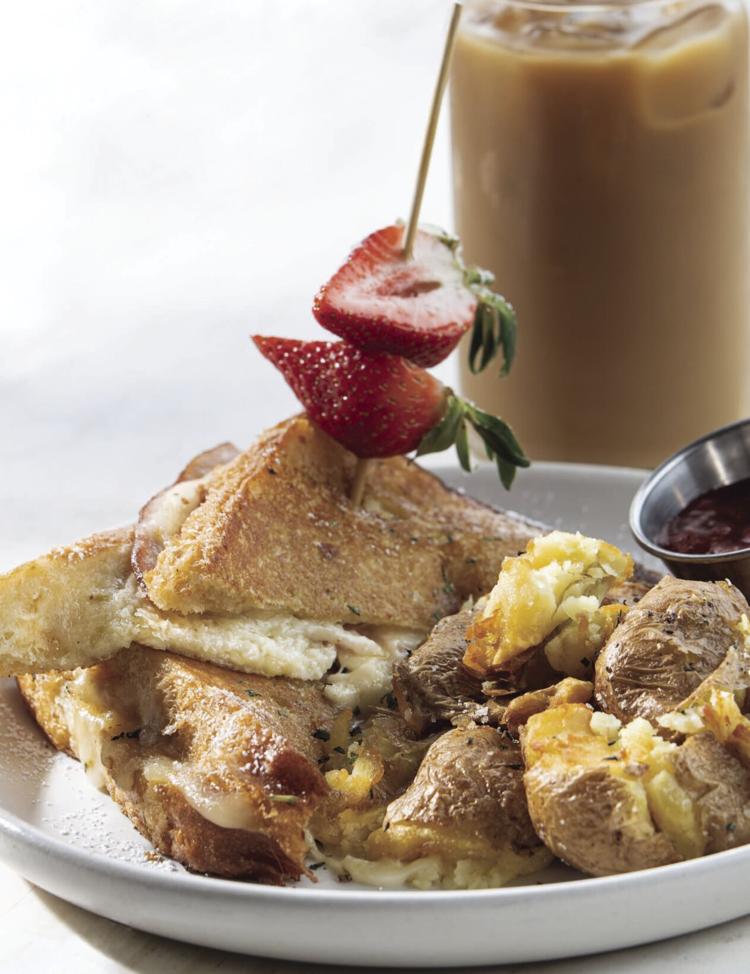 Three-time Tucson Iron Chef Ryan's pick for brunch is "everything at Loews Ventana Canyon on Sunday mornings. Chef Ken Harvey and his culinary crew crush brunch. Blues, Brews and BBQ is nationally acclaimed and is a must stop if you brunch professionally." Tucson Weekly's Best of Tucson Winner Chef Travis agrees, "Chef Harvey dreamed up something really special here — all your brunch favorites plus lots of delicious beers." The Ritz-Carlton is Chef Jim's brunch best-of, featuring fresh seafood, meat carving and omelet stations, decadent cheeses and buttery house-made pastries. Chef Carlotta's brunch favorite is Prep & Pastry, where classics are elevated. Biscuits and Gravy becomes Herbed Cheddar Biscuits with Duck Fat Gravy, and the Monte Cristo is composed of honey-roasted ham, Swiss cheese and pineapple-jalapeño mascarpone on brioche French toast.
Lunch
Best Lunch
Chef Ryan's go-to lunch spot is Reilly's Craft Pizza and Drink downtown. "A mini pizza, or Pizzatta as they call it, and a salad with all the Italian fixings is the way to go," he says. "Who doesn't like a lunch that simple and delicious?" A quartet of great lunch spots are offered up by Chef Carlotta: the Cup Café in the Hotel Congress, Rollies Mexican Patio on S. 12th, In-N-Out Burger, and Pub 1922 in Sahuarita, which she says is worth the short venture south for all-natural burgers, house-made pizza, and 22 beers on tap. It features a mod atmosphere, with beer kegs hanging from the open ceiling (empty, we hope) and scroll-back stools positioned along an endless blonde bar. Ask Chef Travis to roll up his sleeves and his lunch favorite becomes apparent. He has the elfin characters of the Lucky Wishbone logo tattooed on his elbows. The Tucson native says even the iconic restaurant's gizzards are delightful, washed down with the fountain black cherry soda. You'll also find him hunkered over a bowl of Tonkatsu Ramen (sliced pork belly) at the near northwest side Ikkyu Japanese Restaurant at least once a week, observing, "It's absolute magic, with a perfect balance between flavor and texture." Smokey Mo's Turkey Melt sandwich with a side of collard greens is Chef Jim's lunch pick, made up of house-smoked turkey, pepper jack, tomato, lettuce, avocado and chipotle mayo on marble rye. Though Feast's Chef Doug Levy admits he doesn't get to eat out often, he "loves those tacos" at Boca Tacos y Tequila on Fourth Avenue. The 24 varieties — meat, veggie and seafood — are served with warm, fried-to-order tortilla chips. And when a carb craving kicks in, Chef Doug heads for Za'atar on North Country Club for "their amazing bread."
Seafood
Best Place for Seafood Dishes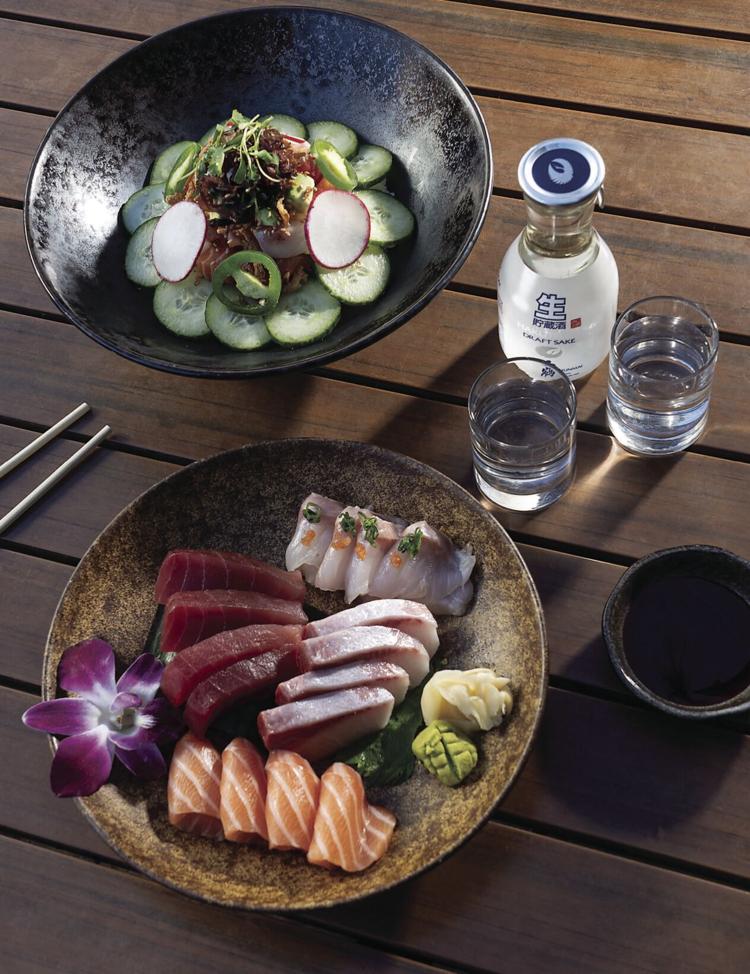 "Even though we are in a desert" says Chef Travis, "we have some great spots for seafood, such as the always-delicious Kingfisher — a favorite for oysters — or Charro del Rey downtown. But my personal favorite is Mariscos Chihuahua on Swan. I've been ordering their Chihuahuita (oysters, shrimp and ceviche cocktail) for more than 20 years. Fresh and filled with both cooked and raw seafood, I squeeze tons of fresh lime and lots of hot sauces all over it. It is probably one of my favorite things to eat, period." Chef Ryan gives a nod to Kingfisher as well. "I love their signature steamed mussels with just the right amount of Sriracha. James Beard Award-winner Chef Janos' pick is the Rainbow Poke and Sashimi at OBON Tucson on East Congress downtown. The Poke bowl combines fresh tuna, salmon, yellowtail and shrimp atop cucumber, jalapeños, seaweed salad, avocado and sushi rice or mixed greens. Chef Doug makes it a triple play for Kingfisher, named in Tucson Weekly's Best of Tucson every year since 2003.
Vegetarian
Best Place for Vegetarian/Vegan Options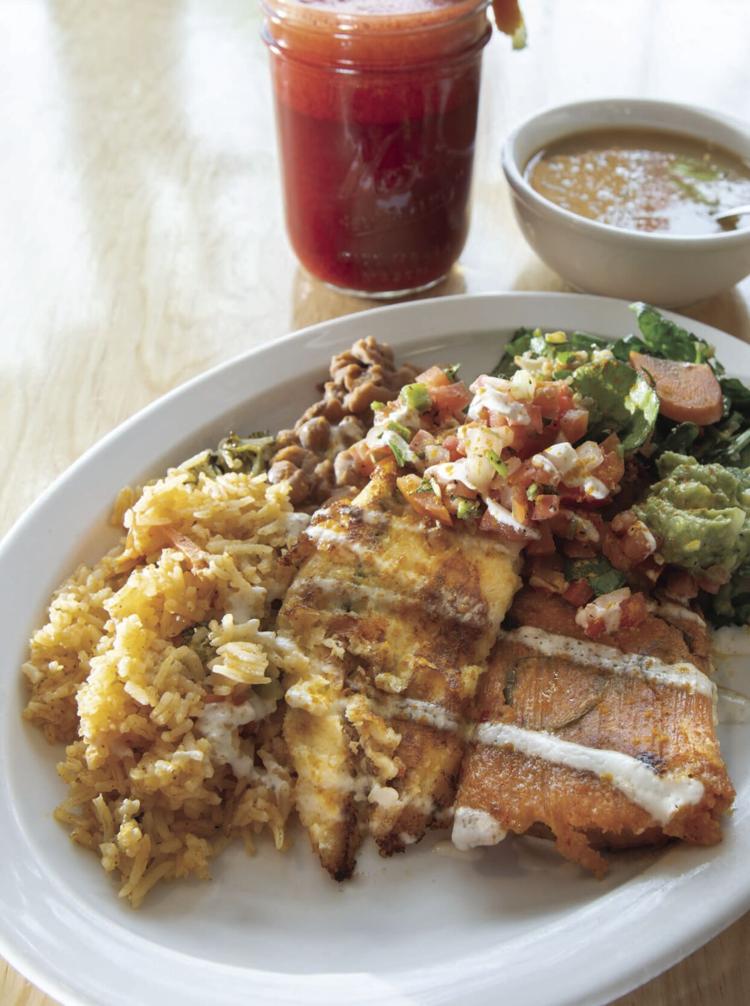 Chef Ryan says when his inner vegetarian speaks he heads to Choice Greens on Speedway to compose the "Ryan Clark." Start with organic kale, toss in broccoli, dried cranberries, apples, Brussels sprouts, crumbles of bleu cheese, and dress with apple cider vinaigrette. Five Points Market is Chef Jim's choice for meat-free offerings. The "Breakfast Salad" features butternut squash, roasted poblanos, over-medium eggs, white cheddar, arugula, heirloom tomatoes and pepitas. Wine Spectator Award of Excellence winner Chef Doug picks Tumerico on 6th Street for a scratch menu that changes daily, including numerous vegetarian and vegan options. Tumerico Chef/Owner Wendy Garcia is a former apprentice of Levy's.