The restaurant's name means bullfighter, and the cuisine executes an artful pasodoble between tradition and innovation. Read all about the delicious details!
By Betsy Bruce / Photography by Shannon Christine
The Matador has waved his cape and given the historic El Torero on Tucson's southside a fresh new look and fresh new offerings to enjoy. Tucked away on 26th Street between 4th and 6th Avenues, this popular restaurant has been welcoming customers hungry for a taste of authentic Sonoran cuisine for more than 65 years.
Once run by Adelina Borgarro, the restaurant is now in the hands of her nephew, Michael Hultquist. Michael, his brother Brad, and son Mike Jr. mastermind all that goes on behind the welcome sign, which features a jovial bullfighter hoisting an enchilada plate, alongside his beer-sipping bovine companion, a lime wedge on his mug, a rose on his back.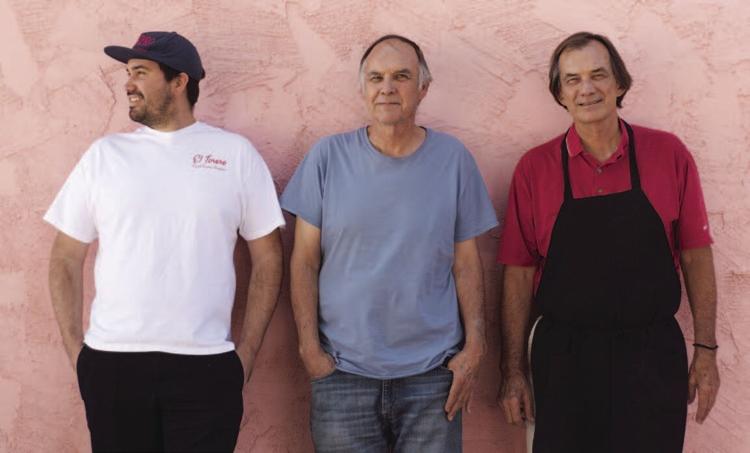 The salmon-pink stucco exterior is original to Aunt Adelina's makeover of an American Legion hall into a bar and restaurant in 1956. The interior, with its soaring ceilings, has been refurbished without losing its historic patina, with tile floors giving way to polished cement, and a new bar of corrugated metal topped with dark wood greeting regulars in need of a cold cerveza. A vintage Rock-ola jukebox sits patiently waiting for repair, its playlist reflective of the restaurant's longevity, ranging from Booker T. Jones to The Beatles to Mariah Carey. Wrought-iron lanterns illuminate the all-white dining room; garlands of colorful painted flowers adorn entryways.
Mike Jr.'s sweet, round face belies his serious nature. The restaurant biz is, after all, a detailed, competitive business. He wears a short beard and a head of dense, soft hair. At 31 years of age, the younger Hultquist is credentialed in the kitchens of two legendary family owned restaurants; Lerua's — a fixture on East Broadway for 60 years, and the exquisite La Roca, just over the border in Nogales, Sonora, Mexico.
"I was a big, chubby kid … I loved to eat," the junior Mike reflects. "My grandmother, MammaBon, was in the kitchen most of the day cooking and writing recipes in her beautiful handwriting. Her cold beef tenderloin and corn tortillas were incredible. She also had a guava empanada recipe that was my absolute favorite. And my mother Alicia is the best cook I know. There was never a recipe she followed. A few of her specialties were Bolognese, turkey burgers and cherry pie. She is my inspiration."
In 2015, Mike Jr. earned a degree from San Diego School of Culinary Arts, an intensive six-month program that favors technique over recipes, and mandates studying all aspects of running a successful restaurant. As part of his education, he and some fellow students engaged in a Top Chef-like challenge to create their own restaurant, bringing to life Burratti St., an Italian steakhouse featuring scratch-made pastas and hand-cut steaks.
After graduation, he came back to his hometown to put what he learned to work, discovering that the Old Pueblo was definitely in line with food trends. When Tucson was named a UNESCO City of Gastronomy in 2016, it came as no surprise to the young chef. "The seasonal menu isn't a new idea … it's the way we've been doing things in Southern Arizona forever. Whatever is fresh and in abundance we incorporated in the menu."
An already generous menu has been further expanded by Mike Jr., who knew he had to be thoughtful with his additions to a classic lineup. "I needed to utilize my creative skills and still be true to the cuisine and customer base."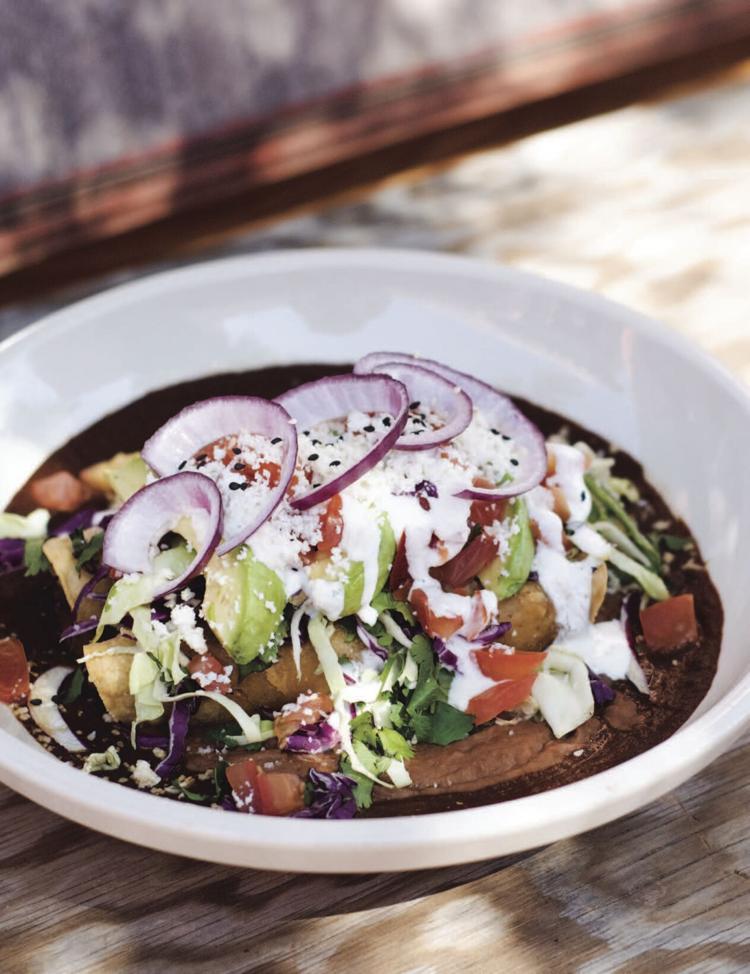 A chef taking on the complexity of mole sauce makes it his or her own. Mike Jr.'s mole is composed of dozens of ingredients, including smoky poblano and Pasilla chiles, garlic, roasted dried fruits, and dark unsweetened chocolate — "The most expensive I can find," he reveals. "Mole is like wine. Notes bring out other notes, flavors melding and changing as time passes."
While studying in San Diego, Mike Jr. met a pair of entrepreneurs who had concocted a hot sauce that he found wildly delicious and unique: Truff Sauce — black truffle-infused hot sauce. "It is so delicious I was inspired to make a dish just to put under it." His version of the classic tamale pie was born, featuring tender braised pork carnitas and green corn tamales layered with Mornay sauce and sharp cheddar, spiked with roasted green chiles and crispy onions, beans, queso fresco and cilantro doused in the black truffle- spiked hot sauce. Bottles of Truff Sauce can be purchased at El Torero if addiction takes hold of you after a single encounter.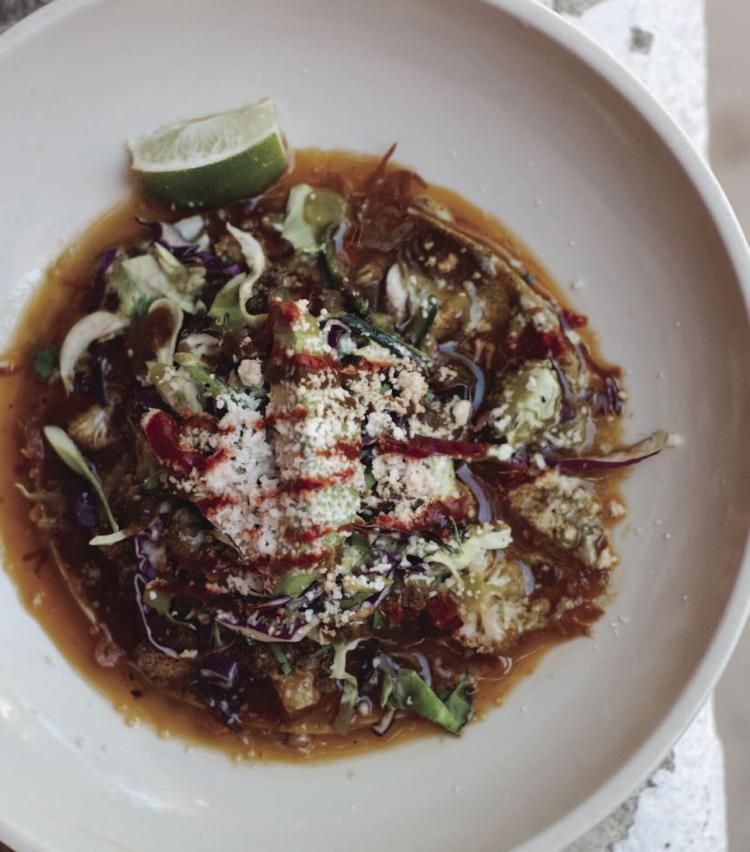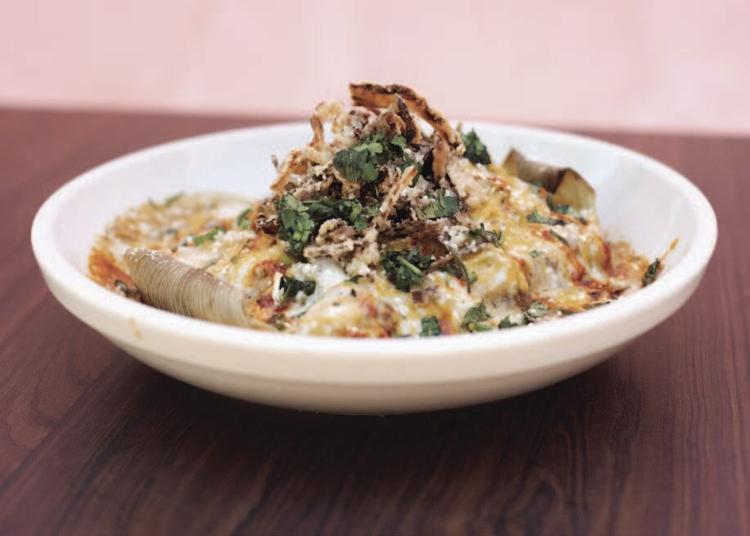 Over the years, El Torero has drawn not only local celebs, but also the world famous, including Oscar-winning actor Lee Marvin, who lived here for a number of years. Sometimes it's the restaurant's specialties that bring them in. Adelina Borgarro was vegan long before it was cool; the plantbased diet simply was what made her feel her best. It was 1976 and word reached part-time resident Linda McCartney that El Torero had vegan options, including calabacitas (chunky spiced summer squash and zucchini), beans cooked without lard and green corn tamales.
McCartney, who attended the University of Arizona, brought her husband Paul, wearing a sweat-soaked T-shirt raked with dirt from yard work. "My jaw would not stop shaking," Mike Sr. confesses, then all of 21 years of age. El Torero's wait staff was comprised of older Hispanic women who had worked there for decades and were both charming and tough. The McCartneys chose a two-top against a wall, in Jesse's section. "Jesse was about 1,000 years old," Michael says with an affectionate laugh. "She wore army-issue glasses, a Peter Pan collar shirt, white gloves and white sneakers every day." Jesse approached her new customers and said, "My boss says you have a band?" Linda stifled a laugh. "How much do you charge?" Jesse continued. "My granddaughter has her quinceañera coming up." The rock royalty couple returned at least half a dozen more times.
A legend of a different kind leads menu pursuers to narrow their choices. A green leaf identifies vegetarian options; a circled stalk of grain slashed through means "can be made gluten-free." The chile pepper means "Hot."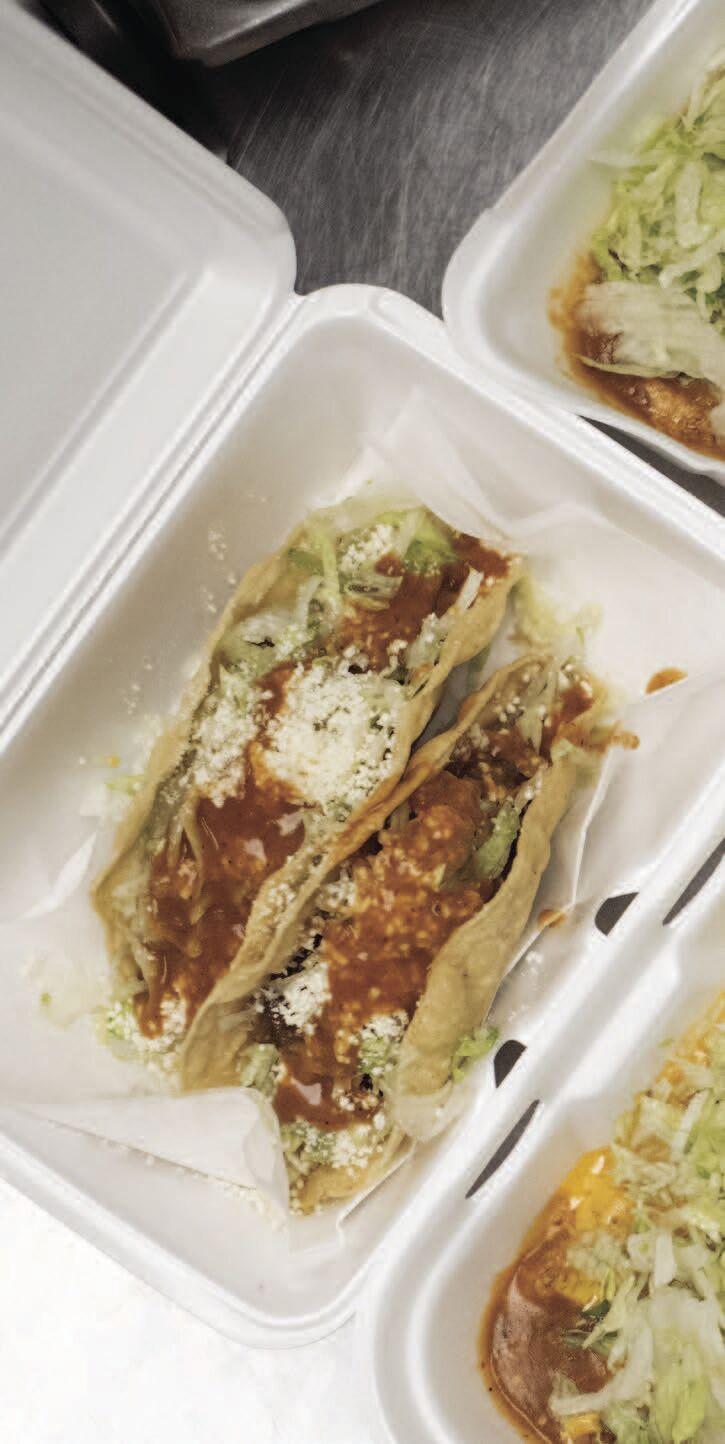 For first timers to El Torero, Mike Jr. suggests ordering a classic, enchiladas or tacos, then upon a second visit, trying one of his specials. Mike Sr. recommends starting with the notorious "Patty Taco," seasoned ground beef enclosed in a fresh corn tortilla and sizzled in the deep fryer, served with rice and beans. Or their famous cheese crisp, which starts with a 18-inch tortilla grilled on the flat-top to crunchy perfection, then smothered in cheddar cheese and popped in a 550-degree oven for two minutes. The toppings include carne seca, green chiles and guacamole.
El Torero 231 E. 26th St. 622-9534. ElToreroTucson.com.