Few things convey an immediate sense of contentment and well-being like eating a meal that evokes memories of home and hearth. Here are some local restaurants that specialize in all manner of comfort food.
B

y

Sarah Burton Photography by Thomas Veneklasen

5 Points Market & Restaurant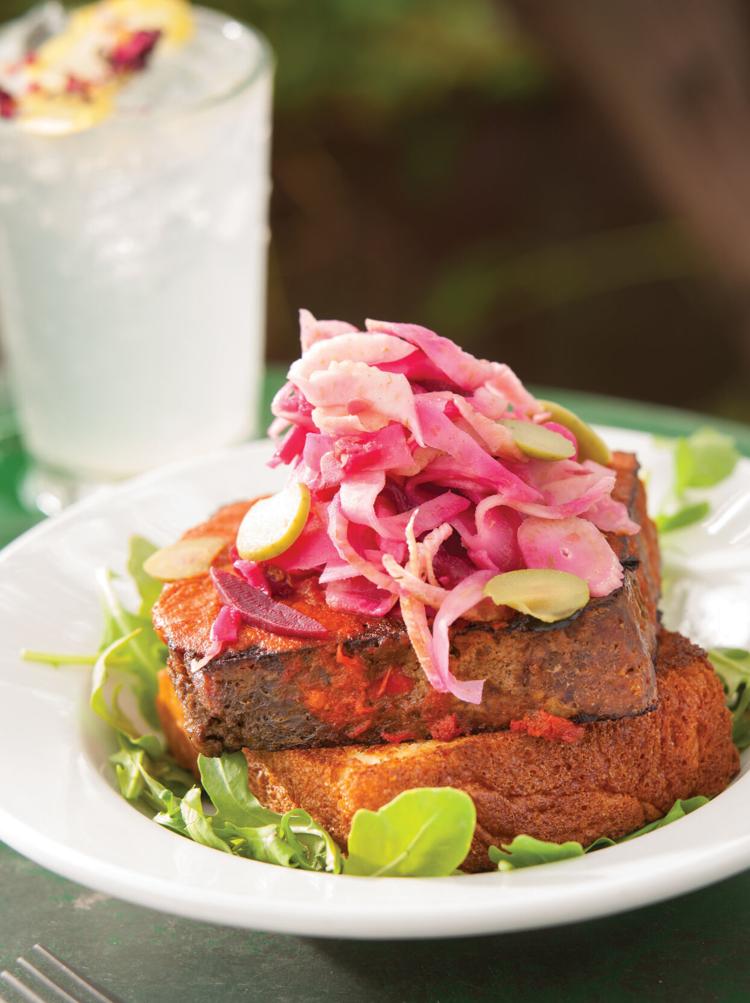 For more than four years, owners of 5 Points Market & Restaurant Jasper Ludwig and Brian Haskins have offered an innovative breakfast and lunch menu. Aptly named, this brunch spot is located in a repurposed building at the historic Five Points intersection leading into downtown, surrounded by Armory Park, Barrio Viejo and Barrio Santa Rosa. The menu focuses on well-balanced offerings, sourced from as nearby as possible.
"We wanted to open a restaurant that sourced primarily from local farms, ranches, and artisans to create our food from scratch."
In fact, 5 Points started out because the owners felt so passionately not only about food, but local food systems, and working with regional farmers and agriculture. "We wanted to open a restaurant that sourced primarily from local farms, ranches, and artisans to create our food from scratch," explains Ludwig. "We also wanted to create an environment where creativity is honored and folks are paid a living wage to work in this industry." On the menu this plays out deliciously in dishes like the huevos rancheros made with La Noria corn tortillas, pinto beans grown right here, house-made ranchero sauce, fresh pico de gallo, avocado, and cilantro-serrano pesto.
Other popular dishes include their smoked salmon benedict, a smoked beet sandwich, and the arugula salad. But if you're looking to dive into comfort, look no further than the meatloaf. "Our meatloaf was the creation of our chef, Ken Julian," Ludwig points out. "It's made with local, free-range and grass-fed Criollo beef from 47 Ranch (Sky Island Brand), served atop house-made organic brioche, and topped with house-made poblano-tomato jam and a fennel, smoked beet, and Castelvetrano olive slaw."
756 S. Stone Ave., 623-3888, 5pointstucson.com
HiFalutin Rapid Fire Western Grill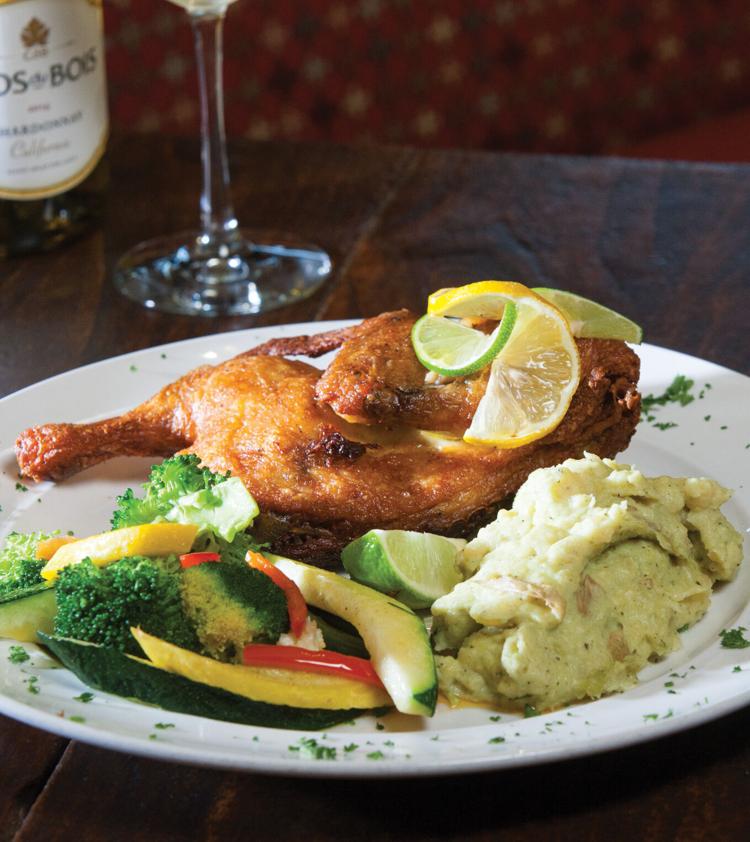 For a bit of comfort with an extra dose of the Old West, HiFalutin serves up everything from beef stroganoff and pot roast to meatloaf and steaks. Since opening in 2002, this sister eatery to the Baggins sandwich shops has made a name for itself with generous portions and an easy-going atmosphere, down to the cowboy hats worn by staff.
"Our most popular dishes are the meatloaf, pot roast, steaks, glazed baby back pork ribs, cedar plank salmon, as well as the tacos."
While you're trying to decide between a traditional rib eye steak or the Cattleboss Pot Roast — slow cooked for hours until tender — try not to get too distracted by the heavenly blue corn muffins and butter placed before you. "Our most popular dishes are the meatloaf, pot roast, steaks, glazed baby back pork ribs, cedar plank salmon, as well as the tacos," says Owner Moe Aria.
With the word grill in the restaurant's name, it makes sense that the must-try dishes are largely those cooked over the grill. But you also can choose from salads (like Cassidy's Mexican BBQ Chicken salad or the Pulled Chicken Cobb), sandwiches, burgers, and even several hearty pasta dishes.
6780 N. Oracle Rd., 297-0518, hifalutintucson.com
Sullivan's Eatery & Creamery
If nostalgia equals comfort in your book, a trip to this traditional ice cream parlor and restaurant should be added to your to-do list. With toy trains running on a track overhead, thick marble slab counters, thick burgers, and ice cream presented in heavy glass dishes, Sullivan's Eatery & Creamery is sure to take you down memory lane.
This location opened originally in 1977 as one of the many Swensen's Ice Cream Parlors in the U.S., but owners Jerry and Kathy Sullivan decided to go their own way and changed the name in 2013. What hasn't changed is their take on the traditional ice cream shop, with a menu boasting burgers and patty melts made with fresh beef ground daily from local Dickman's Meats, old-time sourdough grilles and sandwiches, as well as plenty of piled-high salads.
Of course, dessert is part of the full experience here, so choose carefully from the decadent options. Try one of the parfait-style sundaes, with layered scoops of ice cream, whipped cream, topped with a wafer and — of course — a cherry. Or maybe a banana split, strawberry shortcake, or a warm brownie topped with a scoop of ice cream. Needless to say, if you skip dessert here, you're not thinking straight.
6444 N. Oracle Rd., 297-9974,
sullivanseateryandcreamery.com
Omar's Hi-Way Chef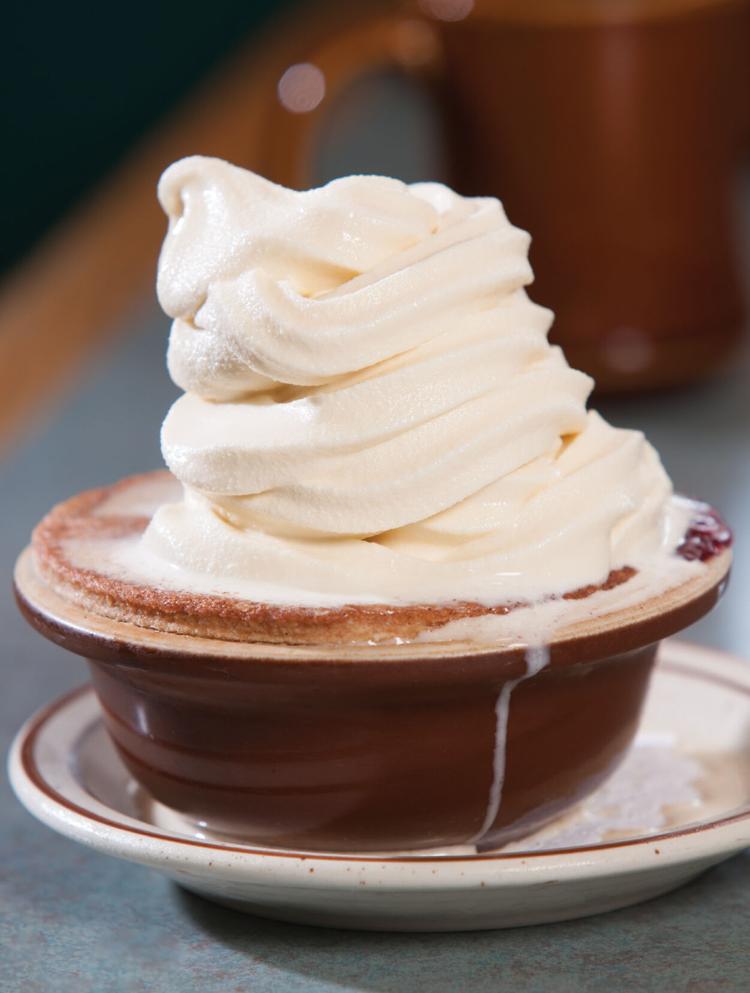 There's a reason this truck stop restaurant has been featured on the Food Network (where it was awarded the title of Number 2 Truck Stop in the country), and received equally high praise from both local and national publications. The reason is simple: Since opening in 1954, they've stayed true to straightforward, quality food.
"This is the kind of place where if you leave hungry, it must be because you didn't order!"
"Our menu is one of the most extensive around," says Manager Omar Ramirez. "Breakfast is a comfort food for many people, and our over-portioned breakfasts are available all day." Choose from the I-10 Belly Buster for the super hungry, spicy Chorizo con Huevos, the popular Omar's Favorite (cheese enchiladas, shredded beef, three eggs any style), huge pancakes, strawberry waffles, or biscuits with creamy gravy. After 22 years running the establishment, Ramirez points out: "This is the kind of place where if you leave hungry, it must be because you didn't order!"
The lunch and dinner menus boast several kinds of foods, including traditional favorites from Mexico (tacos, enchiladas, chimichangas), the American heartland (Cincinnati chili mac, chicken noodle soup, pork chops), and even Italy (spaghetti and meatballs, chicken Parmesan, fettuccini Alfredo). Sweet tip: Make sure you leave room for the restaurant's signature Deep Dish Hot Apple Pie, mounded with soft-serve ice cream.
Omar's Hi-Way Chef, 5451 E. Benson Hwy.,
574-0961, omarshiwaychef.com
The Fix
Can comfort food lift your spirits? The answer is a resounding yes, if you ask the owner of a restaurant dedicated (almost) solely to macaroni and cheese. Michael Lanz and his wife Sandy took over The Fix in 2013, less than a year after it first opened. Since then, they've continued to observe the tried-and-true connection of cheesy goodness to happiness.
"Mac 'n cheese is an American comfort food that stands the test of time," Lanz says. The restaurant's sizable menu is split into classic cheddar macs and creamy Alfredo macs, all dressed up with flavor combinations like lobster and Swiss cheese, cream cheese and jalapeño, bacon and chicken, as well as pulled pork with hash browns. A few of their most popular versions are Chicken Bacon Ranch, Buffalo Chicken, Caprese, ABC (Alfredo, broccoli, chicken) and, of course, the closest thing to your childhood favorite, the All American.
Besides mac 'n cheese, The Fix's menu also has whole sections dedicated to salads, burgers and sandwiches, everything from a Cuban-style grilled cheese with ham, mozzarella, pickles, and pulled pork; to steak salad with avocado and bleu cheese dressing. And if you're still not feeling "fixed," perhaps a piece of the homemade fudge or Rice Krispie treat will do the trick!
943 E. University Blvd., 305-4493,
Robert's Restaurant
If you're looking for comfort food, you can't go wrong at this long-standing breakfast and lunch spot. In fact, this year Robert's Restaurant celebrated its 40th anniversary — that's four decades of serving up meals made from scratch. "Our entire menu is what we'd call comfort food," muses Owner Boyd Bartke, son of original owners Robert and Donna Bartke.
"We make our own pies, breads, cinnamon rolls, and also butcher our meats," Bartke points out. "We're not an 'out of a box/freezer' restaurant." He shared that some of their most popular dishes are a bit traditional and not-so-traditional, such as the country-fried steak and biscuits topped with chorizo gravy. For breakfast, look for corned beef hash, omelets, French toast and pancakes; then, during lunch, the likes of open-faced roast beef sandwiches, patty melts, burgers, and grilled trout.
But the top sellers are the giant cinnamon rolls. These enormous confections are a must-have, no matter what else you've ordered — you'll just need to make some room. They're cut in half and toasted on the griddle before making their way to your table and served with a side of extra frosting, putting them even more over the edge. Toasty tip: Even if you're not a huge fan of toast alongside breakfast, you'll want to make an exception. Thick-cut, pillowy slices of bread, baked onsite, are topped with melted butter. Not to be skipped!
3301 E. Grant Rd., 795-1436,
Baja Café
Everyone's got a notion of what qualifies as a comforting meal, but one thing that can't be overlooked is the intense tie of comfort food to the very first meal of the day. And the owners of Baja Café specifically got into the breakfast game in 2014 with the desire to add a bit more spice to this particular meal. "We really love the flavors of the Southwest and New Mexico, Sante Fe in particular, all kinds of chiles," says Owner Kim Scanlan.
Baja Café is known for both its Benedicts (more than a dozen to choose from) and pancakes, featuring small details that make a huge difference. On the savory side, "All of our meats are slow roasted and smoked, including the brisket, corned beef, chicken, and pork," Scanlan explains. "Our sauces are made from scratch, including our New Mexican red chile sauce, smoked Gouda cheese sauce, and tomatillo." Get a load of these flavors in one customer favorite in particular, the Anomaly, which consists of a mac 'n cheese waffle topped with smoked brisket machaca.
If a sweeter breakfast is more to your liking, look no further than the snickerdoodle pancake or maybe a pecan roll pancake loaded with candied pecans. Or get fancy and try one of their special Belgian-style Liege waffles, using pearl sugar brought in from Belgium, which caramelizes during the cooking process for a crunchy, golden coating. "It's kind of a cross between a New Orleans beignet and a waffle — it's pretty amazing," Scanlan shares.
7002 E. Broadway Blvd., 495-4772; 2970 N. Campbell Ave., 344-7369; 3930 W. Ina, 989-9156, bajacafetucson.com
Saguaro Corners
Adjacent to Saguaro National Park East, Saguaro Corners has been serving comfort food since 1956. Just look for the vintage neon sign out amid the desert landscape. As anyone who grew up in Tucson can tell you, this is the place with the windows, through which diners can soak up gorgeous views of the surrounding desert, Rincon Mountains, and all manner of wildlife. Or if alfresco is more your style, set your sights on the patio or indoor/outdoor bar.
Besides being drawn by the view and ambience, both locals and visitors flock
to Saguaro Corners' comfort-food-focused menu. Here you'll find old favorites like mac 'n cheese, fish and chips, prime rib dip, several burgers (the John Wayne is a must), shrimp and grits, and meatloaf right alongside less traditional American dishes.
Saguaro Corners makes a strong case for finding comfort in new favorites, such as their mini-Sonoran dogs, the quinoa kale salad with jalapeño vinaigrette, ahi poke tacos on a crunchy wonton taco shell, or spicy mac 'n cheese with smoked Gouda and Sriracha. Live music several times a week, and a rotating lineup of 22 craft beers on tap, are two of the other big draws for this old-time favorite.
3750 S. Old Spanish Trail, 886-2020, saguarocorners.net