Almost all of us have a go-to dine-out meal that we crave when the stresses of life pile up. We took an informal poll at Tucson Lifestyle and discovered that for our staff, everyone's comfort food is different. We think you'll find one of your own favorites — or discover a new destressor — in the following pages.
Vivace — Warm Chocolate Molten Cake
Located at the crossroads of Skyline and Campbell is a little piece of Italy — Vivace Restaurant. Since 1993, Chef/ Owner Daniel Scordato has been providing Tucsonans a taste of Northern Italian cuisine. When you think of comfort food, you may picture wearing your comfiest clothes and being casual, but going to Vivace is a great opportunity to dress up a bit.
Whether you're an omnivore or a vegetarian, you'll find options here. There are first courses such as fresh burrata and escargot, a salad section, eight good lookin' pastas, a main plates department with dishes like Crab Filled Breaded Chicken Breast, and Grilled New Zealand Ora King Salmon and Rock Shrimp. Then, of course, there's the sweet tooth offerings, where you'll find our staff pick.
The Warm Chocolate Molten Cake is a moist chocolate cake filled with a creamy chocolate truffle center, served with a fancy side of spumoni ice cream. This dessert takes 20 minutes to prepare, and when you take a bite, you'll know why. The chocolatey goodness is well worth the wait! 6440 N. Campbell Ave., 795-7221, Vivacetucson.com.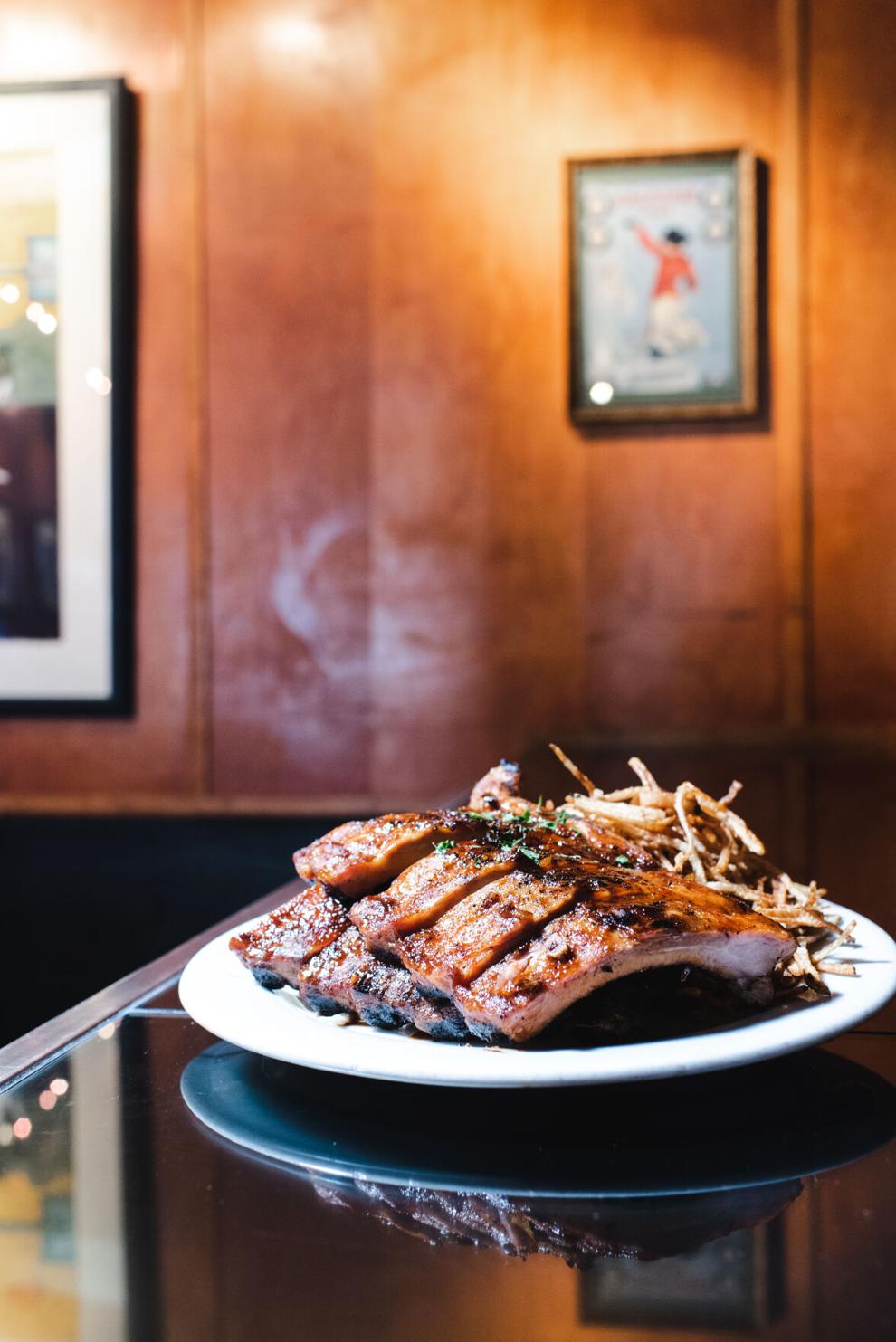 Kingfisher — Grilled Full Baby Back Ribs
For seafood, poultry and meat lovers, Kingfisher is the place for all of your comfort food needs. The upscale yet casual vibe of the restaurant, aesthetics of the food, and culinary quality makes it the perfect spot to enjoy comfort food in style.
The lunch menu has a "Soups, Salads, and Oyster Bar" section with small plates like bay scallop and rock shrimp ceviche, house smoked ruby trout, and a classic cup or bowl of New England clam chowder. The "Sandwiches and Favorites" category has out-of-the-ordinary offerings like the jerked shrimp club sandwich, a grilled sea bass tostada, and even a Kingfisher lobster roll.
The staff pick at this seafood palace though, is the grilled full baby back ribs. Tucson is known for utilizing prickly pear in cuisine, and this recipe demonstrates that. With prickly pear barbecue sauce smothered on this rack of ribs, which is slow-cooked for hours, no wonder it's a Tucson favorite. Served with a side of coleslaw and some shoestring fries, you get the whole Southern meal experience with a Tucson twist. 2564 E. Grant Rd., 323-7739, Kingfishertucson.com.
El Sur — Chicken Tortilla Soup
Visiting the 22nd Street location is like dropping into your grandmother's house for dinner ... if your grandmother is a fabulous cook from Sonora, Mexico. Not only does the aroma lure you in, but the friendliness of the staff, plus the endless options on the menu, have you wanting to return for all meals of the day — breakfast, lunch and dinner.
The chicken tortilla soup — our staff pick — is a great example of the care that goes into preparing each order. They first boil the chicken, make their own broth, sauté the tomatoes, onions, and green chiles and assemble it all before it's put on your table.
The recipes come from the mother of Isela Mejia, who owns the restaurant with her husband Luis. Whether you order the soup, shredded beef, flautas, or cheese enchiladas, a server will come to your table and offer you steaming, freshly grilled onions and peppers to go with your meal. Fans of rice and beans will be pleased to know that they are prepared fresh several times throughout the day to keep up with the demand.
Their menu features all the Mexican food staples one could wish for, with the largest section being their specials, with 13 platters to savor. 5602 E. 22nd St., 748-1032, Elsurmexicanrestaurant.com.
Eclectic Café — Rolled Tacos Quartet
Despite the humble term "café," the menu for this eatery resembles a small book. You know what that means — variety for everyone. American classics share space with Mexican food favorites.
The Eclectic Café, founded in 1980, lives up to its name. Not only do they have a salad section, but also a warm salad section as well. Surprisingly, they only have three starters, but it shows that they keep it simple: chips and guac, chips and salsa or nachos. They have soups, sandwich offerings, and a specialty section with dishes such as burgers, pastas, and even crepes. The rest of the menu is solely dedicated to their Mexican cuisine: burros, chimichangas, enchiladas, tacos, quesadillas, topopo salads, tostadas, and a bunch of sides.
Our staff choice, the rolled tacos quartet, consists of four tacos — your choice of chicken or beef — topped with house-made salsa fresca and cheese. Simple, but sometimes that's the most comforting kind of food. 7053 E. Tanque Verde Rd., 885-2842, Eclecticcafetucson.com.
Gusto Osteria — Eggplant Parmesan
In the Colonia Verde Plaza Shopping Center, another of Tucson's Italian food gems waits for you to discover it. One of the most well-known Italian dishes, Eggplant Parmesan, is our staff pick, and it's easy to understand why. Baked slices of eggplant, breaded and smothered in Gusto's housemade marinara sauce, and then fried to the perfect crisp, are then topped with mozzarella and served with a side of linguine. Just picturing it is enough to destress you after a hectic day!
The menu also includes popular Italian standards. With a nice collection of six different appetizers, 10 salads, 10 specialties, eight pastas, and two options of pizza (cheese or pepperoni), the menu is not too big and not too small. When an Italian menu in America has too many options, how authentic can it really be?
Also known for their spacious patio and beautiful artwork, Gusto's makes it pretty easy for someone to relax regardless of what they order. 7153 E. Tanque Verde Rd., 722-9487, Gustotucson.com.
Philly's Finest — Incredible Chicken Cheesesteak
Located on one of Tucson's busiest roads — Speedway Boulevard — Philly's Finest is a place that replicates Philadelphia's iconic foodstuffs like the cheesesteak, and deep-fried foods such as mushrooms, mozzarella sticks and jalapeño poppers.
This place is a paradise for the Old Pueblo's sandwich lovers. They've got different kinds of cheesesteaks, burgers, a gourmet sandwich selection, grill favorites and deli sandwiches. Variety is key when you talk about sides, and Philly's Finest gets that with nine different items from which to choose. They also have a sizable salad section.
The staff pick here is the Incredible Chicken Cheesesteak. Nowadays, "incredible" often means "meatless meat," but nope … this sandwich simply lives up to being incredible. With juicy chicken straight from the grill, grilled onions, lettuce, tomato, mayo and your choice of either sweet or hot peppers, topped with melted provolone cheese, all bundled in a fresh French roll, it's readily apparent how the sandwich earned its name. 6210 E. Speedway Blvd., 326-1776, Phillysfinestgrant.com.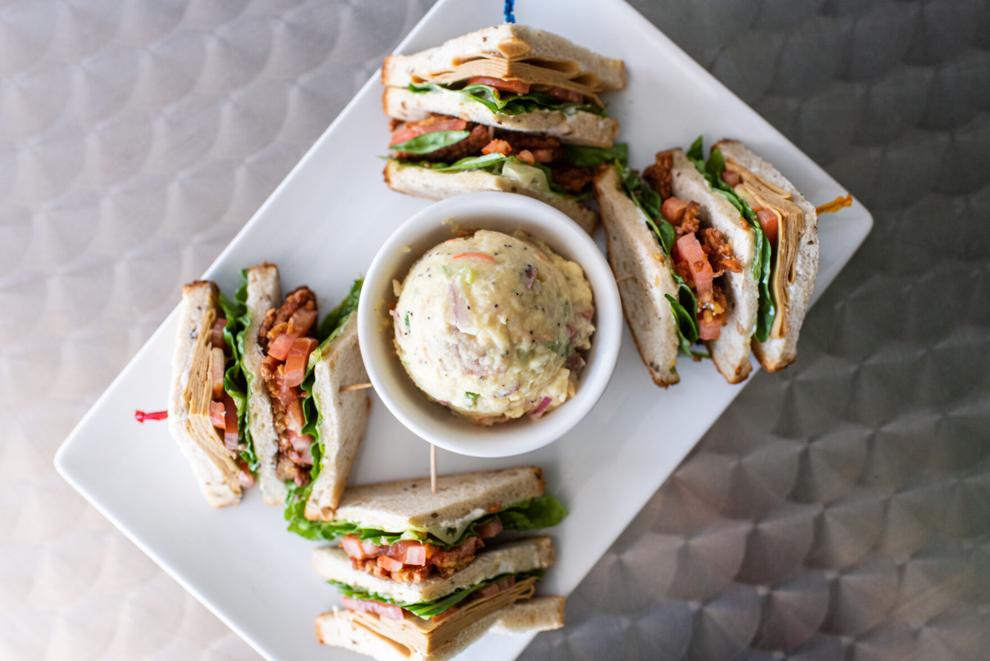 Lovin' Spoonful's — Club Sandwich
This family-owned joint has been around for 17 years, serving vegan/plant-based eaters and everyone who wants a break from animal proteins. A lot of the items on the menu are vegan versions of meat dishes, using soy- and tempeh-based substitutes. The club sandwich, our staff pick, is one of these "meatless meat" sandwiches, and the similarity between it and a regular club is uncanny. It's filled with vegan smoked turkey and tempeh bacon, topped with lettuce, tomato and, of course, some vegan mayo. It tastes like the sandwiches you might have ordered at your favorite diner.
There's plenty more on the menu, as well. They serve breakfast, lunch and dinner. The breakfast menu has French toast and pancakes, as well as tofu scrambles, breakfast burritos, and classic breakfast sides like toast, hash browns and "bacon."
Their lunch and dinner menus are similar, the only big difference being the lunch menu has a sandwich section (with choices such as a reuben, BLT, and Philly "cheesesteak"), and dinner features pastas. There also are 11 appetizers choices, though you might be remiss to go to Lovin' Spoonful's without starting with the cauliflower wings. 2990 N. Campbell Ave., 325-7766, Lovinspoonfuls.com.