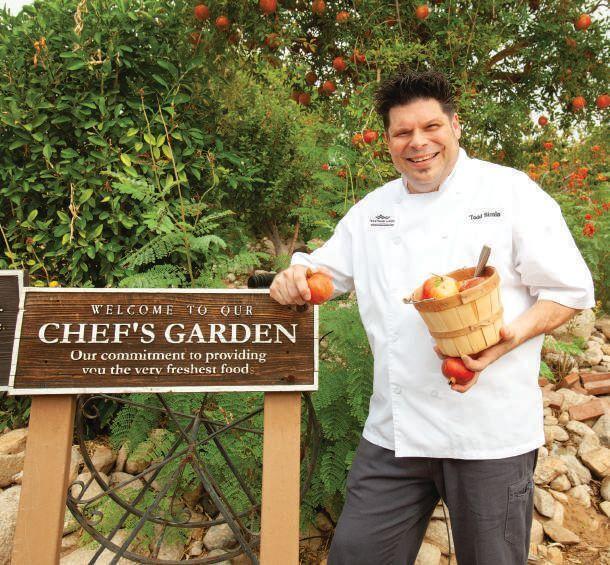 Todd Sicolo, the Executive Chef at Westward LookWyndham Grand Resort & Spa, graduated from the Culinary Institute of America in Hyde Park, New York, and has more than 20 years in the culinary and hospitality industry. For Tucson, he has created a new take on the ever-popular Waldorf Salad utilizing seeds from pomegranates picked from the resort's garden.
Photos by Tom Veneklasen
Featured: November 2018
Chicken Waldorf Salad Sandwich
2 whole chickens (3 to 4 pounds each)
Salt and freshly ground black pepper
Olive oil, for drizzling
1/3 cup mayonnaise, plus more for serving
1 cup green grapes, sliced
1 cup walnuts, chopped
4 ribs celery, chopped
1 green apple, peeled and chopped
1 bunch chives, chopped
1 lemon, juiced
1ó cup pomegranate seeds
Butter lettuce leaves
Bread of your choice
Directions
Preheat the oven to 400 degrees. Set the chickens on a rimmed baking sheet, sprinkle with salt and pepper. Drizzle with olive oil. Roast for about an hour to an internal temperature of 160 degrees, taken between the breast and thigh. Allow to cool. With two forks, shred all the meat off the bone. In a large bowl, combine the shredded chicken, mayonnaise, grapes, walnuts, celery, apples, chives, lemon juice and big pinches of salt and pepper. Toss well. Fill a leaf of butter lettuce with some chicken salad. Sandwich the stuffed lettuce with two slices of your choice of bread and spread with mayonnaise. Makes 10 six-ounce portions.