September is the perfect month to enjoy viewing artworks while you dine at a Tucson eatery. Here are six places to experience culinary and visual creativity.
Sarah Burton
Gusto Osteria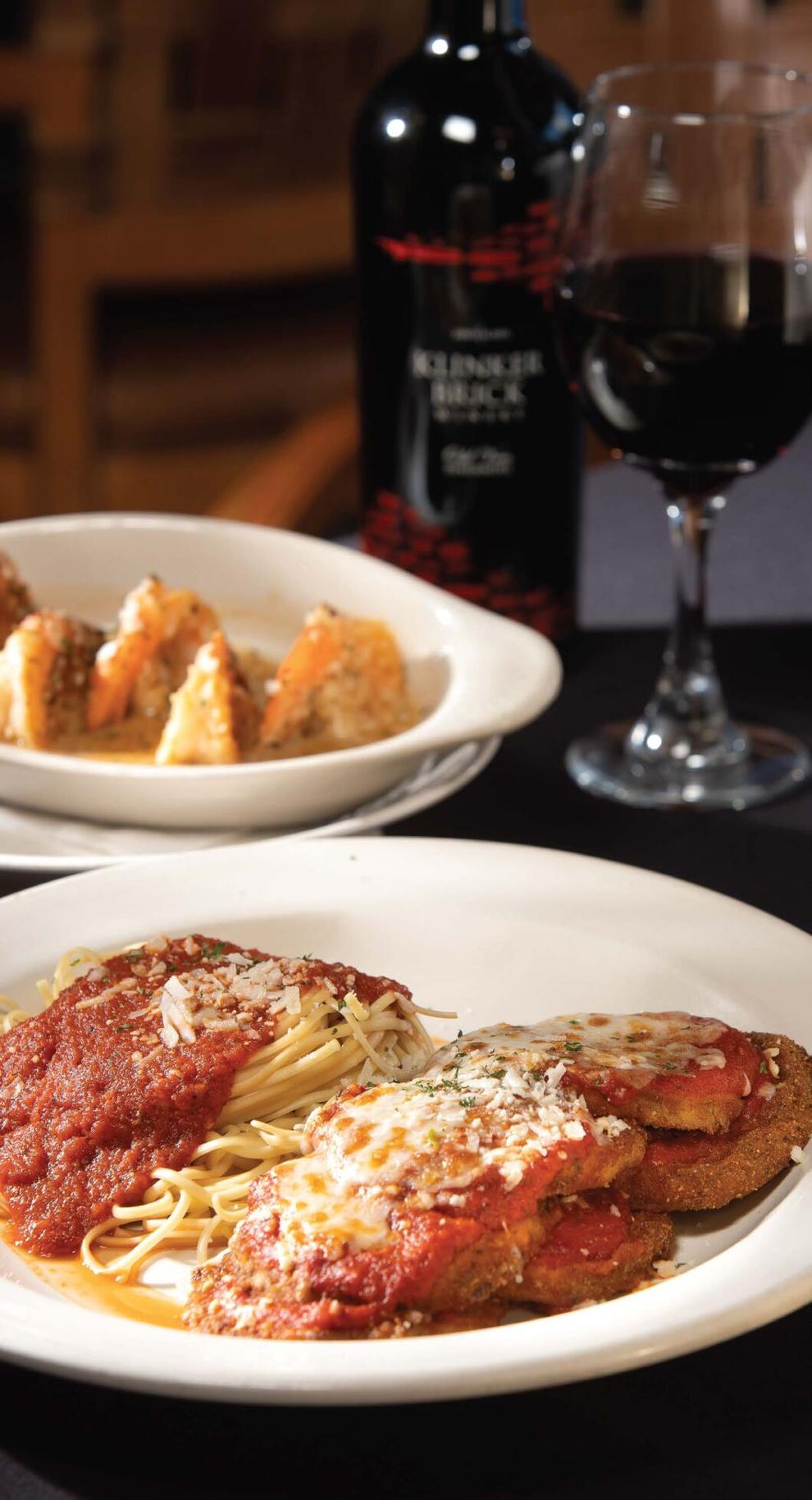 On Tucson's eastside, tucked into a shopping center at Tanque Verde and Sabino Canyon, sits a cozy Italian restaurant known for both hearty dishes and walls that display local artists' work. Gusto's décor is tastefully minimal (polished concrete floors, finished exposed ductwork, simple tables and banquet seating), which only further drives diners' focus to the pops of color in the artwork.
For nearly 10 years now, Stacy Beste and her husband Gus Gerson (as well as son, Jack) have owned and operated Gusto. After working in several well-known Tucson kitchens, including Bobby McGee's, Olson's, Scordato's and Giuseppe's, and impressing many with his cooking style, he finally opened his own take on traditional Italian fare. Gusto offers the classic go-tos like manicotti, eggplant Parmesan, shrimp scampi, many salads, pizza and pasta dishes.
"The lead artist involved, Anita Pinkerton, is in charge of the gallery, which changes several times a year," explains Beste. "We're proud to display local artists and help in that way, and they sell their own pieces. We do not take any fee or commission." To go even further, Gusto hosts live painting events a few times a week, where you can watch an artist work on something right there while you enjoy your veal Parmesan.
7153 E. Tanque Verde Road, 722-9487, GustoTucson.com
Feast
Artfully crafted fare deserves a thoughtful artistic environment, a point not lost on Feast's Owner and Executive Chef Doug Levy. Since opening in 2001, Feast has championed a seasonal, rotating menu designed around the very best ingredients available based on the time of year. This careful planning spills over into the ambience of the place.
"The art at Feast is curated by David Adix, a talented and prolific local artist himself, who's well connected with the art community in Tucson," Levy points out. Adix, who also is responsible for the art displayed at Tucson eatery Pastiche, is well known for his sculptures made with salvaged and found materials. "I usually rotate the art every three months," Adix shares. "I have local art and artists lined up six months in advance."
You can come back each month to an entirely different menu (except, of course, Feast's favorite that's almost always in the mix, the seared Halloumi grilled cheese), and you can count on a consistent stream of local art to enjoy with your meal. Art, ingredients chosen and used at the peak of their season, an on-site herb garden, and a wine shop — Feast has all angles covered.
3719 E. Speedway Blvd., 326-9363, EatatFeast.com
Café 54
This downtown café is not only a charming and bright lunch spot, but also happens to be part of Coyote TaskForce, a unique training program for adults in mental-health recovery. Participants in the program receive on-the-job training as everything from cooks and pastry chefs to cashiers and dishwashers.
Since opening in 2004, Café 54 has served up lunch favorites, such as tuna melt, beef gyros, meatloaf, and campanelle pasta with pesto. Keep your eyes out for their specials board for a real treat. And although they do an impressive amount of takeout business and catering, those who dine in have the benefit of enjoying the parade of local art rotated throughout the restaurant.
"We only accept original pieces by adults who identify as individuals living with mental illness," explains Coyote TaskForce Development Coordinator Joanna Keyl. Artists work with the art program coordinator and bring in several works, with a handful selected for display. "Artists determine the prices for their art, and all proceeds are directly reimbursed to them."
54 E. Pennington St., 622-1907, Cafe54.org
Café à la C'Art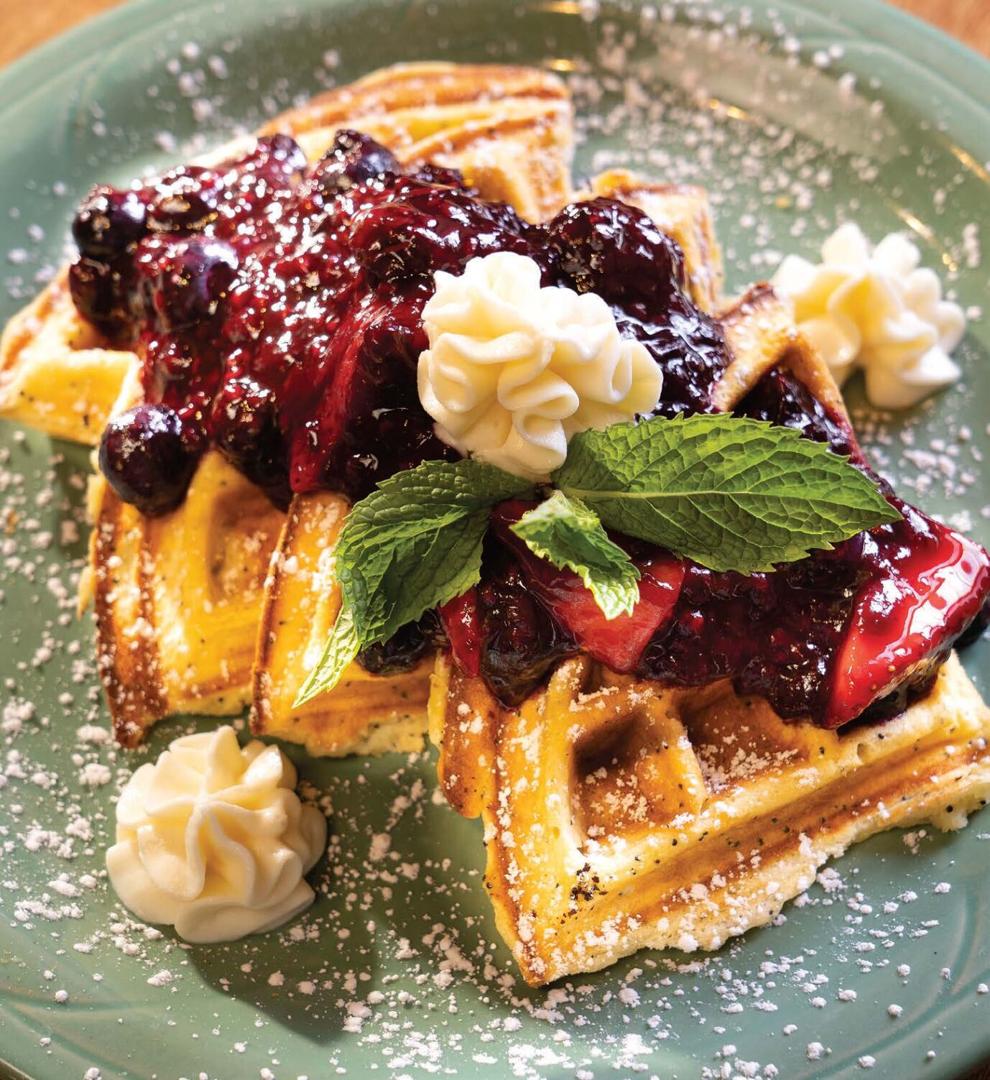 "We're fortunate to be a part of Tucson Museum of Art, so we are able to feature in our restaurant some of the area's best artists and have it curated by Etherton Gallery," explains Owner/Executive Chef Mark Jorbin. "Most of the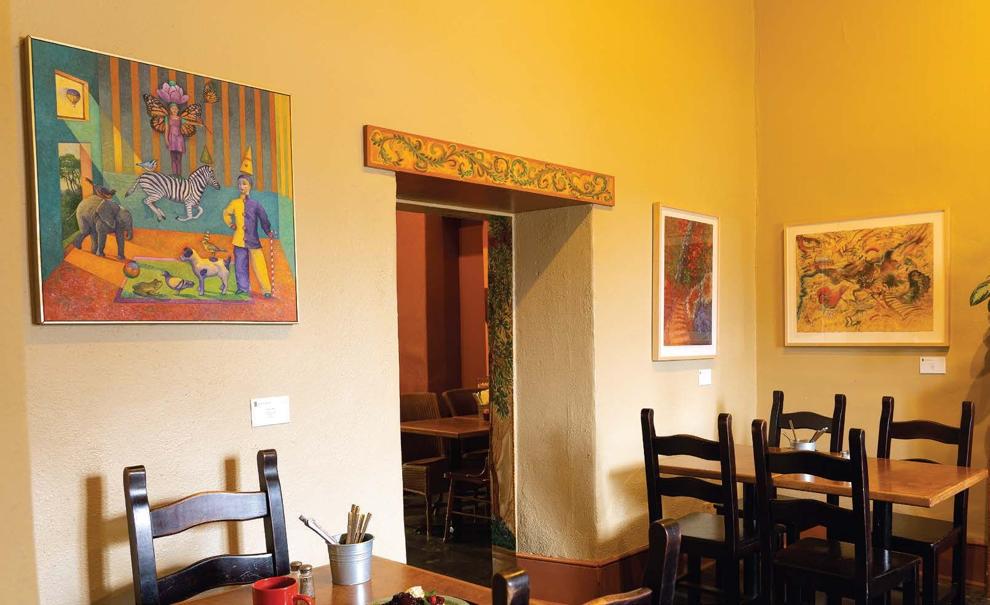 work is on display for a good length of time, and some of it is semi-permanent. New items come in as pieces are sold or replaced with something new." When he first opened the spot in 1998, they were a small lunch spot and catering company, and have grown tremendously to offer breakfast, lunch and dinner — not to mention baked goods and artful indulgences made in-house by a fulltime pastry chef.
Enjoy a lemon poppy waffle with fresh ricotta and berry compote during the café's weekend brunch, or dine on achiote citrus barbecue baby back ribs after a stroll through TMA. In either case, be sure to take a look around the four rooms of Café à la C'Art. "For quite some time we have had pieces by Gayle Orlen-Marcus in our main dining room and entryway. Her work is amazingly colorful and whimsical and a perfect fit for our restaurant," Jorbin shares. "We also have paintings by Jim Waid in two of our smaller dining rooms — his work is part of the museum's collection as well. Jim and his family actually lived here in the Stevens House many years ago, so it's appropriate that his work is on display."
150 N. Main Ave., 628-8533, CafeALaCartTucson.com
Downtown Kitchen + Cocktails
Location is everything when you boil down what makes Downtown Kitchen + Cocktails a well-balanced dining experience. Not only does the very name of the place celebrate its location in a century- old building at the heart of Tucson's now-bustling downtown scene, but similarly, the menu is assembled around seasonally changing ingredients from a network of local farmers and gardeners.
Sense of place rules here, thanks to Janos Wilder, the celebrated James Beard Award-winning chef and owner in the culinary driver's seat. And location chimes in again, when the restaurant can tap the talent of its renowned neighbor for direction when it comes to art. "We work with Etherton Gallery, which is upstairs, to curate our art," Wilder shares. "Hannah Glasston selects the art from artists they represent, and we make the final decisions. We change it up about four times a year."
Wilder's menu serves up American dishes, woven with flavors and traditions brought to this country by those who have come from afar and made it their home. That plays out in dishes like pan-seared cabrilla with passion fruit and coconut milk sauce; fried plantain chips with Panamanian-style shrimp; or steak served with mole and street vendor-style corn.
135 S. 6th Ave., 623-7700, DowntownKitchen.com
Blue Willow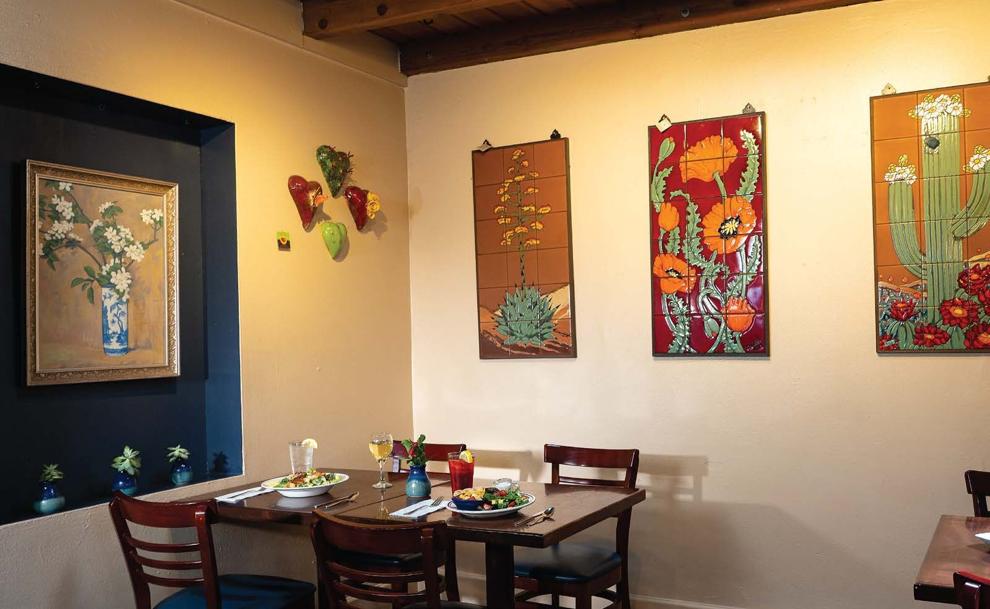 Sitting along the Campbell Avenue corridor, the rooms of this 1940 adobe home make for several comfortable and cozy dining rooms complete with working fireplace. Add to that a large all-season, plant-lined enclosed patio and vibrant local art, and understand how they've become a Tucson favorite.
While digging into fresh fruit crepes or Sonoran carnitas for brunch, or an oversized blackened salmon Caesar or the Blue Willow club sandwich at lunch, make sure to peruse the work of local artists that flank the walls. "We choose art that represents Tucson and who we are," explains Co-owner Rebecca Ramey. "We have a kind of garden and homey theme, we serve American comfort foods, so we like to use art that goes along with that feeling."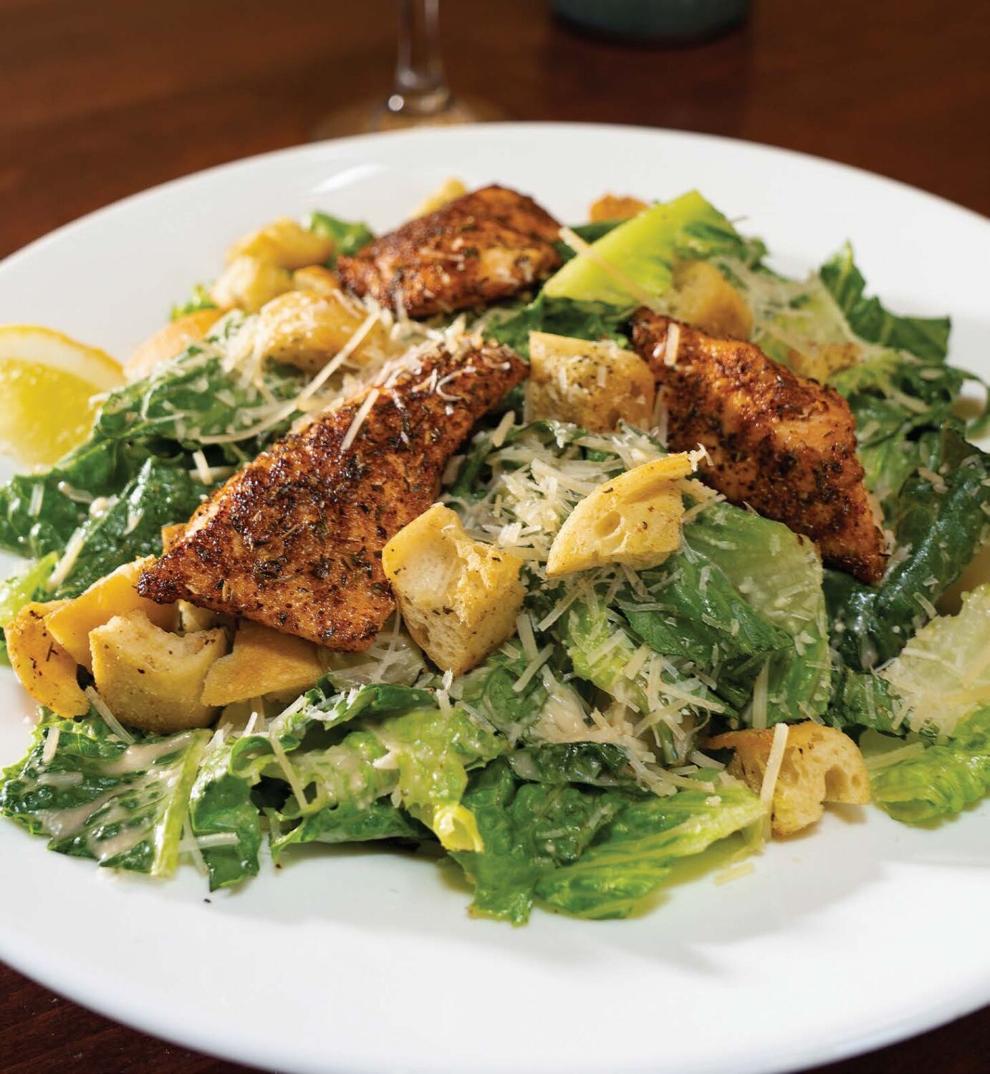 For years, the only art that graced the Blue Willow's walls were cactus oil paintings done by Ramey's stepfather Mark Seidler, but the decision was made to incorporate other local artists. "We like things that are different and speak to us, but we're really super picky to ensure we represent who we are," Ramey notes. Some who have made the cut include the vibrant hanging ceramic heart sculptures by Lisa Agababian of Fuchsia Designs, and the colorful hand-glazed tile mural artwork of Carly Quinn.