Let's Roll!
Sarah Burton
With ingredients such as fresh seafood, avocado, mountain yam and cucumber, sushi chefs can create a true work of art. We profile six local eateries where you can admire the culinary craft, and indulge your appetite for Japanese cuisine.
Sushi Cortaro on River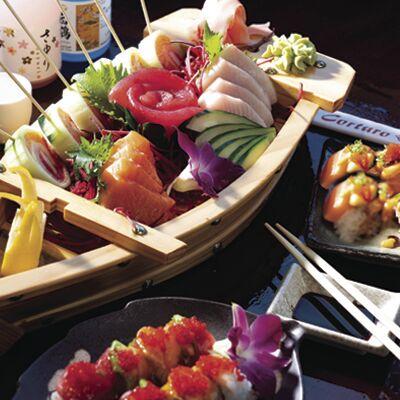 After opening Sushi Cortaro to great success nine years ago, the owners decided to launch a second location in 2017, this one at River and Stone. Fans of the original will be relieved to know the menu is the same at both locations — including the all-you-can-eat option during lunch and dinner — so you can get your fill of rainbow rolls, red snapper nigiri or spicy scallops.
The fresh flavors are no accident, as Ken Lin, manager of the River location, points out: "We carry top-shelf fish, which is what we always hear from our customers," he says. "They always come in and say how fresh everything is here."
But if raw fish isn't your favorite, they also carry plenty of cooked rolls. In fact, according to Lin, their most popular menu items are the deep-fried rolls. Their menu also is filled with other traditional Japanese fare, such as ramen or udon noodles, tempura or teppan dinners, donburi (rice bowls), and katsu (crispy fried cutlet of chicken or pork).
(River and Stone) 75 W. River Road, Ste. 181, 888-1886; (Cortaro) 8225 N. Courtney Page Way, #141, 572-8668; sushicortaro.com
Kukai
On Tucson's westside, just next door to the Mercado San Agustín, sits the newer MSA Annex, a cluster of modified shipping containers designed by Tucson architect Paul Weiner. Among the boutiques, coffee roaster and eateries is Kukai, a Japanese kitchen where you step up to the window to order, and dine at a scenic spot in the courtyard.
Owner Michael McCormack explains the concept: "After being in Japan with my wife's family, I realized some of the greatest foods there were made for the working force, sold on busy little streets," he says. "Traditionally, onigiri was a meal made to carry, and it still is in Japan. I wanted to bring some of the magic of the Japanese food scene to the downtown area while also carrying on the tradition of my business partner Kazuo Senda, a long-time restaurateur here."
Start with their most popular dishes, Hakata ramen (pork, noodles, ginger and green onion) or the Mt. Fuji Don (rice bowl with spicy tuna, cucumber and avocado). "We're on a mission to focus on Japanese onigiri, which nobody else in town has done before," McCormack shares. "We don't consider ourselves strictly a sushi restaurant, but more a purveyor of delicious and fun Japanese street food." 267 S. Avenida Del Convento, Ste. 11, 367-5982, eatkukai.com
Sushi Cho
This well-loved spot has been serving up sushi since the early '90s, with the current owners taking over in 2003, handily maintaining a loyal base of regulars. "We have customers who have been coming here for more than 15 years, and some of our wait staff has even been here that long, as well," Manager Sarah Du notes. "We know the customers by name and have watched them grow up, go through college, and been there when they celebrate their birthdays, proposals and family gatherings."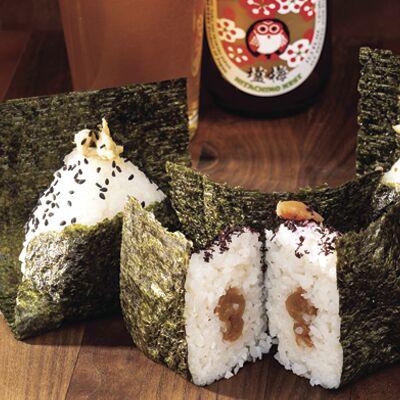 Du points to their always-friendly service for the customer loyalty they enjoy, as well as the quality of fresh fish offered: "Our sushi is comparable to San Francisco, Hawaii and New York," she exclaims. The restaurant offers other dishes beyond sushi, such as tempura, baked mackerel, tonkatsu and teriyaki, but with more than 40 rolls to choose from, their most popular menu item is the Cho Combo.
Aptly named, the Cho Combo lets you customize your meal, with your choice of a full-sized roll, four pieces of nigiri, miso soup and salad. Other must-tries are green mussels baked on the half shell, barbecued squid and, of course, ice cream (either the green tea or sweet red bean) for dessert. 1830 E. Broadway Blvd., 628-8800
Izumi
When Izumi opened in 2018, their all-you-can-eat menu quickly made an impression on Tucson sushi lovers. Most first-time diners are surprised to find several kinds of ramen, raw oysters on the half shell and crab legs, according to Manager Andy Lin.
"We have a huge selection, more than 80 items available for all-you-can-eat or just ordering from the menu," Lin explains. "You can order everything from nigiri to teriyaki, to miso salmon to Chilean sea bass." Look for donburi rice bowls, bento boxes and poke bowls during lunch, several entrées, a full sushi menu, and some playful specialty cocktails (think plum wine spritzer or Japan old fashioned) and desserts — fried banana spring rolls anyone?
Lin shares that although there are so many options, two specific rolls seem to lead the pack in popularity. The signature Izumi roll (two lobster tails in soy paper topped with spicy crab, eel sauce and spicy mayo) is tied for "first place" with the dynamite roll (tempura California roll topped with a dynamite mixture of octopus, crab, shrimp and scallops with spicy mayo). 3655 E. Speedway Blvd., 327-2778, izumioftucson.com
Sushi Zona
For several years now, Sushi Zona (formerly Sushi Yukari) has held its own among Foothills restaurants, thanks to a robust menu of traditional Japanese dishes. Sushi offerings run the gamut of the nigiri — from fatty salmon toro to snow crab, to sea urchin to clam — and all your favorite rolls, like the spider or yellowtail roll.
Of course, no sushi spot would go without signature rolls, and here is no different. Sushi Zona gets creative with the volcano roll (salmon, white fish, crab stick and volcano sauce), king cobra (eel atop a California roll), and the black pepper tuna roll (shrimp tempura, avocado, Japanese pickles, topped with black pepper tuna).
For those who prefer a warm dish, you can find many other things to order, like ramen, udon or soba noodle soups, grilled fish, curry, rice bowls, teriyaki, and sukiyaki served in a nabemono (Japanese hot pot). 5655 E. River Road, #151, 232-1393, sushizona.com

Yamato Japanese Restaurant
This Japanese restaurant has been serving authentic sushi to Tucson for roughly 30 years — very quietly. In fact, many locals may have driven by for decades without realizing the wealth of traditional Japanese fare waiting just inside the doors of this spot nestled in a strip mall.
Here you find classic sushi artfully done. Traditionalists will be pleased with the array of nigiri, sashimi, handrolls and rolls, as well as many other non-sushi options. There are several versions of donburi (rice bowls) available, or if noodles are more your thing, choose from several udon or soba soups with additions like sliced beef, fish cakes, seaweed, chicken or tempura.
Whatever your preference, this location doesn't stray from a straightforward, fresh and simple sushi style. Based on the number of years they've held their own in Tucson's culinary landscape, they clearly have it down to a science. 857 E. Grant Road, 624-3377.