The Good Oak Bar lives up to its name. The bar is dark oak and rolled steel running almost the entire length of the establishment. Five cloistered booths opposite are further hewn of the burnished wood with the Herculean letters "NOSCUT" drifting above — designed to be viewed in reverse in mirrors over the bar. Block brick walls are original to the historic building, as well as the sealed cement floor, evocative of snake skin. Pendant lamps gently illuminate the space. It's easy to feel transported to a distant locale. "People from out of town always comment how it feels like an East Coast bar," proffers bar manager and erstwhile Big Apple denizen Tim Walsh. "Maybe that's why I feel comfortable here. I think it's the wood that reminds them of the famous bars of Manhattan, like McSorley's."
Chalkboards in Rockwell-esqe font denote whiskey, wine, beer and mezcal offerings. Walsh lifts a board to reveal treasures: vessels of premium sprits infused with unique combinations of fruits, herbs and spices. Basil and strawberries languishing in mezcal; turmeric, apple and ginger infusing gin, the base of the Good Oak Sol; and orange peel soaking in local honey. Ingredients and spirits, says Walsh, "are chosen in the same way we craft our cocktails, and that's with love and care. We are all about terroir. That French term expresses how the area where something is grown or manufactured is reflected in the nuances of its flavor.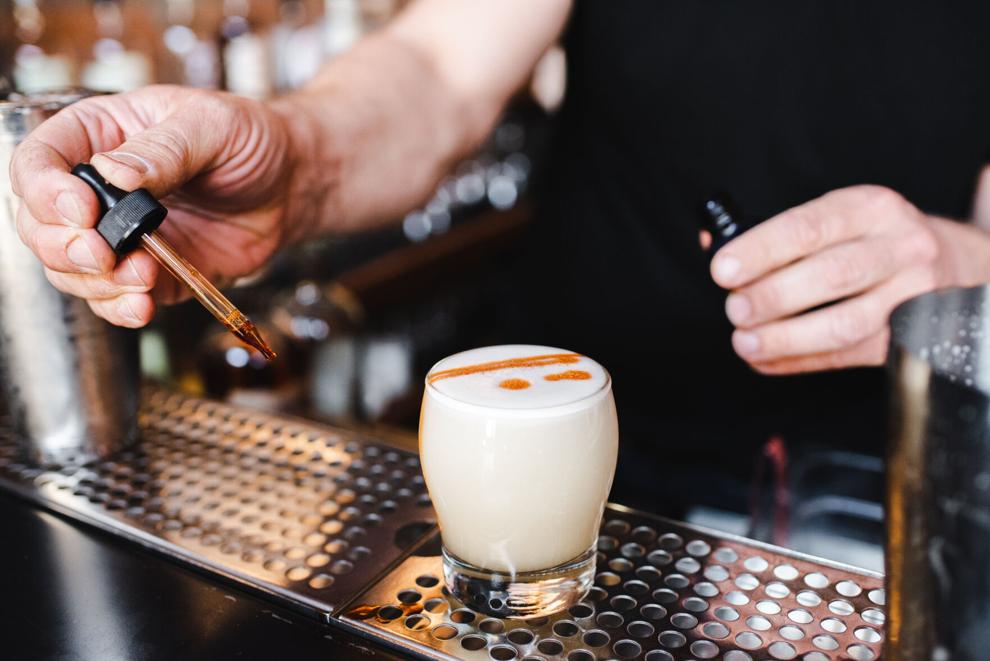 If the cocktails sound next level, they are, but the Good Oak Bar website is bereft of libation listings. Loveblock Executive/Good Oak Proprietor Nick Fox indicates the omission is purposeful. "We don't want guests to come in with their minds made up. We love the idea of drawing back the curtain to discover something new. I think it kind of leaves your imagination to play a bit and to have fantastic people like Tim say, 'OK, what do you feel like?'And then they'll make you a drink you didn't even know you wanted.
Walsh looks like he means business — shaved head, auburn beard, and piercing blue eyes. His forearms are well-muscled from workouts and muddling. The 48-year-old wears his T-shirts (like one touting local institution Wooden Tooth Records) on the tighter side. In a way, he is like a doctor because whatever cocktail he mixes for you is bound to make you feel better.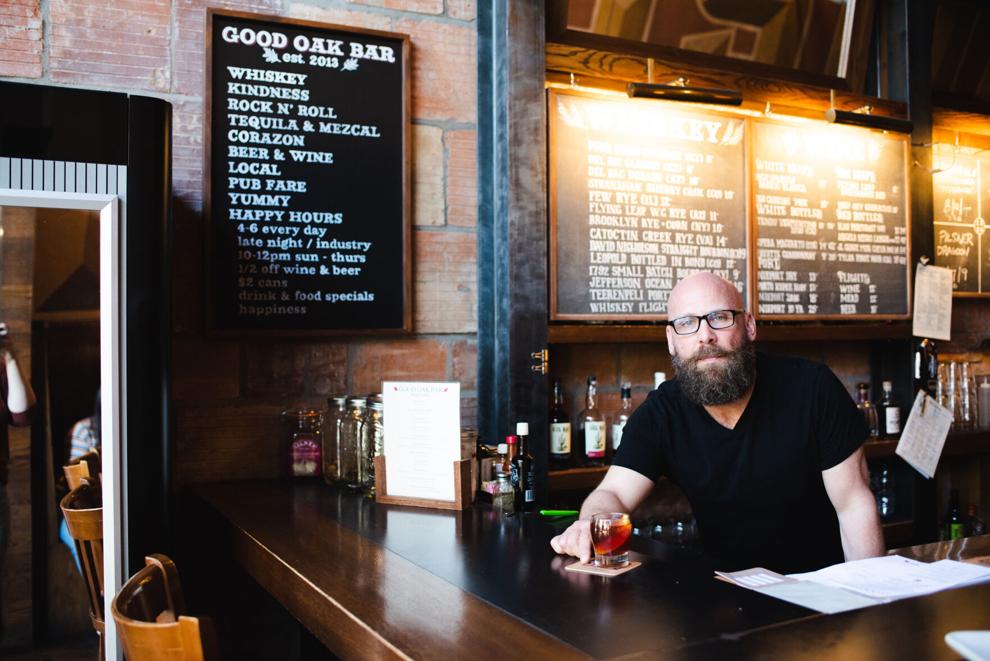 Eight beers are on tap — all from Arizona — a flight of any four can be had. A flight of three whiskeys lures those desirous of smoke, silk and nuance. Four Arizona wines currently are augmented by selections from California, Spain and Italy, with appearances from Oregon and Washington State.
Of course Walsh starts with the $800 Jeopardy question for the "Potent Potables" category, and happily shares his knowledge.
"There's an educational thing that's happening here, establishing a market-creating community." Walsh and his fellow bartenders — at press time including Grace Celeste, Mary Feather, Kiernan McCoy and Leo Verde — work the oak stretch, maintaining a laidback vibe, crushing bespoke cocktails and creating libations to suit patrons, forgoing any sense of intimidation even for nascent guests.
A passion for music burns in Walsh, which saturated his soul as a kid working in record stores. He curates the overhead notes, from singer-songwriter purity to funk to the legendry guitarist/singer/songwriter George Benson to the fabulous eclectic mix echoing the format of Tucson's extraordinary community radio station KXCI. The one thing not heard at Good Oak is rumbling from live performances at the adjacent Rialto Theatre. "The only place you can sort of hear it is in the men's bathroom," says Walsh.
The frill-free Good Oak eschews the practice of creating cute names for their cocktails. The Whiskey Sour is named such even though the bar puts its own stamp on it — Orgeat syrup (almonds, sugar, rose and orange flower waters) and an egg white. "It's frothy and beautiful," observes Walsh. He doesn't mind the redundancy of hearing "it's the best in town." Its sister, the Sonoran Old Fashioned, is sweetened with honey from Dos Manos. "It can be made with mezcal, if you like that smoke element," notes Walsh.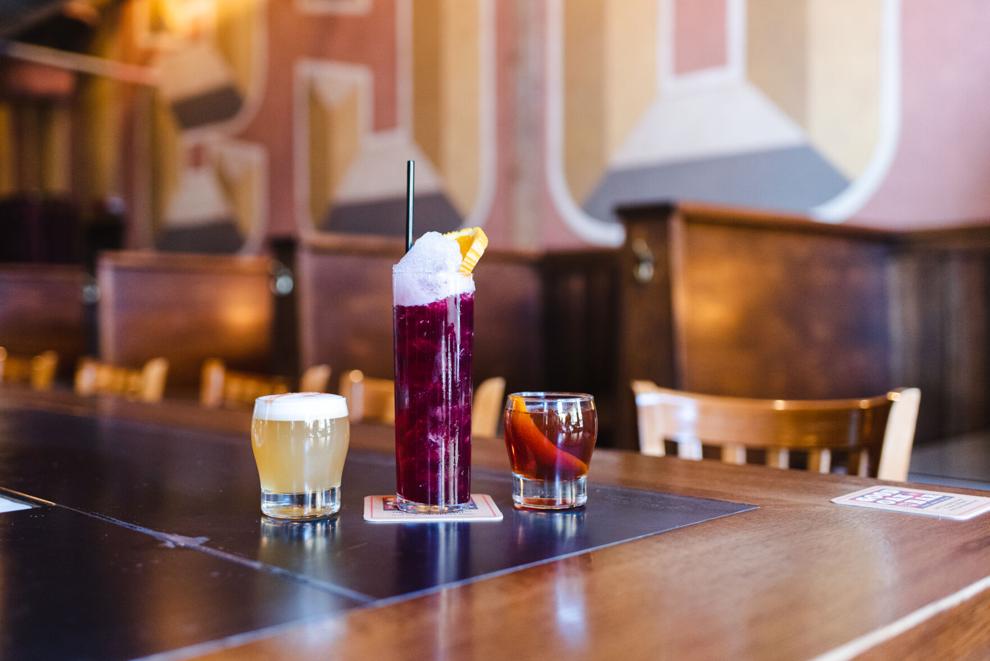 Balance is the key to any great cocktail. Although the combinations of flavors might sound unusual at first, they emphasis the notes of the primary spirit in the hands of the Good Oak bartenders. "The first sip does not fully reveal the entire cocktail," says Walsh.
"The second and third sips reveal flavors in succession … and the last sip should be the best, making you want another, or to say, 'I'll have that again when I come back.'" The Sharon Stone-ice-pick-worthy ice (nothing basic here) is further demonstration of Good Oak's craftsmanship. Igloo coolers are 3/4 filled with pristine water chilled for a dozen hours and flipped over, relieving oxygen bubbles of confinement and producing crystalline chunks that clink into heavy glasses.
Not sure if you want to perk up or chill out? Equilibrium of mood can be reached with the Good Oak Beer Press. The most popular version starts with an IPA pulled into a French press, sprinkled with rough ground premium coffee, left to infuse for four minutes, then plunged and poured. "I call it the 'old man's Red Bull and vodka' because it's got alcohol and caffeine," says Walsh.
"The bitterness of the IPA and the cocoa note of the coffee just work together." Seasonal presses also are offered. "Currently, I have tequila infusion with cranberry, ginger and lime that I pour first into the press, then add a light beer, the Kolsch or Belgian White, and garnish with hibiscus and anise."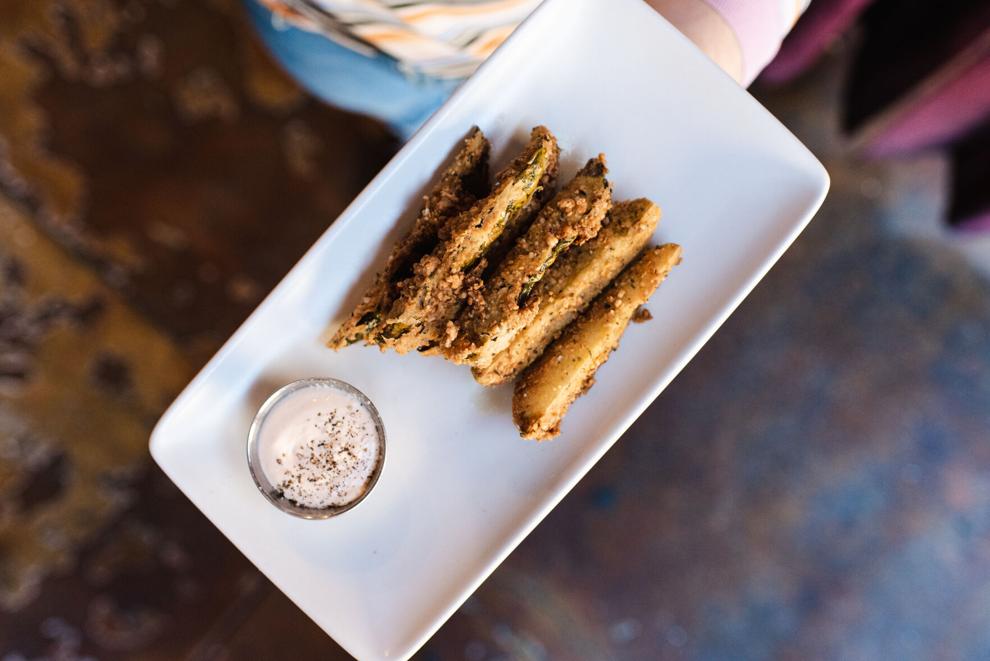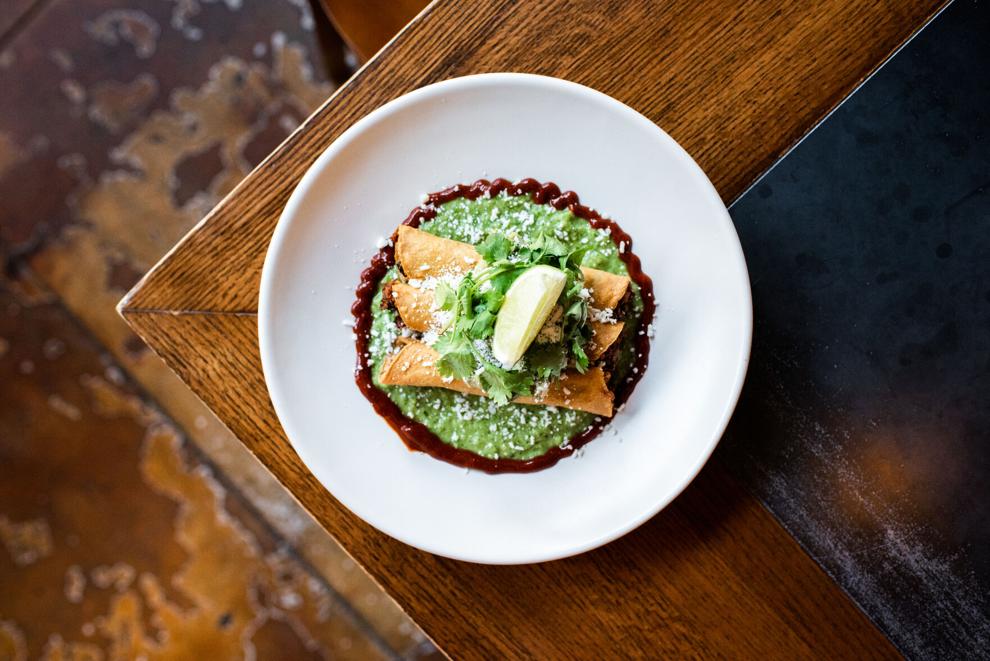 Unlike many beverage-only bars that may offer only pretzels to nosh on, Good Oak has hearty eats on its menu. Many patrons start with the fried pickles — crisp spears tumbled in seasoned bread crumbs, plunged into sizzling oil and served with New Orleans staple Crystal Hot Sauce and chili pepper aioli. Other options include house-made potato chips, which arrive with sour cream dip spiked with onion; soft warm pretzels — two-bite pillows to be dipped in cheese fondue; and salumi board — thin sliced cured meats to be nibbled with nuts, fruits and toast. More filling are entrées such as rolled crispy potato tacos, garnished with buttery avocado, salty cojita cheese and tomatillo salsa. Those with truly rumbling stomachs order the GO French dip — layers of roasted prime rib stacked on a bakery-fresh roll to be slathered in horseradish sauce and dunked bite by bite in au jus. The simple salad delights with Little Gem lettuce tossed with bits of market veggies, toasted croutons and herbaceous Green Goddess dressing.
A circa 1960s photo booth — soon to be operational — occupies a prominent spot in the front. Sets of pre and post libation snaps would be fun ... but would there really be any difference? The mandate hasn't changed in 50 years, squish in all your friends, pay no mind to comfort and make the goofiest faces possible in the quickest succession possible.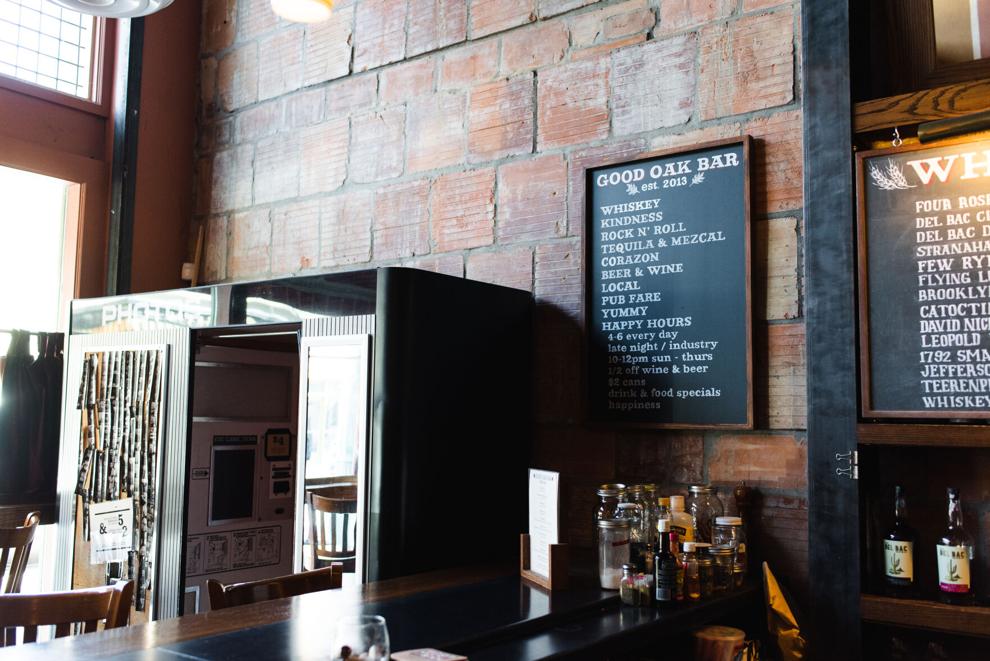 The confines at 316 E. Congress says bar and had been a bar for close to a decade; it could be nothing else. A towering ceiling, with boxcar-sized, aluminum air vents hovering like gargoyles; sultry lights run the length of the weathered bar; desktop roll lights illuminate libation offerings; and bowls of oranges — tiger-striped by zest harvesting — display the bartenders' craft. Booths, the perfect place to sink into with friends and loved ones, are the ideal spots in which to discuss the anguish of love or whether Steven Spielberg really should have remade West Side Story.
"It's the best real estate in town," opines LoveBlock's Nick Fox. "Tucked beside the Rialto, across from Congress, it's a window to the world. You listen to the city noise, the street car dinging by … there's a solitude here that we own."