Known as barbecue, BBQ, or just 'Cue, this cooking technique has lots of devotees, and Tucson has its share of killer BBQ joints. To find them, you could wait until a windy day and follow the luscious aroma, or just sink your teeth into these four recommendations.
Da Boots "Kickin' BBQ and Soul Food"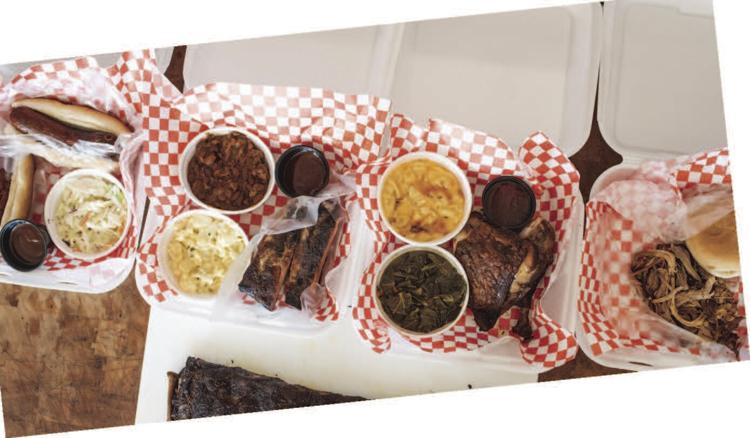 Closer to town but sharing a Park Avenue address are Jordan Rhone and George Lovett Jr.'s eatery Da Boots BBQ. The cool of a painted cement floor and the grumbling of a swamp cooler welcome guests. Portraits of jazz greats line the wall from north to south, and items that are iconic of the Southwest — a cattle skull, worn leather saddle, a clock made from a cast-iron skillet — pepper the place. There's seating inside and out, and lots of paper towel rolls are the centerpiece of each table, hinting at the salty-stickysweet offerings that await.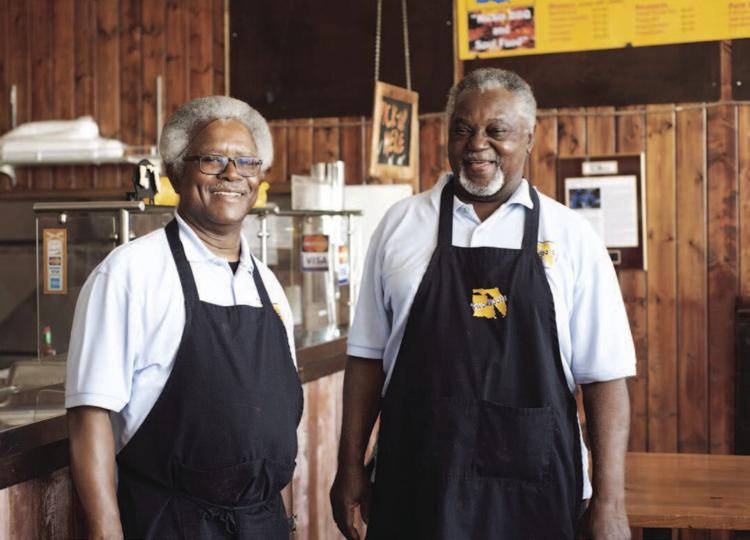 Grab a half-sheet menu, printed on Carolina blue card stock, and you'll be faced with some tough decisions among the succulent choices. One of the very popular choices is the Pulled Pork sandwich, served, "some assembly required." The impeccably fresh bun is snug inside its waxy paper, and a generous tangle of smoked meat comes wrapped in its own waxy paper along with a little tub of thick smoky sauce. Sweet first, then smoke, and finally heat — the sauce flavors hit in waves. Da Boots' crumbly sweet corn bread tastes fresh off the cob, and baked beans could be a meal by themselves. Brisket, Chicken Quarters, Hot Link and Pork Ribs round out the sandwich selections.
Dinners come with a pair of savory sides, and families can be fed by the pound. Rhone and Lovett Jr. suggest ordering one-third pound per person. Da Boots' outstanding barbecued pork ribs can be ordered in a trio of portions; half slab, full slab or four bones — for that rare individual able to resist the caramelized goodness. Mesquite is the wood of choice at Da Boots, over which most of their meats are gently cooked for hours to imbue them with smoky flavor. The BBQ pit is fired up at 3 a.m., earlier if a major catering job is in the works.
The designation "Da Boots" represents the shapes of the states from which proprietors Lovett Jr. and Rhone hail — Florida and Louisiana, respectively. Lovett, a St. Petersburg native, relaxes on a rare day off by watching episodes of BBQ Pitmasters and tips amateurs to focus if they want to be successful. "Remember," he explains, "once the meat is put on the grill, no other activity. If the grill flares up the meat will burn." Partner Rhone hails from Catahoula Parish and gleaned his skills from Grandmother Mamma Ruth, mother Janie and father Len, as well as his sweet siblings, sisters Candy and Cookie. Jordan's takeaway to making great barbecue is about, "A good balanced rub with just the right amount of heat and deep, rich flavor."
Jordan leaves the cooking to his wife on days off and says his favorite restaurants include Mantis Chinese, Texas Roadhouse and Cee Dee Jamaican. About living in Southern Arizona, Rhone observes, "The desert landscape is breathtaking; the laid back lifestyle reminds me of home." 1830 S. Park Avenue, 347-5169
Cotton Family BBQ
We all know what to do when we see a big red truck coming down the street — follow it, of course, for amazing food. The fire-engine-red Cotton Family BBQ truck trundles from Green Valley to Sahuarita to locations across Tucson, offering addictive smoked, grilled and lacquered meats formulated by grill master Al "A.J." Cotton. Over the last two decades, "I've created my own style with influence from my dad and family. I've been cooking since I was ten, and am still learning every day."
Brisket, ribs, pulled pork and the "Loaded Lineup" are favorites. The latter includes Surf and Turf Fries, Shrimp and Bacon Fries and Buffalo Chicken Fries, which are "loaded up" under sour cream, cheese, barbecue sauce and green onions. BBQ meat offerings are smoked over hickory, pecan or oak that's fired up before the sun rises. Sides most enjoyed by food truck patrons include the creamy mac and cheese and smoked beans.
A native of Alexandria, Louisiana, Cotton credits his marketing team, family and friends for making his mobile business roll. His food is so popular that a while back he posted a letter on the Cotton Family Facebook page apologizing for running short of a few favorites, and promising it wouldn't happen again.
A.J.'s sauces and dry rubs are "available upon request." He can be found hanging out with his daughters on the rare occasion of a day off. What resonates with Cotton regarding Tucson? "The people and the overall laid-back feel of the city."
To get a savory taste of Cotton Family's mouthwateringly complex flavors visit Facebook.com/CottonFamilyBarbecue/ for the truck's scheduled locations. Almost 2,000 people follow the page!
Ken's Hardwood Barbecue
Situated on 22nd Street a bit west of Craycroft stands a clay-colored building topped by a distinctive corrugated roof, sloping down like a beer bottle cap holding in the satisfying goodness. A quartet of life-sized faux saguaros stand sentry at the entry of Ken's Hardwood Barbecue. Inside, clay-colored tile, rustic wood accents and brick are the backdrop for old-school wagon wheel chandeliers with glass fixtures aglow. Tables are draped in red-and-white checks, a bank of windows offers Catalina Mountain views, while a pair of big-screen TVs completes the scene.
A substantial picture board menu is easy to read even from a distance, and orders are taken at the bricked counter.
Pitmaster, chef and managing partner Ken Alexander hails from Louisville, Kentucky, and his culinary style is influenced by his mother Wilma, grandfather Robert and, "A whole host of aunts and uncles who loved cooking and fellowshipping with food. I was glad to help my mom who worked nights while raising seven kids," he reflects.
Alexander still keeps family close. "My son-in-law Shawn Radford [general manager] and my son KG [food services manager] are essential to the daily operations of the restaurant, as well as cooking our delicious smoked meats," he notes. "They are both excellent pitmasters in their own right and are the only ones entrusted with this crucial task."
Popular menu items include Smoked Brisket, St. Louis Ribs and Southern-fried catfish. Ken deems daughter Cassandra and wife Sharon, "Our dessert team. They make all our delicious sweets, including peach cobbler, sweet potato pie, chess cake [a gooey, butter cake] and more."
The savory, deeply browned, succulent meats offered at Ken's are influenced by traditional family methods … and research. Alexander spent almost three decades globetrotting to places known for cooking meat, such as Brazil, Argentina, and Spain, as well as Texas, Missouri, Tennessee and the Carolinas.
The smoked brisket sandwich might make all but weightlifters, firefighters, cowboys and football players gasp at its heft. The sandwich, served on a bouncy brioche roll, is stacked with quarterinch- thick, charred-edge slabs of brisket and embellished with Ken's glossy, peppery sauce. His mac and cheese will evoke childhood memories of simpler times and inconsequential calories. And parents would have no trouble getting their kids to eat veggies if they were Ken's green beans, tender, smoky and bathing in their cooking elixir.
Pecan wood and occasionally hickory stokes the ovens at Ken's Hardwood. Cords of aromatic fuel usually are culled from Sahuarita orchards, along with the stands of pecan trees just north of Picacho Peak. "Growing up in the south my preference is hickory, but it's hard to come by in Arizona. Pecan is in the same tree family and doesn't overpower the meat."
As to why Alexander chooses to live in this city that's so far from where he grew up he elaborates, "I love the small town feel and the kindness of the people. It was a great place to rear my children and I feel good about my grandchildren growing up here. No matter where I travelled all over the world, I always felt so happy to return home to Tucson." 5250 E. 22nd Street, 333-0529
Mr. K's BBQ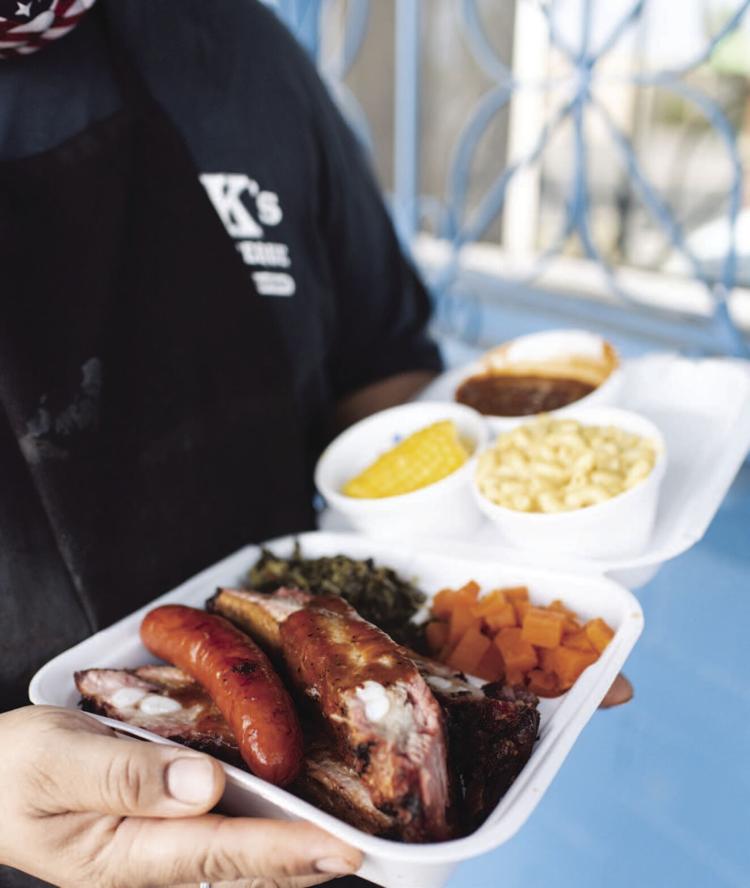 Venturing south on Park Avenue, just south of Bilby, is not a far drive, but the eager anticipation of the food at Mr. K's BBQ can make the trip seem hours longer. In any case, you can't miss it when you see it: the Caribbean blue stand-alone building flies the stars and stripes in the small front parking area, while lipstick-red letters spell out the restaurant's name.
Inside, simple picnic tables accommodate diners, and plenty of ceiling fans keep the joint cool. Although the process of making great barbecue is time-consuming, the wait here from counter order to presentation is not, and the counter staff is very helpful in offering many suggestions for first-timers. For example, the combo plate is a great introduction to Mr. K's, as it offers a taste of each of the specialties — hotlink, beef rib and pulled pork.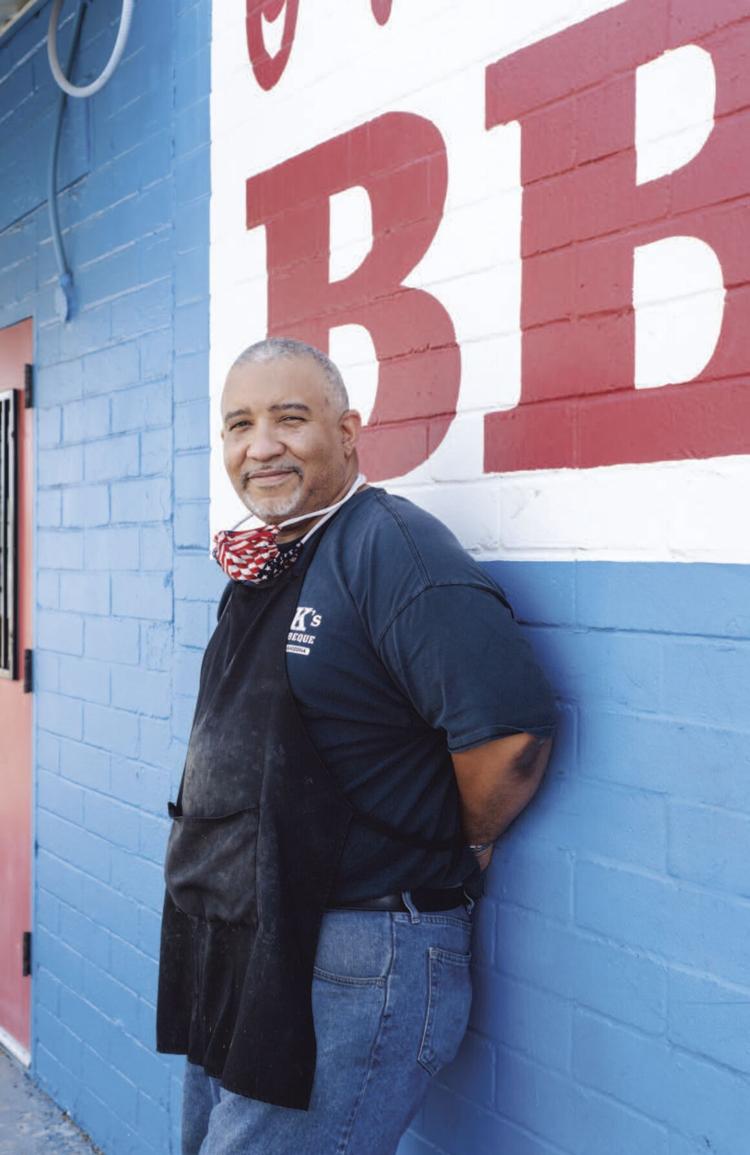 Mr. K is "Sugar" Ray Kendrick, and regulars abound at his spot. At a recent visit Steven, a postal carrier on his lunch break, opines, "Ray offers beef ribs. That's unique, hard to find and they are the best." He adds, "This is a place where you see the owner every time you come in, someone who will look you in the eye." Fellow Mr. K's fan Sean concurs, "There's no finer man than Ray. He has a heart of gold." Kendrick indicates that his co-owner and business partner of 20 years, Dennis Levi, has that same heart. "I couldn't have made it without him," he says.
The barbecue chicken sandwich features meat pulled and tender in a sauce singing equally of heat and sweet, served on a pillow-soft sesame bun. Mac and cheese is cooked al dente in creamy American cheese sauce. Lovely bits of ham spike the smoky greens, a mixture of collards and turnip simmered to mellow bites.
"This place is a madhouse for weekday lunch," mailman Steven indicates. Loyalists from Raytheon, the National Guard and UArizona all make "K-line" to the slump block institution for Ray's savory offerings.
The Drive 101.7 FM morning team Bobby Rich and Hill Bailey chose Mr. K's to provide Tucson Firefighters with lunch last May: a show of gratitude for endless work during the pandemic.
Everything on Mr. K's menu is a classic. For a lunch sandwich choose sliced BBQ pork, Pulled Chicken, BBQ beef brisket or maybe a Hot Link (a spicy Cajun sausage) accompanied by candied sweet potatoes, Texas beans and corn on the cob. Plates, which include Pork Ribs, one-half BBQ chicken, and Southern Fried Catfish, arrive with two sides.
As Bobby and Hill might say Mr. K's is worth The Drive. 6302 S Park Avenue, 792-9484.