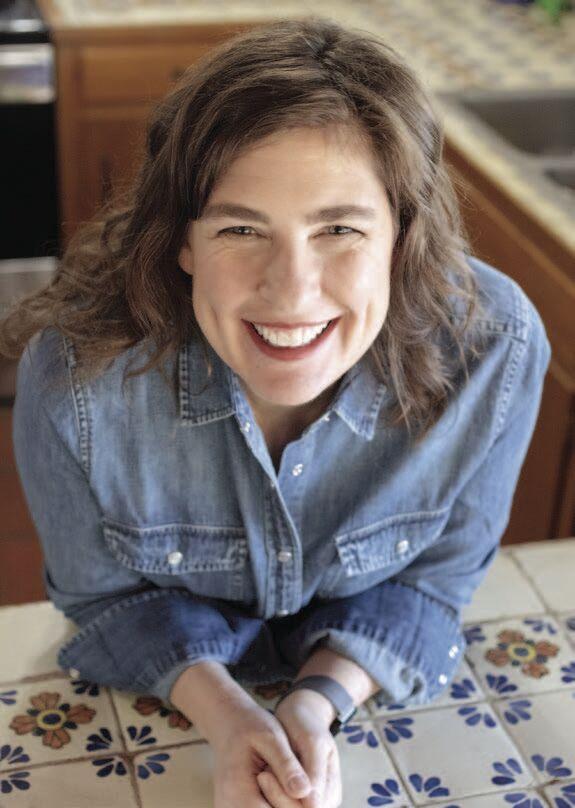 Award-winning local author and photographer Jackie Alpers (pictured below) shares how-to insights in her new cookbook, Taste of Tucson: Sonoran-Style Recipes Inspired by the Rich Culture of Southern Arizona.
She incorporates tidbits from her experiences and personal anecdotes, as well as quotes introducing the recipes, which were derived from local chefs.
Sonoran Style Shrimp Cocktail (Coctel De Camarones)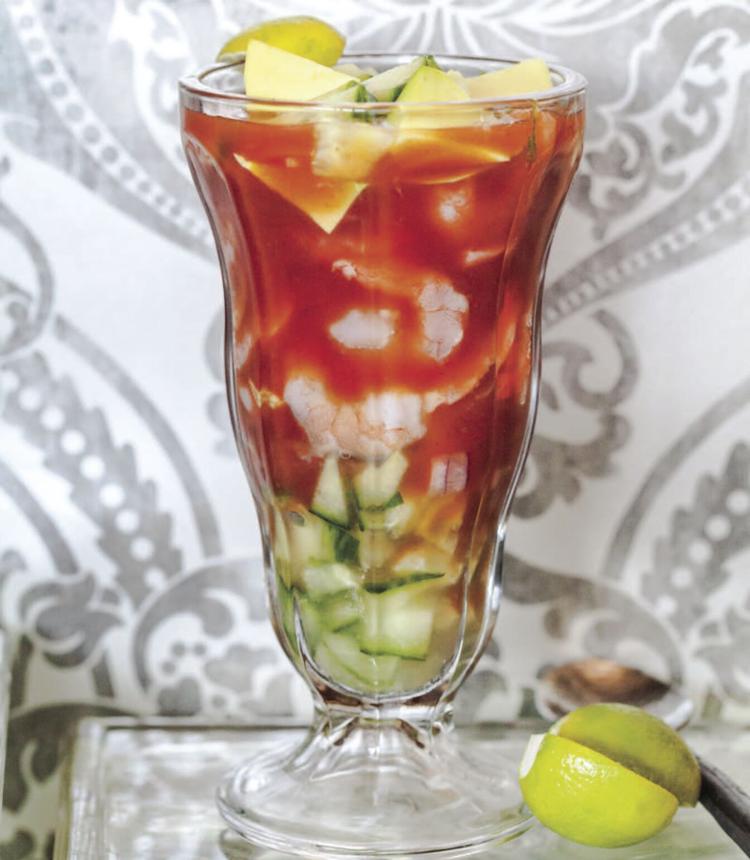 1 cup unsweetened Bloody Mary Mix (I like Trader Joe's version) or tomato vegetable juice cocktail such as V8 Spicy Hot
1/4 cup bottled clam juice
2 Tbsp. fresh lime juice (from about 2 limes)
1/4 cup cucumber, chopped
2 Tbsp. white or red onion, chopped
1 Tbsp. fresh cilantro, chopped
1/2 pound medium-size peeled and cooked shrimp
1/2 avocado, roughly chopped
Mexican hot sauce for seafood, to taste
Mexican lime wedges for garnish
In a liquid measuring cup, stir together the Bloody Mary mix, clam juice, and lime juice.
Layer the cucumber, onion, cilantro and shrimp into 2 sundae dishes or large glasses. Pour in the vegetable juice mixture to fill. Top with the avocado. Serve with lime wedges and Mexican seafood hot sauce.
Makes 2 serving
Spicy Green Rice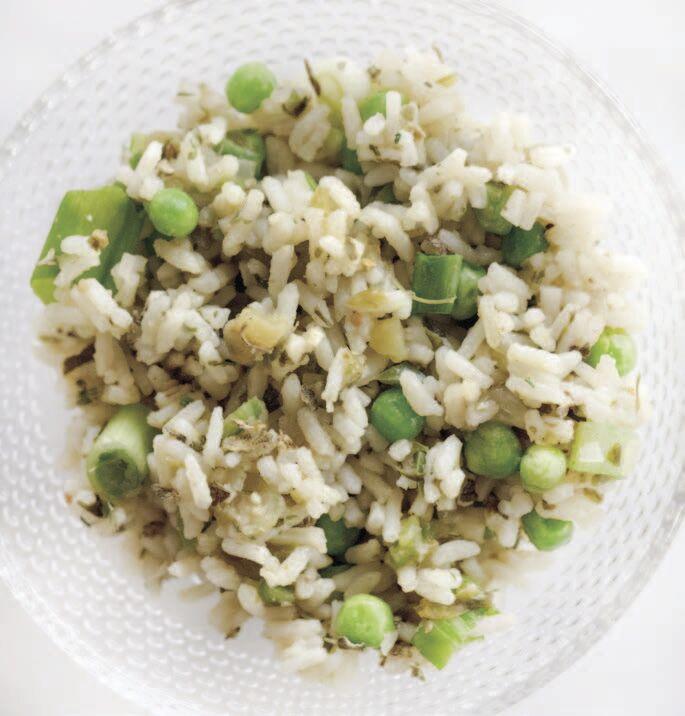 1 Tbsp. unsalted butter
1 Tbsp. olive oil
1 cup long-grain white rice
1/2 cup dry white wine
2 cups vegetable or chicken stock, divided
1 cup green tomatillo salsa
4 green onions, chopped (about 1/2 cup)
1/2 cup green peas
1 serrano chile, diced
2 Tbsp. dried onion flakes
2 Tbsp. cilantro, minced
1 tsp. dried Mexican oregano
Lawry's Seasoned Salt to taste
Freshly ground black pepper to taste
Melt the butter with the oil in a large saucepan over medium-high heat. Add the rice and sauté until lightly browned, about 5 minutes. Stir in the wine and cook for about a minute or until it's evaporated. Reduce the heat to medium. Pour in 1 cup of the stock and stir until absorbed, about 5 minutes. Pour in the remaining 1 cup of stock and the green salsa. Reduce the heat to medium-low, cover, and simmer until the liquid is absorbed and the rice is soft, 15 minutes. Then stir in the green onions, peas, serrano, onion flakes, cilantro and oregano. Cover tightly, remove from heat, and let steam for 10 minutes. Season to taste with Lawry's Seasoned Salt and freshly ground black pepper.
Serves 6-8
Potato Salad with Chile-Lime Vinaigrette & Red Onion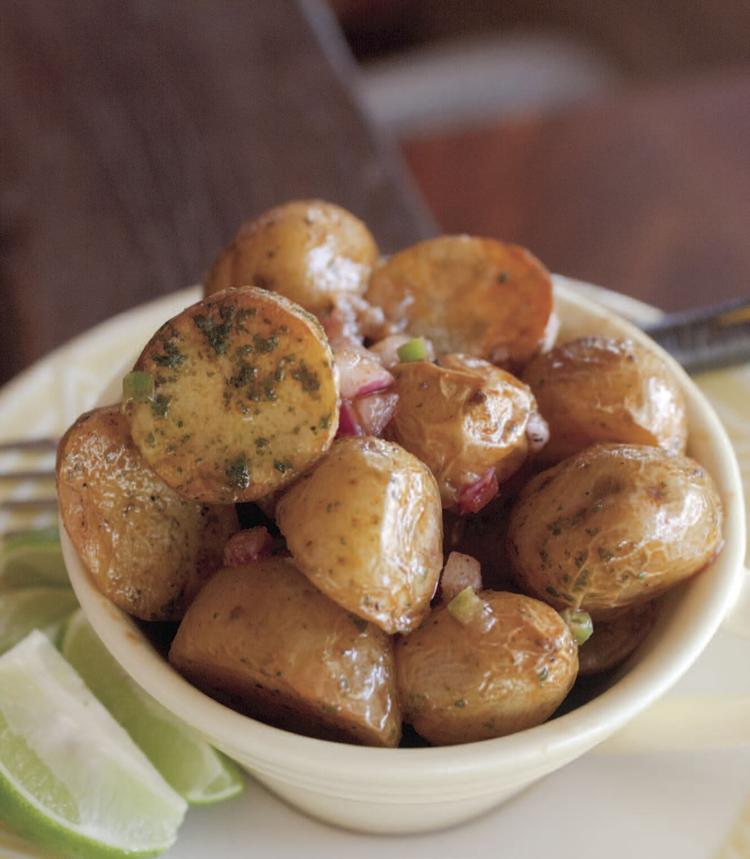 2 pounds small Yukon Gold potatoes, scrubbed and halved
3 Tbsp. olive oil
Sonoran sea salt and freshly ground black pepper to taste
1/2 small red onion, minced (1/2 cup)
1 serrano chile, minced
1 Tbsp. cilantro, minced
2 Tbsp. red wine vinegar
1 Tbsp. hot sauce
2 Mexican limes, 1 juiced and 1 cut into wedges
Heat the oven to 425 degrees. In a large roasting pan, toss the potatoes with the olive oil, and season generously with salt and pepper. Arrange the potatoes skin side-up in a single layer.
Cover pan tightly with aluminum foil: bake for 20 minutes.
Remove the foil and continue roasting uncovered until the side of the potatoes touching the pan is golden brown, about 15 minutes more.
Transfer the potatoes to a mixing bowl. While they are still hot, gently toss with the red onion, serrano, cilantro, vinegar, hot sauce and lime juice. The sauce will sink into the skin of the warm potatoes. Refrigerate until the potatoes are cool, about 30 minutes.
To serve, sprinkle with additional sea salt and garnish with the lime wedges.
Makes 8 servings
From Taste of Tucson, ©2020 by Jackie Alpers, West Margin Press, reprinted by permission.