The Mexican, French and American roots of the Flores family have come together in a hip new restaurant named for the founding influence.
Flores Concepts' latest creation — The Monica — has fast become downtown's hottest gathering spot. The restaurant is named in honor of Monica Flin, who was born to French immigrants in Tucson at the turn of the century. The ambitious young woman opened the first El Charro Café on Fourth Avenue in 1922. What's currently El Charro Café on Court Avenue is the original home of the Flores/Flin family. Monica was tough and stylish, ahead of her time. Of the seeds she planted there are now eight restaurants across Southern Arizona. Images of the bespectacled doyenne —cameo on her collar, luxurious waves pulled into a bun atop her head — ornament the front wall and a hallway of the new eponymous restaurant.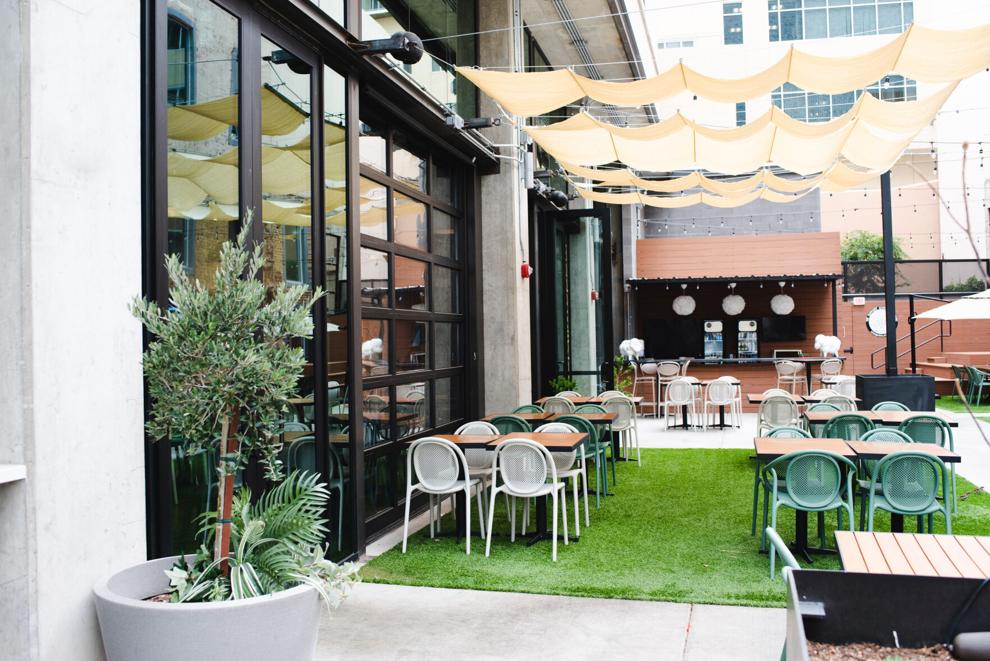 The Flores family is fluent in success, this time bringing a big-city vibe to Tucson's ever-burgeoning downtown. The concept behind The Monica is to serve breakfast, lunch and dinner (along with brunch and "happier hour") utilizing a menu that melds Mexican and French flavors.
Divided into indoor and outdoor areas that adjoin in cooler months courtesy of glass garage doors that offer an airy inside space with soaring ceilings rolling in silver ductwork. A pair of dining nooks are tucked front and back, and butcher-block four-tops surrounded by rattan slat-back chairs are lined up like slices of French toast in a square skillet. The marble- slab bar makes a lazy "U," starting from the street side, and welcomes diners who need solitude or hope to make a new friend.
Danish modern light fixtures, some like bursting fireworks, others of hammered gold, dangle. Graphic block-print wallpaper — with a bespoke design of azure blue with coaster-sized gold and white starbursts surrounding a lower-case "m" —draws the eye. The private rear nook is dominated by an enormous framed mirror and a pair of burnished gold chandeliers, with two six-top tables and canvas drapes to close off the space.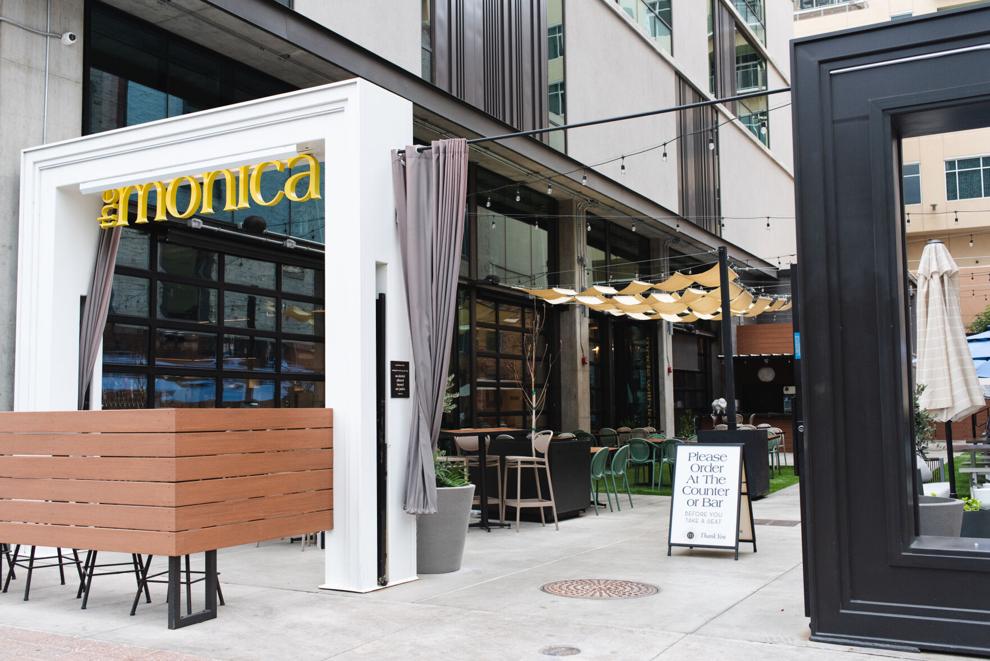 Outside feels particularly big city, sandwiched between the widowed façade of the main building and a brick façade stretching four stories skyward. Canvas umbrellas — the size of circus rings — open to eclipse the half dozen substantial picnic tables and misting blowers add to comfort. Squares of lush outdoor turf tempt diners to toss their flip-flops temporarily. Fiberglass bulldogs adorned in gold chain sit atop the small outdoor bar, while succulents fill substantial planters and zig-zags of Italian lights add atmosphere at night.
But what about the food? That certainly hasn't been overlooked. Two-time Tucson Iron Chef winner Danny Perez is executive chef at The Monica. Born in Mexico City but living stateside since the age of 10, Danny honed his skills at the Scottdale Culinary Institute. Chef Perez opened the JW Marriott Starr Pass — working there for 15 years including six as executive chef, followed by a stint at The Westin La Paloma Resort & Spa.
"I've been friends with the Flores family and respected Ray and Chef Carlotta for as long as I've known about them," he says.
"Once this project came a little more alive, I connected with Ray to see if we were a good fit. This restaurant was definitely not already in the Flores Concepts' portfolio. It opened up the opportunity for us to try all sorts of new things. Part of the beauty of the Flores family is that it's inclusive — all opinions are considered. It was a collaborative brainstorming of 'what does Tucson need?' 'What does downtown not have?' 'What can we execute well? And 'what tastes delicious?' It definitely worked out to both our advantages, I would say."
Diners grab a laminated menu and hop in a quick line to order. Choices can be made from the cooked-to-order "Plated" menu, or from the made-that-morning "Pantry" menu. Says the 44-year-old Perez, "The idea is that any kitchen in a French or Mexican home always has food there. That's the feel we wanted — food for people to come in at any time and make themselves at home. I think my resort experience has given us the ability to manage the freshness of the food on the Pantry line." For lunch, think slices of pizza, or bowls of turkey chili — plump with kidney beans and cumin. Kebabs of fresh vegetables — brushed with oil and grilled, or grilled tofu or all-natural chicken to be draped in herbaceous chimichurri; roasted red-skinned potatoes and aromatic rice.
"We want patrons to reach the ordering space and say, 'I just can't make up my mind.' We wanted something that downtown didn't have, kind of dining on your own terms. You want to sit at the bar and order from the bartender? You want to talk to the pizza chef and say, 'I want that one?' If you want to do takeout, you can. We knew we needed to have that vibe. It comes without that pretentious feel that, 'oh, I have to talk to a server and listen to the specials.' This concept is approachable and relaxed."
The croque la Monica, one of the most popular breakfast picks, is a croissant with roasted pork carnitas and a queso bechamel sauce with fresh herbs and pink onion — a fusion of Mexican and French cuisines. "It's something I'm sure Monica would like," opines Chef Perez. Another exquisite fusion plate: the omelette tartine bandera style. A tartine is an open-face sandwich, and here it's an omelette atop Barrio seeded bread with traditional Mexican sauces (representing the three colors of the Mexican flag) — guajillo, chile verde and queso bechamel. Cinnamon crisp focaccia stars in The Monica's version of French toast, topped with fresh berries and house-made manzanilla (chamomile) tea syrup.
Barrio Bread is featured in many forms on The Monica's menu. James Beard Awardwinning baker and Tucson native Don Guerra's tiny shop is tucked into one side of the old Broadway Village. It often has a block-long morning line for artisan loaves using heritage grains. By noon, loaves also can be purchased at The Monica along with house-made flavored butters, including vegan options.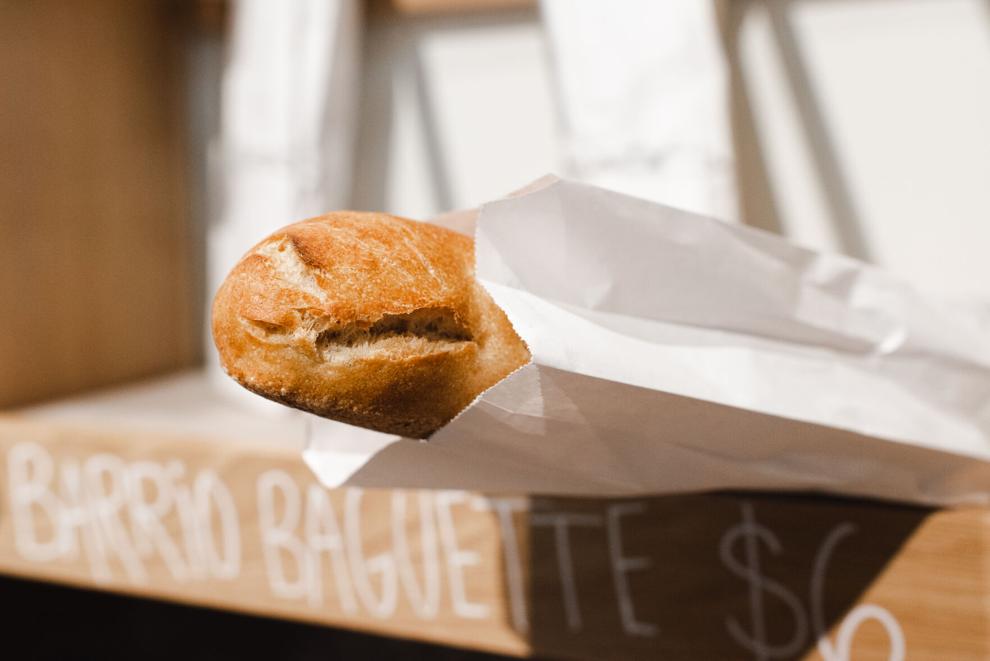 Guerra also provides grains for the simple hand-pulled pizza crusts. "You get rustic oval shapes that crisp up to delicious," says Perez. For toppings, you can choose between five cheeses (Asiago, Parmesan, fontina, provolone and mozzarella); La Margherita (heirloom tomato, basil, mozzarella); The Charrovida (plant-based cheese, chickpea chorizo, peppers, mushrooms): or Pepperoni and Mozzarella, each mouthful affording a peppery sausage bite blanketed in mellow cheese, to be spiked with a hot honey drizzle.
The City Bowl is another often-ordered lunch meal, composed of black and brown rice tumbled with fried Brussels sprouts and a choice of chicken, steak, salmon or shrimp in a sweet and spikey mango-Fresno chile glaze.
Another unique option is The Monica's "Responsible Burger." "We wanted to reduce our carbon footprint so we came up with a burger that's 70% natural beef and 30% ground shiitake mushroom," says Perez. Options include "the Keto Court" with no bun, goat cheese, sunnyside-up egg, bacon and avocado on wilted spinach; "the Corner Market" on a brioche bun with American cheese and charro sauce; and "the Jules," with focaccia, cheeses, onion and arugula.
Austin's Stuffed Sandwiches are an homage to the erstwhile diner and ice cream spot that was a fixture on Broadway for decades. Choose from freshly made tuna, chicken or egg salad, or the classic bacon, lettuce and tomato. They're even better than you remembered thanks to The Monica's modern reimagining.
Pastry chef Lori Svec arrives at four or five in the morning to crack, whisk, purée then stuff the display fridge with "Monicandesent" desserts. For example, Café de Olla Tiramisu has Maria's Mexican wafers instead of lady fingers, spiked with orange and clove and steeped in Café de Olla — a traditional Mexican coffee. Bearing the slogan "worth the fine," Ticket Cake was named for the multitude of parking tickets amassed by The Monica crew during development. The supremely moist double chocolate confection features chocolate ganache and a crème sugar center. Because the dessert display case is positioned just before the order desk, patrons often eat dessert first according to Perez.
Popular dinner choices include the Short Rib Rustico — bronzed meat that falls from the bone, sided by wilted spinach and mashed or French-fried potatoes; Salmon Citron — oceanfresh, seared in oil and served with citrus chimichurri; steak or chicken à la Monica, exemplifying the simplicity and beauty of Monica's kitchen. Pan-seared NY strip or all natural chicken breast is served with an au poivre peppercorn sauce, Brussels sprouts and carne seca, the quintessential French vegetable roasted into crispy-edged flowers punctuated by the chewy spice of the long-marinated beef.
Libation choices include plenty of local beers on tap, French wine varietals and cocktails invented just for The Monica.
"We want people to try things that nobody else is doing because we believe in those flavors so much," notes Perez. "People will be pleasantly surprised by the fusions. I would say that even though The Monica feels Big City, the comfort of our service, approachability and food bring you back to, 'I'm still here in Tucson.'"