Each of these distinctive local restaurants could win awards for their mouth-watering pizza
by: Betsy Bruce
Scordato's Pizzeria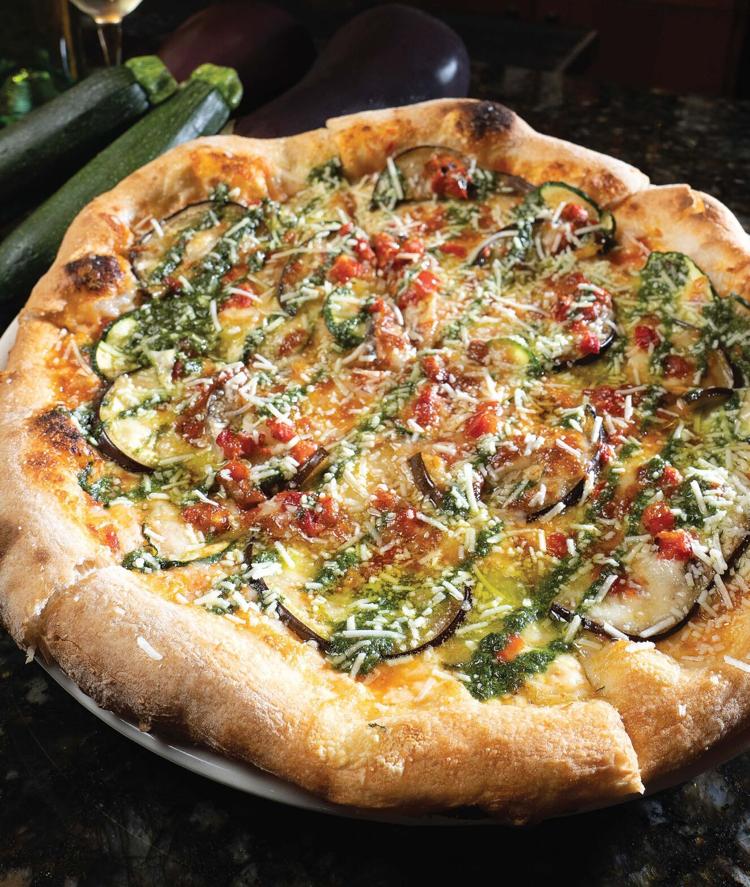 Scordato's Manager Jeff Happoldt says, "The key is using high-end ingredients and making everything from scratch." Dough is made daily using imported Caputo flour and crafted with the same level of skill as the finest bread. Favorite pies include the house made sausage and roasted cippolini onion with mozzarella and fresh sage leaves; and the Japanese eggplant, zucchini and roasted red pepper with aromatic trugole cheese drizzled with pesto and finished with Pecorino Romano. Takeout is available, but it's suggested that customers savor a Scordato masterpiece in house to ensure the perfect crunch of crust, bubbling cheese and piquant pepperoni. Says Happoldt, "Fresh out of our 620-degree oven is the best you can possibly get."
Be sure to look up as you enter and exit to take in a gasp-inducing silver and crystal chandelier that Liberace himself would have lusted after … as well as the pizza, of course.
4911 N. Stone Ave., 529-2700 Scordatospizzeria.com
Proof
St. Philip is the patron Saint of Joy … so what better place to get a heavenly slice of pizza than "Proof" at St. Philip's Plaza on Campbell and River. GM/Owner Grant Krueger says he and his partners dug the double meaning. "We not only liked the name due to the rise of bread, we wanted to highlight our bar with the proof in alcohol. We're very proud of our house-made pizza dough, pasta and bread, amazing craft cocktails and eclectic wine menu."
Southern Arizonans experience a good part of the year in temperate temps, so half of the tables at Proof are outside. Fourtops sit under a roan-colored planked canopy lit by firefly strings; a fire pit warms when fall arrives. Inside, a "sleek, modern feel with rustic ambience" was the goal, with whitewashed wood floors, and a granite bar surrounded by industrial stools.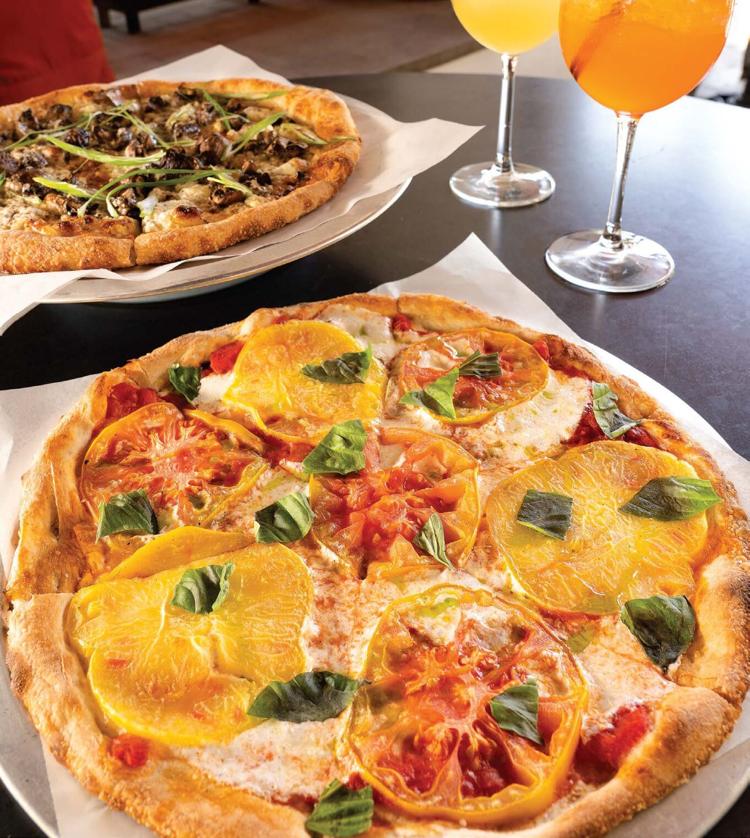 Brunch is offered Sundays at "Proof," and its St. Philip's sisters, Union Public House and Reforma. Check for musical performances in the shared courtyard.
4340 N. Campbell Ave., 789-7447 Prooftucson.com
Fiamme Pizza
The aromas of mesquite wood and oregano greet hungry guests ambling toward a sliver of restaurant in the foothills, Fiamme Pizza, tucked into a supermarket strip on the southeast corner of Swan and Sunrise. Once inside, guests glimpse the source of olfactory delight, the brick pizza oven at the front of the house, shooting sparks (fiamme is Italian for "flames"). An open marble-slabbed kitchen is adjacent to the oven, and this is where fresh dough is worked into rounds and embellished with San Marzano tomatoes, fresh Fior de latte mozzarella, full-leaf basil, 24-month-aged Parmigiano-Reggiano, and a variety of locally sourced ingredients."The pizza at Fiamme is unique because we use ingredients and cooking methods that create a product that is one of a kind," says Owner/ Chef Scott Volpe, adding, "The pizza is made with naturally leavened dough and cooked to a light, airy, crispy yet soft finish."
The wide variety of pies include the Pizza Picante, a white pizza with Calabrese salami, Calabrian chiles, onion and mozzarella; and the "Grandma," with family recipe sauce, garlic, olive oil, mozzarella, Parmesan, ricotta and basil.
Two-tops progress along the pristine white walls, which are adorned with framed travel shots of both mother Italy and beloved Tucson. Grandmother Volpe is framed, pink-cheeked and 1930s coiffed, next to the myriad medals awarded grandson Scott, the six-time gold medalist at "Campionato Mondiale della Pizza," in other words, the best pizza dough tossing artist on the planet.
An open ceiling soars above pewter-colored, wood-planked floors. Frank Sinatra segues into "Sh-Boom" and a vintage poster of Sophia Loren gazes at diners from the wall, her elegant fingers holding a margherita pizza, no doubt almost as delicious as can be had at Fiamme.
4704 E. Sunrise Blvd., 529-5777 Fiammepizzatucson.com
Renee's Organic Oven
What has blonde spikes, a big appetite and drives across the country in a vintage Camaro SS? Celebrity Chef Guy Fieri, of course, host of the Food Network's wildly popular Diners, Drive-ins and Dives. That famous rag-top pulled up to Renee's Organic Oven right here in Tucson last year, and Renee and husband/chef Steve have been surfing tsunamis of tourists and Tucsonans when it re-airs — a dozen times so far. The obvious query is which Triple D designation does Renee's fit? "That's what we said," responds Renee. Her conclusion simply stated is, "This is a guy, no pun intended, who just wants to highlight what people do really well." Fieri joined Steve in the kitchen to make The Tailored Tony, "Our kind of foodie version of a Sloppy Joe," according to Renee, using organic grass-fed beef, marinara, roasted red pepper, fresh basil and mozzarella on house-made organic focaccia. "When the episode airs, we have focaccia stacked from tabletop to ceiling." Also composed for the affable television personalitywas the signature Spinach Dip Calzone, with creamy spinach, artichokes, organic free-range chicken, roasted green chiles and cream cheese wrapped in a flaky, browned crust. Guy's first-bite review? "This is dangerous Bro."
The star of Renee's is the pizza, despite the worldwide publicity for the sandwich and calzone. "We've been perfecting the all-organic pizza crust for as long as we've been open," says Renee. "The key, however, is not being too fussy. We are not jamming to Beethoven in the morning, doing exacting science; it's about the integrity of the ingredients." No matter what area of the country a guest is from they find something about the pizza, which has a local flair, to love. "I truly feel we make a Tucson pizza," remarks Renee. Favorites include the "Old Town," elegant in its simple composition: fresh basil, Parmesan and Bacio Mozzarella (with a kiss of Buffalo milk). The sausage and roasted red pepper pie is a new addition and an instant favorite. "Jeff's II" is named after the couple's 17-year-old son, and it features organic free-range chicken (moist and flavorful), pesto, mozzarella, feta and pine nuts.
The 40-seat establishment, (mostly inside, with outdoor seating for 12), has been celebrating innovative, delicious, healthy food on the southwest corner of Tanque Verde and Sabino Canyon for 15 years, earning more than 160 five-star reviews on Yelp. Cement floors and honeycomb light cylinders brighten and warm, while the tangerine walls display art and expressions of encouragement. Renee invites diners to make reservations, and adds, "We are grateful we are loved and filled!" Fingers crossed, Renee's will double in size next year, as the neighboring business plans to move one door down. 7065 E Tanque Verde Rd., 886-0484 Reneesorganicoven.com
Anello
The incandescent Anello doesn't take reservations for parties under five, or even have a phone number. Look for the redbrick façade on Sixth Street, illuminated after sundown by an ebony cylinder, just across the alley from Crooked Tooth Brewery. Owner Scott Girod indicates he's really too busy to answer the phone; too busy keeping his promise to his wife and young sons to make this enterprise soar. Anello means "promise" in Italian, as well as "ring," the shape of a pizza.
Slight of build and inky maned, the now 33-year-old Girod wanted to "see what Neapolitan pizza was all about." He spent three months cycling across Italy from Rome to Tuscany, to Sienna to Florence, "eating as much pizza as I could." Naples found him perfecting his talents at pizzeria La Notizia, "The News."
The kitchen at Anello occupies a full third of restaurant space and a third of that third is lorded over by the Ferrari of pizza ovens, a Ferrara, introduced to Girod in Italy. At 2 p.m., the beast is already growling, turning pecan wood into glowing coals. Crates of fresh herbs and tomatoes from local purveyors have just arrived, waiting to be composed.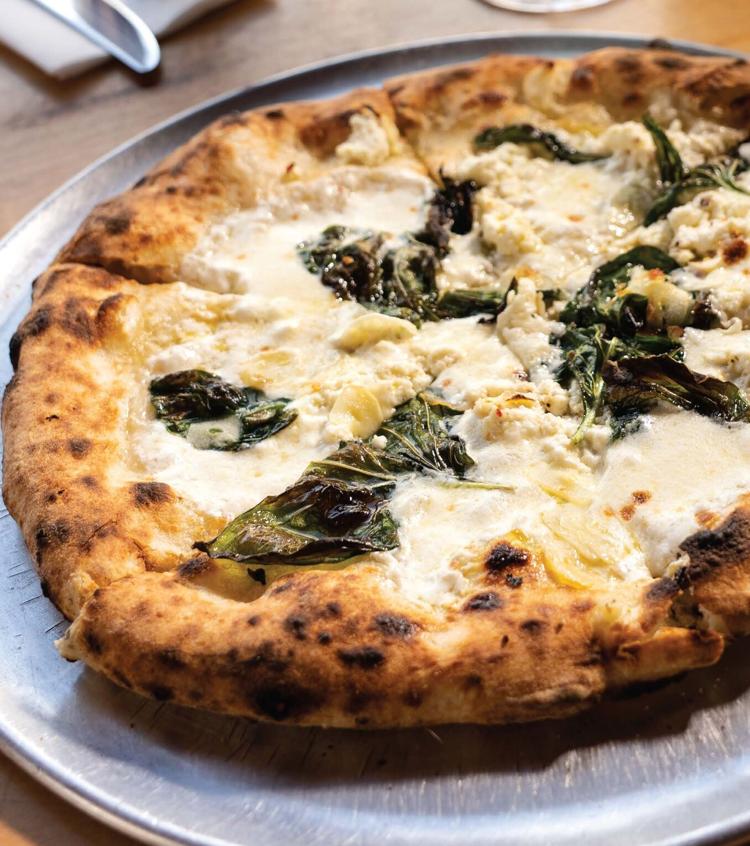 Headlines on the dynamic menu are more abbreviated than Haiku: "Bite … Pizza … Sweet," a Trip Advisor review mirrors the poetry — "Small place, incredible pizza, delicious deserts." House favorites include: Bianca, with fresh mozzarella, ricotta, garlic, olive, basil and chiltepin; and Margherita, featuring tomato sauce, fresh mozzarella, olive oil and basil. Guests may add a curated protein to any pizza. Among the sweet finishes is a olive oil cake.
It takes just 30 humans to fill Anello's blonde wood communal table and twotops. Polished cement floors reflect the warmth cast by spiraling gold lights, a pink accent wall peeks out from behind the Ferrara. A Chandler native, Girod offers words as delicious as his food when asked why he chose the Old Pueblo to open his business. "I was over Phoenix. Tucson offers so much more. For me it's all about food and pizza and bringing people together. I hope people see something familiar, but taste it in a new way, and how flavorful a few things can be when done well." Reservations for parties of five or more can indeed be made on line.
222 E. 6th St. HELLO@ANELLO.SPACE