This restaurateur finds time to give back to the community and operate an award-winning local dining establishment.
Tucson chef Doug Levy has been crying since March 2020. He and his loyal crew have been providing meals to pandemic-affected factions once a week since then. "I have never left one delivery without tears in my eyes. It feels so good to impact the lives of people who are hungry." A recent morning found the Feast owner/executive chef driving a delivery to the Downtown Motor Court, home to low-income/inrecovery veterans and one of three establishments run by Compass Affordable Housing. "We've gone to hospitals, Primavera Men's Shelter, fire departments and Sister José Women's Center." For every 250 meals that donors fund, Doug contributes another 50 meals.
In his wildly productive life, the tears he has shed in compassion are matched by tears shed in laughter. The 54-year-old has a robust sense of humor, with his laugh lingering longer than most people's in appreciation of wit. "I demand that you go cure a salmon in your spare time," he chortles. And really ... it's impossible not to believe the charming chef when he says it's easily accomplished. "You sprinkle the fish with sugar and salt, and maybe dill and citrus peel, or dried mustard and fennel [per sous chef Dave Marks] or vermouth and lemon peel. Wrap the fish up tight, weigh it down with something heavy and refrigerate overnight, then flip it and do it again for another day."
"Modest" is how Levy describes his home kitchen, "No Wolf range, no industrial deep fryer … I do have a convection oven, but when I try to use it as such it trips a breaker." Not so modest is Levy's "silly, silly" Swedish mixer. "A close friend of mine insisted that I treat myself after a really great year for Feast, so I bought an Ankarsrum, kind of a cartoonish thing. It can be turned on its side and becomes a pasta maker, grater, grinder and 70 other things. The Swedes know how to make a mixer." The accommodating beast can be had for just under 7,000 Krona or $800 U.S.
Levy didn't cook at home in the inaugural years of restaurant ownership. "I always went out on my day off 10 years ago, but now that Feast is a rickety old man like me, my job has become more administrative, handling the rudder and not the engine. Imagine the irony that you open a restaurant because you love cooking and then you barely do it because you're too busy."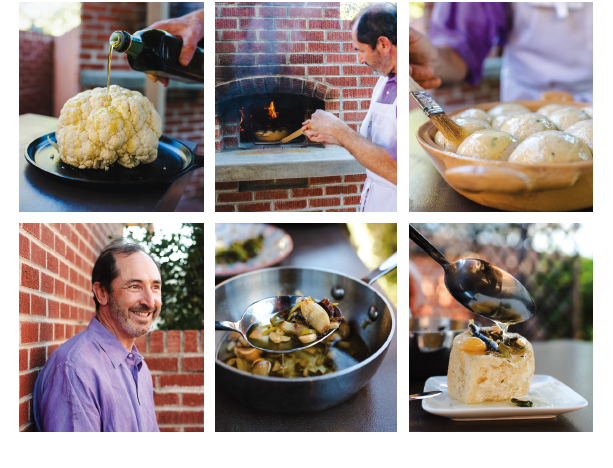 Now, the "rickety old man" will spend three to four hours in his home kitchen on a free day. "I find great ingredients at the farmers market and cobble things together." The Feast menu changes monthly, so Levy's new creations are often "the first iteration of a dish we will eventually place on the menu." Feast Chef de Cusine Mike Misevch — whose surname, observes Levy, features "a conspicuous lack of vowels" — can execute a dish to his specifications, like a running back manifesting his quarterback's play calls. "I can tell him what I envision and 80 to 90 percent of the time he gets it just right." Now 44, Misevch was a 19-year-old dishwasher who met Sous Chef Levy at another legendry spot, The Dish, 25 years ago.
The Levy family arrived in Tucson when Doug was five and younger brother Mitch was three. That, he says, suffices as "native." A fond food memory growing up was baking endless batches of popovers with Mitch, who also became a chef. The recipe from Our Daily Bread authored by Stella Standard was perfected, a billowy crusty encasement giving way to eggy insides and slathered with butter "the only embellishment a proper popover needs, though I wouldn't turn one down smothered with jam."
As a student at the University of Arizona, Doug's busy schedule found him balancing work and studying for a degree in sculpture with a minor in art history. His passion for art took him to Florence, Italy, for a year before he ran low on funds and returned to Tucson and UA to pursue Master's degrees in Italian Linguistics Literature and Cognitive Science.
But a life-changing phone call reached Levy, luring him away from academia. It was famed restaurateur Ellen Burke Van Slyke offering the 26-year-old a position at Boccata, one of Tucson's most enduring and popular dining establishments throughout the 1990s; Levy said yes, and studies were supplanted by sauce pans.
Stints at other fine dining establishments followed and in 2010, Levy opened his own restaurant — Feast, enjoying write-ups in The New York Times and Zagat for unique offerings and excellent service. "I just want to have fun and try new things," he notes. The acclaimed eatery changes menu offerings monthly, a supreme challenge. "One of your jobs as a restaurateur is to educate," says Levy. Appearing on the February Menu, for example, were Feast Grilled Cheese with seared Halloumi cheese, honeyroasted eggplant, tomato and red onion on a French roll (house-made, of course) served with mixed greens, and Potato-crusted Sea Bass with fresh thyme served with appleceleriac potato pancakes, cider cream, Brussels sprouts leaves, and winter squash purée. Maybe these are new flavor combos to some palates, but in the hands of expert culinary guides Levy and Misevch, they are a dive off of a sensory cliff into delicious.
An ingredient oft featured on Feast plates is fabulous fungi, nurtured on site in a mushroom fruiting chamber. Regular guests are treated to varieties that include Blue King and Lion's Mane. The proprietor will abscond with a handful of the singular fungi to highlight a dinner of New Zealand king salmon or Long Island duck breast for dinner at home with his wife, Laura.
"My wife is an esthetician with her own business, and we both have very social jobs, so we don't entertain that often." But when guests are invited over, Doug will stoke the custom-made wood-fired grill and rotisserie and make rustic pizzas. Current favorite ingredients: mustard oil, Brussels sprouts, pork belly and fresh mozzarella; tomato sauce, mozzarella, wild mushrooms and chicken livers. He also may throw together boozy house-made maraschino cherries served in an herbaceous green salad, served with wine chosen to complement the flavors.
Vino is a huge part of Levy's Feast business, with his wine list christened with the Wine Spectator Award of Excellence since 2005, and in 2019, Wine Enthusiast named the restaurant one of the top 100 wine restaurants in the United States. Chef Levy admits to falling under the siren song as of late: "I've been influenced by the pandemic. The darker the days, the easier it is to say, 'You know what? I'm going to be good to myself. There's one bottle of that 2009 Rioja on our wine list … do I take it home or sell it?'"
Mr. and Mrs. are good at compromise when it involves white wine. "Laura loves rich, opulent California Chardonnays, while I like something more austere. But we both agree on Kent Callaghan's 'Greg's' Petit Manseng available from May to October. The wine is powerful, deeply flavored with tremendous acidity from Callaghan Vineyard in Elgin, Arizona." To ring in 2021, the Levys popped a bottle of Veuve Fourny & Fils, available at Feast Bottle Shop. "I get the employee discount," he jokes.
Open the fridge in Doug's home kitchen and you'll find staples including fish sauce (small fish are fermented in salt to develop a briny, savory condiment), oyster sauce (caramelized oyster juices, salt, vinegar, sugar and soy), horseradish, salted and white (pickled) anchovies and onions — "They go with everything."
To satisfy his never-ending curiosity and creativity Chef Levy will venture to a trio of specialty markets: G&L Imports, 4828 E. 22nd St., Lee Lee Oriental Supermarket at 1990 W. Orange Grove Rd., and Babylon Market at 3954 E. Speedway Blvd. for inspiration, and says you should, too.
Cookbooks inspire Levy but he admits that recipes are not usually followed… "They offer me a new way to look at things."
Inspiration also appears closer to home. On a visit to friends Jeff Azersky and Jim Murphy's Kingfisher a while back, Levy was taken with a carrot and goat cheese tart. "It was delicious but I envisioned it completely differently. I have this dream of doing an event with other chefs where we all cook the same dish — we decide on a description and make our own interpretation. I want to try 10 different versions of a dish, including Jeff's, Janos', and Jonathan Landeen's (The Cork). I maintain that one day I will convince a bunch of chefs to do a dinner like that."
Levy's collection of home knives is an unusual amalgam, the most impressive of which is the boning knife he made himself out of Damascus steel in a workshop at Pima Community College. Cookware from restaurant supply stores has been amassed over the years by Doug, primarily Vollrath Industrial and All-Clad. A vacuum sealer and immersion circulator combine to form the cooking technique "sous vide," also found at Casa de Levy.
A weekend brunch at the Levys might feature house-made cured bacon and toasted slices of homemade sourdough bread with scrambled Diamond Z Farm organic eggs — richly flavorful with yolks of bright orange, purchased at Heirloom Farmers Markets.
A pact made with Laura long ago finds Doug slaving over the stove while she scrubs up after the repast. The exception is Doug's birthday celebration, when Laura happily creates her Pasta Puttanesca — al dente pasta spiked with capers, anchovy, olives and red pepper flakes, diced fresh tomatoes and sun-dried tomatoes in nearly equal measure, "so it's chunky." Then, simply drizzle olive oil over the top. It's so delicious, it brings tears to Doug's eyes.