The heart of the city continues to bloom, vibrantly and judiciously like a saguaro in spring. The DoubleTree by Hilton Tucson Downtown, completed in March of this year, cozies up to the southwest side of the Tucson Convention Center. At six stories and 165 rooms, the boutique hotel offers crisp sheets, sumptuous plates and tasty sips to sustain convention patrons, vacationers and staycation enthusiasts alike.
Acclaimed Tucson Chef Ginny Wooters developed the menu for El Mezquite Grill and Taqueria, the dining destination in the new facility, putting her unique twists on a favorites-filled menu. Chef Wooters embraced the challenge of developing a menu that would authentically introduce visitors to Tucson's bounty and entice locals to expand their palates, spotlighting Southwestern heritage, and influences from Spanish and French cuisines.
The 35-year-old executive chef holds diplomas from Sabino High School and Western Culinary Le Cordon Bleu. Her cooking style — educated by travels throughout the Southwest; a spin in Portland; and buttoning up her chef's coat at fabulous local eateries including North at La Encantada, McClintock's at Saguaro Ranch, Jax Kitchen, The Abbey and Alloro at the Hilton Tucson East — is on full display at El Mezquite.
The main dining area features subtly embossed matte silver walls. Floor-to-ceiling windows frame the outdoor patio seating, which in turn offers an expansive view of Barrio Viejo. Wall renderings of Virgen de Guadalupe violet geodes mesmerize: a nod to gem show crowds that will no doubt fill the hotel annually. Arbor-patterned planks create the dining area floor, and marble tables are surrounded by cushy upholstered chairs in robin's egg blue, moss green and dusty rose velvet. Petite succulent centerpieces and sconces lend an ambient glow.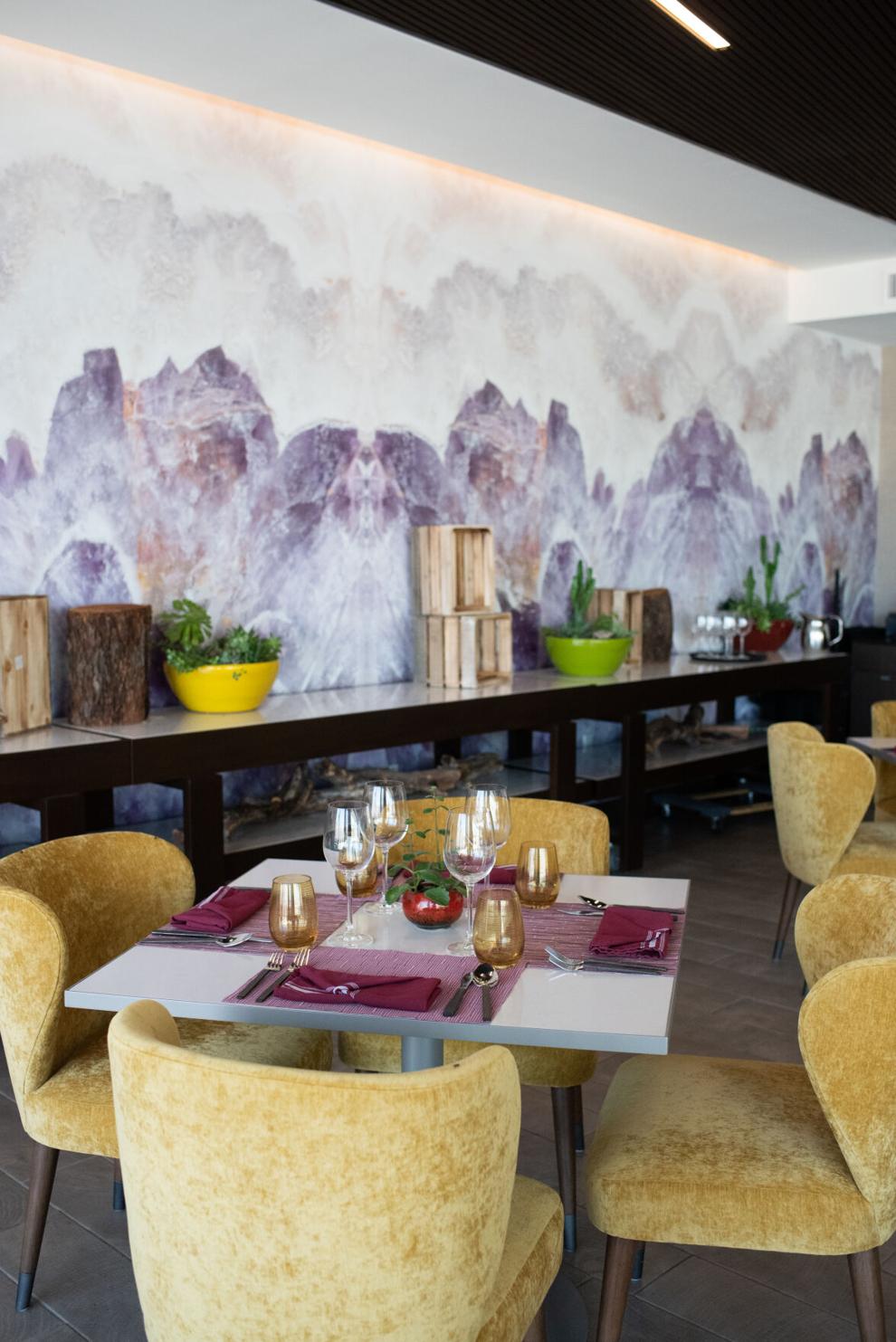 DoubleTree Director of Restaurants and Bars Guisela Salazar says, "I would describe the ambience as very vibrant and modern. We have a great dining room with bright décor to match our Southwestern menu. Our sliding glass doors give us a very modern edge. Once those doors open, you feel very much downtown with all the hustle and bustle. We have great views of Barrio Viejo, as well as 'A'Mountain, that attract a lot of locals." The patio, accommodating almost 40 guests, is draped in strings of Italian lights. Tables are surrounded by sink-into navy canvas seating, while poppy-colored umbrellas abate the sun's rays.
This newest DoubleTree offers triple the choices for libation. Barrio Playa Bar quenches at the second-story swimming pool: poppy cushions top bar stools of white, while elbows can rest on the black slab bar top. The lobby bar, dubbed "El Mez," is an island retreat made for people-watching, offering Starbucks service starting at 6 a.m. Overhead, an angular catwalk holds premium bottles outlining the bar, which is surrounded by lofty faux-leather seating.
Gasp inducing in its grandeur, the Pueblo Bar is a larger-for-late-night gathering spot. Recycled plastic panels inlaid with photos of gemstone green agate — backlit by LEDs — climb two stories. Decorative oak slats mounted on recycled acoustic panels add contrast. Contractor Marc Miller explains that the composition is a puzzle of sorts, an image of a single jade agate photographed and divided, creating a magical synchronicity. Towering windows showcase crowds coming to and from convention center performances. Historic photos of Tucson and its denizens are projected on the acoustic-paneled wall. Forest-green leather bar stools wrap around patrons sitting at the marble slab bar, and navy and purple velvet chairs accommodate guests seated at cocktail tables. Miller, of Caliber Construction and Development, divulges that Pueblo Bar and this newest DoubleTree is "right at the top" of the most satisfying of more than 500 design projects with which he's been involved.
Bespoke cocktails charm with detail in presentation. The La Frida arrives in a clay pot adorned by the handpainted likeness of the eponymous artist, with flower halo, earrings and single brow. The popular libation is composed of premium label cognac, gin and orgeat liqueur, ginger beer and fresh lemon juice. The Heaven or Hell Margarita is served in a nubbly glass so one can hang on tight. It sings of green chile vodka, lime and simple syrup, an elfin corked bottle of jalapeño bitters comes clipped to the side. "We encourage guests to pour as much or little of the bitters as they like to get that sweet and spicy flavor," says Salazar, while designer Miller adds that The H or H is his call, noting, "All ingredients are fresh and prepared in house, no mixes."
The DoubleTree Downtown version of the Salty Dog almost feels healthy. It's not sweet — made for true grapefruit lovers and rimmed with chile-spiked Malden sea salt.
Sleepy-eyed guests emerging from their slumbers can plant themselves in front of the El Mezquite Breakfast Burrito, comprised of softly scrambled cage-free eggs, tumbled with fragrant ham, cheddar and jack cheeses, potatoes and laced with piquant green chile salsa. The luscious bundle is wrapped in a fresh flour tortilla and grilled for a crispy browned finish.
Baked chilaquelas are another popular breakfast option: fresh eggs, potatoes and chorizo are layered with soft white Mexican cheeses and fresh house-made corn tortillas, each forkful a satisfying bite of smoky sausage, melted cheese and earthy crunch.
El Mezquite's lunch menu features salads you won't find elsewhere. The radicchio salad is punctuated with crispy cubes of pork belly, manchego cheese, and a six-minute egg, studded with chopped dates and dressed with sherry vinaigrette. The fried goat cheese salad has hearts of palm, jicama and squash sprinkled with spiced pecans and orange. The indulgent richness of the cheese balances the fresh vegetables, all spiked by the citrus and coriander vinaigrette.
Torta, the classic Mexican grill-pressed sandwich, is available as a mole negro short rib torta, with Oaxaca cheese, cilantro and Cholula-lime aioli; as well as a grilled chicken torta, embellished with smoked gouda, avocado and harissa (spicy chile paste) aioli.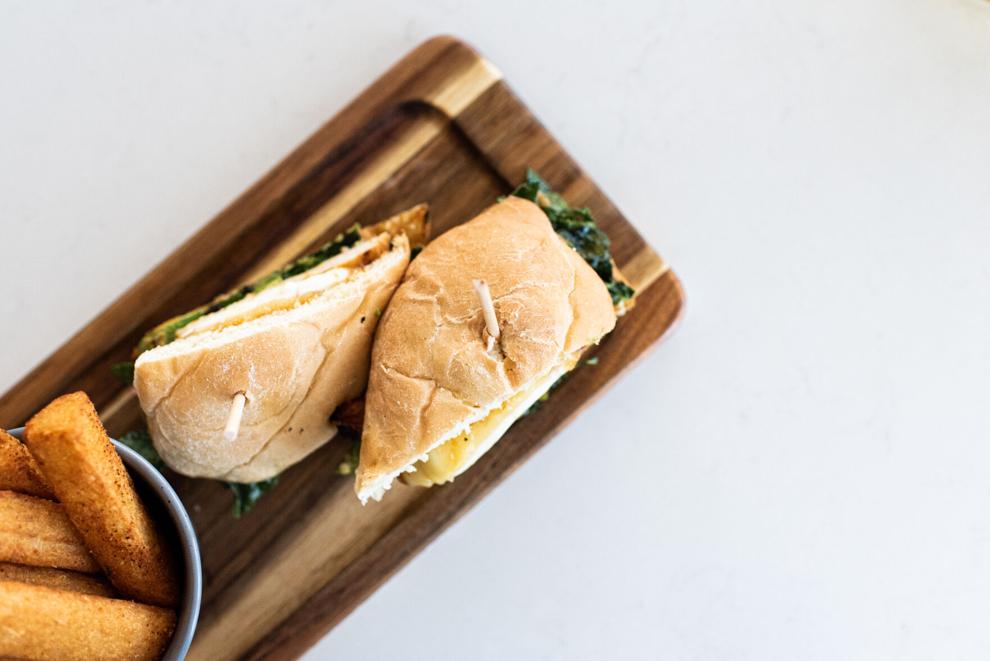 Burger lovers are welcome, of course. Patrons ordering the El Mez get treated to a patty with bacon and onion, smoked gouda, roasted garlic (no afternoon appointments, please!) and chiltepin aioli. It's served with yucca fries — slices of the buttery root vegetable tossed in corn flour and tumbled in the deep-fry basket.
The chochoyotes (Mexican corn dumplings) and chicken soup brims with pulled chicken, crisp vegetables and fluffy doughnut-shaped masa dumplings in a spicy broth, garnished with diced avocado and a squeeze of lime.
The generously portioned calamari starter easily serves four and greedily serves two. Tender baby squid is lightly coated in nutty masa, dusted with chile and deep fried, served atop peppery radicchio, pickled carrot, cauliflower and onion, enrobed in a perfectly balanced vinaigrette, with a side of roasted garlic chiltepin aioli.
Tucsonans know what constitutes a great burrito and Wooters' version does not disappoint. Served on a wood plank garnished with cilantro sprigs and a tumbler of housemade fire-roasted salsa, the appetite-satisfying bundle features aromatic rice, expertly cooked beans and a choice of carne asada or roasted chicken. It's all wrapped in a fresh flour tortilla grilled on two sides.
Tacos are featured for lunch or dinner, with options including fried mahi, duck, carnitas, spaghetti squash, carne asada, short rib and roasted chicken. Diners are welcome to compose their own taco trio.
With such an extensive menu, it may be difficult to make a decision. For the record, El Mezquite's most popular dinner entrées are confit pata de pato (succulent duck cooked in renderings), glazed with smoky sweet chipotle-agave; coconut-crusted snapper sided with sautéed kale and piñon; and spaghetti squash flautas, with goat and Oaxaca cheeses spiked with pomegranate and leek, tortilla-wrapped and crisped up.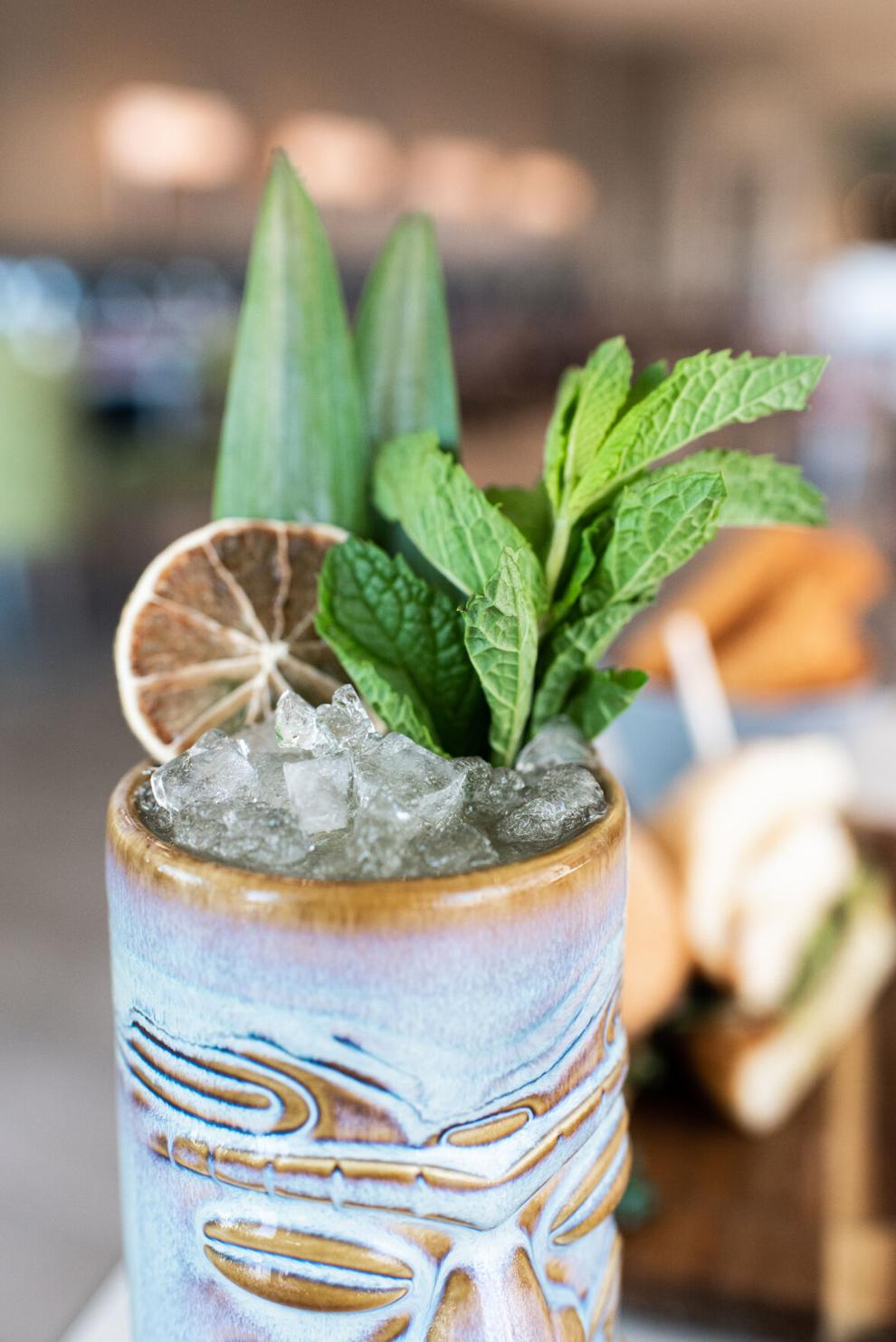 If the food isn't enough to entice you, you also can catch live entertainment at the hotel almost every night of the week. Musical performances vary from mariachis to country duos, and from Brazilian guitar to piano and vocal artists. Notes Salazar, "Our hostesses let all guests know upon arrival that we have live entertainment. The musicians start playing as soon as the restaurant opens for dinner at 5 p.m.
"Our patrons constantly compliment our personalized service," she concludes. "They always say they feel like they are treated as the most important person in the room."