In a place like Tucson, with more sunny days than not, and patios aplenty, there are many dining out options that let your pooch tag along. Plan your meals carefully, and there's no reason Muffin the mini schnauzer can't enjoy a leisurely brunch with the fam, or Mr. Wiggles the Welsh terrier shouldn't accompany you to satisfy that taco craving. We've collared six restaurants that are beloved by humans and canines alike.
PREP & PASTRY
Both locations of this popular breakfast and lunch spot, with its artful twist on the classics, are well worth the wait you'll sometimes find on busy days. People drop by every day for the Monte Cristo on brioche French toast, or the Roasted Veggie Benedict, with wilted kale and avocado. But the centrally located original also happens to have a lovely patio that welcomes dogs, offering both their own bowl of water and shady spot to share with their owners.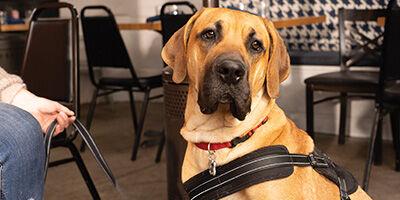 "We all have dogs and are dog lovers, so we're happy to give that opportunity to people out and about with their pets," says Brian Morris, partner and general manager of the Campbell location. In fact, Morris and his dogs Moose (English mastiff) and Gila (Dane mix) provided modeling services for this article.
"We actually would have loved to have a patio at both locations, but unfortunately the layout of our eastside location just didn't allow room for one," Morris explains. But if you're looking for a dinner spot where you can take your dogs, look no further than their sister restaurant, Commoner & Co. "If you're out for dinner and don't feel like dropping the dogs off at home, you're welcome at Commoner," he says of their Foothills eatery, which has two patios to choose from.
3073 N. Campbell Ave., 326-7737, prepandpastry.com; Commoner & Co., 6960 E. Sunrise Dr. #110, 257-1177, commonertucson.com
THE CORONET
On a bustling corner of Fourth Avenue, just before the downtown underpass, sits one of the most picturesque patios in the area. Here, the rustic European country fare is well matched with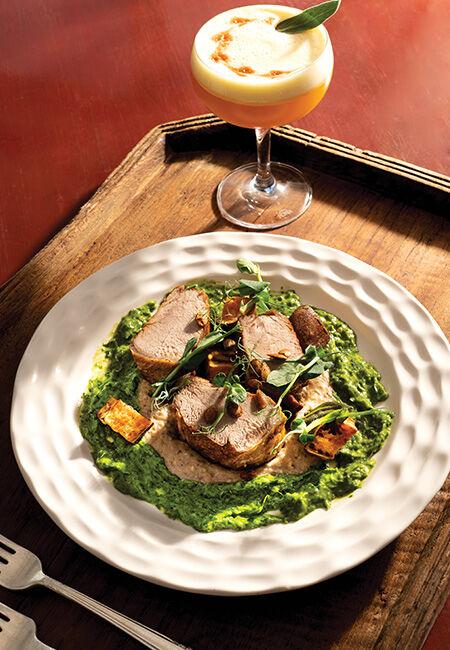 the former Hotel Coronado's 1928 architecture. As if you needed another reason to request outdoor seating, The Coronet is clearly pet friendly.
"We love dogs," owner Sally Kane exclaims. "Our patio is an excellent location for all your furry friends. We are fully shaded and can even provide a serape to lay on if need be." If Patches should get parched, don't hesitate to ask for a water bowl. There are two available, one a Thai embossed silver bowl, because fur babies need a bit of glam, too.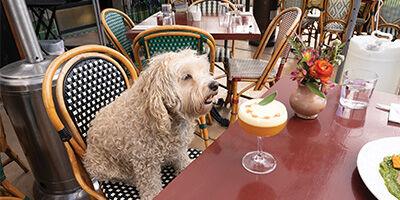 Whether you're enjoying brunch (breakfast galette anyone?) or a small-plate-style supper from the seasonally inspired menu, don't be surprised if the staff come over to get their pet fix. "It may not happen every time," Kane adds, "but there's a good chance a piece of bacon or other goody will find its way out to you!"
402 E. 9th St., 222-9889, cafecoronet.com
GHINI'S FRENCH CAFÉ
A top spot for brunch for most of the 20 years they've been open, Ghini's serves up French-inspired dishes such as Eggs Provençale, crepes, and both Croque Madame and Monsieur. As Owner and Executive Chef Coralie "Chef Ghini" Satta points out, "Ghini's is Tucson's first official pet-friendly restaurant. We have been welcoming our four-legged friends since 1992."
Pets who join their families here can expect a bowl of water, organic dog biscuits — and maybe even a hug. "I was born in France, where it's very normal to have our dogs with us in restaurants, even indoors," Satta shares. "Alas, that isn't allowed in the U.S."
Make sure to check out the patio for breakfast, lunch, brunch or the special Friday and Saturday night Bistro Dinner menu. As Satta and her staff like to say, they welcome all dogs and well-behaved humans. "Not everyone appreciates that," Satta says, "but we think it's funny and a little bit true."
1803 E. Prince Rd., 326-9095, ghiniscafe.com
SEIS KITCHEN
Because there's no such thing as too much alfresco dining, both locations of Seis Kitchen offer beautiful patios, but it's the original location in the Mercado San Agustín where the real magic of the ambience happens. Within the courtyard of the Mercado, near the base of "A" Mountain, Seis Kitchen's first locale has only patio seating, and pets are 100 percent welcome.
After ordering at the window, and finding a spot in the unique brick-paved courtyard, you and your fluffy partner in culinary adventure can sit back and enjoy the busy scene, which includes live music depending on the day and time. "We love that our guests can bring their fur babies to hang with us," says Owner Erika Munoz. "We have a super-relaxed, family friendly atmosphere — and pets are part of the family, so we should be able to spend as much time with them as possible!"
Seis (Spanish for six) represents six distinct culinary regions in Mexico, which means you can savor everything from street tacos and tortas to Mexico City-style quesadillas and seafood specials. And both locations offer snacks, as well as water bowls. There's even a doggie water fountain at the Mercado.
130 S. Avenida del Convento, #130, 622-2002 (Mercado San Agustín); 1765 E. River Rd., #131, 612-7630 (Joesler Village), seiskitchen.com
ECLECTIC CAFÉ
On Tucson's northeast side, Eclectic Café is a go-to choice for a place to dine alongside four-legged members of the family. Of course their menu is known for offering a little bit of everything, including pasta, traditional Mexican fare, burgers and meal-sized salads. But locals know this also happens to be a pet-friendly haven.
"When people bring in their dogs, we ask if they'd like a bowl of water and we also have dog treats," shares Owner Regina Ortega- McCarty. "I try to buy the good organic ones, so we're giving you more than your average dog biscuit." In fact, as she points out, the patio can be such a hot spot that even though they don't accept reservations, they recommend calling ahead if you're bringing in your pooch to see if there's a wait for the patio. Pups should be leashed and well behaved, for the safety of servers and other canine visitors alike.
"We have many regular pets who come in two to three times a week," Ortega-McCarty explains. "We have Spike, a female long-hair Chihuahua who comes and enjoys pasta and hot dogs; and Leroy, whose owners tell us that when they get to the corner he starts whining in excitement once he realizes where they're headed." In fact, with so many furry-friend diners, she and her husband are planning to add a special photo board to spotlight them all.
7053 E. Tanque Verde Rd., 885-2842, eclecticcafetucson.com
THE CUP CAFÉ
I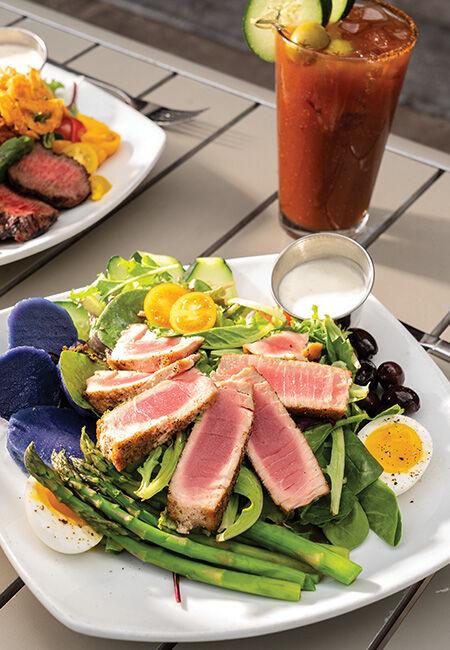 nside the historic Hotel Congress, Cup Café has long been a gathering point for downtown. Just as long, the patio of this eatery has been a well-known place to relax alongside your pet. "Our patio is one of the best spots to bring your dog in downtown Tucson," says Marketing Director Dalice Shepard. "Delicious food, great drinks, people watching — all while hanging with your favorite pup — it doesn't get much better!"
Cup Café is open for breakfast, lunch and dinner, so no matter whether you're ready to sample those cast iron-baked eggs you've heard so much about, or dig into either a plant-based burger or the traditional version — you and Fido are welcome to come as a team.
While you're enjoying the patio, you and your canine will get excellent service. "We provide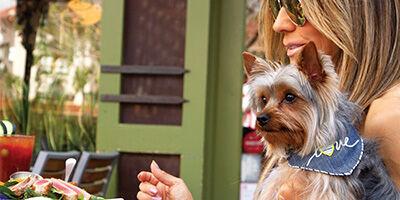 bowls of water for our furry friends, and we have doggie treats at the front desk, too," Shepard shares. So, no need to leave Miss Pinky the poodle home while you sip your coffee (or local IPA depending on the time of your visit) and soak up the hip and historic surroundings.
311 E. Congress St., 798-1618, hotelcongress.com/dining