There are lots of places to go for a good burger in this town, but these six spots are a cut above.
KIMBERLY SCHMITZ
PHOTOGRAPHY BY THOMAS VENEKLASEN PHOTO ASSISTANTS JACKSON AND NOLAN VENEKLASEN
Divine Bovine
Super new on Tucson's burger scene, Divine Bovine bursts out of the gate like a bucking bull with a mission. Though it's only eight months into the game, don't dare discount this hot new spot owned and operated by Ben Rine, former owner of BrushFire BBQ Co. With around 15 pre-conceived options or a deep well of build-it-yourself ingredients from which to choose, guests can order a highly anticipated delight and watch it come to fruition in the open kitchen.
The scratch kitchen offers beef patties that are house ground with brisket, chuck and short rib; buttermilk fried or seared chicken breast; Arizona-farm raised bison; or the Impossible 2.0 veggie burger. Any one of these tantalizing offerings may be placed between a fresh La Baguette Parisienne bun, under a mountain of house-made mac & cheese, triple-fried fries, or cradled in a bed of greens. Rine's playful passion for building a bodacious burger experience is apparent in the wickedly fun and dutifully scratch-made delights. He explains, "I always wanted a burger joint. There is so much you can do with this medium. I can really play and goof-off with this." After pulling together the Funny Farm Hand, resplendent with creamy peanut butter, jalapeño raspberry jam, candied bacon, sweet hot pickles and white cheddar, Rine recalls, "I had to rest against the table for a minute. I needed a picture of this — it's pretty amazing!"
Rine recognizes and respects that food is a personal thing, so whether you dare to devour one of his creations or build your own delicious concoction, belly up to the counter and order away. Under no circumstances, however, should you forget to grab at least one amazing side. A weeks-long experiment led to the perfectly prepared Pure Gold Potato French fries, punched, brined, and triple-fried daily to order. If you're determined to go somewhat rogue, the heavenly mac & cheese or near sinful hushpuppies with jalapeño raspberry jam perfectly complement any of Rine's or your own creations. Wash down the indulgence with a local soda or one of more than 40 beer options served individually or by multiples packed in a bucket of ice.
1021 N. Wilmot Rd.; 203-8884 divinebovineburgers.com
Charro Steak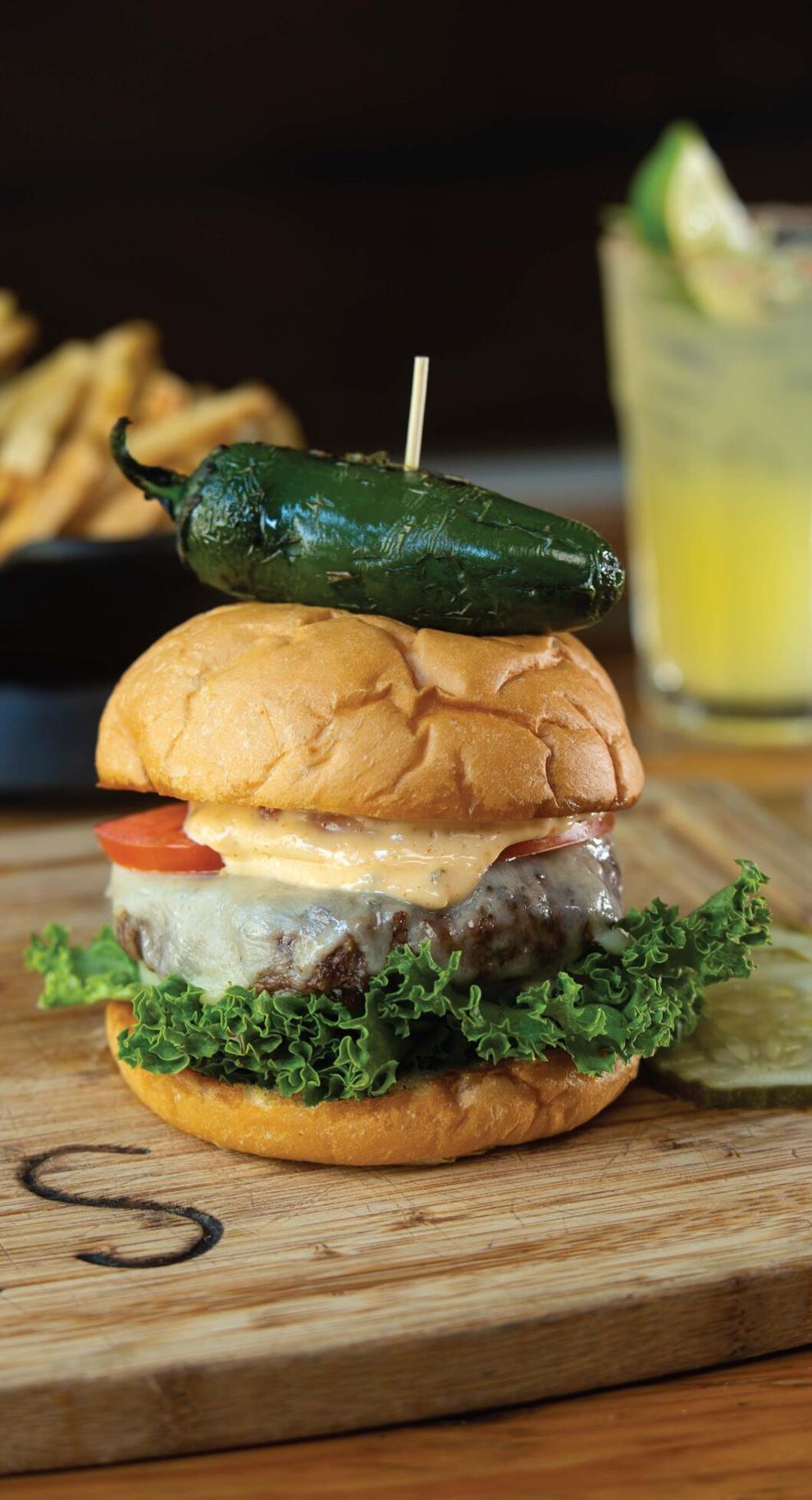 The Flores family has served Tucsonans and visitors iconic Sonoran-style Mexican food since 1922 at El Charro Café. More recently, the city's longest-running culinary legacy expanded to include pub, seafood, and Mediterranean-inspired cuisine spots. One of the latest additions to the Flores restaurant concepts is Charro Steak, with Executive Chef Gary Hickey at the helm. With an eye to purity of their main ingredient, Ray Flores explains, "We only buy grass-fed meat. No hormones, no antibiotics. The animals drink from natural springs. These are important details."
The best bits and pieces trimmed from the naturally raised Arizona and Montana grass-fed beef are ground and formed into delectable half-pound patties known as Charro Burgers. Grilled to order over a hybrid mesquite fire/gas grill, and stacked with Willcox tomato, queso Manchengo, and Charro sauce, they are encased in Sunrise Bakery heritage Sonoran wheat buns. Oh, but wait, the Charro Burger fun isn't over just yet. Add an over-easy cagefree egg, avocado, charred poblano, bleu cheese, pork belly or grass-fed chorizo (or any combination therein) for a blow-your mind, taste-bud-blasting experience. Pair the Charro Burger with hand-cut French fries, the Sonoran Au Gratin-style Papas de la Casa, or an order of classic Charro beans and prepare to stare down a serious case of food coma. Insider tip: Do not succumb to the coma before topping off the meal with a little dulce (sweet). Will it be the margarita lime flan, the tamal del Nutella or the PB&C (peanut butter & chocolate) tres leches cake? Maybe throw caution (and your top button) to the wind and go for the Dulceria Sample Board.
Naturally, working one's way through all these amazing offerings will create a hearty thirst. Sip a glass or flight of red, white or rosé from the chef-curated wine menu. Choose from more than 25 whiskey, bourbon and scotch options, 20-plus beer labels, or an array of unique cocktails. Keep an eye out for one of the many local brands offered. Designated drivers and teetotalers may indulge in a non-alcoholic brew or the Charro Steak peach tea served with grilled peaches. With so many options, there's one thing each and every diner will have — an unmistakably Old Pueblo dining tradition experience that won't disappoint.
188 E. Broadway Blvd. (520) 485-1922 charrosteak.com
Truland Burgers & Greens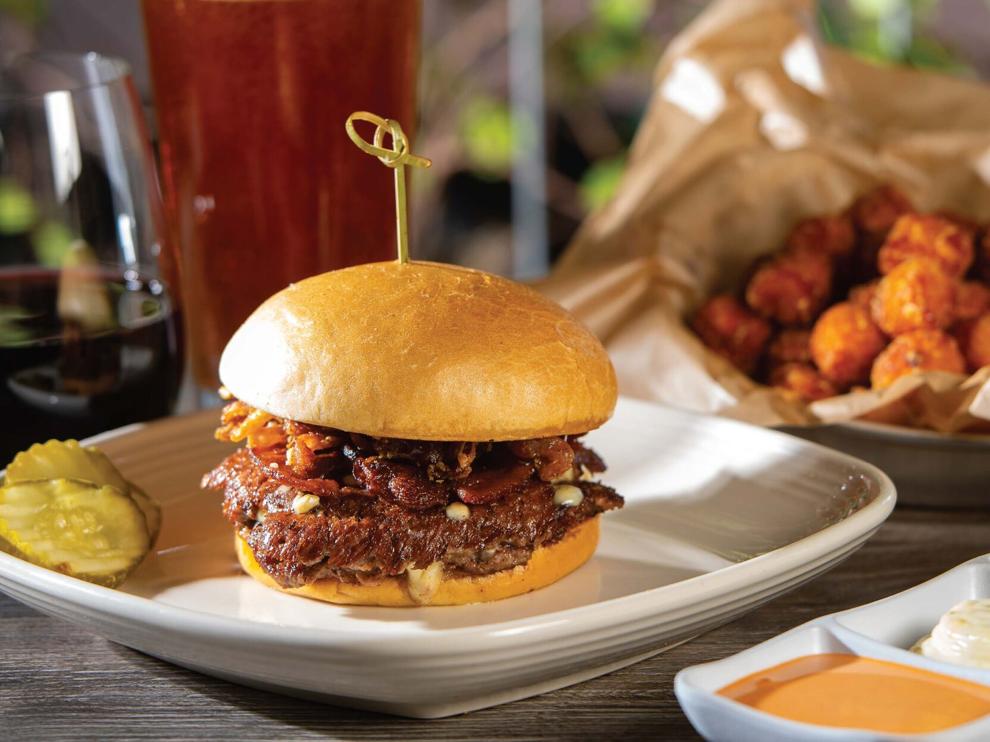 Co-owners Jeff Katz and Paolo DeFilipis combined the concepts of Graze Premium Burgers and Choice Greens to serve Tucson's north-siders with Truland Burgers & Greens, with a new location slated to open in Chandler in early 2020. Now in its fourth year, it's humbly upscale with the heartbeat of a true "joint," evidenced by the availability of canned beer, and beer and wine on tap. Certainly, we appreciate the delectable green offerings, of which Truland has many, but our gaze is on the plethora of things served in a bun. For vegetarians, there's the locally sourced, smokey tepary bean and superfood veggie burger, which is pretty scrumptious by all measure. Chef strongly suggests burger fans enjoy two patties of Niman Ranch hormone/antibiotic-free beef or locally sourced Double Check Ranch grass-fed beef seared to medium well. The Truland Classic sports two slices of American cheese, lettuce, caramelized onions and Tru-sauce, and there are 15 available addons such as grilled crimini mushrooms. Maybe a double-patty chorizo burger with pepper jack cheese and Hatch green chiles tempts you, or perhaps you want to check out Katz's fave, the Early Riser, with two slices of American cheese, a cage-free fried egg, all-natural nitrate/nitrate-free bacon and organic ketchup. The magnum opus of Truland's burger offerings is the Western Bleu Cheese burger, adorned with bleu cheese, bacon, crispy onions, and barbecue sauce.
Without doubt, a perfect side for every Truland burger is an order of Kennebec potato French fries. They're Belgian-style, twice-fried in non-GMO rice bran oil, and seasoned with kosher salt. Take it up a notch with the truffle fries treated with truffle oil, Parmesan, pecorino, parsley, and served with truffle mayo. If you manage to get a hand free from your burger of choice, wrap it around a Dragoon IPA or Barrio Blonde from the tap, or a can of Guinness or Bells Two Hearted Ale. A really nice assortment of wines is on tap or by the bottle if a little natural sulfite infusion is more to your liking. If, by some miracle, there is room for dessert, top off your Truland experience with a piece of their legendary carrot cake or an ambrosial all-natural ice cream milkshake. Warning, one or two bites or sips just won't do — you'll go big and go home super satisfied and planning another visit.
7332 N. Oracle Rd.; 395-2975 trulandburgers.com
Beaut Burger
Vegans, vegetarians and omnivores alike are flocking to the Mercado San Agustín (MSA) Annex for a feel good/tastes good meat-free burger bite. Five years ago, a seed was planted when vegan cuisine chef Kerry Lane and serial entrepreneur Ari Shapiro were on a hike in Canada and jonesing for a quick and good veggie burger. Not long after, the concept of Beaut Burger was born and realized by the duo — a no-frills lower-price-point veggie burger joint with cheap beer. It's an everyman/ woman spot where people can enjoy a primal burger and fries experience minus the animal product.
Having recently celebrated its oneyear anniversary, Beaut has been warmly embraced by Tucson, and the people of the westside in particular. Shapiro admits that he, a vegetarian, and Lane, a vegan, are very particular about their food. Therefore, the vast majority of menu items were conceived by Lane and made inhouse daily, by hand — including buns, pickled poblanos, tamarind chutney, radish sauce, barbecue sauce, slaw and burger patties. "I'm not a culinarian. Kerry is the mind and hands-on genius behind the menu. I'm just a scrappy entrepreneur who wanted to be able to get a veggie burger minus a linen napkin and steep price tag," Shapiro explains.
Loath to pick a favorite of Beaut's fabulous fare, Shapiro points to the B4 as the best-selling burger, proudly proclaiming it as his late-game contribution. Piled atop a proprietary hand-formed patty of grains, walnuts, beans, vegetables, and spices, the griddled mushrooms and caramelized onions harken back to a favorite of the entrepreneur's youth. Beaut fanatics also are partial to the B9, a near-heavenly compilation of roasted eggplant, pepita pesto, and house-made mozzarella. And for the chile-pepper-loving and socially sensitive veggie burger connoisseur, the B Kind burger stacked with jalapeño and roasted zucchini, slathered with vegan sour cream also offers proceeds donated to Ben's Bells. A side of the hand-cut russet fries are always an amazing bet, but beer-battered cauliflower bites or some zippy housemade coleslaw won't be regretted, either. Between cow-friendly bites, wrap your hand around house-made limeade, a $2 Miller High Life, or a 12-ounce can of wine. Oh, and don't forget to grab Fido a homemade dog-biscuit. High-style, out-of-sight flavor combinations, and delightfully industrial- chic atmosphere make Beaut Burger Tucson's every-man, -woman, and -dog spot for a quick, tasty, healthy, burger bite.
267 South Avenida del Convento 344-5907; beautburger.com
Lindy's on 4th
The OMG Burger, a 12-patty, threepound monolith of insane indulgence and bragging rights, may have put Lindy's on the national foodie radar with appearances on Man v. Food, Meat & Potatoes, the Travel Channel, and Food Network's Ginormous Foods. But since opening in 2005, Lindy's has been considered a daytime or late-night hot spot to grab a bite for Tucsonans, especially UA students. Originally more of a sandwich spot, owner Lindon Reilly proves it pays to play with your food. With a menu eventually skewing toward the burger bandwagon, Lindy's has become a favored new/old burger joint in Tucson.
Even after moving across the street, burger lovers still flock to Lindy's on Fourth, some for the burger challenge, but most for the scandalously delicious seven-ounce (base) patty creations. Use a BUSS pass (Build Up Something Special) by choosing a beef or black bean patty, or fried or seared chicken breast. Select a "holding medium" — salad bowl, lettuce wrap or brioche, gluten-free, or honey bun (to name a few). Then get to building — fries, tots, grilled veggies, Lil' Smokies, bacon … you name it. You can leave the stress of so many choices behind by picking one of Lindy's own concoctions. The OG, a classic with lettuce, tomato, onion, and Lindy's sauce stands strong, but if you really want to arouse your senses, opt for the Big Bang, with homemade jalapeño macaroni salad, Lil' Smokies, potato chips, cheddar, lettuce, tomato, onion, pickles, and sour cream n' onion spread. One of their signature burgers is for pyromaniacs only, with green chile, jalapeños, pepper jack cheese, guacamole and ghost pepper sauce. Of course, no man or woman can live on burgers alone, so a Lindy's side is a must. The Phat chips — house-fried and smothered with mac & cheese, sour cream, chives and bacon bits is a popular choice, but there's also French fries or tater tots fighting for breath under guac, green chiles, jalapeños and pepper jack. Whet your whistle with dollar-off craft draft or a $5 signature cocktail during happy hour or $5 Mimosas and Bloody Marys all day on the weekends. If you can still walk comfortably after your meal, be sure to work off some of those calories with a stroll around Fourth Avenue. The walk will help you decide which of Lindy's burgers to tackle on your next visit.
500 N. Fourth Ave.; 207-6970 lo4th.com
Union Public House
A Foothills staple since October 31, 2011, Union Public House has been an anchor for good eats in St. Philip's Plaza since its opening. Aside from the superstitiously macabre opening date, the only thing scary about the cornerstone eatery is the frightful decadence of its offerings. As many dishes as possible are infused with Chef Tony Coluci's version of "flavor crystals" — bacon. From the beginning the Union Burger has been a constant menu item and far-and-away fan favorite.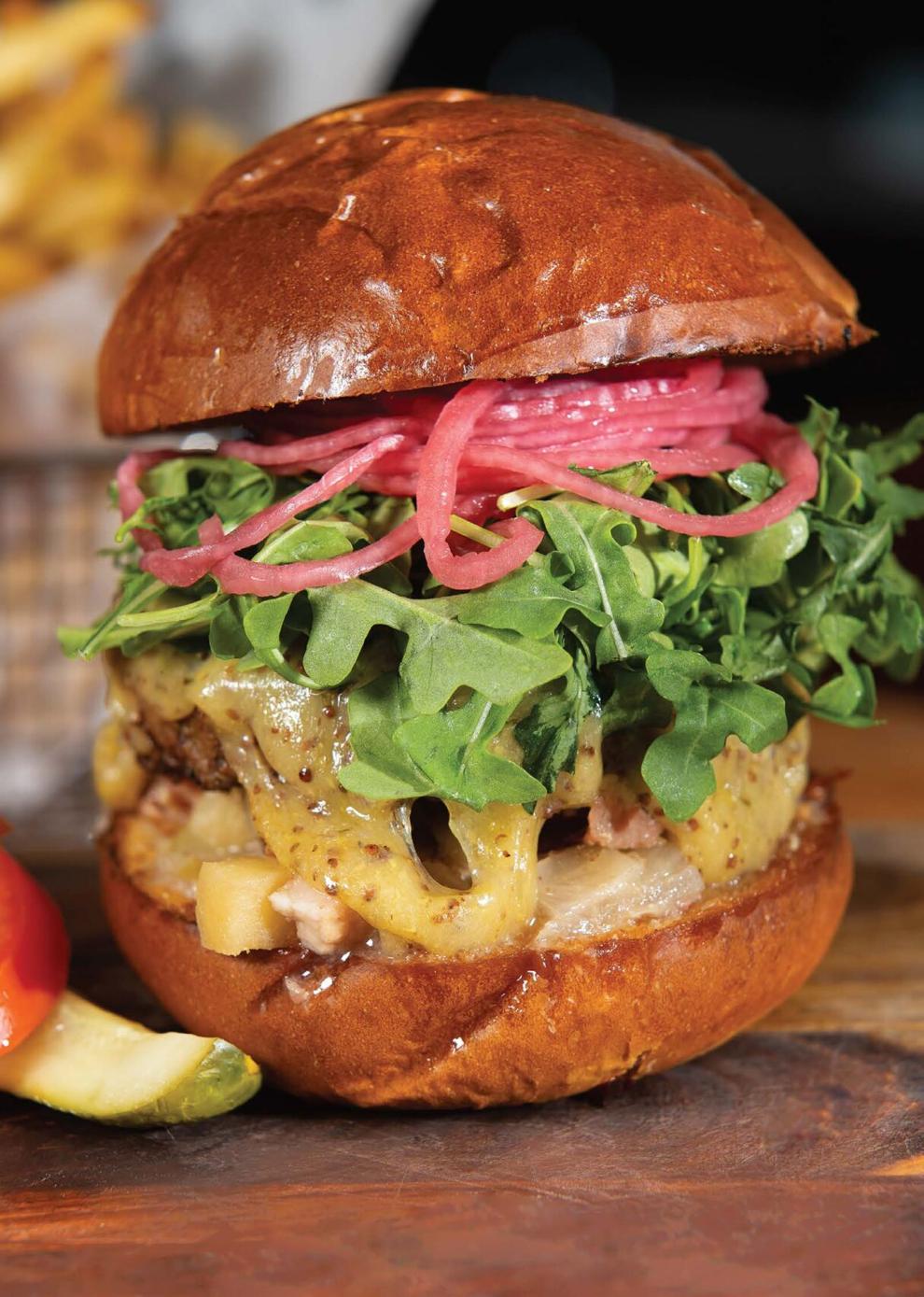 General Manager David Serafin explains that the staple is "an exquisite creation exactly the way it is served. It's not made to put a bunch of sauces on and cover up." A half-pound Union Grind patty of 80/20-ground grass-fed beef is perfectly seared to taste and dressed with English Red Dragon cheddar, house-made bacon jam (i.e., Flavor crystals reduced with sugar, vinegar and apples), and red winepickled red onions. All this deliciousness is surrounded top and bottom by a brioche bun made in house by baker Travis Evans. Serafin explains that it's a burger made for a purist — pure ingredients, scratch made, to order. If hoisting this massive feast is a little scary, opt for the sliders instead. Union Sliders are smaller-in-stature, spicy offerings of the Union Grind topped with bacon (of course), cheddar, and house-pickled jalapeños. For the burger lover unwilling to buck tradition, the All-American burger sporting the more traditional costuming of lettuce, tomato, onion, cheddar, mustard, and mayo inside a house-baked sesame bun awaits.
Whichever amazing burger is chosen, make sure it doesn't come to the party alone. Invite some of the house-punched Chipperbec French fries or hand-sliced potato chips along. Or pick the insanely amazing Poutine fries bathed in housemade gravy, white cheddar cheese curds, and chives, or a cup of Yesterday's Soup (house-made soup given time for the flavors to marry and blossom). Stop into Union Public House anytime for an amazing burger or slider, but make a point of dropping in for the joint Halloween/anniversary party complete with live music, spirits (of all kinds), and a costume contest. 4340 N Campbell Ave., Ste. 103; 329-8575 uniontucson.com