What roast do you love the most? No matter how you like your cup of Joe, these five roasters/coffee shops have the brew for you.
By Sarah Burton | Photography by Thomas Veneklasen | Photo Assistant Nolan Veneklasen
Savaya Coffee Market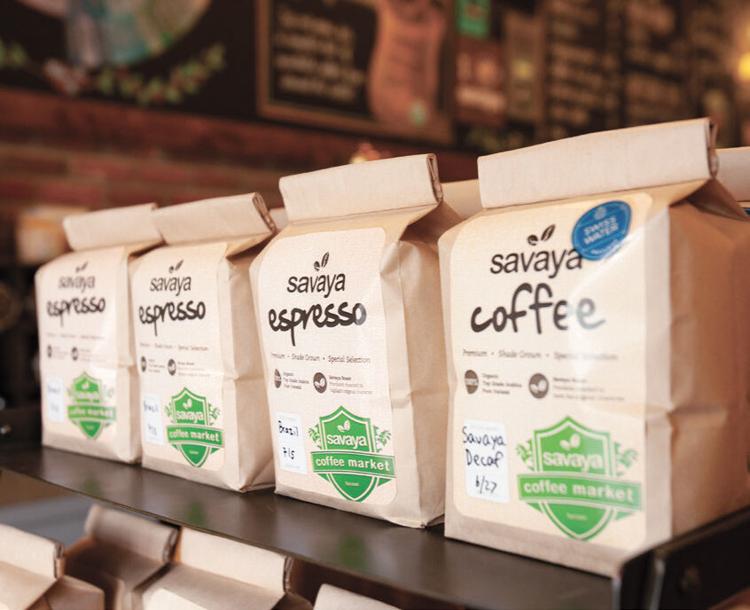 Although the focus on finely crafted coffees may be more recent, the method behind Savaya's roasting goes back to owner Burc Maruflu's grandmother and her roast-to-taste method developed in 1930s Istanbul. When he came to Tucson, he brought with him the deep history of his coffee-crafting family, which now offers Tucsonans six locations. "We use state-of-the-art Swiss roasting technology to make sure my grandmother's style is performed with perfect precision," Maruflu shares.
So where do their beans come from? Thanks to the farms and estates they have developed direct relationships with, Savaya's all-organic beans come from growing regions around the world. The majority are sourced from what's known as The Coffee Belt: territory between the Tropics of Cancer and Capricorn, and includes 29 countries. "We go to the farms and taste the coffee on the tree before going through an intense process of evaluating its quality and making a decision about which coffee to source," Maruflu explains.
When ordering a cup of coffee at any Savaya location, keep in mind that they offer single-origin coffees. "We don't use blends," Maruflu shares. "We want you to taste each coffee's distinct, original character." If you're interested in learning more, check out Savaya's blog. They regularly invite the public to come in, taste and better understand how professionals evaluate and score coffee.
*Pro sip: According to Maruflu, Savaya's staff prefer to enjoy their coffee via French press.
5350 E. Broadway Blvd., (520) 747-3200; 2905 E. Skyline Dr. #287, (520) 638-5511; 11177 N. Oracle Rd., (520) 447-5713; 12120 N. Dove Mountain Blvd., (520) 744-6362; 2959 N. Swan Rd., (520) 203-8099; 6540 E. Tanque Verde Rd., (520) 392-8650; savayacoffee.com
Presta Coffee Roasters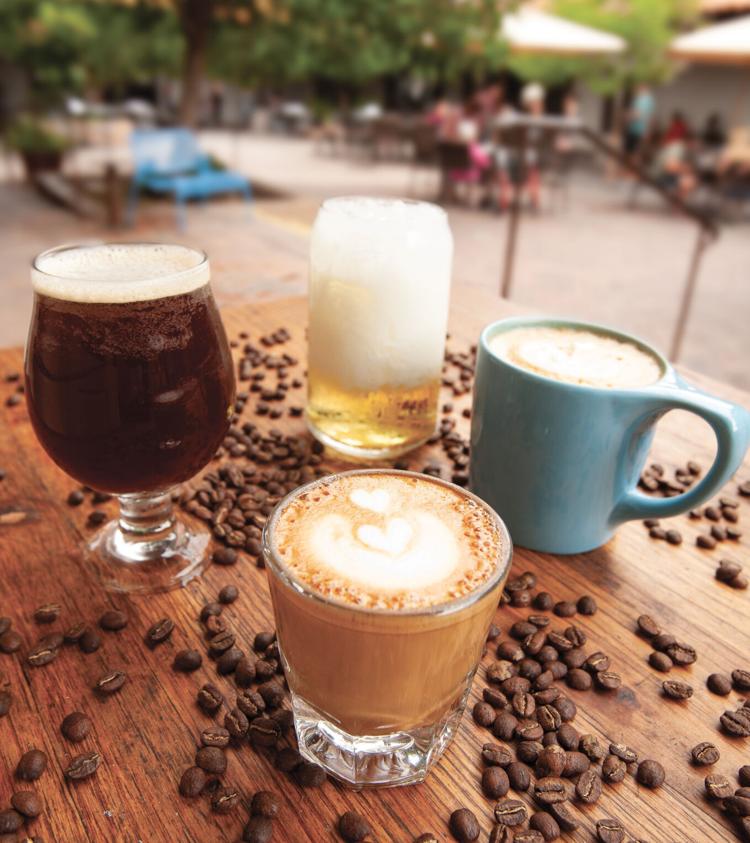 What originally began as a well-placed coffee cart in a local hospital, caffeinating those who needed it the most, now happily chugs along as one of Tucson's coffee-roasting locales. Owner Curtis Zimmerman expanded his scope and entered the roasting game in 2014, moving to a more permanent location within Mercado San Agustín, and now a second location midtown.
"Our sourcing takes us around the world to meet our farmers, giving us the ability to build relationships and bring in some truly unique coffees," says Braden Hammond, operations manager. Their coffees come from all over, but they're particularly fond of those from Central America. "Many heirloom varietals coming out of Africa make us tingle as well," Hammond notes. "We do our best to keep a good mix of represented origins."
Presta offers rotating single-origin coffees based on the season, with only one blend. "The 120 PSI is our primary espresso blend, generally an Ethiopia natural mixed with a Central American washed," Hammond enthuses. "The result is a fruit-juicy front and a well-rounded finish of chocolate." Their roasting style is comparable to the Nordic roasting trends, which result in very light roasts with prominent delicate and floral flavor profiles.
*Pro sip: Hammond shares that the staff at Presta prefer to enjoy true coffee
flavor via espresso.
Mercado San Augustín, 100 S. Avenida del Convento, (520) 333-7146; 2502 N. 1st Ave. #100, (520) 333-7146; prestacoffee.com
Cartel Coffee Lab
With several locations in Tucson and Phoenix, as well as a subscription service for super fans, Cartel Coffee Lab has proven its successful formula several times over. Cartel's Director of Brand, Paul Haworth, explains that what elevates them is their focus on single-farm coffees. "We don't blend, and so we keep everything traceable and single-origin."
In fact, they travel with a boutique sourcing partner and both are equally committed to paying well above the cost of production for all coffees. "Our goal is to travel to and directly source all our coffees. Currently, about 75 percent are directly sourced," Haworth points out. Although there are flavor generalizations for particular regions, he explains that certain examples disrupt the stereotypes. "Every coffee is its own unique expression of a team of individuals at the farm level," he says. "The emphasis on the bean in terms of variety, terroir, and processing has brought the most meaningful origin differentiators to the table.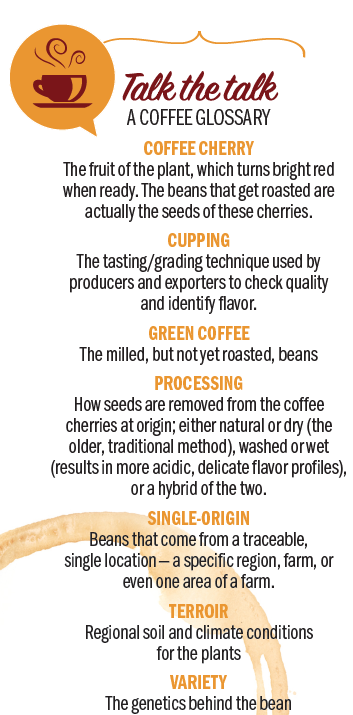 "Our favorite regions, in no particular order, are Guatemala, El Salvador, Colombia, Kenya, and Ethiopia. We've traveled to these countries to build relationships and source coffees." Additionally, Cartel brings in coffees from Rwanda, Costa Rica, and Mexico.
*Pro sip: Haworth points out that a high-quality grinder is the most critical piece of equipment. Also, ensure filtered water, a good coffee-to-water ratio, and lots of experimentation to find and replicate your preferences.
2516 N. Campbell Ave.; 210 E. Broadway Blvd.; cartelcoffeelab.com
Tucson Coffee Roasters
This local coffee spot sources and, as their name suggests, roasts their own beans. First step is establishing that connection with a known and trusted source, as Owner Ian Victors explains: "We source our beans from all over the world. Having good relationships with coffee families and importers assures that we get the very best beans."
Knowing exactly the best way to roast those beans is key. "We have a unique style of roasting so our beans are very clean and balanced," Victors shares.  But unlike some other local roasters, Tucson Coffee Roasters doesn't shy away from blends popular with their regulars. "We roast single-origin coffees, but we also offer a few blends. For example, our customers really look forward to our Holiday Blend, and the seasonal Monsoon Blend, which is bold and earthy with hints of dried fruit and spices."
Fans of that coffee-forward flavor will feel at home perusing the menu at both Tucson Coffee Roasters locations, which place the spotlight more on espresso than sugary concoctions. "We pride ourselves on our espresso, so serving up straight espresso is always exciting for us," Victors says.
*Pro sip: Victors also states that the French press is an ideal way to enjoy the perfect cup, giving you the true flavor of the bean.
3225 N. Swan Rd., (520) 403-1240; 250 S. Craycroft Rd., (520) 403-2472; tcroasters.com
Exo Roast Co.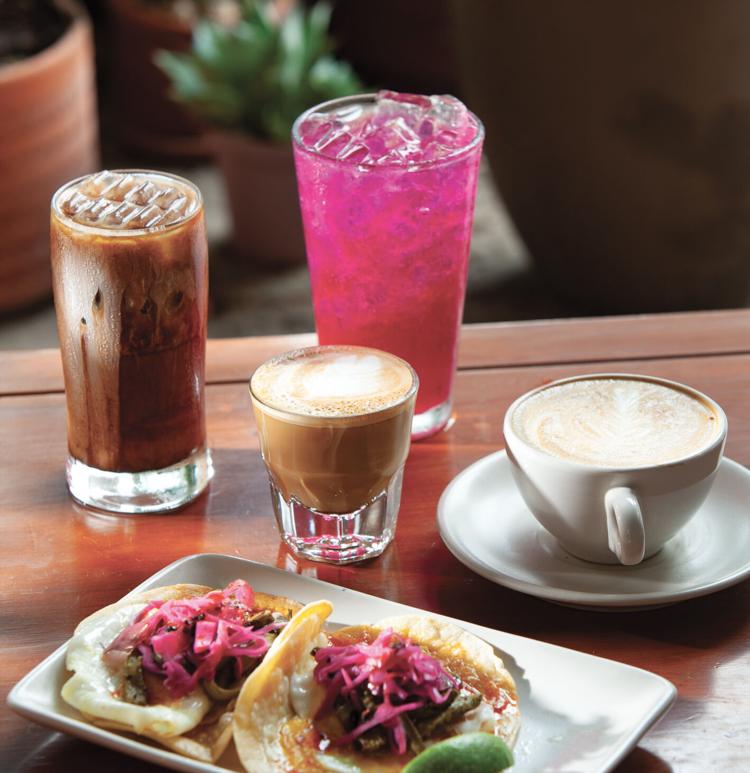 What began as a small operation among friends has evolved into a wholesale roaster and specialty coffee shop, not to mention a farm-to-table restaurant and mezcal bar. "We started roasting 10 years ago as a collaboration — a way for old friends to connect over a shared passion," says Amy Smith, one of Exo's co-owners. They remain dedicated to that original interest, and now procure coffee from all major growing regions in Latin America, Indonesia, and Africa.
They focus on buying coffee from regions and organizations where small landholders get a fair price for their coffee, and surrounding communities directly benefit from the coffee economy. "We have direct trade relationships in Colima and Oaxaca in Mexico, and travel there a few times a year to work on those relationships," Smith explains.
In their retail space, expect solely single-origin coffee. At their local wholesale customers, such as Prep & Pastry or the Food Conspiracy Co-op, you'll find blends for consistency and ease. "Though we have no real issue with blends," Smith adds, "we prefer to extract single-origin coffee in house, as we enjoy the variety and nuance of terrior from each origin."
*Pro sip: Espresso is the best way to taste the dialed-in characteristics of any given origin of coffee, according to Smith. "An East African coffee is going to have a wildly different taste than a Southern Colombian coffee. We like to play with those characteristics and they come out best in espresso."
403 N. 6th Ave., (520) 777-4709, exocoffee.com