Here are three local restaurants that have been creative — and socially conscious — in responding to the pandemic.
Nourishment is around every corner of our city. Breathtaking mountain ranges and blossoming succulents are food for the eyes. Cultural diversity, a rich history and welcoming nature are sustenance for the soul. And our internationally noted, vibrantly creative culinary scene is a feast for the eyes, soul and belly.
As of late we've had to modify our lifestyles a bit and not live quite so large. We still hike the canyons and parks but six feet apart. Festivals, concerts, fundraisers and sports have been back-burnered while the curve is flattened.
Comfort comes in the form of pulling up curbside and collecting comfort food from a favorite restaurant. We've checked in with a trio of terrific eateries to ask how they are doing, how they've modified their business to bridge the tough times, and how they're giving back to the community.
The Cup Café
The Cup Café in historic Hotel Congress sits at the confluence of Congress, Fourth and Toole Avenues.
Patrons instantly become 10 degrees cooler — simply by entering The Cup. The café has been, and always will be, one of the favorite hangs of our city's bohemians, artists, musicians and intellectuals. Think part-time resident Diane Keaton clad in denim overalls at a corner table. The Cup's clay terra cotta floors have been softened by 100 years of footsteps. Walls the color of butter are adorned with sandbox sized sepia depictions of ranch life, and wine bottle chandeliers cast a welcoming glow, white and red striped awnings top picture windows looking out over patio seating.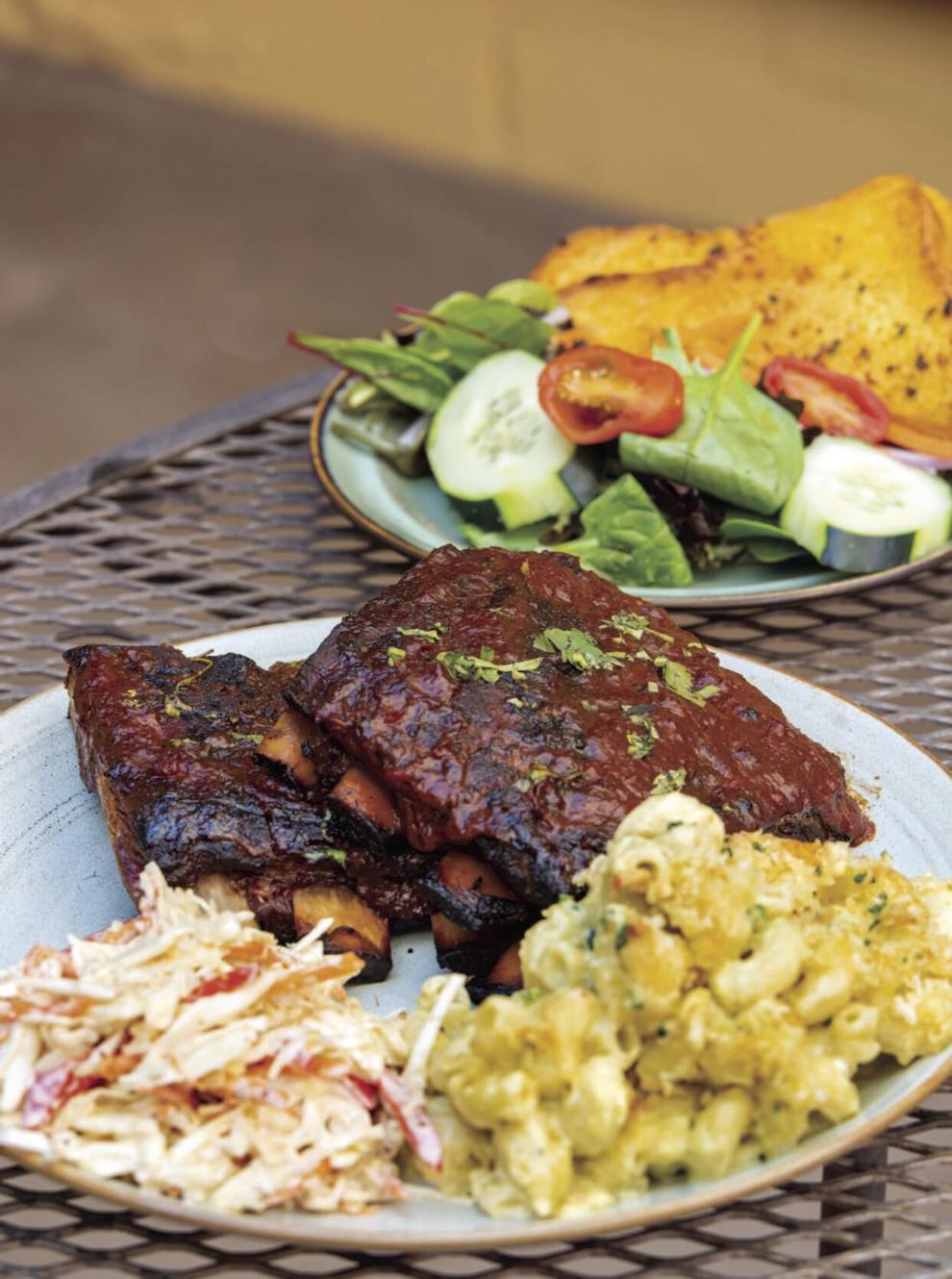 The Cup has abbreviated its eclectic menu to accommodate takeout. G.M. Todd Hanley explains, "The dishes we offer are a lot of the classics that everyone loves, those that have ingredients readily available, and are efficient to create based on a smaller team of chefs." The Cup also is selling family size meals, including a sumptuous breakfast called "The Deposition," featuring cinnamon flapjacks, eggs any which way and peppercorn bacon. Mesquite smoked ribs are a favorite to-go family dinner: laced with cherry chipotle barbecue sauce, accompanied by sides of poblano chile macaroni and cheese and pepper slaw. Grilled chicken with roasted potatoes and seasonal veggies and takeand bake family style meatloaf with bourbon brown sugar glaze are some of the other popular choices. Hanley is happy to report that summer comfort food dishes will be expanded to include vegetarian and vegan options.
A sip to-go from The Cup will soon be dispensed in a sticker-sealed mason jar. Most frequently ordered drinks? The traditional margarita and the Dillinger Day Side Car, the latter composed of Maker's Mark, Cointreau and lemon. The cocktail's namesake, legendary gangster John Dillinger, was arrested in 1934 with members of his gang after a stay at Hotel Congress. Hanley knows what he would serve the ghost of Public Enemy Number One should he ever appear from the ether: his eponymous cocktail of course, and, "Our classic Real Thing Burger, finished off with a house-made slice of key lime pie!"
Necessity being the mother of invention, HC Market — a virtual grocery store — was launched when dine-in service was shut down. Guests can order basics, such as produce, bread, milk, eggs and the ever-elusive bathroom tissue. "HC Market has been met with great support and success over all," Hanley says. "Offering essentials to the community and a safe online/pickup format is a long-term business model we plan to continue. This has been wildly popular, with an average of 100 orders twice a week. The addition of Barrio Bread, Pivot Produce and Decibel Coffee has given us even more exposure."
Asked what he is most eagerly anticipating once normalcy returns, Hanley observes, "Everyone at Hotel Congress and Maynards [kitty corner across Toole, and under the same ownership] looks forward to the human interaction that's so critical to the aspect of hospitality. The experience of dining and drinking are not the same unless around fellowship and community."
Seis Kitchen
Wife and husband Erika and Jake Munoz have grown a food truck into dos locations for Seis Kitchen. The inaugural outpost in the Mercado, just west of I-10 on Avenida del Convento, is designed to have diners place an order at the window and grab a seat in the shaded courtyard. Opened seven years ago, the enterprise proved so popular that the couple decided to open their full-service Seis Kitchen on River Road in the Joesler Village. A stone-topped bar, adorned in argyle black and white, anchors the dining room. Open ceilings are painted sky blue, and from them hang brushed gray ampersand chandeliers. It's a mod atmosphere in which to enjoy Mexico's beloved street food.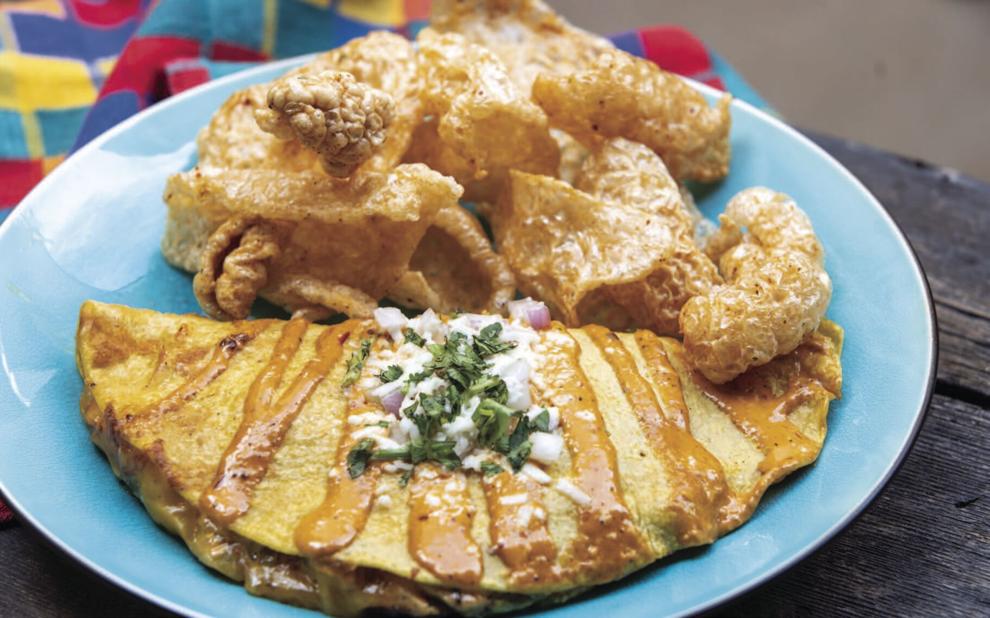 The sumptuous burritos are the takeout stars at Seis in this temporary reality (probably doesn't hurt that they don't need a fork and knife to eat). Most popular is The Surf and Turf: steak marinated in spices and grilled shrimp, wrapped in a fresh flour tortilla with smashed or black beans, rice, cheese, cabbage, pico de gallo and Seis sauce. Vegetarians can opt for a calabacitas burrito: savory summer squash, zucchini and tomato, simmered with onions, garlic and spices.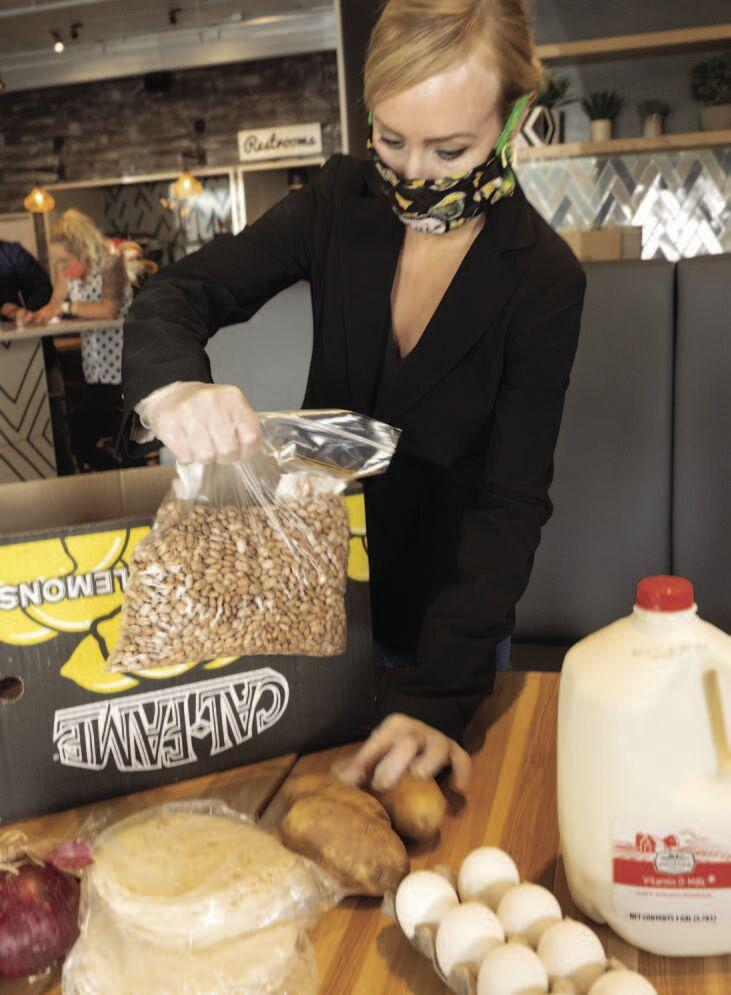 Houston Astros pitching coach Brent Strom, who makes his home in Tucson in the off-season, wanted to show his appreciation to each of the selfless frontline employees at St Joseph's Hospital with an extraordinary lunch.
Mutual friends connected Erika and Jake with Rob Canton, the CEO of Athletes and Causes Foundation, the organization that fulfills such requests through "Project Frontline." The Munozs readily agreed to match the generous donation and cater the display of gratitude.
It was the afternoon of April 23 when the staff at St. Joe's encountered the irresistible aromas of Seis Kitchen's chile verde pork and grilled poc chuc chicken conveying the message, "Thank you for your commitment and passion." "We received so many gracious and kind words," Erika recalls. "It was quite overwhelming, actually. The hospital staff were so humble and appreciative, and they are the ones we should be thanking."
Ninety employees make Seis tick like a Swiss timepiece, and they were the first thing the owners thought of when mandated closures went in to effect March 17. "We were reduced to takeout orders, so we knew sales, and therefore staff hours, were going to be decreased," comments Erika. "We immediately devised a plan with the help of our general managers and management team to help our crew. We developed a rotating schedule offering hours to everyone and we haven't furloughed anyone. We put together weekly food boxes of both fresh and pantry items for all of our staff and their families. We are restaurant people. We are food people. This is how we give and show our love and gratitude, through full bellies. They are our family and this is the least that we can do." For their efforts, the Munozs were honored by Ben's Bells.
El Charro
In Mexican culture everyone is a part of the family, so Chef Nana Carlotta has taken over cooking dinner for many Tucson families as of late. Carlotta is Carlotta Flores, the Dona of Flores Concepts restaurants, with three El Charro locations in Tucson: Oro Valley, Kolb and Sunrise, and the downtown original spot. Established in 1922, El Charro has been deemed one of Gourmet Magazine's "Most Legendary Restaurants."
During the shutdown, El Charro's extensive menu was streamlined, indicates Ray Flores Jr., Carlotta's son and president of Flores Concepts. It focused on dishes that "travel" well, taking into consideration production by a smaller kitchen crew.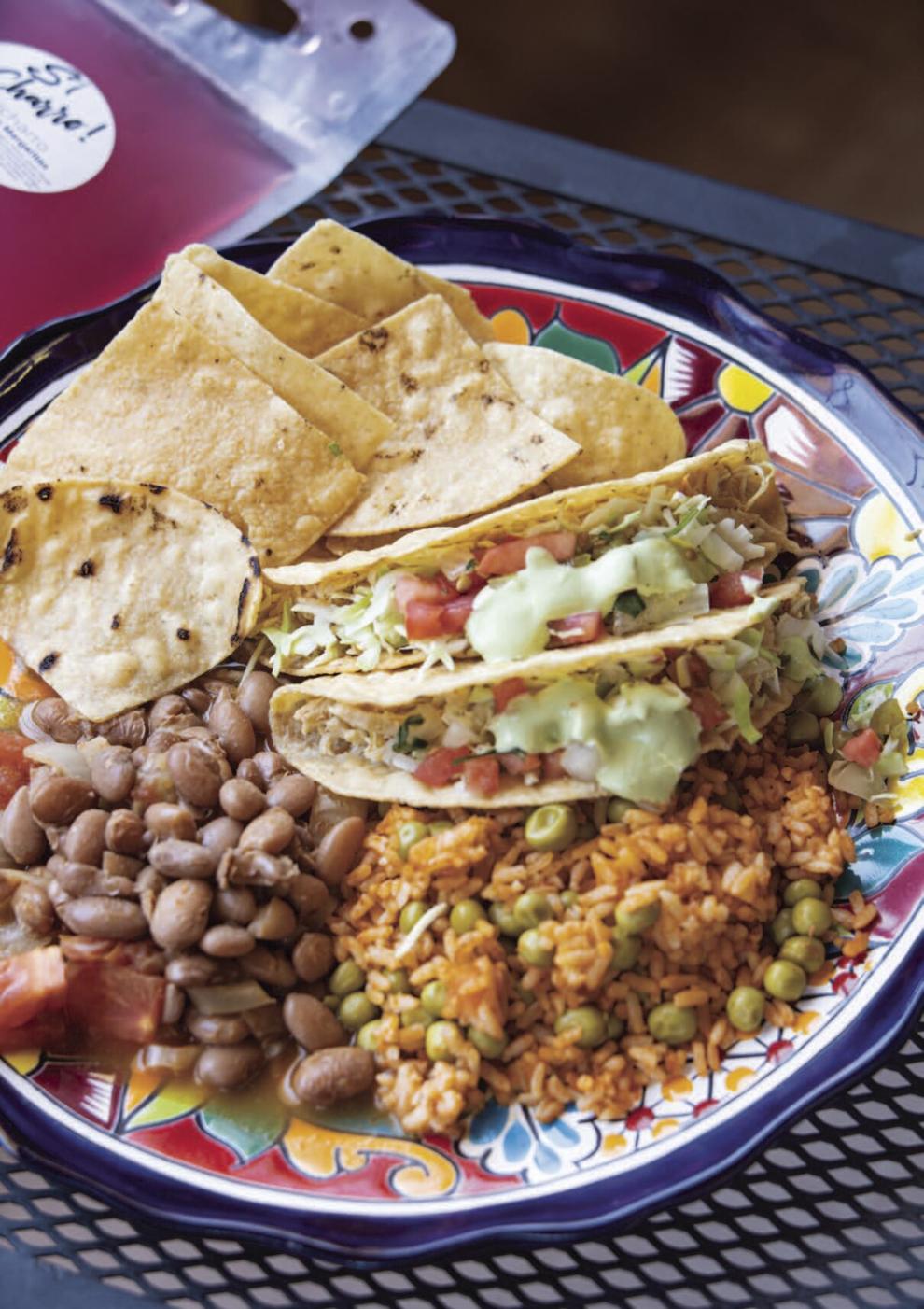 "Enchiladas are the best sellers for takeout, all flavors and types — carne seca, pork carnitas and chicken mole are all favorites," reveals Ray. Four family portioned meals are available, serving from four to six adults and up to eight if los niños are at the table. Among those are Nana Carlotta's build your own tacos — with shredded chicken and carne seca to be folded into a warm tortillas and garnished with whatever the hungry "builder" desires, including cheese, shredded lettuce, and pico de gallo, with sides of beans and rice. Carlotta's "Enchi-style" chilaquiles is another family takeout favorite — a casserole of Sonoran descent, with local corn tortillas, layered queso Mexicana and choice of red or green enchilada sauces y Mas!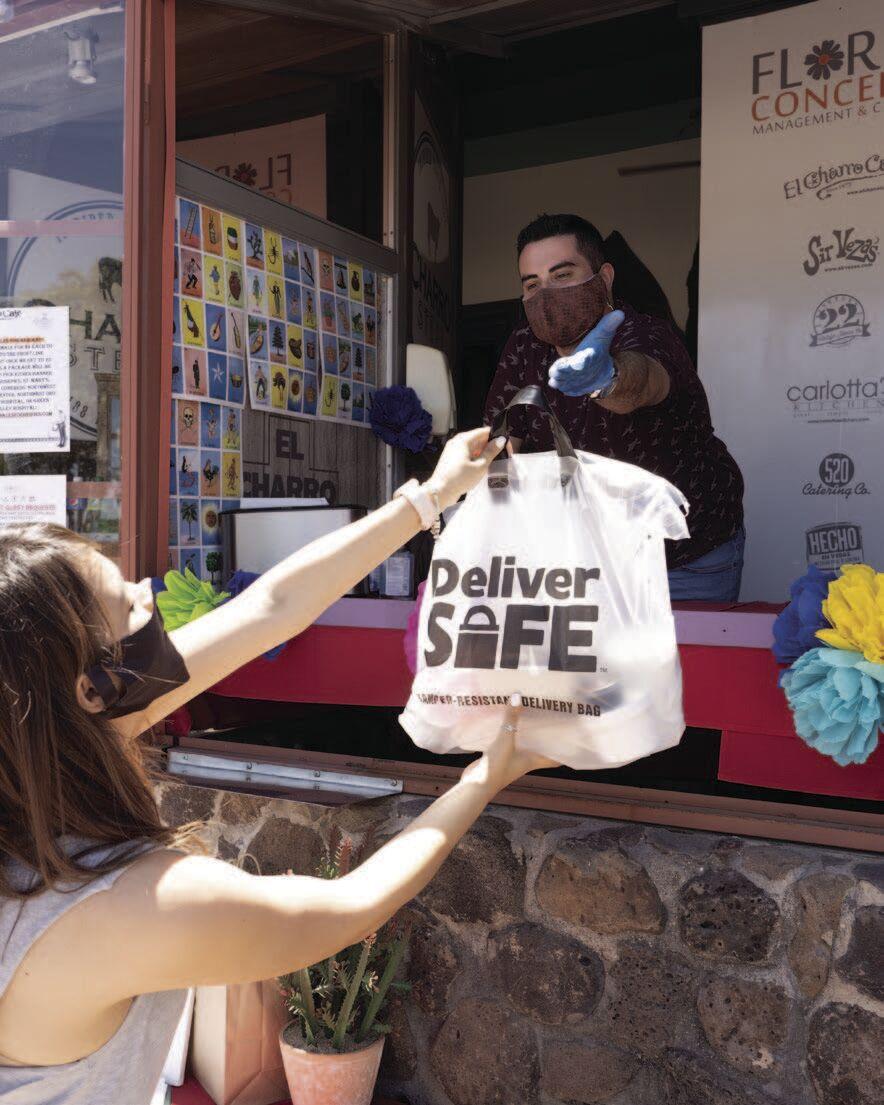 Flores is on Pima County's task force that is helping to guide community efforts to re-open Tucson responsibly.
"As much as it hurts us, we've been able to spend time working on projects that have been on our 'To Do' shelf for a long time," Ray says. These include a new on-line ordering system and the food subscription site Tamaleofthemonth.com, where the "tamale challenged" can have Chef Carlotta's handmade creations shipped to them monthly or quarterly, as well as send delicious tamales as a gift to family, friends and clients.
"We've launched several efforts," adds Ray, "from feeding all of the first responders and fire departments in Southern Arizona for the entire month of April, and then feeding all of the front line nurses and doctors via Tamalesforheroes.com, as well as many other smaller efforts. El Charro has provided free meals for TIHAN [an organization for AIDS patients], TROT [Therapeutic Riding of Tucson], The Community Food Bank of Southern Arizona, the YMCA and other groups."
What Ray most desires to do once the pandemic subsides has nothing to do with either food or business, and everything to do with family. "I'm most looking forward to hugging my parents," he observes.