A new local restaurant marries the flavors of Turkey and other Mediterranean cultures.
By Betsy Bruce / Photography by Thomas Veneklasen
A quartet of female friends are tucked in a booth at the newly revamped spot formerly occupied by May's Counter on East Speedway near the university. The four are chatting and laughing, while savoring offerings on a shared starter plate. When asked for a review, thumbs are produced and target the ceiling. "The food is delicious, the service is excellent, and the location is convenient."
Under the proprietorship of the elegant Esar family, diners who are hungry for a taste of authentic Turkish and Mediterranean food are greeted like family at Istanbul Mediterranean Cuisine and Bar. Having emigrated from their beloved Turkey six years ago, the Esars are savoring life and opportunities afforded in the desert Southwest as they share recipes passed down for generations.
A rendering of the historic Bosphorus Bridge is the logo for Istanbul, symbolizing the family's homeland and the restaurant's spanning of two cuisines. Exposed brick walls are adorned with glorious framed pictures of Istanbul and Ankara at night. Pendant lights cast a warm glow over polished dark wood tables; the aforementioned booths are blue and red, a nod to UA. Well-placed big-screen TVs keep sports fanatics in the know while they belly up to the expansive counter and take a seat on red leather bar stools. Popular local and exotic brews are poured, from Barrio Blonde to Mythos Greek Lager. "Cases of Turkish beer and wine sold out quickly and had to be reordered," says manager and middle son Zahed. The open kitchen, just behind the bar, showcases the slow-cooked rotisserie meat known as "doner," redolent of marinade and spices, sliced from the spit — a savory focal point of many dishes.
That the Esars work well together manifests itself in the success of the restaurant. Each morning patriarch Rustan is the first to arrive around 8 a.m., whisking marinades laced with aromatic spices to tenderize and enhance meats. His specialties, the roasted lamb shanks and chops, bathe for 12 hours. Eldest son and chef Kamran arrives 30 minutes later to prepare fresh soups — lemon chicken, Turkish red lentil and more. Zaki makes his way soon thereafter, arms filled with fresh local produce, including heads of crisp Romaine, red onion and grassy cucumbers. Zahed is responsible for the front of the house, taking reservations and training staff. Mother Najhba creates the baklava and jalebi, a sweet batter that is piped into deep fat for frying, then dipped in honey. "We all make this work together," says Zahed. "My siblings, parents and friends all work together and we really enjoy it. When family is involved … you work from your heart."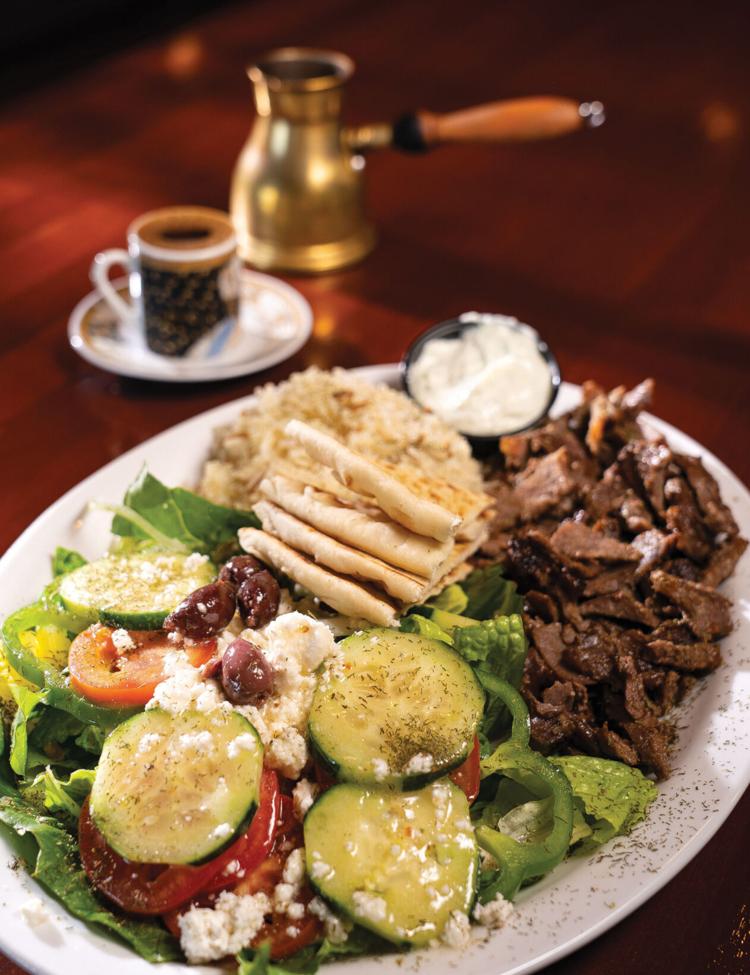 The Istanbul menu makes decisions difficult — think eight kebab choices alone and seven vegetarian plates, including Sarma (rolled grape leaves filled with savory large-grain rice or marinated ground lamb), Falafel (chick peas, hummus, parsley and feta); and Spanakopita ( spinach, feta and flaky Greek pastry endlessly layered).
Starters feature a popular triumvirate served with chewy pita and cucumber slices. Tzatziki is house-made yogurt, cucumber, oregano, garlic and olive oil; and Hummus features chickpeas, tahini (ground sesame seed) lemon olive oil and garlic. Another starter option: fried zucchini, carrot, onion, parsley and egg whisked together and tossed in bubbling oil create Mucver, fritters presented with a side of garlic and yogurt dipping sauce.
Kebabs are a classic choice with options of beef (filet mignon) chicken or lamb, marinated, skewered and grilled with fresh peppers and onion with sides of Turkish rice and sautéed green beans.
Close to a dozen salad offerings will please those in search of a light but satisfying lunch. Each starts with the freshest produce … crisp Romaine, cucumber, tomatoes, onion, green pepper, imported Turkish olives and piquant Feta cheese. Succulent marinated, roasted-on-the-spit chicken or beef are available to enhance salad choices.
Burger lovers are not forgotten at Istanbul. Turkish Sliders consist of a quartet of succulent beef patties dressed with fragrant Turkish sauce and cheese. The Saganaki Burger features grilled beef topped with a square of fried Greek cheese that's crunchy on the outside, melted on the inside, dressed with onion and tomato.
Pita sandwiches are served with Mediterranean salad (romaine, feta, red onion, tomato) or fries, with choices of chicken, falafel, rotisserie lamb or beef. Grilled wraps include fresh sautéed vegetables and savory grilled meat with Mediterranean salad, fries or green beans and rice.
House specials include Manti, which are traditional Turkish dumplings filled with spiced beef and accompanied by sautéed green beans and Turkish rice. Lahmacun, also known at Turkish Pizza, features savory ground lamb crowned with fresh tomatoes, onion, garlic and cilantro. Falloff- the-bone lamb chops, roasted lamb shanks, grilled salmon and prawns are equally popular choices.
Make room for dessert, because Istanbul's Baklava is buttery, flaky, impossibly light and perfectly sweet. Each square made by matriarch Najhba is topped with ground pistachios and served with dense, on-the-verge- of-melting vanilla ice cream.
Traditional Turkish coffee, served in a small cup, is thick and frothy with an earthy aroma. Most who've tasted it say it's addictive. "One cup will carry me through an entire day," says Zahed. "That's all you need."
How will success be measured by the family? Well, that's easy: "A bit of time off for each of us," says Zahed. The plan is eventually to offer breakfast and brunch and open a second location. Success however, already has been achieved to great effect by the entire Esar family. Taking a bit of time from their busy schedules, all five — Rustan, Najhba, Zahed, Zaki and Kamran — recently have become U.S. citizens. They are as American as baseball, UA and the love of great desserts, including Baklava, of course!
---
Istanbul Mediterranean Cuisine and Bar
2945 E. Speedway Blvd, 849-7945
Open 7 days a week 11 a.m. to 10 p.m.