A spate of construction downtown includes hotels that will cater to everyone from business travelers to casual tourists.
There's never been a better time to stay downtown.
After more than 40 years without a new hotel, downtown Tucson landed the hip AC Hotel three years ago, and now is awaiting additional neighbors in the midst of an exhilarating culinary, entertainment and lodging renaissance.
The triumphant launch of Marriott's boutique concept in 2017 marked the first new downtown hotel since Braniff Place was built in 1973 on 180 W. Broadway. Later becoming Hotel Arizona, it shuttered in 2012, leaving the historic, 40-room Hotel Congress as the lone source for downtown rooms.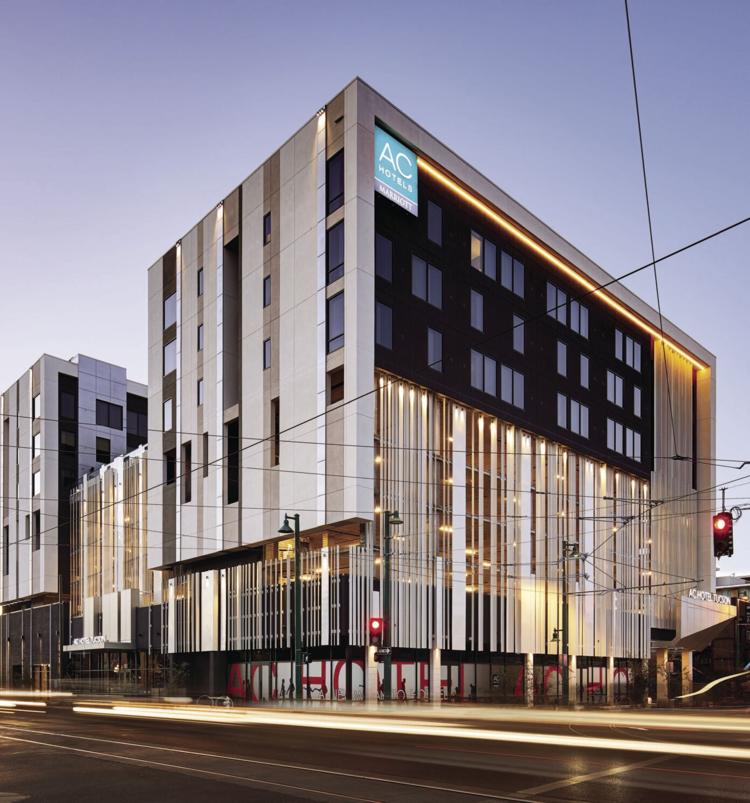 "We were proud to be part of a historic moment when the AC Hotel Tucson Downtown became the first new hotel built in four decades," says Nick Fox, partner of Cima Enterprises, the hotel's management firm. "Since opening in 2017, we've seen an impressive increase of business year over year. We're privileged to welcome thousands of guests to the property each year, as well as host visitors and locals."
But the AC is just the beginning. A new DoubleTree by Hilton will open adjacent to the Tucson Convention Center later this year. Hampton Inn and Home2 concepts will follow at Cathedral Square and another developer is planning a hotel in the iconic tower on 1 S. Church Avenue for 2021.
"It's amazing to see the amount of progress that has been made downtown in the last five to six years," comments Brent DeRaad, president and CEO of Visit Tucson. "Seeing the AC Hotel up and running and having such a fantastic start, it's really raised the confidence level in other developers to take a look at downtown."
"Originally, most of the developers were local, but we are now beginning to see a great deal of outside interest," adds Fletcher McCusker, chairman of Rio Nuevo, the key group that invests state tax dollars in public and private projects for a vibrant city center. Under his leadership, every dollar Rio Nuevo invests yields $10 of privately funded investment.
Today, with numerous restaurants and bars, the Fox and Rialto theaters, the streetcar, the AC Hotel and other exciting hotel projects in the works, "You have a reason to come downtown now," McCusker notes.
Details have yet to be nailed down, but the former Hotel Arizona is being re-developed by HSL Properties as a Hyatt Regency.
Hampton Inn and Home2 76 Rooms – Hampton 123 Rooms – Home2 Opening 2021
Two Hilton-brand hotels, Hampton Inn and the extended-stay Home2, are being built as a six-story complex near Cathedral Square at Stone Avenue and Ochoa Street.
The dual-hotel project, slated to open in Spring 2021, aims to bring new life to this corner of downtown and will be close to the Tucson Convention Center, says Grey Fay, managing partner of the Dallas-based Fayth Hospitality Group.
"If you draw a circle around downtown, there is really not another extended-stay hotel in that circle. We thought that was an unmet need."
Fay continues, "The growth in the market there and the revitalization that Rio Nuevo is creating," is a big reason why the Texas developer chose downtown Tucson. Fay adds, "We'd like to thank the city and Rio Nuevo for supporting the project and enabling us to bring this downtown. Without that kind of support, projects don't happen."
AC Hotel Tucson 136 Rooms Opened 2017
AC Hotel Tucson, a Marriott boutique concept that originated overseas, opened to much fanfare not only for its chic, European flair but for the sheer feat of making a new downtown hotel a reality.
The entire project, from concept to opening, took roughly five years, says California-based developer Scott Stiteler, who partnered locally with developer Rudy Dabdoub to build the stylish new lodging.
The striking eight-story building has a parking garage tucked inside, a sixth-floor pool deck with downtown views, a luxe lobby bar and lounge, a fitness center, and 1,500 square feet of meeting space for up to 100 people. Inside, stylish rusts and grays are paired with stone accents and glass train murals in the lobby. Tucson's own Whiskey del Bac is served in the bar.
"When you open something that has a lot of caché and buzz, the way people received it in the community here, I've never seen anything like it before," Stiteler observes. "You see locals come in the lobby and they feel like it's theirs."
AC began as a line of independent boutique hotels conceived in 1998 by Spanish hotelier Antonio Catalan, who entered into a joint partnership with Marriott in 2011. Tucson was selected as one of the U.S. cities for the brand, along with Miami, New Orleans and Chicago. "That was quite a surprise to us," says McCusker.
"They picked Tucson along with those cities. The AC Marriott has changed the game for everybody. It's an attraction in its own right."
"People are still thrilled about it," Stiteler enthuses. "The impact it's having on business with Caterpillar, Raytheon, the University of Arizona … they are all booking here."
Tower Hotel 150 Rooms Opening 2021
Scottsdale-based Opwest Partners is in the designplanning phase for a nine-floor hotel inside the copper-hued tower at 1 S. Church Avenue.
Multiple chains are interested in the project, which will include 1,500 square feet of meeting space, a 4,000-square-foot restaurant and bar, outdoor patios and a marketplace, says Tyler Kent, Opwest managing partner.
"Our property is envisioned to position at the top of the Tucson hotel market and will provide an authentic, higher-end boutique option," he notes. "Downtown needs at least 600 new and quality hotel rooms for the convention center to better establish itself, grow and remain a sustainable destination for the future. The new hotels downtown will help reduce the loss of business that would otherwise be committing to TCC, as well as induce new demand.
"I am a native of Tucson and I want to add value," Kent adds. "New development and capital investment will help stimulate the Tucson economy, create jobs, etc. There also is a huge gap in the Tucson market when it comes to hotel product. The AC has done very well and is a great example of what downtown needs more of."
Tucson Convention Center, DoubleTree by Hilton 170 Rooms Opening 2020
A DoubleTree by Hilton adjacent to the Tucson Convention Center is planned to open later this year and will not only serve the conference attendee, but also theater, music and sports buffs who want a place to dine before and after events and shows.
The hotel will feature a rooftop pool with bar on the second floor, a restaurant with ample outdoor seating and a new parking garage. Its interior will showcase Tucson's history and other beautiful Arizona landscapes and gems, says Roy Bade, executive vice president for Scottsdale-based Caliber, a wealth development company that also completed a multimillion-dollar renovation of Hilton Tucson East.
"Caliber is excited to be a part of Tucson's growth," Bade comments. "We have truly enjoyed working with our many partners on this project and are excited for the future of downtown Tucson."
The TCC, which hosts the Tucson Gem, Mineral & Fossil Show each year and is home to the Tucson Roadrunners professional hockey team, the Tucson Sugar Skulls professional indoor football team, and the main venue for the Tucson Symphony Orchestra, Arizona Friends of Chamber Music and many other groups, has long needed a nearby place for visitors to stay.
"The Tucson Music Hall and the Leo Rich Theater are there," he says. "Sometimes, people want to stay and have dinner or a cocktail before or after a show. They want to make an evening of it. They will now have the ability to stay on site and have a relaxing evening."